POV Holder:
Spencer
Next POV
Aug 3rd
POV Used
YES
POV Ceremony
July 29
HOH Winner:
Aaryn
Next HOH:
Aug 1
MVP:
AMERICA
Original Nominations:
Spencer, Howard, AMANDA (MVP nom)
Current Nominations:
Howard, Candice, Amanda (MVP nom)
Last Evicted Houseguest
David, Nick, Jeremy, Kaitlin
Have Nots
Judd, Amanda, Candice, GinaMarie
10am – 10:35am Big Brother wakes up the house guests. When the live feeds return – Andy, Judd and Candice are out on the backyard couch. They talk about the wakeup music. Andy says he is going to go back to sleep. Judd says nooo.. I have something important to tell you. Andy says it can wait. Candice heads inside to bed. Judd tells Andy to not act nervous around her. Judd says that he wants to get Candice out before Spencer. Andy says he is cool with that. Judd says I wouldn't mind if Howard went to jury too if he didn't act a fool. Andy says that he is going to tell Spencer right before the vote. Judd isn't sure about it. Andy says I am going to and I think you should too. Just in case he gets HOH then we will be on his good side. Judd says if you're going to do that, then I will do it today. Andy says no! Judd says if you are going to fu*k me over, then I will fu*k you over a little earlier. Andy says no why would you do that!? Judd says then lets tell him after the vote. Judd is worried that there is a Coup d'etat out there and then we would go up. Andy says if anything it keeps us safe. They (Spencer & Howard) will still want to work with us if we tell them. Judd says Howard will be gone! Andy says yeah unless like you say there is a Coup d'etat out there. Judd says I am 70% positive that Howard has a power. Andy says not will all the scrambling they have been doing. Judd says he wasn't yesterday. Andy says he was with me. (WHY JUDD doesn't want Andy to tells Spencer before the vote: Judd and Andy lied to Spencer and told them they were down with voting out Amanda to save Howard/Candice. Judd doesn't want to tell Spencer this before the vote because if Howard has a Coup d'etat he could change the vote before it even happens in which case Spencer/Howard would never know that Andy\Judd were going to vote against them. He is worried if they reveal they aren't voting with them, then they will be put up if a coup d'etat is played.) Helen joins them. Helen starts putting down the awnings and breaks one of them. Big Brother tells them they are on a lock down (To fix the awning).

Big Brother 15 Live Feeds: FREE 2 DAY TRIAL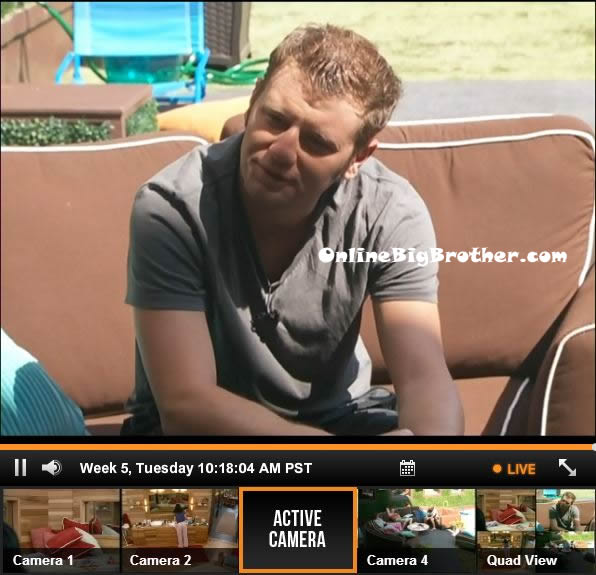 10:37am – 10:40am Judd heads to the bedroom. Elissa says Judd you wear your bear shirt so much people think its the only shirt you own.. ZING! Judd says Elissa you sh*t your pants.. ZING! Judd heads to the kitchen to eat ramen noodles for breakfast.
10:45am – 11:30am Judd, Elissa and Helen are in the kitchen talking about random things. Judd heads outside and lays on the backyard couch swatting flies. Elissa and Helen talk about Andrew Gordon from Big Brother 12. They continue to talk about other past house guests. Judd joins them back in the kitchen and they discuss their work.
11:35am – 12pm Amanda joins Judd out on the backyard couch. Helen comes out and talks to Judd about how she heard that he was upset that she cried with Howard got nominated. Judd says that he wasn't mad or upset and didn't bring it up to her but that he was just worried that Howard was pulling on heartstrings. Helen says that she would be upset with anyone being nominated, that is just the way she is. Judd says that he heard Jessie got upset too and was worried that Howard it using the girls weaknesses to stay. Helen tells Judd not to worry she wants Howard and Spencer gone. Judd brings up how he would rather get rid of Candice next week rather than Spencer. Helen says that she is okay either way. Judd brings up how Candice is trying to use the poor card even though she talks about things that show she isn't poor. Helen says that Candice is my friend but she is bad for my game. I am here to play and am not afraid to take out my friends in the game. Helen says Howard is my friend too but he has been lying to me since day one and we need to get him out. Helen says that she is the most loyal to Judd. Judd tells Amanda and Helen we all need to make at least the final 6 after how hard we've worked. Amanda starts talking about how Howard uses and throws Candice under the bus but she will go to the ends of the earth for him. Amanda says I got my hands dirty and risked my game for the better of the house to try and get Howard out. Judd says well hopefully he will go on Thursday. They start talking about how rude Jeremy was and how they have so much more food now that he is gone. The conversation turns to talking about how loud and rude Candice is when people are sleeping. Elissa joins them. Judd says that he wishes they did the goodbye messages closer to the eviction because you never know if someone is going to piss you off and you'll want to say something mean but can't.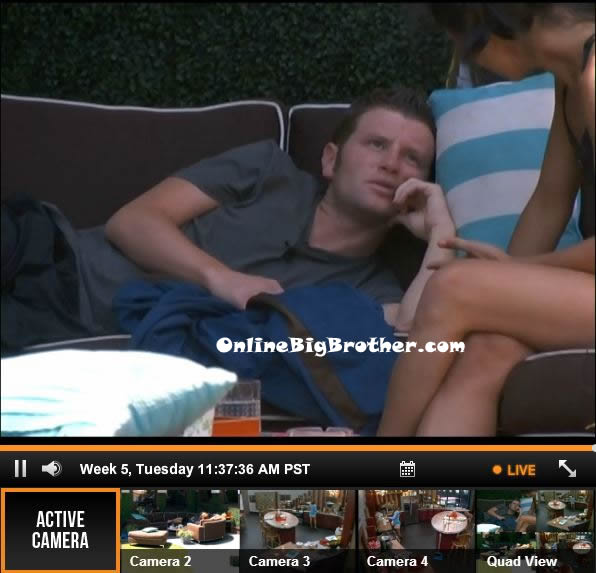 12:05pm – 12:30pm Amanda tells Judd it's going to be a good week. Judd says I am going to win HOH. Amanda says no I'm going to win it. Amanda heads inside and Judd and Spencer are alone on the couch. Judd says after Thursday we just have two more. Spencer says no way I make jury if this doesnt work out. Judd says I have been thinking through scenarios and I think you will. Judd says first of all if Howard was to go, which I don't think he will.. I think he is good but I am just thinking of all the scenarios .. I think Candice would go next. 110% ..well maybe 90% because you never know who might win HOH and what they might do. Judd tells Spencer that the best case scenario would be if he won HOH. Amanda joins them again.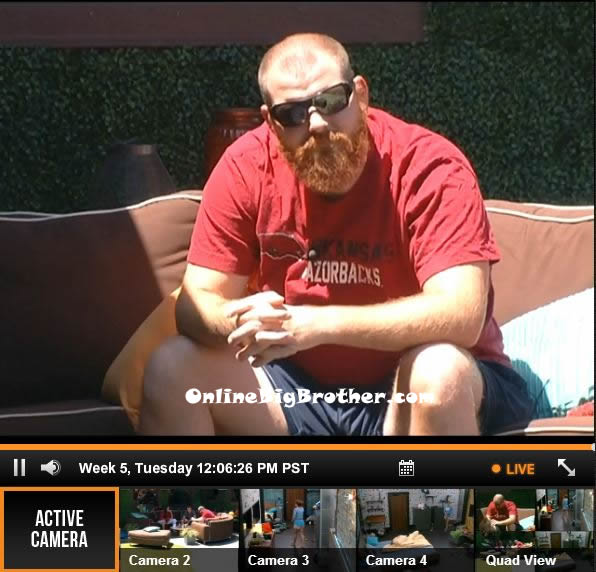 12:22pm Amanda says to Spencer so that final four deal between you, Howard, me and McCrae is all bullsh*t. Spencer says its not all bullsh*t, I don't think Howard is going to be a part of it. You never trusted Howard and I don't think you ever trusted me. Amanda says no I don't. Amanda says the the proof is in the pudding. I know what you are doing and it's not going to work! You are just making yourself more of a target. Spencer says you can believe what you want to believe but I think the reason I am on the block is because of you so that's just fine pudding. Amanda says I had nothing to do with that deal. Spencer says I don't believe that for a second Amanda. Amanda is silent and then says it's okay it's just a game. Judd joins them. Amanda says maybe the reason you are up on the block was because you told the HOH you would put her up if you won HOH. Spencer says no I didn't. Spencer says all the sh*t you talk about me makes me not trust you. Spencer says I know your favourite saying is the proof is in the pudding but every time something comes up you are involved in it. Amanda says that's not true. Judd asks who's got pudding! Amanda says that the moving company had me as the number one target. Spencer says that's not true. Spencer says that its ridiculous to bring up the moving company that hasn't been around for a long time. Spencer says it makes it bad for me if Howard leaves but it's bad for me anyways. I would rather Candice leaves. They talk about how no one understands Howard. McCrae joins them. Amanda says the thing is with you McCrae trusts you, but when I have talked to Howard I never felt like I could trust him. I get that we all have people we are trying to protect but not at my expense. Spencer says I want Candice gone this week. Amanda says I was genuinely happy for you when you won that veto. Spencer says he appreciate it. Spencer says that he doesn't understand why Howard would rather leave than Candice go. Amanda says that two days ago he said that she was cancer on his game. Amanda says we could probably get Candice to go if you worked with me. Spencer says you say you want to work with me but you threaten me and say that I am your target. Amanda says I have a lot of blood on my hands, if I stayed I would be a bigger target to take the target off of you. Amanda says it would be better for you and me if we campaign for Candice to go. Spencer says there is no way Howard is staying. Amanda and McCrae both say that's not true. Amanda says if there are no votes against me then we will be good and can work together. Spencer says you say that but how can I trust you when you say I am your target and you bring up the moving company which happened a month ago. Spencer says we are talking in circles, you know who I want out. Lets just leave it at that and get to Thursday. Elissa and Helen join them. Spencer says that anything to do with Amanda I am the easy scapegoat.
1pm – 1:40pm Helen says lets hear it out. Spencer tells Helen that he heard she and Elissa had a lot to do with the nominations. Helen says I did. Helen brings up how she thinks Howard was MVP. Spencer says no way in hell was Howard MVP. The conversation turns to talking about the moving company and how Spencer says he came out smelling like sh*t but McCrae came out smelling like a rose. Spencer says that he tried to convince the moving company to vote out Nick instead of Elissa. If McCrae had not flipped we would have had the votes to vote out Elissa. Amanda says so whos the target for you. Spencer says Candice, my vote is going to vote out Candice. Amanda says so if there are votes against me, then it wont be from you? Spencer says if that did happen, it wouldn't be me. Helen says I always felt that your dream was to make jury and I think Howard leaving will help your game. Spencer says it will also hurt my game because he is an ally. Helen says were not the target when we made this deal it was always Howard. Spencer understands that. Amanda says there are people that want you here because you would be a vote for them in jury. If you go along with us then I won't go against them. Helen says I would love to help make that dream come true to make it to jury. Amanda says if there are no votes for me on Thursday, there are other targets for me other than you. You will not go up if I win HOH if that happens. Spencer says okay I appreciate that, I don't see any vote against you any ways. Elissa asks who Spencer thinks is MVP? Spencer says you or America. Elissa says I can tell you 185% I did not put up Amanda. Elissa says I have to say it's weird that Howard avoids me. Spencer says that is Howards awkwardness. Amanda asks why are you protecting him? Spencer says he is trying to get into his head to figure out why he would rather go home than Candice. Amanda says he isn't sacrificing himself for Candice he has two girls at home. Spencer says I am trying to change his mind. Spencer talks about how Howard is just tired of the game and the politics. Spencer says that he isn't doing anything but sitting back and letting Thursday come. Amanda says so if I walk out the door then these 5 people know that you lied to my face. Spencer says that's fine because that won't happen. Spencer and Amanda both say they are the scapegoats for a lot of sh*t in here. Spencer says we can work together but you need to get off the one foot in, one foot out. Amanda says I know you have been campaigning to get me out. Spencer says no I haven't. Amanda tells Spencer the best he can hope for is a tie and Aaryn wont send me home. Spencer says he knows that. Amanda tells him I know about your plan and it's not going to work. Spencer says I want Candice out. Amanda says just be honest with me, if you help me I will help you. Spencer says I have no plan against you and you will see on Thursday. Amanda says I know your entire plan and everyone involved and I even know what your plan is if there is a tie. Spencer says there is no plan to get you out. Amanda says so there are a bunch of people making this up. Spencer says yes. Just drop it and you will see on Thursday. Amanda says I am just asking you to change your tune from me to her.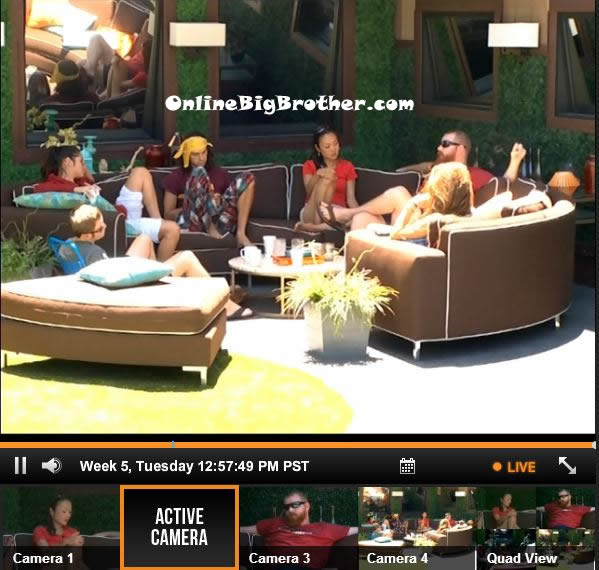 1:25pm – 1:30pm In the bathroom – McCrae tells Jessie and Andy about how Amanda and Spencer are getting into it in the backyard. McCrae doesn't like how Amanda is tell him in front of other people that if there are any votes against her then they will become her targets next week. Andy and Helen head up to the HOH and Helen tells her that there was a big conversation out in the backyard. Andy asks about it and Helen says I will let Amanda tell you but then gives a quick run down. Meanwhile in the downstairs bathroom – McCrae and Judd comment on how Amanda and Spencer are just talking in circles. Judd talks about how Howard doesn't even want to been here but I used up all my vacation days just to be here. McCrae says it bothers him too.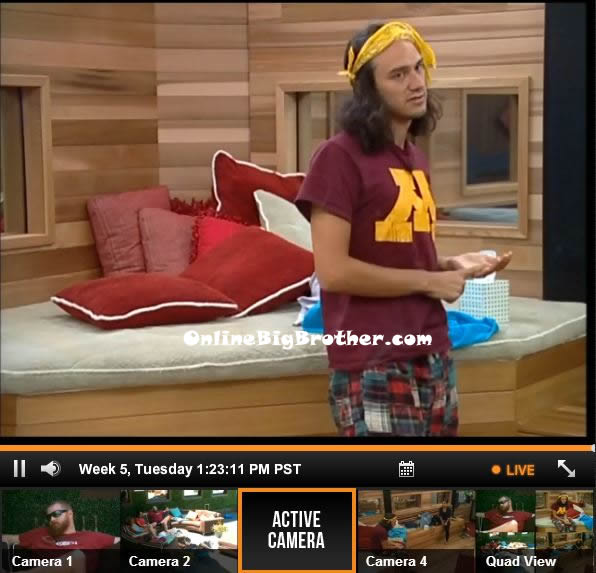 1:45pm Andy, Judd, Helen and Jessie are in the lounge talking about wanting Candice out before Spencer. Judd says that if Candice wins HOH I will jump in the pool and not get out. Helen thinks even if Candice won HOH she would put up Ginamarie and Aaryn. Helen and Judd talk about how Spencer just needs to be quiet and not campaign for Howard any more. Amanda joins them and says that was an interesting conversation. I just wanted to instil fear in him. Amanda starts reiterating her conversation with Spencer.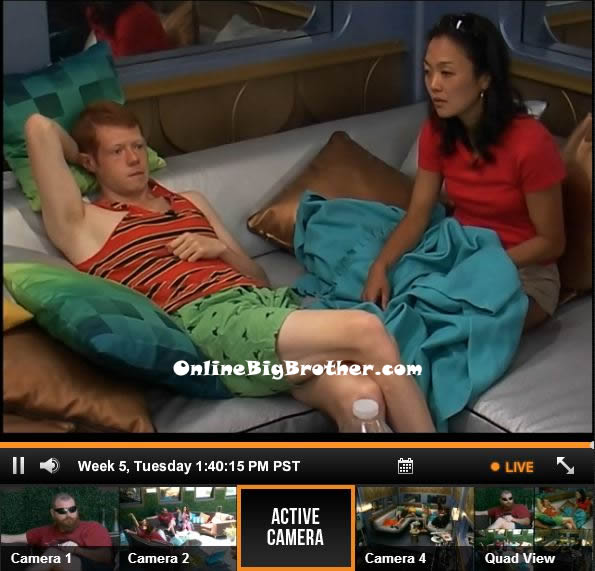 Use the Big Brother Live Feeds to FLASHBACK to SEE what they can't show you on TV: BB15 N!p Sl!ps / N*des