POV Holder:
Spencer
Next POV
Aug 3rd
POV Used
YES
POV Ceremony
July 29
HOH Winner:
Aaryn
Next HOH:
Aug 1
MVP:
AMERICA
Original Nominations:
Spencer, Howard, AMANDA (MVP nom)
Current Nominations:
Howard, Candice, Amanda (MVP nom)
Last Evicted Houseguest
David, Nick, Jeremy, Kaitlin
Have Nots
Judd, Amanda, Candice, GinaMarie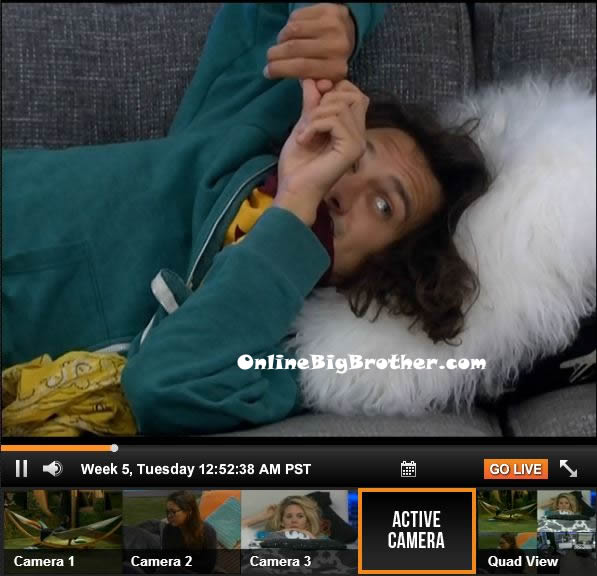 12:40am Up in the HOH room – Andy, Aaryn, Gina, McCrae and Amanda are talking. Aaryn asks I wonder if the black fish is in heaven. McCrae heads downstairs. Amanda says she thinks McCrae is pissed. Andy asks about? Amanda says that this is even being considered. Aaryn says that she is too, because when you get nervous you suck. Andy says here is the thing Ginamarie, me, McCrae and Helen. Even if Judd and Elissa, and Jessie all flip (With Spencer) it's a tie vote and Aaryn breaks it. Done right! Amanda says it shouldn't even get to that point. Do you know how hard it was to get Howard up on the block? Aaryn says not hard. Amanda says hard. Gina asks so why didn't someone get Judd to put Howard up on the block? Amanda says we tried to, he wouldn't do it. Amanda says before that Elissa was supposed to and she wouldn't do it. All I talk about is wanting Hoard on the block and it's just ironic that I am up on the block with him and Candice. Andy says Ginamarie you hate Candice so much. Aaryn says Yup, there's a Jew, and Candice and Howard on the block and I'm the racist. Amanda says oh get over it, no they do not! Everyone sees the truth. Aaryn says yeah but you see how it looks. Amanda says and she will use it to. Aaryn says she will. Amanda says Candice asked to borrow my tweezers, and I said yes. I wished that she would slip and fall and they would stab her in the eye. Gina says yeah I like that. Amanda says you're going to sit there and plot against me and then ask me to borrow my tweezers?! Amanda says just takes my shit and wears it like my ugg boots, my sandles. She wears the sh*t out of them too with her camel a$$ feet. Aaryn says I hate her so much.
Use the Big Brother Live Feeds to FLASHBACK to SEE what they can't show you on TV: BB15 N!p Sl!ps / N*des
Amanda and Andy head downstairs. Judd joins them. Aaryn says that spencer said that if the votes to go to a tie then Spencer says he was going to make a speech and threaten me by saying the whole house would be against me if I voted him out. Judd says that he doesn't think Big Brother would even give him time for a speech to say something. Aaryn says if I were to get naked and jump on your face they would probably just cut to fish. Judd heads downstairs. Aaryn tells Elissa that she doesn't care what people say Howard is going home. Elissa and Aaryn are talking about how Jessie is sliding through this game. Aaryn says if she keeps doing this she will slide to the end. Elissa agrees and says Jessie is sneaky in how she throws names out there for her benefit. Aaryn says her mind has changed about Judd since hearing about him wanting to take Jessie farther than me. Elissa agrees and says that this is the season of the girls. Elissa says that all the girls outshine the guys like a million percent. Aaryn says I feel like we control things. There is definitely going to be two girls in the end for sure, we already outnumber the guys. They start talking about the racial slurs. Aaryn tells Elissa that she wouldn't say racial slurs because it would be dangerous once she left and she wouldn't do that. Aaryn says that she got caught in the middle of being a mean girl because she thought people were against her. Aaryn says that she was just trying to fight back. I am young and still learning. Elissa says I didn't have any emotions towards you, I just wanted to stay away from you. I don't need that in my life, I have a family. Elissa tells Aaryn that she is glad that we can move past it all and that you're willing to move on. Elissa says that she doesn't have anything against Aaryn and that they can move forward and play the game together.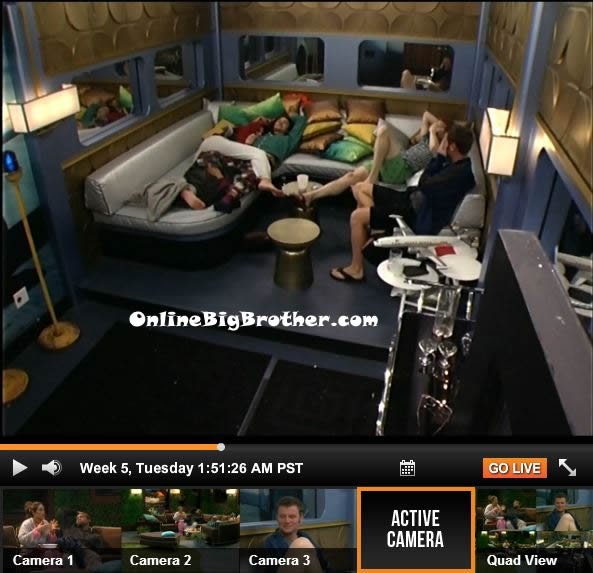 1:50am In the lounge room – McCrae, Amanda, Andy and Judd are laughing and joking around. Amanda says oh my god Judd, you should take Ginamarie's stuff and hide it under Candices' blanket. Judd says put Nick's hat hanging out of Candice's bag. They talk about how Andy put a tampon in the Vaseline and Elissa threw it all away. Judd says it should be our mission to drive Ginamarie insane. Amanda says you should take a handful of Vaseline and slap in on Gina's face right before the music in the morning. Andy says or put Nick's hat on Candice's head while she is sleeping. They laugh about how Gina would go ballistic. Aaryn and Gina join them. Aaryn comment that Amanda has a brown stain on her butt. Amanda says yeah that was the period stain that didn't come out.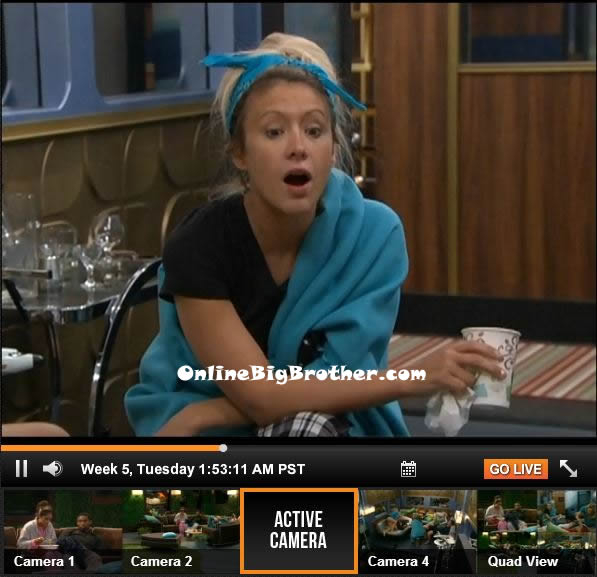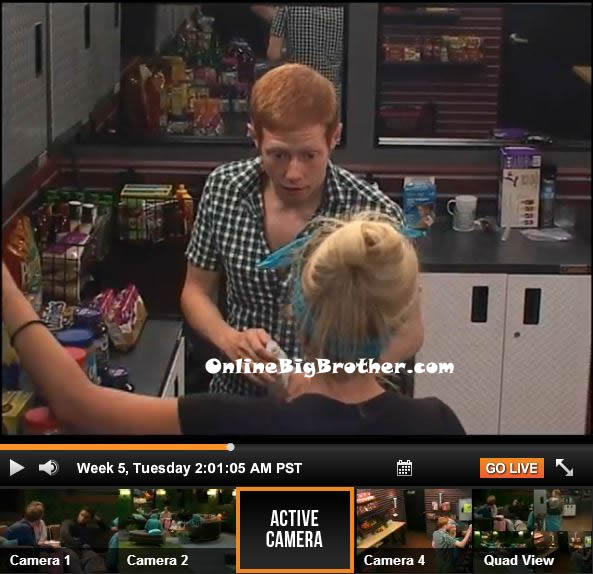 2am Andy and Gina head into the storage room. Andy says that he just wanted to talk to her and make sure she was solid because he talked to Spencer and he was like I talked to Gina and she wants Amanda out so bad. Gina laughs. Andy says that him and Howard said that you were fired up about it, so? Gina laughs and says first of all I talked to Spencer for like 2 minutes and he just talks, you can't even get a word in edgewise. Gina says they said that, before all of this with Kaitlin, that Aaryn was talking to Amanda about how Aaryn might stay over me. Andy says but I think they were talking about tonight that you said we have to get Amanda out! Gina says no, no, no, I don't say things like that. Gina says I talk to Helen and whatever she is doing, I am doing. Andy says okay we all just need to stay cool then. Gina says if anything I will lead him to believe that I guess. Andy gives her the thumbs up and says yeah, yeah! Gina says then last minute I will tell him sh*t's changed.

2:10am Out in the backyard – Gina, Spencer and Howard are talking on the couche. They are talking about the votes for this week and wanting to doing something bold and going after Amanda. Spencer tells Gina that if Howard goes home this week then, I will be next and you'll be the week after that. Spencer says that next week it will only take four people to evict someone. Spencer says the other side of the house will have the numbers to evict whoever they want if we don't take the numbers. Gina says she wants to make sure Judd and Andy are on board for sure. Gina says that we need to make sure Jessie will vote with us. Spencer tells Ginamarie that she needs to work on Aaryn this week and make her distrust the people on that side. Gina says I wish that Kaitlin was still here. Spencer agrees and says he wishes she was here too because then I would have won HOH. They talk about the vote from last week and how they couldn't change anything because the house had decided to keep Aaryn. Spencer says if I stand up during the live show and call out Aaryn about the people she has deals with and how they aren't trustworthy. Spencer asks Gina if she will stand up too and tell Aaryn to do the right thing. Gina says that she is worried about Andy being with the other side. Spencer and Howard tell her that he isn't really with them. Spencer says we can offer him a chance to be an important part of an alliance and not just a number. Spencer says not to talk to Andy or Judd about the plan to evict Amanda until Thursday so that there isn't a chance for Amanda to save herself. Spencer tells Gina to tell them she wants Amanda out but pretend she doesn't know about any actual plan to evict her. Gina says that she doesn't understand how three or four people in this house have taken over the whole game. Howard agrees and doesn't get how those people think they get decide how far you can go in this game.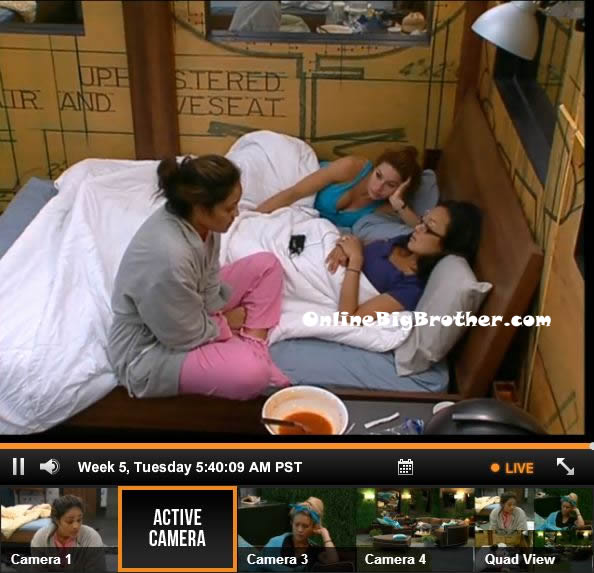 2:35am Meanwhile in the bedroom – Helen, Elissa Candice are talking. Helen tells Candice that she is safe. Helen talks to Candice about the plan to vote Howard out. They talk about how Howard is a really sweet guy. Candice says that he is good person and that she wants to enjoy her last couple days with him. Helen tells Candice that everyone loves her. Helen tells Candice that she needs to win HOH. Candice says she wants to and to be able to get the letter. They discuss the past events of the house. Andy comes by and Candice tells him jokingly to keep her name out of his mouth. Andy says that he won't and that her name has been in his mouth all day. Candice then gets up and chokes Andy. They laugh about it and decide to go to bed.
Big Brother 15 Live Feeds: FREE 2 DAY TRIAL
2:50am Up in the HOH room – Amanda, McCrae and Andy are talking. Amanda says that she trusts Aaryn now because she followed through with putting up Howard and Spencer on the block when it didn't really benefit her. Amanda says that Aaryn wanted to put up Candice and Elissa. Amanda says that the next two days we need to stay close to everyone and make sure Howard doesn't have a chance to talk people into convincing them to keep him. McCrae tells Amanda that she can't be the one to talk anymore because he doesn't want it to look like Amanda is calling the shots to evict Howard. Amanda agrees. Andy says I can't believe Howard and Spencer think you are aligned with Helen and Elissa over me. Andy says it's done, Howard is going home. Andy says that he thinks Gina is solid with her vote to evict Howard too. Andy heads to bed. Amanda tells McCrae that we can trust Aaryn. McCrae says that he is worried that it will come down to a tie on Thursday and Aaryn will break the tie and send Amanda home. Amanda says that Aaryn trusts her more than anyone in the house. McCrae says that he doesn't think Judd would flip on them. McCrae says that if he does he will go after Judd and that he will become McCrae's number one target over Spencer/Howard.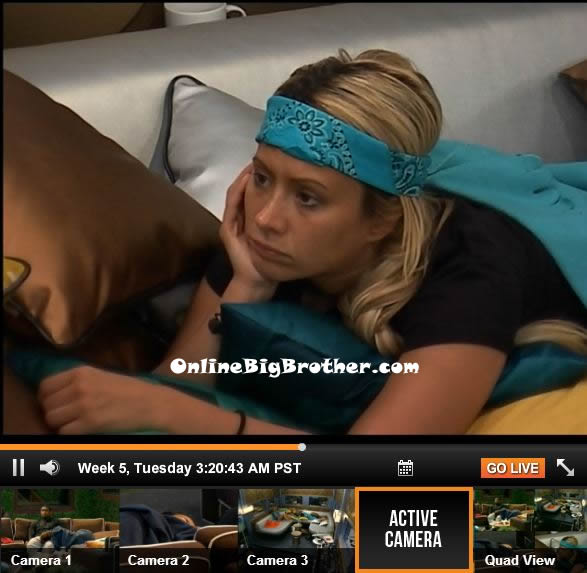 3:10am In the lounge – Aayrn, Judd and Ginamarie are talking. Aaryn starts talking about what she will tweet for her HOH tweets. Aaryn jokes and asks if she should do a tweet that says white power? Judd tells her not too. Aaryn tells them that she was joking and starts laughing. Aaryn says that she wishes she had a hoodie and starts talking about the confederate flag. Aaryn says that people think it's racist. Judd says that he just thought it was just a Southern thing. Aaryn says that she thought that too but isn't sure. Aaryn says you can't do anything, you can't breathe or you're racist. Aaryn starts talking about how much she hates Candice. Aaryn says that when she is sleep deprived she doesn't filter her words. Judd heads to bed. Gina tells Aaryn about the vote this week and says that she wants to get Amanda out. Gina says that if we don't McCrae, Amanda, Elissa and Helen will make it to the final four. Aaryn tells Gina that she wants Candice out so bad. Aaryn tells Gina that to stay in the house you have to be fake best friends with everyone. Aaryn tells Gina to get on Amanda's good side you have to tell her everything you know about what's going on. Gina says that she doesn't want to be a rat. Aaryn says that Ian Terry (BB14) was a rat and he won. Gina heads to bed.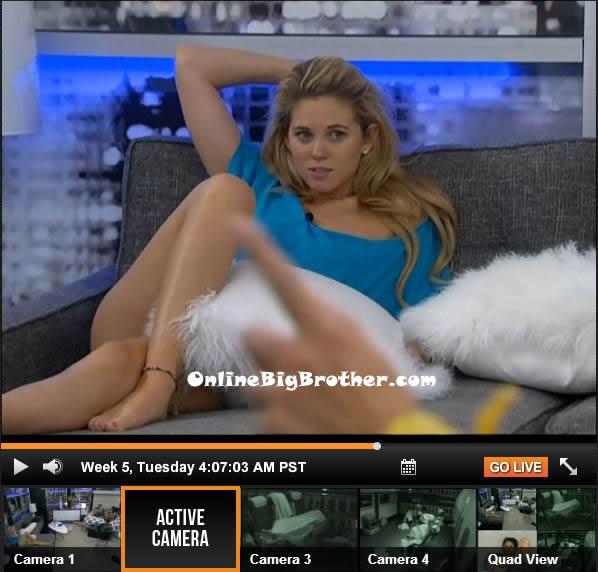 3:30am – 5am Aaryn talks with Amanda and McCrae. Aaryn tells them that Judd is acting weird. She says that she has been hitting on him and she says that he doesn't responding to her. Amanda laughs. Aaryn says that he used to respond to her. She says that she jokingly told him she wants to bang him in the shower and she says that he just got up and went to bed. They discuss how Judd is acting weird. Aaryn says that she is worried that the vote will be a tie and all the blood will be on her hands. She says that it wouldn't really matter because Howard would be gone. Aaryn tells them that Gina told her that Spencer and Howard really want Amanda out. She says that that they were told Gina if Amanda doesn't go then everyone will just be picked off in the house. Aaryn tells Amanda and McCrae that she thinks she convinced Gina not to believe what they were telling her and for her to stick to the plan to evict Howard. Amanda is pissed that Gina is questioning it. Aaryn says that she was just worried. McCrae agrees. McCrae tells Aaryn that he totally trusts her and tells her that she is bad a$$ in this game. They talk about the MVP and speculate on how some of the cast may or may not be related to past house guests. They continue to talk about random things and then head to bed.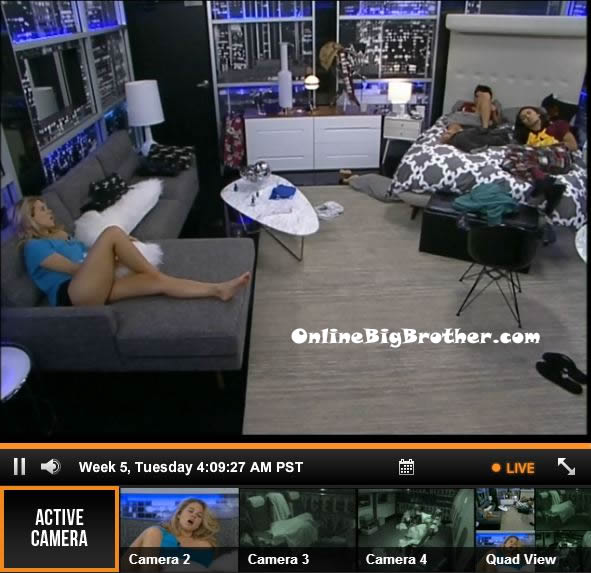 9:45am All the house guests are still sleeping..