POV Holder:
Spencer
Next POV
July 27th
POV Used
?
POV Ceremony
July 29
HOH Winner:
Aaryn
Next HOH:
Aug 1
MVP:
AMERICA
Original Nominations:
Spencer, Howard, AMANDA (MVP nom)
Current Nominations:
Last Evicted Houseguest
David, Nick, Jeremy, Kaitlin
Have Nots
Judd, Amanda, Candice, GinaMarie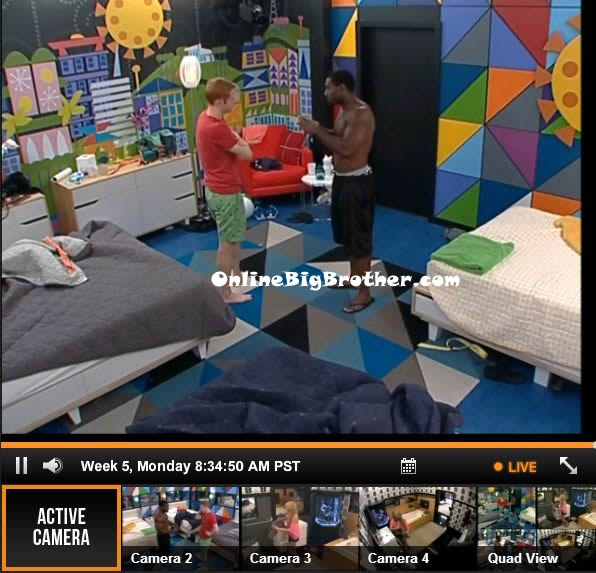 Big Brother 15 Live Feeds: FREE 2 DAY TRIAL
8:15am Big Brother wakes up the house guests. When the live feeds return – in the back bedroom Howard is talking to Andy. Howard says that best alliance would be with the house. Andy tells Howard we will just see what happens during nominations to day and see. Stop looking at trying to be safe with $13,000 and start looking at the $500,000. Howard says there is still opportunity either in Candice. Howard leave the room.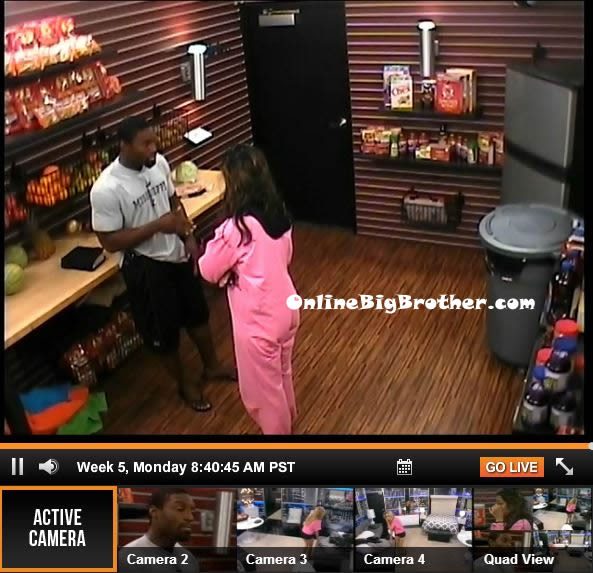 In the storage room – Howard is talking to Candice. Howard reiterates his conversation that he has last night Helen. Howard tells Candice that he has her back and she is staying and he is going home if they won't put someone else up on the block. Howard says this is the same thing that I just told Andy. I also told Judd and Spencer the same thing. Howard explains that we only need 4 votes. Candice says we need 5 votes. Howard says not if we get Aaryn to break the tie. Candice says she goes and tells them everything she isn't voting with us. Howard says before her hands were tied. Howard tells her that Spencer will apologize to her today. Candice says that she won't accept it, he has apologized to me 4 times now. Howard asks her to talk to Andy and Judd. Candice says that she is talking to no one! Candice goes off on Howard about how he and Spencer have fu*ked her, she isn't doing anything. Howard says that he has done everything to make sure she is safe, she is staying and he is going home no matter what. Howard says I am not money hungry, I never have been! I never will be, I will make money the other way. I will take my $6000 and go. Howard asks Candice her to talk to Judd. Candice says she will not go talk to him. If he comes to me I will talk to him. I don't know him like you know him, he might be trying to set me up.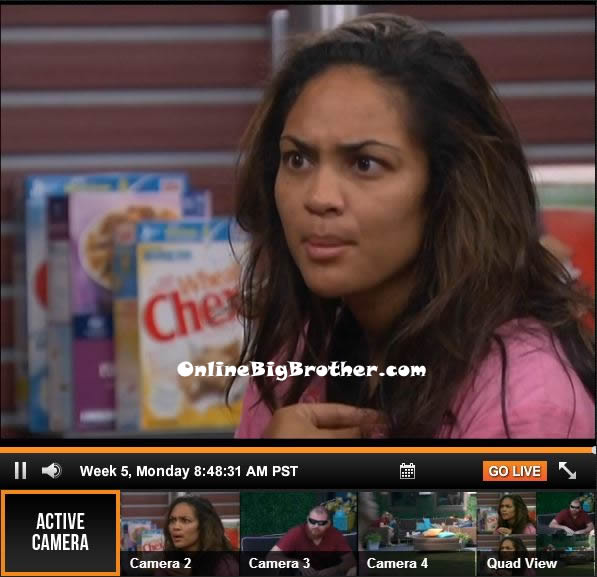 8:50am – 9am Up in the HOH room – Spencer is talking to Aaryn about putting up someone else other than Candice. Aaryn says that she can't put up anyone else other than Candice. Spencer says that he thinks it could still work even if she does go up. Spencer tell her that has has talked to someone people and they are ready to run with this. He tells her that some people have come to him that are ready to shake up the house. Spencer tells Aaryn that if we don't do this it is either you or me going home next week with the other one going the week after. Spencer asks if Aaryn will talk with someone. Aaryn asks who? Spencer tells her Andy. Aaryn asks really? Spencer says yeah, if we don't start getting the numbers on our side we are all going to get picked off. We need to start looking at the $500,000 rather than just making it to jury. This plan will get us far into jury. Spencer says even if Candice goes up we have something that will keep her and Howard. Aaryn asks really? Spencer says people are ready to shake things up. (To get out Amanda) Aaryn says okay and tells him to bring Andy up in a bit.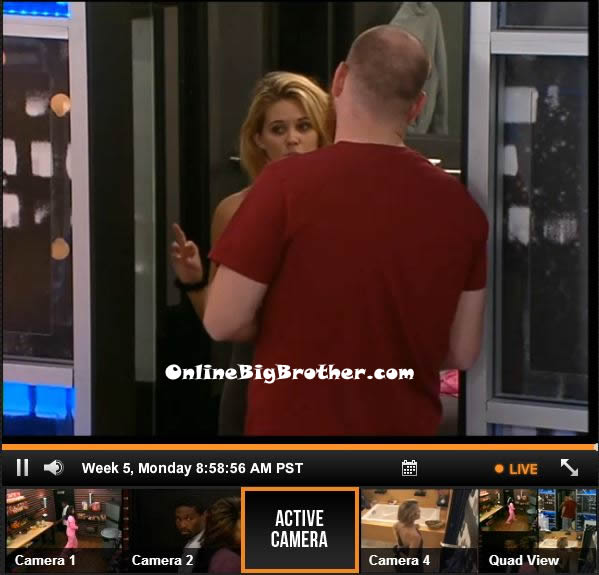 9:10am Out in the backyard – Judd asks Andy if he is actually considering the proposition. Andy says no. Judd says it's just not worth it. He didn't offer me anything, if he had come to me with a better offer I might have thought about it but he didn't. Like if he had said he would do this, this and this if he stayed. Judd says that Candice doesn't benefit my game it only benefits his game. Judd says that Spencer says that he would self evict if Candice went home. Do you really think he would do that. Judd says that he really hopes Ginamarie isn't fooled by Spencer. Judd says I need to have a talk with her. Spencer comes back and joins them. Judd tells Spencer he is down. (To vote out Amanda over Candice and Howard. But he's lying to him.) Spencer says oh my god thank you. Spencer asks Andy if he is down. Andy says yeah. Andy heads inside to lay down. Spencer asks what about Jessie. Judd says he said not to talk to her until the day of if at all. Judd asks Spencer if he trust Candice. Spencer says that he trusts Howard and he is tight with Candice. Judd says she and I just don't talk game.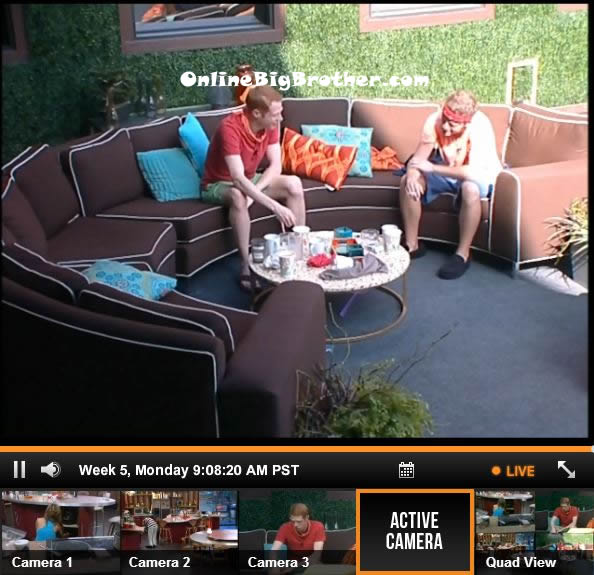 9:30am – 9:40am In the bedroom. Amanda asks Andy what he was whispering out there. Judd says that he can't really talk right now because he doesn't want to be seen whispering. Judd tells Amanda that she is safe. He says I already talked to Andy and made sure that he isn't really down with it. Amanda says okay. Spencer and Elissa walk in the bedroom and the conversation ends. Amanda and Judd leave the room and Amanda tells Judd that she is going to ask to borrow a piece of his clothing on eviction night. Judd asks what?! Judd then says that's fine you can borrow something. Meanwhile in the bathroom – Helen and Candice are getting ready for the VETO Meeting that will happen this morning. Elissa and Amanda join them to get ready. Amanda is wearing the bear shirt and Helen is wearing Andy's cat shirt.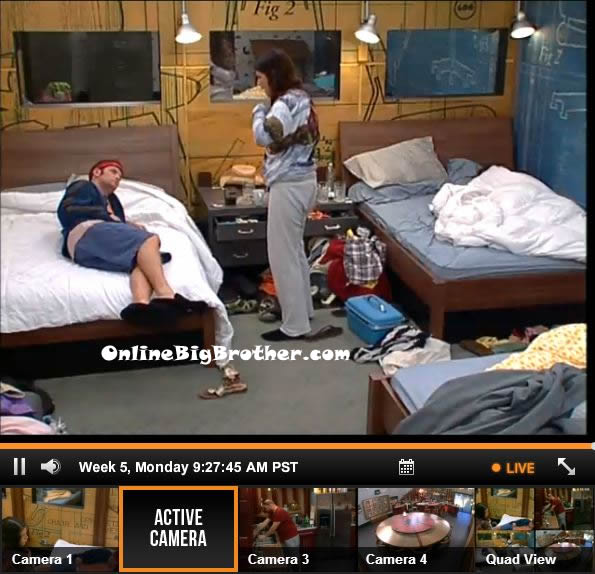 Out in the backyard – Spencer tells Howard that Judd is down and Andy. Howard says that he talked to Judd this morning and he said he didn't know. Spencer says Judd was talking to Andy and they told me they are down. That's four votes. It's looking really, really good right now. Spencer tells Howard that he talked to Aaryn and let her know about possibly voting out Candice and keeping you just to get the target off of you. Then when it comes do to it we will let her in on the plan to vote out Amanda. Howard is worried about telling Aaryn too soon because she will run and tell them. Spencer says that his is going to go give the shirt his lending to Aaryn before they run out of time. Spencer goes up to the HOH room and tells Aaryn that people are talking about keeping Howard over Candice. He tells her that there is a possible plan to vote out Candice and keep Howard. He tells her that he will tell her more when he knows more. Spencer says that he really hopes Howard stays. Spencer tell her that it will be good for both of us if he stays.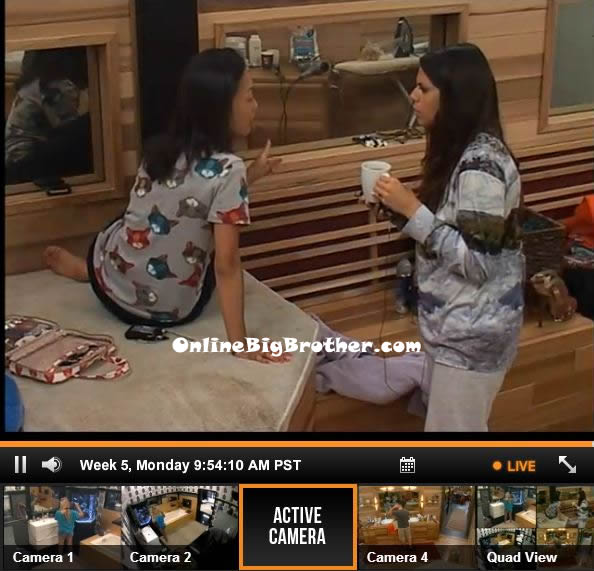 9:55am – 10am In the downstairs bathroom – Helen fills in Amanda on how Howard is telling people that he wants to be voted out over Candice. Amanda and Helen both agree that there is something fish about that. Amanda says that he keeps pulling people into rooms individually. There's something fishy going on. The end their conversation when someone comes into the bathroom. Amanda, Judd and Spencer head outside to sit on the backyard couch. The talk about random things like concerts.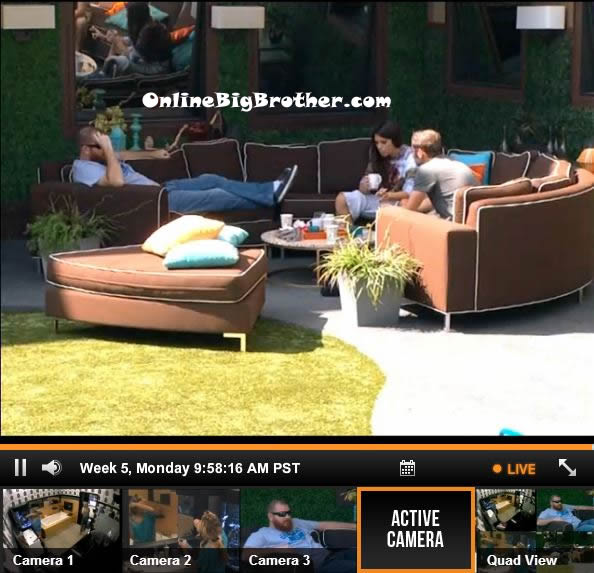 10am Up in the HOH bathroom – Aaryn and Ginamarie are talking. Aaryn says Candice is going to go crazy when she goes up. Ginamarie says she doesn't think she will, she won't want to look bad. Aaryn says clearly she has no problem with that. Ginamarie says that she doesn't think Howard talked to Candice at all yesterday. It just shows how little she means to him that when sh*t hits the fan he runs.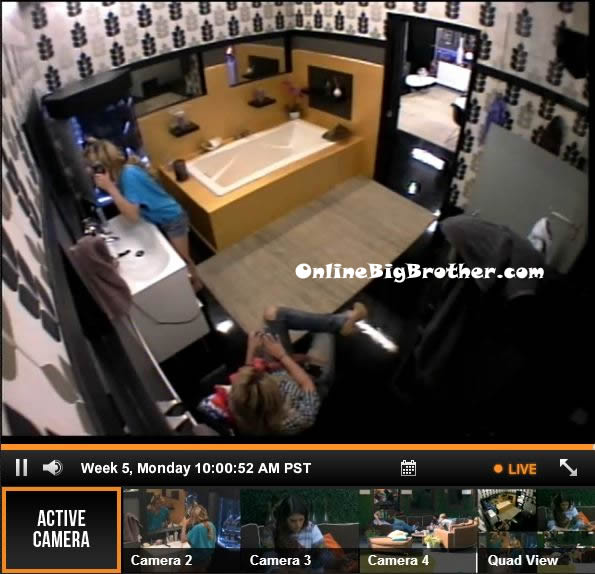 10:07am In the kitchen Amanda tells Helen – I think I figured it out, he doesn't want it to look like he is the one that came up with the plan (to get out Candice).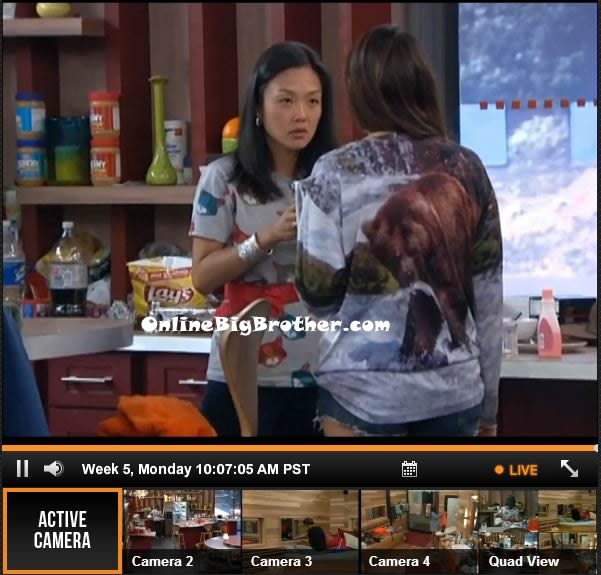 10:08am Big Brother switches the live feeds to the TRIVIA screen for the Power of Veto Ceremony.
Use the Big Brother Live Feeds to FLASHBACK to SEE what they can't show you on TV: BB15 N!p Sl!ps / N*des