POV Holder:
Spencer
Next POV
Aug 3rd
POV Used
YES
POV Ceremony
July 29
HOH Winner:
Aaryn
Next HOH:
Aug 1
MVP:
AMERICA
Original Nominations:
Spencer, Howard, AMANDA (MVP nom)
Current Nominations:
Howard, Candice, Amanda (MVP nom)
Last Evicted Houseguest
David, Nick, Jeremy, Kaitlin
Have Nots
Judd, Amanda, Candice, GinaMarie
10:08am – 10:52am Big Brother switches the live feeds to the TRIVIA screen for the Power Of Veto Ceremy. When the feeds return, we learn that obviously Spencer used the VETO to take himself off the block and Aaryn did exactly what she said she would do. She nominated Candice as the replacement nominee.
Big Brother 15 Live Feeds: FREE 2 DAY TRIAL
10:52am Amanda, Elissa and Jessie are out on the backyard couch. Amanda comments that Candice has to go after Howard. Jessie says that it just makes Howard look like a huge douche bag that he would treat Candice like this the last few days. Amanda asks Jessie just promise me you wont flip. Jessie promises. Amanda says I promise you I will protect you. Jessie says she won't flip. Amanda says even if Judd asks you to don't flip. Jessie says she won't you're like my big sister.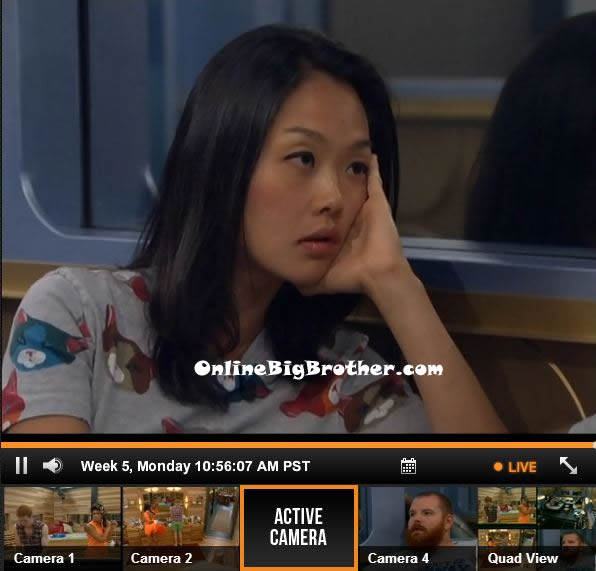 11am In the lounge room – Spencer is talking to Helen about how he isn't campaigning to push Amanda out. I am only campaigning to keep Howard and to vote out Candice because he has been loyal to me. Meanwhile in the storage room – Amanda talks to Andy about last night she tells him that McCrae was upset at her for telling Andy about Judd lying about the Kaitlin wanting Helen out Story. Amanda says that by me tell you it made McCrae look like he was lying because McCrae had told Andy that he didn't know anything about it. Andy says it doesn't matter I trust you two more than anything. Amanda asks Andy not to flip. Andy says oh my god are you kidding me of course I won't flip don't even question that. Amanda starts to cry and get upset. Andy tells her that she is okay. Amanda says that she isn't sure about if she can trust Judd or not. Amanda talks to McCrae about it and then heads to the backyard. Helen says that Spencer is campaigning to get Candice out. Amanda tells Helen that Judy, Andy, Gina and Jessie formed alliance to get Amanda out. Helen says that she will get to the bottom of this and ask Judd to find out if he lies to me or not. Amanda says and if Judd says what the fu*k then we will need to get him out. Helen tells Amanda we have back. Amanda heads inside to find Judd.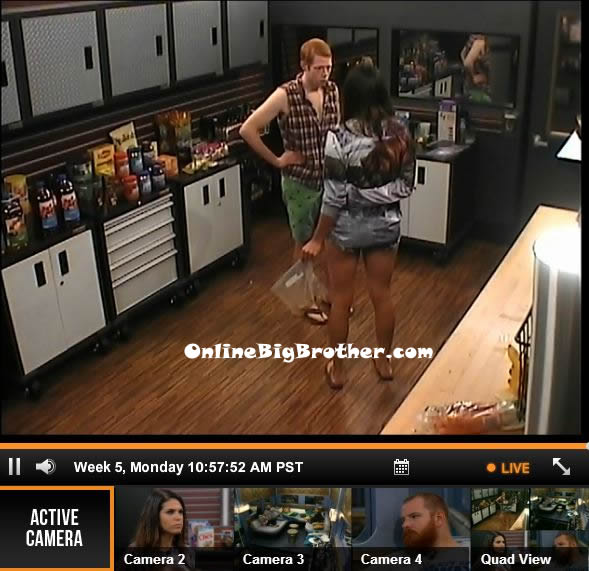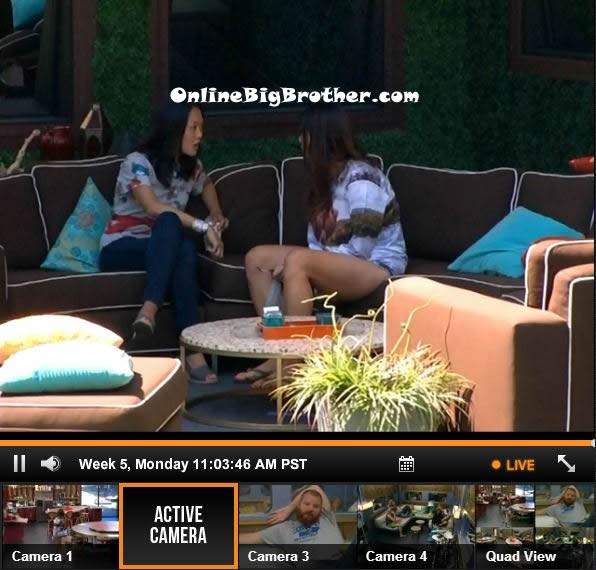 11:05am – 11:10am Amanda goes up to the HOH room and pulls Judd out to chess board. Amanda asks him to tell her the truth about the conversation he had in the cockpit last night. Judd tells her that Howard came to them to give them a deal to keep Candice and Howard but it doesn't make sense for my game. You are safe, I promise you, you aren't going home. Judd tells her the he didn't tell her because he didn't want to worry her over nothing. Don't worry about it, you're safe. Amanda says okay and they head into the HOH room.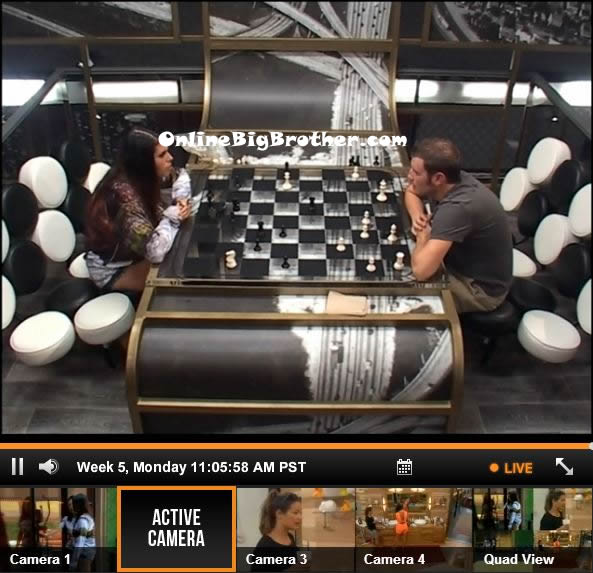 11:15am Out in the backyard – Amanda tells Helen that Judd came clean about the conversation he had last night in the cockpit. Helen is mad and says that it's just fishy, why is he having meeting with people without us. He needs to go, we need to get him out after we make it to jury because he can't be trusted.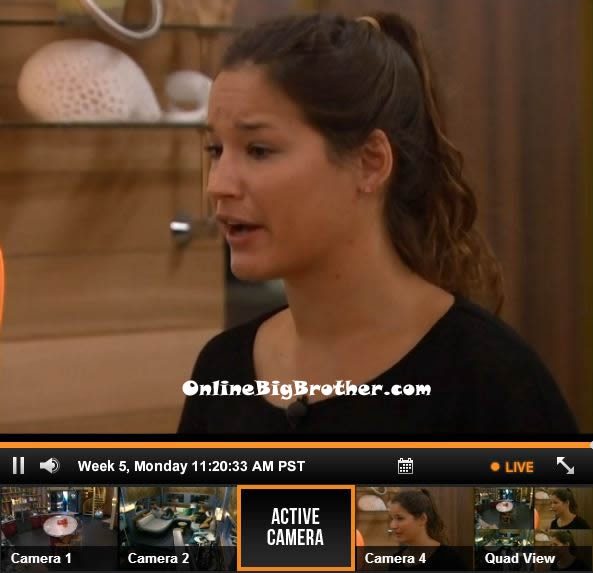 In the bathroom – Candice and Jessie are talking. Jessie tells Candice that there is a better way to approach me. Candice says that she thought she could come to you. Candice says that she just wanted to know where Jessie's loyalty lies. Jessie tells Candice, but that is not the way you talk to someone. Candice tells Jessie that she is going to have to pick a side. Jessie says you still think that way after everybody is told you stuff about Howard. Jessie tells Candice that Howard is totally hurting her game and that she is the only person who would not listen to it. Jessie tells Candice that she is just using me for a vote. Jessie says I wanted to have this conversation with you because we are friends and that is what friends do. Candice says that is fine I am clearly on the block. Jessie says it breaks my heart and I know you better than you think I do and I see Howard you let your guard down and look what happened. Candice apologizes to Jessie if it came off aggressive. Jessie tells her that it was the way she approached her with it. They make up and hug.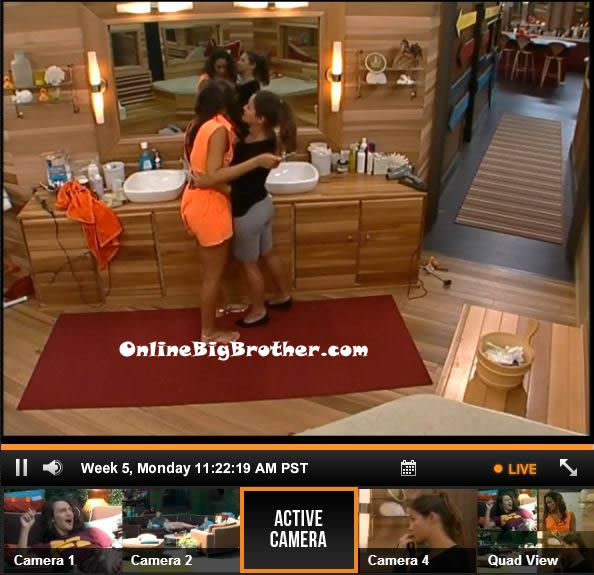 11:30am Up in the HOH room – Helen tells Aaryn that Amanda and her found out about the plan to get rid of her and we are going to take control of the situation. Helen says that she is going to go grab Amanda to talk about it. Helen leaves. In the lounge room – Amanda is telling Andy about the conversation she had with Judd. Amanda says that she think Judd wants to take Andy to the final two even though he also tells McCrae the same thing. She says that Judd thinks he can beat Andy not McCrae in the fianl two. Andy says that he would whip his a$$ in the final 2. McCrae joins them and Amanda tells him about her conversation with Judd. Judd then joins them. Andy tells Amanda to let Spencer and Howard think we are going to flip the house and act like it switches at the last minute in case he wins Head of Household. McCrae, Amanda, Judd and Andy are talking about how they will tell Spencer like 30 minutes before the vote that we can't vote out Amanda. Aaryn joins them. Aaryn says that once she found out that Howard said he doesn't want to be here if Candice isn't here.. she wants him gone. Aaryn says Howard is using some reverse psychology bullcrap. Aaryn says that she wants Howard to go home especially now that he is talking about not wanting to be here. Helen joins them. Helen tells them to let them think that they have the numbers.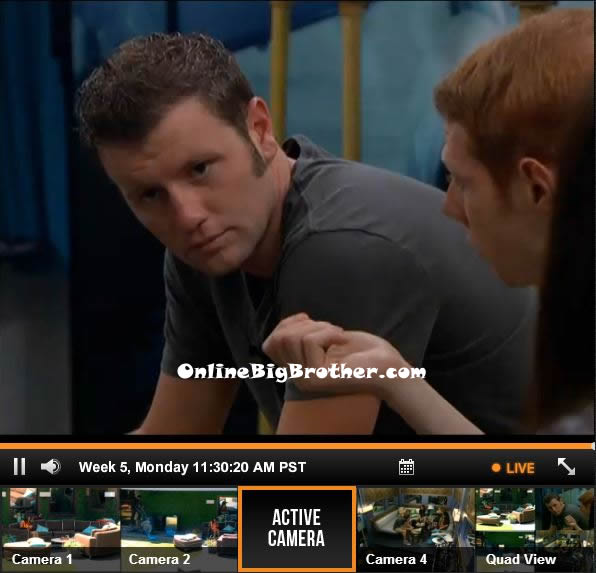 11:40am In the backyard – Candice is still going off on Howard about how he didn't stick up for her. Howard tells her that all he is hearing from her is negative and he doesn't want to hear it any more. He says I am done with it, if you aren't going to be positive any more. Howard says I already told you I apologized for not standing up for you. You told me not to go off on girls because I would look demonstrative even though I wanted to and maybe I should have.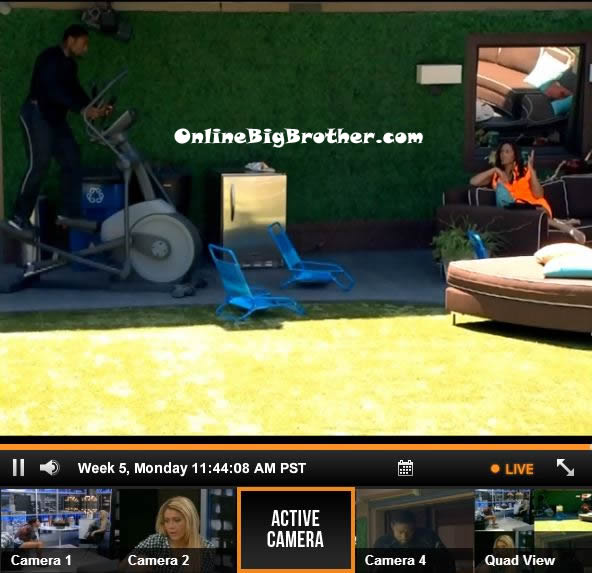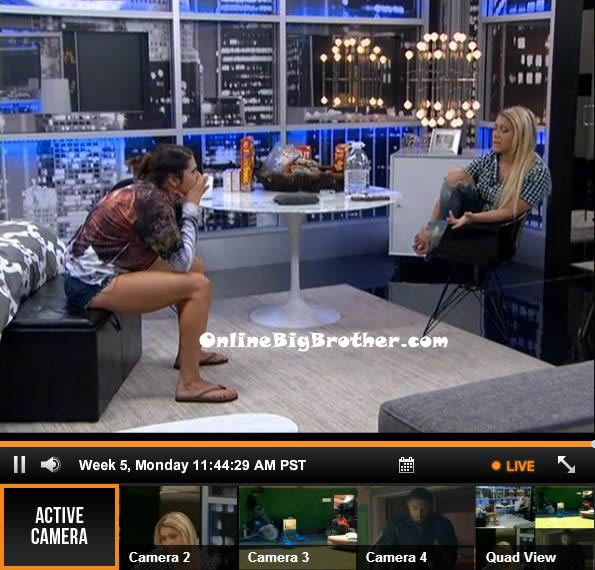 11:50am Up in the HOH room – Amanda is talking to Gina about the plan Howard and Spencer had to try and flip the house. Gina tells Amanda that Judd already talked to her and told her that she might be approached with a deal but that she should just go along with it. Amanda tells Gina that Amanda is loyal to her and would never put her up. Amanda says that she just wanted to give her the a heads up just in case people came to try to flip her. Amanda is tells her not to tell anyone about any deal. Amanda heads downstairs to the lounge room. Aaryn, McCrae, Andy and Judd reassure Amanda that there is no way she will go home.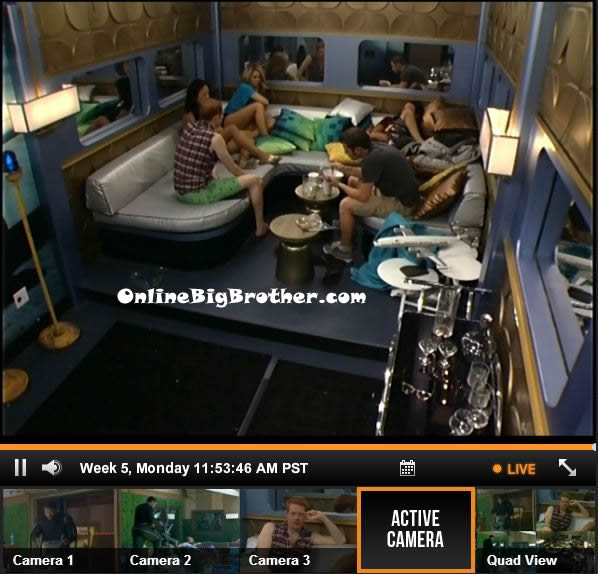 11:55am – 12pm McCrae and Amanda are in the storage room – McCrae tells her that she is good no matter what she is staying. He tells her not to worry. Amanda tells him that she talked to Gina and she told me that Judd already came to her and told her that she might be approached with a deal but that she should just go along with it. Amanda says that she feels better about Judd and thinks they can trust him after hearing that. Amanda and McCrae tell each other that they love each other. Amanda and McCrae leave and head to the bathroom because Amanda feels like she is going to throw up.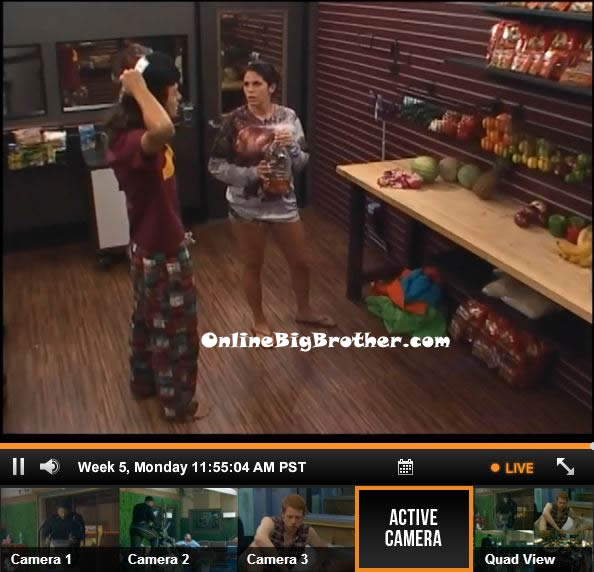 12:05pm In the lounge room – Judd, McCrae and Andy are talking. Judd says that Howard comes asking us to give him the world and he offers nothing in return. Judd says if he asked for us to get rid of Candice to save himself I would have considered it but he is talking about getting out Amanda. Judd says that Candice has done NOTHING for my game. Andy agrees and says Candice never talks game with me. Andy says hopefully Ginamarie wins HOH and we can keep the blood off our hands again. Judd says that all the game talk I have had with Candice is talking about hair extensions and crabs. All she is doing is being emotional she isn't playing the game. Judd says she is acting like she is at a slumber party and her boyfriend goes home. Stiffen up your head b*tch! Judd says that no one would throw the first Havenot comp, he just sucks at competitions.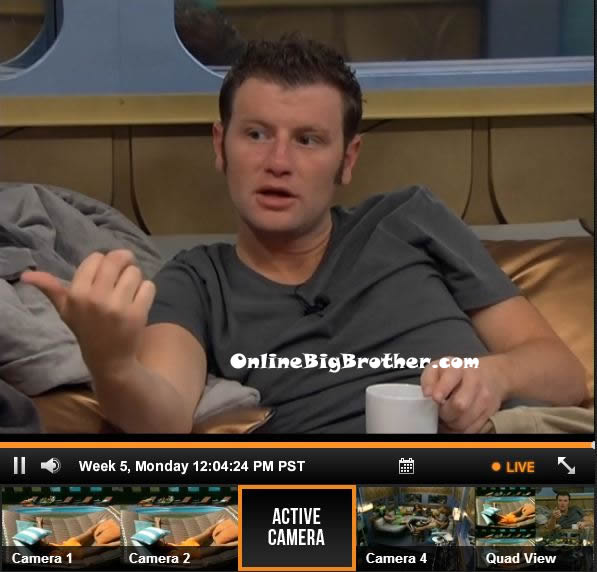 12:15pm In the havenot room – Spencer tells Howard that he thinks we have the votes. He tells Howard that Helen and Elissa were the ones that told Aaryn to nominate us. Howard says he knows that. Spencer says that if we only have the four votes come Thursday I am going to call her out on live tv that they don't have her back. Howard says that he was going to do that in his speech too.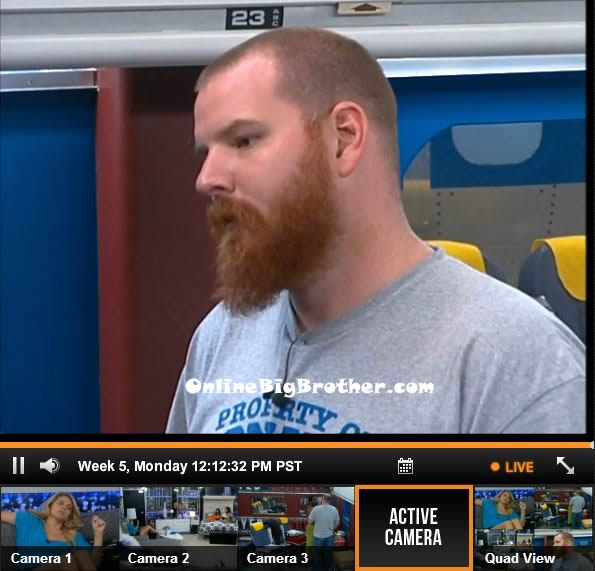 12:20pm – 12:40pm Up in the HOH room – Helen, Amanda and Aaryn talk about taking Jessie out before she floats to the end because everyone would want to take her to the final 2. Amanda says that Judd is smart but he acts like he is dumb. Helen says that Jessie will do whatever Judd wants. Helen tells Aaryn that Jessie said that she wanted you out before jury. Aaryn says that she heard that Elissa wanted me out too. Helen says I don't think it is any secret that Elissa wanted you out since day 1. But she is coming around and said to me the other night that she likes you. Amanda says that people are thinking to far ahead. Right now we have an army and we need to stick to the plan. Andy comes up and tells them that he told Jessie everything. He says that he told her to just pretend to go along with it. Amanda says that she is pissed that Jessie insinuated that maybe this is the time to get me out. Helen says I talked to her and she agreed that this isn't the week for that. I am not going to lie there is going to come a time to get you out but its not now. Helen says she isn't gunning for you, she was just making sure everyone was on the same page. Aaryn says Jessie scares me because she flips a lot. Helen explains that this week is us showing our loyalty to you and then when we get to jury its game on. I am coming after you, you and you.. Amanda and McCrae head down to lay in the sun. Helen, Andy and Aaryn continue to talk. Helen and Andy talk about owing Jessie because she made a big move that helped them all in the game. Aaryn brings up how she isn't going after Elissa any more. Aaryn says that she doesn't want to go up again next week and hopes that Elissa doesn't put her up. Andy and Helen both says they will make sure she doesn't. Andy says that he will scream at Elissa if she even tries to put you up because I was there when she said she wouldn't.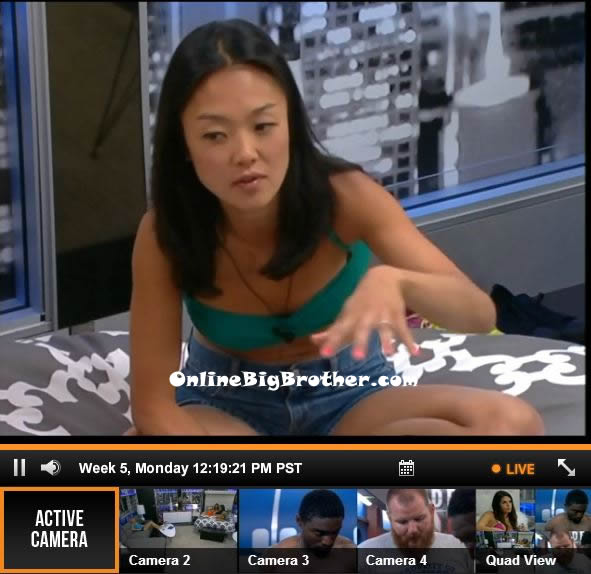 Use the Big Brother Live Feeds to FLASHBACK to SEE what they can't show you on TV: BB15 N!p Sl!ps / N*des