POV Holder:
Jessie
Next POV
Aug 10th
POV Used
YES
POV Ceremony
Aug 5th
HOH Winner:
GM
Next HOH:
Aug 8th
MVP:
AMERICA
Original Nominations:
Candice, Jessie and Amanda (MVP Nom)
Current Nominations:
Candice, Spencer and Amanda (MVP Nom)
Last Evicted Houseguest
David, Nick, Jeremy, Kaitlin, Howard
Have Nots
no have nots this week
1:05pm In the lounge – Amanda says I bet you are happy that I got my period today. McCrae asks why? Amanda says because it means I am not pregnant. McCrae says there is nothing we have done that could get you pregnant. McCrae says except for my super sperm through immaculate conception. Amanda says I don't know why Candice seems so happy. McCrae says I don't know, you should talk to Helen. Amanda says you should talk to Helen. They lay in silence for a few minutes and then Amanda asks what McCrae is thinking about. McCrae says why Candice is so happy. McCrae tells Amanda he loves her. She says she loves him. Amanda tell McCrae to tells America how he farted in her butt last night.
1:15pm In the kitchen – Candice enjoys her last meal in the BB house. Only a Coup d'etat or a BBCA Powershift can save her from eviction tonight.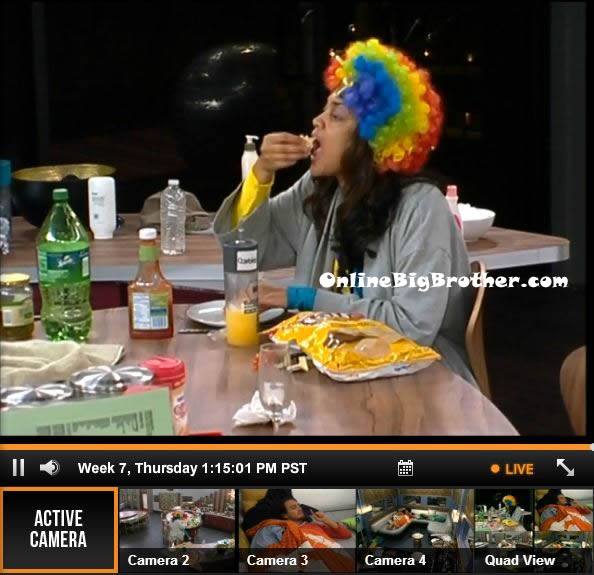 1:20pm Jessie and Candice head into the bathroom and Candice offers to do her hair.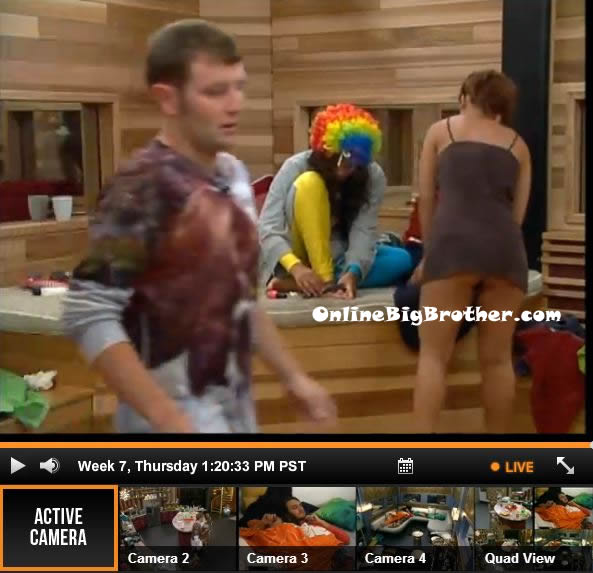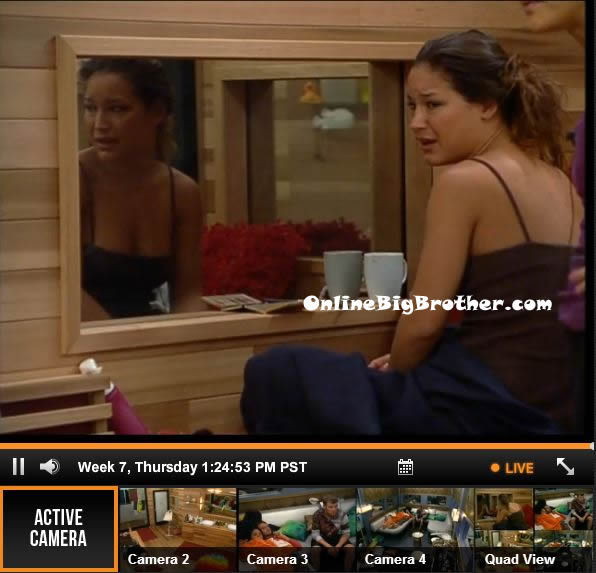 1:20pm In the lounge room – Judd goes into the lounge room and talks to Amanda and McCrae about how he wants Jessie gone so bad. He says he is tired of that bit*h cuddling up next to me. Helen comes in and tells Judd that Jessie is crying and that he should go talk to her. Judd goes to talk to her and says that he doesn't know why she is upset. Jessie says that he said it sounds like she is being f**ked in her sleep because she moans. Judd apparently told her to shut the f**k up in the HOH after he made a comment and she got mad about him says that it sounds like someone is getting nailed in the bedroom at night because she moans while she sleeps. Judd tells her that she is being a drama queen. You just do this for attention. Judd says that she is horrible to be around. He says that he has been faking being around her this whole time and can't stand her. He says lets just not be friends anyone and not talk anymore. Judd says every day it is another thing with you and I can't take it anymore. Judd says I feel like I walk on egg shells with you all the time. Helen tells him that she didn't think it would get like this and tells Judd to leave. Judd says okay I apologize. Jessie says I don't accept your apology. Judd says that everyday she looks for something to get mad about, it's all about attention. Helen takes Judd out of the room into the lounge. Candice continues to go off about Judd telling her to shut the F**K up. It hurt me and scared the F**K out of me when he yelled at me. It scared me which is why I didn't defend myself in that moment. This is Jeremy a$$ behaviour and if you all can't see that … thats just ridiculous. In the lounge room – Judd talks to Amanda and McCrae about his fight with Jessie. He says that now I am worried about tonight. Judd says am I crazy or is she crazy. McCrae says that she is crazy! Judd says I was trying to be funny, did it sound that way? McCrae says yeah I was laughing. I don't know how Helen took it though. You tore into her a$$! Judd says maybe I shouldn't have said I am tired of faking it.
WATCH the FIGHT on FLASHBACK FREE 2 DAY TRIAL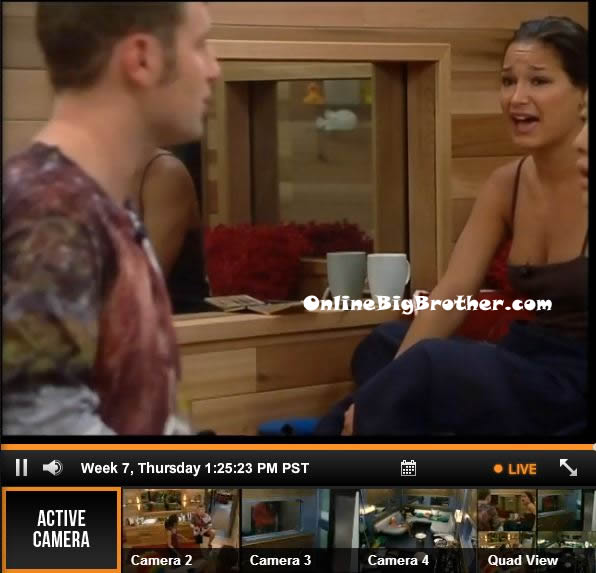 1:40pm Judd apologizes to Helen and Candice in the bathroom about the fight. He says that he doesn't want them to think that he degrades women or is like that at all because I am not. Candice tells him that Jessie is just confused about whether you like her or not.

1:45pm- 1:55pm In the havenot room – Judd talks to Helen and Elissa. Helen says that Jessie needs to go! Judd says that was a set up by Jessie. Did you notice how as soon as I came out of the lounge room all of her tears dried up and she immediately started to bite my head off. Judd asks Elissa to be down with getting Jessie out. Elissa says yeah. They ask Judd who he would put up if he won HOH. Judd says Jessie and someone else who for sure wouldn't go home. I wouldn't put either of you up though. Judd says I just dont want ya'll to think I am a woman hater because I am not. Helen says no we don't think that at all. They hug and Judd leaves the room. Helen talks to Elissa about how its better to keep Amanda in the house a bit longer and get rid of Judd and Jessie first. Helen says can you imagine Judd, McCrae, Spencer and Andy working together? We would lose the game! We need to get the guys out.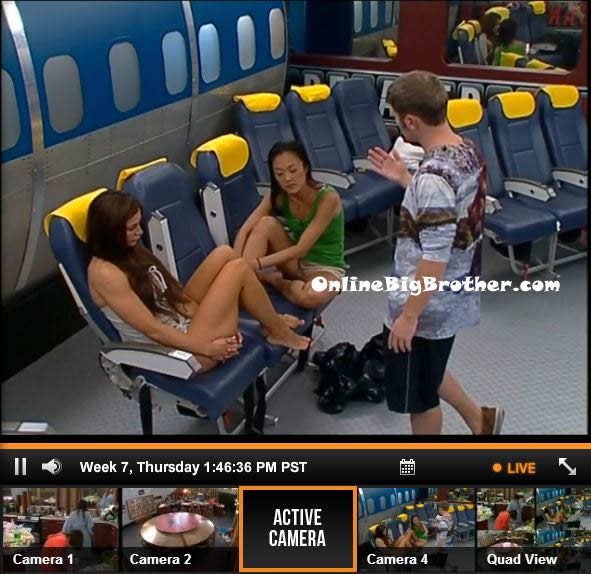 1:55pm McCrae talks to Helen and Elissa in the havenot room. They tell him that Judd has to go, we don't need him anymore! He needs to go! McCrae agrees and says that he can't do it though. Helen says well you can't win HOH then. McCrae says yeah, I will throw it unless it's Jessie up there and then I will stay in it.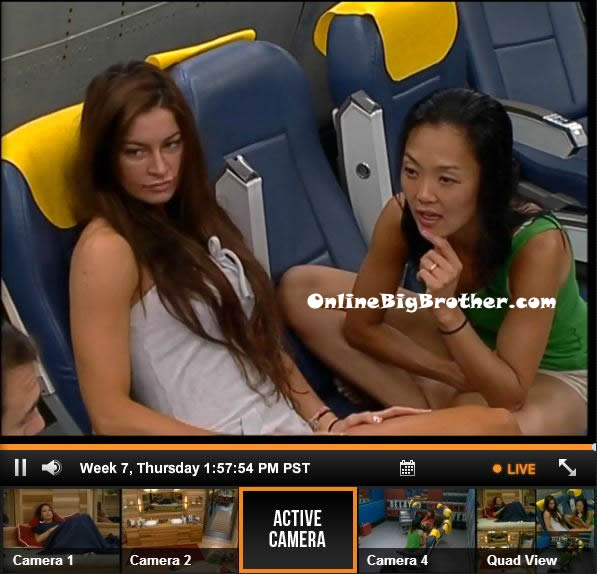 2pm – 2:20pm In the storage room – Andy, Helen, Elissa and Judd talk about making sure they knock Jessie out of the competition tonight if its a knock out comp. Judd says we need to put Jessie against someone smart like you Helen or McCrae to knock her out. Judd talks about how draining Jessie is for his game. Helen says yeah your game will improve exponentially when she goes. They all fist bump at how well they have all done with each other. Judd says any time anyone talks game with him he just agrees, unless it's about Elissa or one of you then I try and talk them out of it. They start studying the events of the house just in case it's a quiz competition. Candice joins them. They talk about how Judd kept a couple of Nicks shirts but doesn't want Ginamarie to know because it would just become part of her LOVE SHRINE for Nick.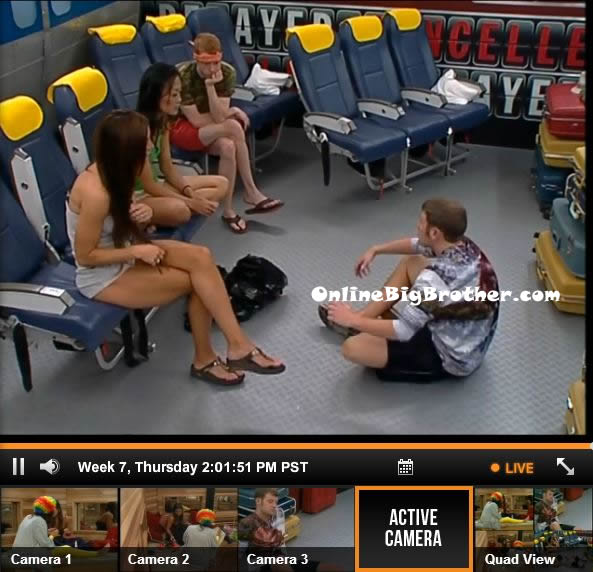 2:20pm – 2:30pmJudd, Helen and Elissa talk about who would come back for an all-stars vs favourites season. Judd wonders if Aaryn would come back? Elissa says no not after the degrading comments she made. Judd talk about how he didn't know about the comments Ginamarie had made after the mattress flipping incident. He says about how that must be that side of you coming out to Candice. They all then finish up and head out of the storage room. Judd starts getting all of his stuff together just in case it's a double eviction.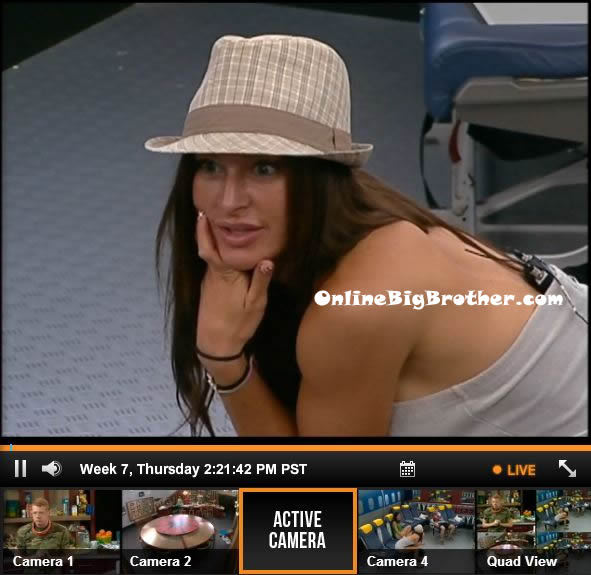 2:30pm In the storage room – Helen confirms that everyone is on board with getting Judd out. She says McCrae, Amanda, Elissa and her are all on board. Andy says okay good. They leave the storage room.
2:35pm – 2:50pm In the rainbow bedroom – Judd talks to Ginamarie and Spencer about his fight with Jessie and how she was crying. Gina says that these girls are weak as sh*t! I mean I cry over relationships but this is ridiculous! I can't believe Jessie hanging out with the enemy. What an a$$hole! Judd talks about how Jessie just wanted to make me look bad and start a fight with me. Gina tells him to not let her start a fight with him. She says or I will have to chop her legs off at the knees and make her look even shorter. Umpa-Lumpa Umpa-Lumpa Umpa-Lumpa! She looks like a teradactyl, sh*t! Ginamarie looks at Jessie's underwear and laughs about the discharge on it. She laughs. She says all girls have it a bit but this is crazy yo! Judd and Spencer both wish she hadn't told them about that. Judd says I can't get that image out of my head now. The cameras switch to McCrae and Amanda cuddling in the other bedroom. She asks him if his is scared. He says no. I am worried about a double eviction though.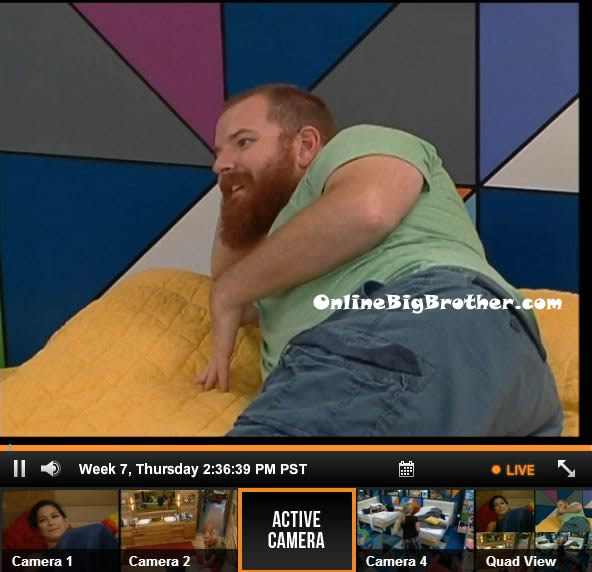 2:57pm All of the house guests are milling around eating, cleaning and hanging out waiting for the live show to begin. Andy tells Amanda and McCrae that he is scared about Jessie being in the house because this (the Judd/Jessie fight) could happen to me too! Jessie joins them and Andy leaves. Jessie talks to Amanda and McCrae about how sh*tty it was for Judd to tell her to sh*t the f**k up. Amanda asks who she would put up. Jessie says Gina and maybe Judd after what he said to me.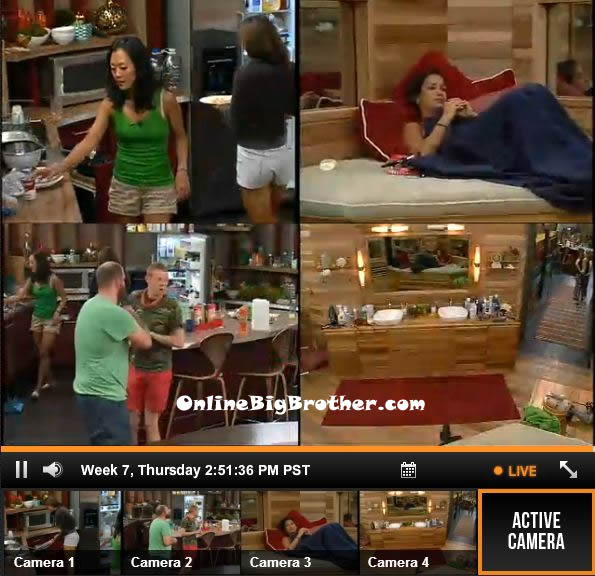 3:52pm Feeds on trivia.
Use the Big Brother Live Feeds to FLASHBACK to SEE what they can't show you on TV: BB15 N!p Sl!ps / N*des