POV Holder:
Spencer
Next POV
Aug 3rd
POV Used
YES
POV Ceremony
July 29
HOH Winner:
Aaryn
Next HOH:
Aug 1
MVP:
AMERICA
Original Nominations:
Spencer, Howard, AMANDA (MVP nom)
Current Nominations:
Howard, Candice, Amanda (MVP nom)
Last Evicted Houseguest
David, Nick, Jeremy, Kaitlin
Have Nots
Judd, Amanda, Candice, GinaMarie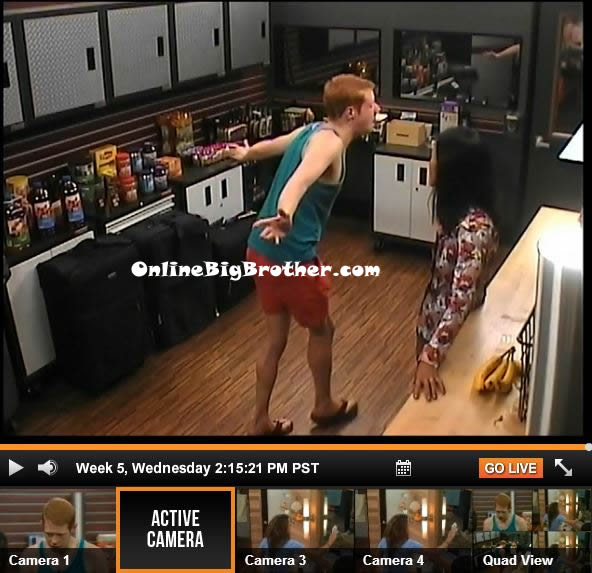 2:10pm -2:15pm Andy and Helen are in the storage room talking. Helen asks Andy what happened last night. Andy says that Judd basically got caught. Andy says that Judd said that Jessie was fu*king up his game. Andy says that Judd said that Howard was lying and made it up but then half an hour later he told me that Jessie told him the plan. Andy says that he questioned why Judd said Howard first and then changed to say Jessie. Andy says and then I called him out on it again later. Andy says that Judd said he got his conversation with Helen mixed up with Jessie. Andy says questioned that and then Judd freaked out and said quit putting things in my mouth!!!! Andy says I said I wasn't trying to call him out I was just questioning it. Andy says I fear that on Thursday it is going to happen and we are going to be the minority. Helen asks what Aaryn said. Andy says that Aaryn is still on board with voting out Howard even if there is a tie vote. Andy says that he thinks Judd made it all up and says that he needs to go. He is trying to cover his tracks. Andy says that if I get HOH next week I would put up Spencer and Candice. But maybe not we need the numbers. Helen says no put up Jessie and Spencer. They talk about how Judd needs to go. Andy says if one of them gets MVP we are fu*ked. We need to get HOH this week. Helen says I think Judd and Jessie both need to go up. Andy says we can't let anyone know we are thinking this. Andy worries Ginamarie and Aaryn are working with him. Helen says that Judd was the one that came up with the plan to keep Aaryn by saying Kaitlin was after me. Helen says I knew we should have gotten Aaryn out last week. Andy says that he still thinks Aaryn will vote out Howard if it's a tie. Helen and Andy leave the storage room. Aaryn says that I am not going to lie I had a 1 second brain fart that it might be good to vote the bit*h out. Aaryn swears that she won't and that she is voting out Howard if its a tie.
Use the Big Brother Live Feeds to FLASHBACK to SEE what they can't show you on TV: BB15 N!p Sl!ps / N*des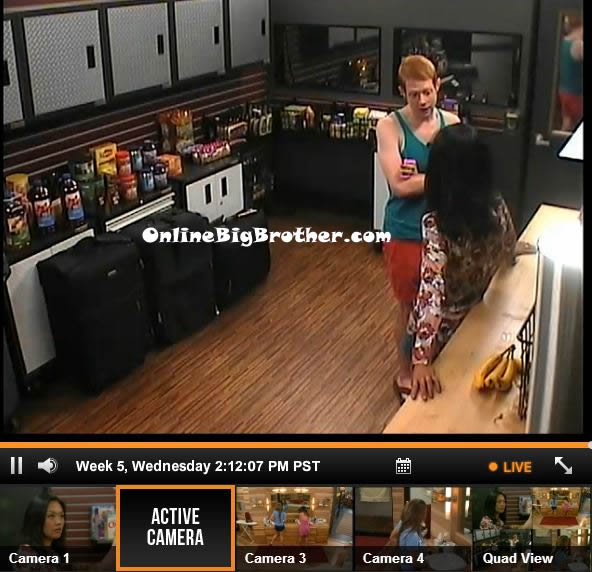 2:30pm In the storage room Amanda and Andy are talking. Andy says that he really thinks Judd needs to go. I think that he is working with them. Amanda says that she doesn't think so. Andy says I hope not because if it is we are fu*ked! We will see at the vote tomorrow. Andy says he doesn't see how Gina and Aaryn would go against us we she knows she can trust. Amanda doesn't think they would go with them. Elissa comes in and Amanda leaves. Andy talks to her about how he is worried about the votes tomorrow. Andy says he doesn't think that Aaryn would turn on us who she can trust to work with Howard and Spencer who she can't trust. Elissa says yeah that would be nuts! They leave the storage room.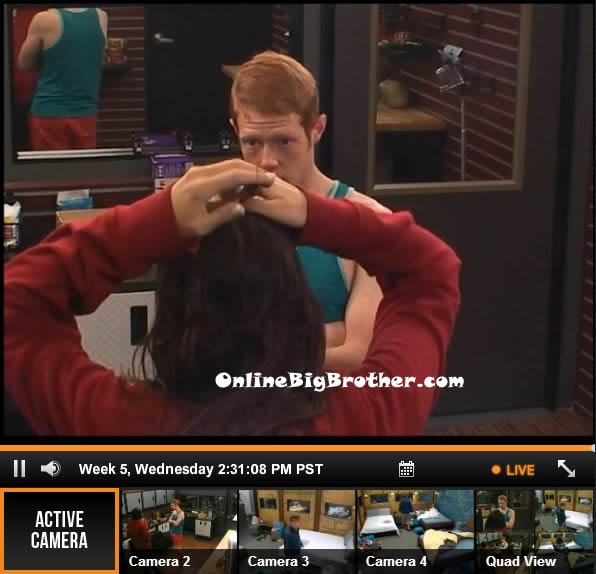 2:35pm Amanda goes up to the HOH room. Amanda says she is coming to her first because Andy/McCrae think you are working with Judd. Aaryn says Judd wants Howard out. He thinks we are working together but he wants Howard out. Amanda says that Judd told me nothing about the secret alliance. It wasn't until later when Andy told me about it. Aaryn says that she already knew that Judd was being sketchy. That he was trying to conjure up something this week. I didn't confront him about it because he would be even more sketchy. There is no way he can get the votes anyways. Amanda says that Jessie said that she doesn't want to have anything to do with Judd anymore because he lies and doesn't fill me in on anything. Amanda talks about the Kaitlin lie that Judd made up. Amanda thinks Judd would talk Andy to the final two. Meanwhile in the lounge room – Andy tells McCrae that Judd needs to go. We will see how the votes go and if the votes aren't for Howard then I will get HOH and put Jessie and Aaryn up and back door Judd. He is terrifying me right now, he needs to go. McCrae agrees. McCrae thinks Judd is MVP. They are worried about Judd winning HOH and having MVP. McCrae heads up to the HOH room.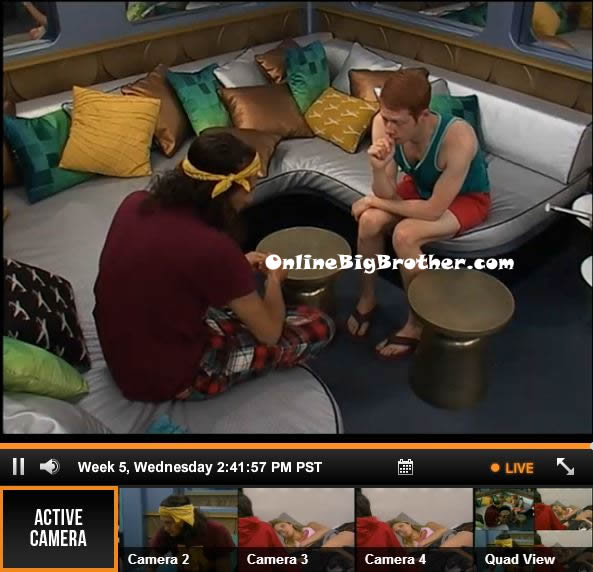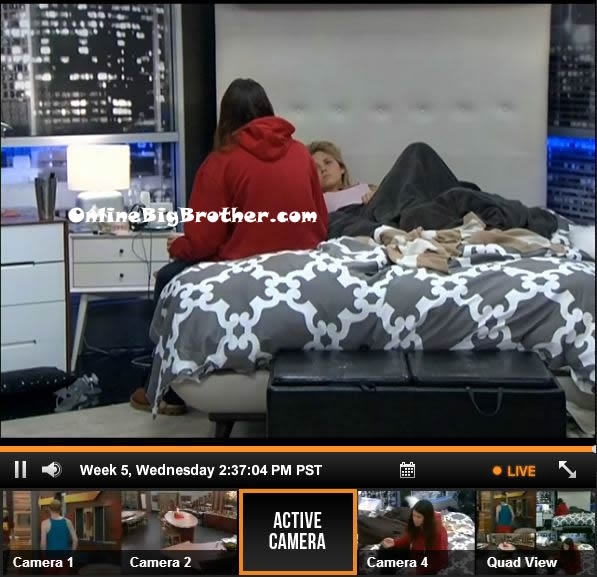 3:10pm Amanda continues to talk to Aaryn about how she knows Aaryn wouldn't work with shaddy a$$ Judd/Howard/Spencer. Aaryn says she wouldn't work with them. Amanda asks if she made a final two with him or if he asked her to do anything fishy or shaddy. Aaryn says no. If he told me anything fishy I would have told you. Amanda says that I will go get Elissa to solidify that you aren't working with Judd. Elissa comes up and Amanda fills her in. Aaryn says that she isn't doing anything sketchy and says that Judd slips up and tells her information sometimes but that's it. Andy says he is happy to hear it because he was worried say would work with Judd and couldn't understand why should would. Aaryn says I trust all of you. She says I am not going to lie she freaked me the fu*k out when I put Candice on the block and she was happy. Aaryn says that if she hears anything she will tell the three of you (Amanda, Andy, McCrae). Aaryn comments that Jessie thinks we are close too when we aren't. Aaryn says that Judd trusts me right now and if he gets wind of this he won't tell me any more information. Amanda says that Judd wanted you here for his own reasons. Aaryn says that she never thought he wanted her here of purely selfish reasons. They think Judd has MVP.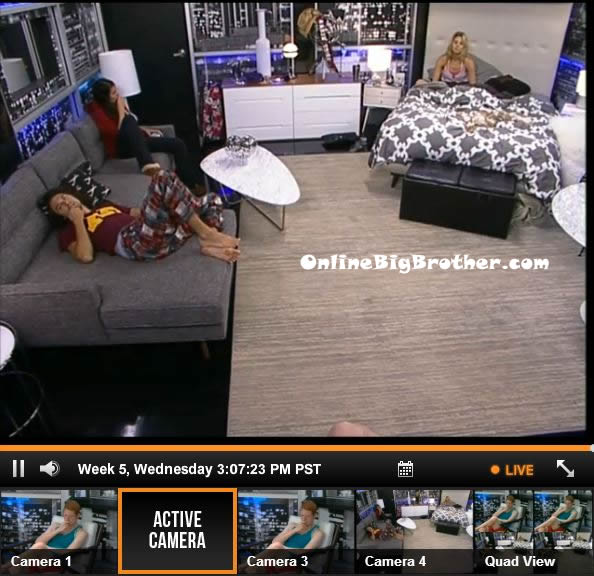 3:20pm Up in the HOH room – Aaryn comments that Helen saying once jury comes it is game on, worries her. Amanda agrees. Helen joins them. Helen says that Judd talked to her about how Jessie is ruining his game. She says that he asked if she would put up Jessie because she says he said he couldn't do it. Amanda brings up how there were up here for an hour last night trying to figure out where Candice got it in her head. Aaryn says that she thinks Jessie was trying to lure me down a hole because she wants me out. Helen says that Jessie definitely wants you out. She has told me that. Jessie joins them. Andy comes back up to join them. The conversation turns to talking about random things.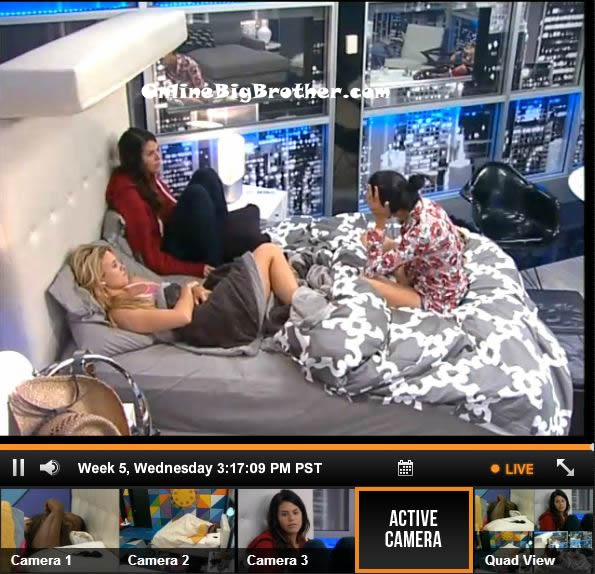 3:30pm – 4pm Jessie leaves the HOH room. Amanda, McCrae, Andy, Aaryn and Helen continue to talk about Judd being sketchy. Helen comments that in the end she won't vote on who her friend is, she will vote on who played the best game. She says that even if you floated through the game, if you were loyal I will happily give you the $500,000. Andy tells Aaryn that she has aligned with the most loyal people in the house. Aaryn brings up how she didn't like that Howard called us all Indians. He said that he respected Ginamarie and McCrae and that is why Gina got up and shook his hand after the house meeting. Helen tells McCrae that Judd wants to evict McCrae once they get to jury because he thinks you are a vote for Judd to win. Helen says but Judd is't even going to make it to jury. Elissa joins them. They fill her in on how they think Judd is working with Howard and Spencer. Aaryn says if you guys put Judd up next week I will gladly vote him out. I don't want to put him up because he worked hard to keep me here. Helen says that's okay, you have a lot of blood on your hands. I will put him up and if he gets off he can come after me. I will beat him at any numbers game. They talk about how Judd wants to work with them because he thinks they are jury vote for him. Helen says that key to this is we have to keep this a secret from Judd and Jessie to surprise them. Aaryn says if anyone thinks I am going against you guys please ask me because I am not that stupid to go against you guys. Aaryn says how she realized Spencer was manipulative was how he would wait until I drank alcohol to come and get information from me but I would never give him anything. Helen says we need to get out Judd, Jessie, Howard, Spencer. Aaryn says that she doesn't want Candice in jury because she manipulates people in how to think like how she manipulated you guys to think I was a racist. She screwed me with the racist thing and if when I get out and I have to deal with that… I will have to deal with it forever! I cannot have her in the jury still talking about that. Andy says that's fine lets get her out next. Helen says welcome to jury Spencer. Helen says if I get HOH I am putting up Candice and Judd. Helen tells Aaryn that Judd is going to be so pissed that you are going to make it so much farther than he will when he worked to save you.
4:05pm – 4:15pm Judd, Amanda and McCrae are in the bathroom. Amanda leaves. Judd asks McCrae what he's been up to? McCrae says a whole lot of nothing. They talk about tomorrows HOH being the endurance wall. Meanwhile in the kitchen – Candice and Howard are cooking. Amanda joins them to make food as well.