POV Holder:
Spencer
Next POV
Aug 3rd
POV Used
?
POV Ceremony
Aug 5th
HOH Winner:
Aaryn
Next HOH:
Aug 1
MVP:
AMERICA
Original Nominations:
Spencer, Howard, AMANDA (MVP nom)
Current Nominations:
Candice, Howard, AMANDA (MVP nom)
Last Evicted Houseguest
David, Nick, Jeremy, Kaitlin
Have Nots
Judd, Amanda, Candice, GinaMarie
4:26pm HOH Andy and GM
Talking about being on indoor lockdown because production is building a "elaborate" set out side. Andy says it's going to be endurance because they will have been working on it for 2 days.
Andy says the vote is going to be 9-0 or 8-1. Ginamarie points out that Candice and Amanda are best friends now.
Aaryn joins them and Andy leaves after a few minutes of Chit Chat
Aaryn feels like something has to happen soon. GM mentions how Julie chen said something 2 weeks ago and nothing has happened yet.
GM: 'I hope we don't get wet tomorrow.. it's going to be cold again.. "
Aaryn: "Amanda needs to relax.."
GM: "I don't want Howard to go… but i'll do what everyone else does it sucks" GM is worried this will screw her the following week because Candice will put her up. Aaryn doesn't think it will happen it'll be
Aaryn says that apparently Jessie made a deal that she would spend a lot of time up here and report back everything she does and say to Helen
A: 'I thought we were really close.. Jessie is on the radar for them to" (Helen and Elissa's radar)
4:40pm Cockpit Amanda and MC
MC is worried he's not going to be strong enough for the Endurance competition. He wonders if it will be one of those competitions where the last 4 people to drop will be a havenots. Amanda points out how MC did great in the first endurance comp.
Andy joins them.. MC tells them about the final 2 he has with JUDD. He's had it since day one even before the Moving company. Amanda: 'I wish JUDD wasn't part of the Goof Troop.. this is the new goof troop us three.. He's gotta go real soon"
MC: "Like really soon"
Amanda: "He f**** up"
4:47pm Storage room Helen and Elissa
Helen says the house wants Elissa out because they are worried she will win in the final 2. Helen is working to protect her.
Helen: "JUDD, JEssie, Aaryn, GM are all afraid of you because they think if you get to the end you will lose" Helen adds that she doesn't have to worry about Aaryn right now Helen thinks Aaryn will take Elissa far.
Elissa :"I cannot stand her.. so never say SHE is going to take ME to the end"
Helen wants to take out JUDD, JEssie and SPencer before Candice.
Elissa: "Candice is way better for our game than Spencer and Aaryn"
Amanda joins them.. "Candice has to stay in this house.. she will continue to be the target week after week.. I want her here.. She will do the dirty work for us"
Helen: "I thought you all wanted Candice out"
Amanda: "I AM NOT GETTING CANDICE OUT"
Amanda tells them the boot list is Spencer/JUDD, Jessie followed by GM. Amanda wants to make sure they keep this from Aaryn because aaryn is so dead set in getting Candice out she'll flip out when she finds out we're targeting other players.
4:56pm Cockpit MC, Amanda and Andy
Andy: "My eyes are burning red I want JUDD out so badly"
Amanda says Helen talks so loud she could hear her talking in the storage room that is why she went into the storage room to talk to them. Amanda tells them Helen and Elissa are 100% on board with keeping Candice.
Amanda: "CAndice will go after JUDD and Jessie.. she wants the people out we want out"
Andy: 'Candice has got to stay"
Andy tells them if the vote doesn't go their way this week they have to win HOH put Jessie and GM up and backdoor JUDD.
Amanda leaves. Andy and MC think Elissa will have a really good chance to win HOH if it's endurance. They believe they can talk her into nominating Spencer and JUDD. Amanda comes back with JUDD so they can have their fake alliance talk.
JUDD leaves
MC: "What the F**** why do you have to push it all the time.. " MC is pissed that Amanda was interrogating JUDD the one guy they need on their side for now. Andy mentions how it's funny that JUDD pointed out Andy "Pops up" every time because Andy does do that.
JUDD comes back with a drink
Amanda says Spencer has never apologized for saying he wanted her dead.. Amanda starts talking about Howard saying "I want to f*** the sh!t out of you" Feeds switch to Helen and GM in the kitchen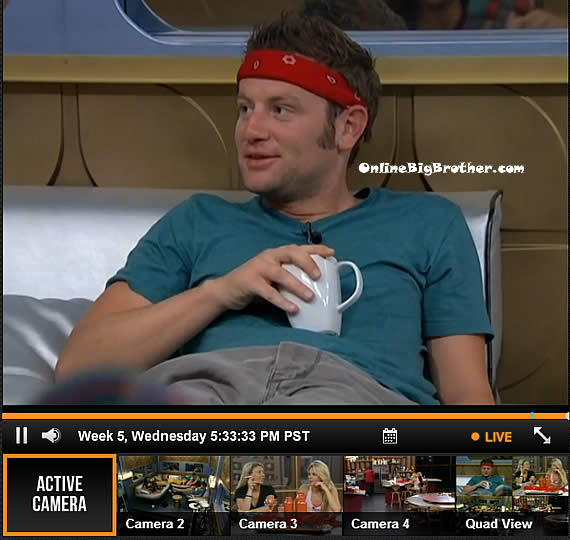 5:24pm Cockpit Andy, JUDD and MC
talking about Helen going crazy last night thinking JUDD, GM, Jessie and Spencer are flipping their vote to get out Candice. Andy says Helen is the type of person that will listen to whoever talks to her last. Andy had to simply talk her down and explain that the information she's getting from Candice is false
JUDD isn't happy with JEssie going to talk to Helen last night and causing such a stir.
JUDD: "I want to win HOH because I have a big move planned"
Andy: "What is it"
JUDD: 'I can't say.. it's a christmas present.. it will rock the boat"
Andy: "are we safe"
JUDD jokes around says it won't change anything.. he adds if he wins HOH the best thing for him to do was put up Candice and Jessie. JUDD adds if the Veto is used he'll have Spencer to fall back on. Andy: 'I don't want Spencer to go"
JUDD tells them JEssie is sabotaging her game thats the move he has to do.
MC doesn't think CBS will ever use the coup d'etat again because the last time they did it everyone was pi$$ed off. (I remember the BB11 coup d'etat being a very exciting time in the show)
MC thinks they will either have a Diamond Power of Veto or Two Vetoes like last year.. MC feels the coup d'etat is over powered and CBS will never use it again.
Amanda joins them and they start talking about how sloppy Harold and Spencer are at the game. Amanda points out that Spencer lies really well. They rehash the house meeting with harold. Amanda says people think she is smarter in this game than she really is. Andy thinks he's much smarter than people give him credit for.
Amanda says Jessie told her that Elissa was the person that got Jessie to flip onto their side. MC says maybe Elissa is smart after all.
JUDD: "She's destroying my game.. she's too sloppy.. she wants to make a name for herself but it's too early"
Amanda: "It's too early"
JUDD: "She's trying to be a Cassi"
MC: "She needs to be a Porsche"
Amanda: "Jessie up until 2 days agao was in the best position in this house"
MC: 'know your roll and shut your hole.. she's Porsche"
Amanda says Jessie has screwed herself over this week. MC thinks she will recover as long as it doesn't happen again. JUDD really doesn't want to get to close with Jessie anymore he thinks she's too much of a liability to his game.
JUDD says he told Jessie the best thing for them is to stick true with McCrae and Amanda.
JUDD: "I'm telling you the best move for me at this point is to put up Jessie and Candice" He adds if the Veto is played he'll put up Spencer. Amanda: "That is a really good idea"
JUDD: "She can go in a couple weeks that would be fine.. " He says they are not close but when Jessie talks she makes it sound like they are really close.
JUDD is close to Jessie in terms on their "flirtmance" but isn't close in terms of a "gamemance".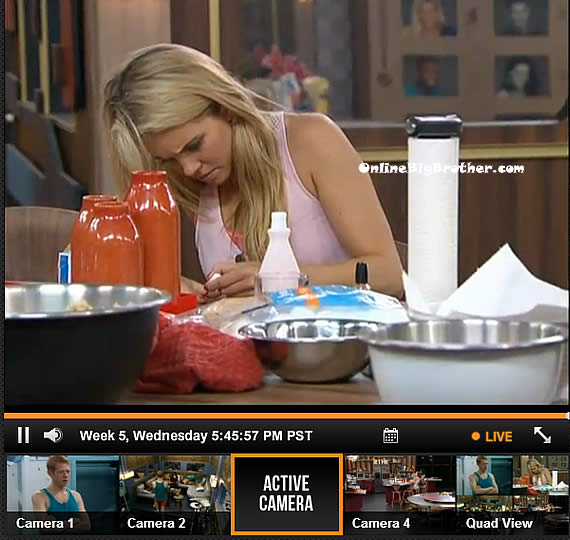 5:48pm Aaryn paining her nails (She's been doing this constantly for the last 3 days)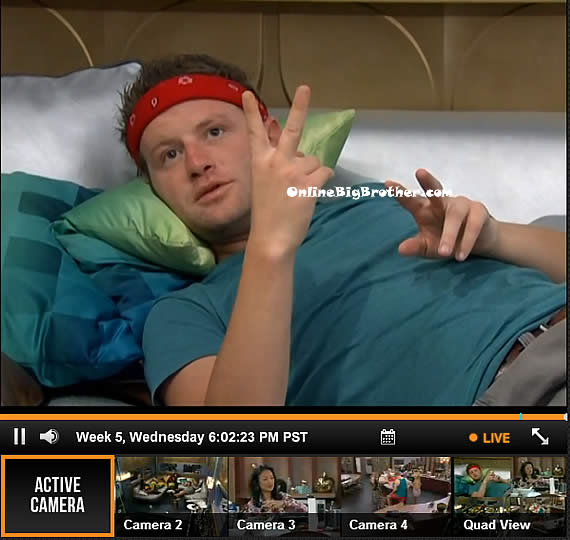 6:03pm Cockpit JUDD, Amanda and MC JUDD doesn't think the MVP is Harold last week because why would he have put up GM because she was a vote for him. Amanda doesn't think it's America because the 3rd nomination have been so random. They don't seem to be able to figure it out.
JUDD jokes that Eddie Murphy and Candice are friends and he's out here getting all the MVP votes for her.
JUDD says if he gets MVP he'll put up GM because no one will vote her out. MC and Amanda think that is a good idea. JUDD says there must be a rule that the MVP cannot be picked twice in a row..