POV Holder:
Spencer
Next POV
July 27th
POV Used
?
POV Ceremony
July 29
HOH Winner:
Aaryn
Next HOH:
Aug 1
MVP:
AMERICA
Original Nominations:
Spencer, Howard, AMANDA (MVP = America)
Current Nominations:
Last Evicted Houseguest
David, Nick, Jeremy, Kaitlin
Have Nots
Judd, Amanda, Candice, GinaMarie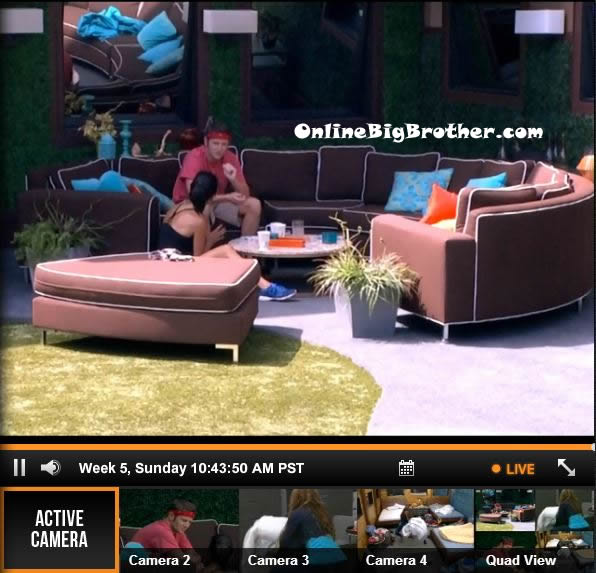 9:40am – 10:30am Helen wakes up, gets ready and then heads outside to the backyard to run. At 10:15am Big Brother switches the live feeds to the we'll be right back screen to wake up the other house guests. When the feeds come back, Judd is in the backyard talking to Helen. He comments that Amanda got called to the diary room. Helen says maybe her and McCrae were doing something funny. Judd says man this trash smell is bad. Judd says I think Spencer would be a good one to bring to jury. Helen agrees I think we need to get rid of Ginamarie or Aaryn before. Helen thinks Aaryn will be with Amanda/McCrae. I will be really tough to get Amanda and McCrae out of this game. Helen says we need to work together to get Amanda and McCrae out of this game. We have to get one of them out before jury. If Amanda makes it to jury she will vote for McCrae to win. Aaryn will vote for them too. Judd says yeah Aayrn needs to go. McCrae will win this game if he makes it to the final two. Judd says he thinks Amanda would to because she's made moves that are out in the open. I've made moves too but they are behind the scenes. Helen says the 5 "Knockouts" (Helen, Judd, Andy, Elissa) and Jessie we need to come together to get out Amanda/McCrae. Jessie might as well be a knockout. Can I trust you with that? Judd says 110%! Helen says that she trust Aaryn more that she followed through with the deal. Helen says I have Andy who will vote for me, you have Jessie. Judd says I am not going to vote for Jessie just because we had a flirtmance. I am not voting on personal reasons. Judd says that's what I want the people that make it to jury that know how to vote, that don't vote on personal reasons. Judd says I want Jessie to make it to jury because she made a big move for us. Judd tells Helen that he has a bad feeling something is going to happen this Thursday like a power or something. Judd says if you are going to vote out Howard it might be best to stay on his good side. Judd says but I don't know if he has anything because he is stressed out. Judd says if Candice wins HOH, that is the worst case scenario for next week. If she did though we could set off what we talked about. (Getting Amanda or McCrae out.) Judd says that he thinks Amanda might be as smart as Dr. Will. Judd says if Amanda was in the final two I might vote for her because the moves she's made and how strategic she thinks. Judd says I do not think Aaryn is a racist. I've heard the comments and I think she either didn't mean what she said or it came out wrong. Helen says I only heard half the story. I don't think she is a racist either but will have to watch it for myself. Judd bring up how Jeremy swatted a fly and said I am used to flies I am from Africa. Judd says that he thought Howard was a little overly sensitive about that.
Judd says over there, there are a lot of flies. He could have meant south Africa where it is prominently white people. I think Howard was just overly sensitive given the other comment that were made. Helen thinks the fish comments weren't good but maybe she probably didn't realize she was saying it. Helen asks Judd how he feels being called a red neck. Judd says it doesn't bother me, I'm not sensitive about stuff like that. Judd tells Helen that after Elissa's shenanigans I think she needs to go early in jury. Helen says yeah, but she would vote for you over then in final two. Judd talks about how all the alliances and fake alliances he was in was getting confusing. Judd says I kind of want Jessie to be the 7th person. Judd says I can't put up Aaryn if I win next week. She has done great things for me in this game and I have only done one for her and I even put her up then too. Judd says Candice cannot make it to Jury!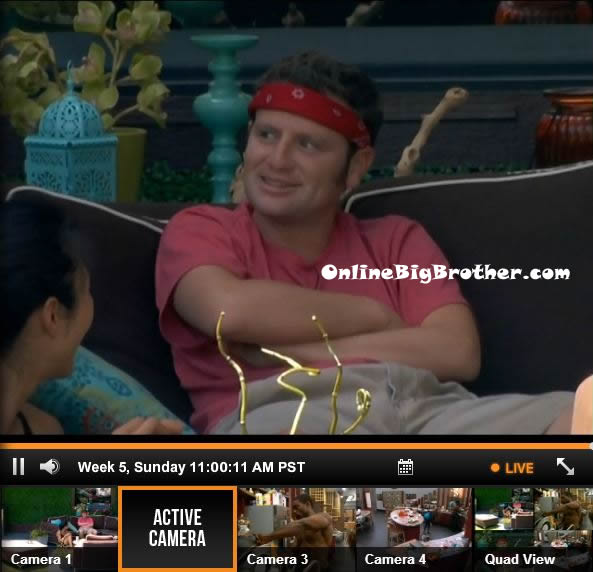 11:25am Helen says if I don't win this I would want you who's a super fan to win it. Judd talks about how he thinks McCrae's downfall is how he has isolated himself with Amanda so much. Helen says either that will hurt him or help him. Judd and Helen shake on working together and being loyal to each other. Judd says that is one thing I do not do, back stab someone that I have been loyal to. Helen and Judd end their conversation. They head over to talk to Elissa who's folding laundry on the pool table.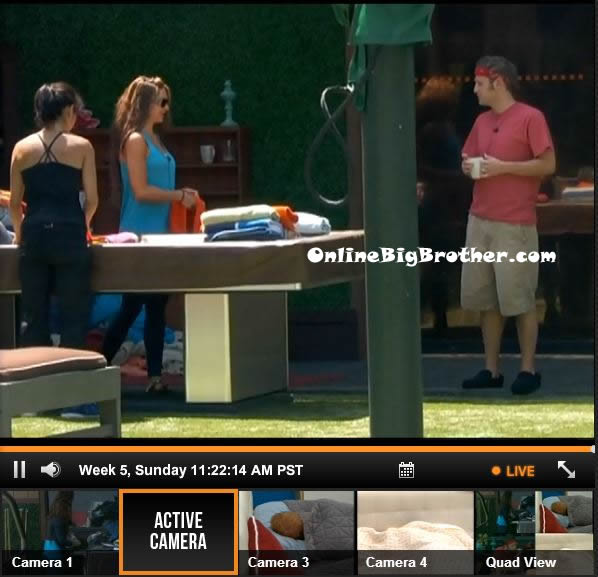 11:30am – 11:45am Judd, Elissa and Helen joke around the backyard couch. Judd says I just don't want Candice to make it any further because she is going to make All-Stars next season. She is going to get the America's Favorite too and she doesn't need the $25,000 she has Eddie Murphy flying her all sorts of places. Elissa asks if Judd thinks Rachel will make All-Stars. Judd says yeah she is in the top 4 best players. Elissa says I think Rachel is better than Dr. Will and Janelle. Janelle didn't even win. Judd says Dan is the best player, making it to the final two both times. Judd thinks that Frank Eudy and Ian Terry both got out shined by the coaches. Helen says that she thinks Mike "Boogie" Malin is the best looking Big Brother player and says he looks like her husband. Judd says he thinks Joddi deserves a second chance. Helen heads inside. Judd tells Elissa that he would be happy to have her in the final two with him. Judd says that he needs the money and wants it but more so I want the title. Helen joins them again and they talk about random things. Elissa jokes that David will make All-Stars. Judd says he didn't even ask me for my vote.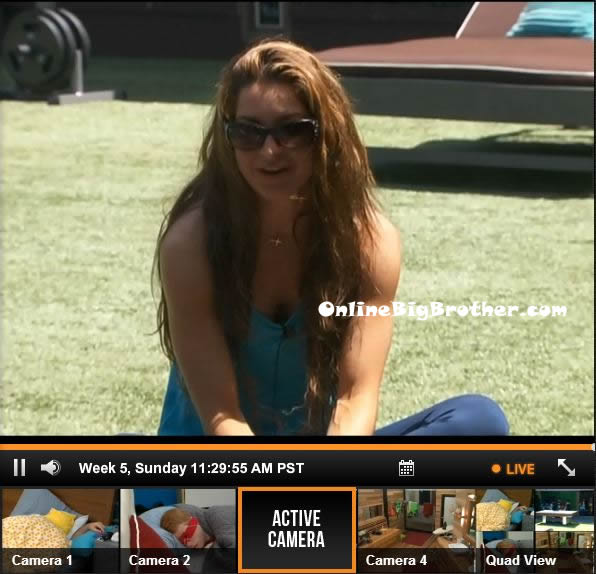 11:55am – 12:10pm The Big Brother cameras switch to this:

12:20pm – 12:50pm Judd and Elissa are talking on the backyard couch. Judd tells Elissa that he was mad at Elissa for that day she called the town meeting. He says that he thought she was going to call him out in front of everyone but she didn't so he wasn't mad after that. Elissa says I had a right to call out Aaryn. Elissa asks Judd if he would put up Jessie. Judd says if I had to, I would. Judd tells Elissa that Aaryn likes her now. Elissa says WHOA.. she likes me what an accomplishment! I can go home now! Just for the comments she made about Candice and Howard I wouldn't be friends with her. I am too busy in my real life I am only friends with people I could see a life time friendship with. Elissa says she would be friends with Judd outside the house. Elissa says I really don't care if she likes me. Judd says he would be friends the Elissa, Helen, McCrae, Amanda, Andy.. Judd says he feels bad about calling Aaryn and Kaitlin trash that one night. Judd says that he thinks Aaryn feels bad after reading her letter with her sister talking about her values and stuff. Elissa says well in her first letter her sister talked about pulling out girl's extensions and stuff so I don't know if you can think too much about her. Judd says she is only 22 and this game does bring out the bad in you. Elissa gets that the game can bring out the bad in you, but think about Candice she stopped and thought about how she has a life outside of here. Elissa says Aaryn has no reason to act the way she did, she has no excuse. Judd asks you don't think you would be mad if someone voted against you. Elissa says she has no excuse for her behaviour. Elissa comments that Howard doesn't talk to her and leaves when she enters a room. It makes me not trust him. Elissa asks Judd where is head is at game wise? Judd says knockouts 100% Elissa asks really what about the grasshoppers? Judd says shut up I don't even think that was the name. Elissa asks what do you think about Amanda? Judd says I really like her. Elissa says people said you wanted to vote her out. Judd says no I didn't who said that? Elissa says 3 people said that. Judd says that was probably when I was HOH and I just agreed to it just because. Judd asks who Spencer. Elissa says no, so you never talked about that with Jessie. Judd says no. Elissa asks so you weren't mad at Amanda for picking your nominations. Judd says no, she wanted Howard up and I didn't do that. Aaryn joins them.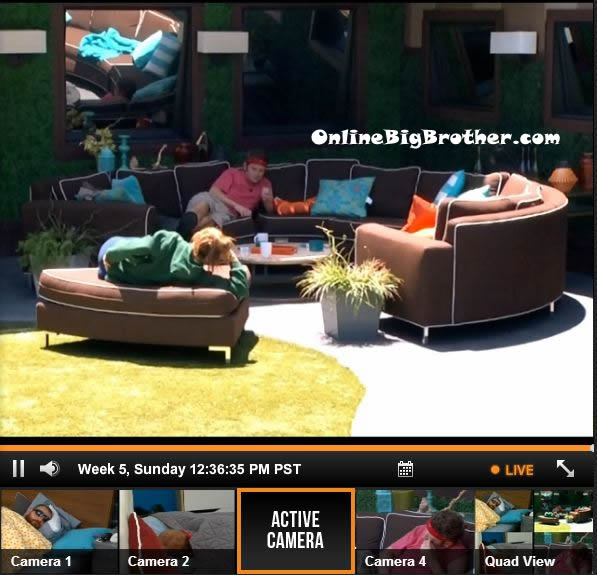 Fire up your Big Brother live feeds and use the FLASHBACK feature to check out the BB15 N!p Sl!ps / N*des