POV Holder:
Frank
Next POV:
Aug 18 (Saturday)
POV Used
Yes
POV Ceremony
Aug 20 (Monday)
HOH Winner:
Shane
Next HOH:
Aug 23 (Thursday)
Original Nominations:
Boogie And Frank
Current Nominations:
Boogie And Jenn
Have Nots
No Have Nots This Week
Last Evicted Houseguest
Wil
HOH temptations
Britney Safe this week, Boogie gets 10grand
12:50am Britney and Ian go to the arcade room. Ian is upset and crying. Britney asks do you realize who you are feeling sorry for? She says that the guy that put his hair into 6 ponytails for a Power Of Veto and makes homemade t-shirts, she says he is 41 years old. Ian is upset that Boogie will be going home. Ian says that he is feels bad about Frank and Boogie getting played by Joe. Britney tells Ian that he doesn't need to feel this way. Britney says that she felt bad when she had to lie to Janelle, but that she did what was best for the Quack Pack. Ian says that he isn't changing his vote, that he just feels bad. Meanwhile, Frank is talking to Ashley about what Joe had talked about with him. Frank tells Ashley to talk to Joe and say she won't talk to the other side of the house. Ashley says that she won't talk to the other side of the house because it makes Joe paranoid when he sees her talking to all sides of the house. Ashley says that Jenn has to understand that she has to lay out all of her options and that Jenn is going to play with Danielle. Frank tells her what to say to Jenn in her defense of voting for Boogie.
Watch it ALL on FlashBack: Pick the Day, Time and Camera View!
1am Up in the HOH room Joe tells Jenn about how Frank and Boogie offered him a final 3 deal. Joe tells Jenn that Boogie and Frank told him that Jenn and Ian haven't done anything for them yet. Joe continues to tell Jenn the rest of the conversation he had with Frank. Joe tells them all that Frank told him that he doesn't care who wins as long as it's not one of the four of them (Dan, Danielle, Shane, or Britney). Shane tells Jenn that he is sorry and that it sucks to find out this way. Jenn says that she is not sympathetic to Ian's tears for Boogie. Jenn says that he wants me to f**king go home! She says that king Boogie is going home. Jenn says that Ian is crying and King Boogie is cooking him over the coals!

Britney tells Ian that even if he changed his mind about the vote, Boogie would still going home 4 votes to 3. Britney talks about how she is worried that there is a magic power in the house that America voted for because of the question mark in the carnival game. Britney wonders if it's America's Choice for someone to stay. Ian says he is just going to make the best of the last few days with Boogie. Britney says what fun, what a trip to Disneyland! Ian asks who Jenn would put up. Britney says that she thinks she would put up Frank and Ashley. Ian tells her about Frank's one and two tiebreaker strategy. Britney says that she feels sorry for Ian and gives him a hug. Ian says that he wants to go talk to Frank. Britney then heads up to the HOH room.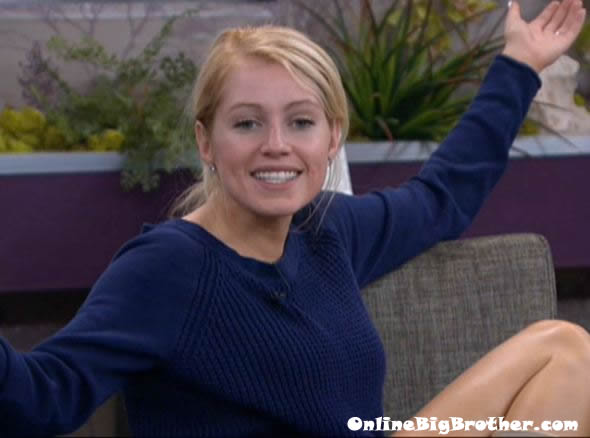 1:10am Ian and Frank are talking. Frank tells Ian that Joe isn't voting for Boogie to stay. Ian says that he was upstairs when Joe came in and said that he didn't take the news well. Frank says that hope it isn't over, and that they just need to string HOHs together. Ian heads inside to the stereo room. He starts pacing around the room. Ashley joins him and tries to talk to him to make up feel better. Ian tells her that he feels like sh*t. Ian and Ashley here the others up in the HOH room and go tell Frank that they are yelling upstairs. Ian tells Frank that Britney and Joe were arguing. Ashley says no, they're talking about why Boogie shouldn't be here. Ashley tells Frank to go upstairs. Frank then heads up to the HOH and asks what's with the yelling. Frank says that they don't need to treat Ian like a scumbag. I don't appreciate y'all appreciate you kicking my boy when he's down. He says that's all he has to say and then leaves the HOH room.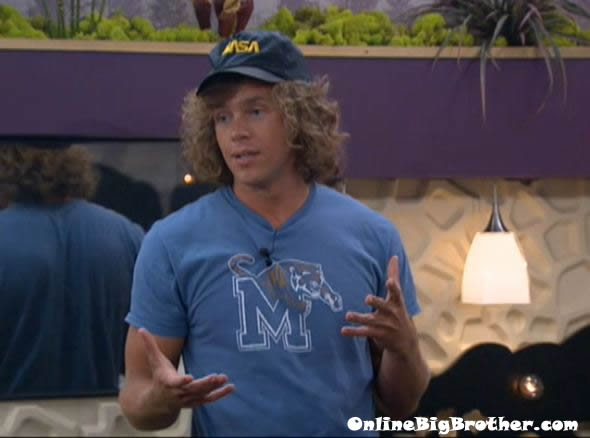 Jenn asks am I in the Twilight Zone? I must be in the Twilight Zone! From down stairs Frank yells she ain't won sh*t and she ain't winning sh*t! Frank says let them have their pow, wow. I've got to get some sleep. Frank then jokes about pulling an Evel Dick, with the pots and pans. Up in the HOH room Britney says that Frank could have been gone week one. Jenn says that she is upset about voting out Kara because they had a friendship. Ashley comes up to the HOH room to ask to talk to Jenn. Jenn tells her that she can suck it! Jenn says you gonna vote me out, I have nothing to talk to you about. Jenn says that she is going to say everything she has to say to her now and then that's it, that's a wrap. Jenn calls Ashley out for turning her back on her and wanting to vote her out. She calls her out for talking about her behind her back. Ashley starts crying and tries to explain the situation. Ashley says that she is voting out every person she wanted to work with and that she is alone. Ashley says that Frank and Boogie have been working her and she says that obviously she is going to listen because she has no one. Jenn says that she only has Danielle, she feels alone. Ashley and Jenn go out of the HOH room to talk alone. Ashley is crying. Ashley says that she is trying to keep Boogie and that she is sorry. Jenn tells her that she can't trust Mike, she can't trust Frank and that she can't trust Ashley. Ashley tells Jenn that she isn't voting her out and that she knows her word means nothing to her but that she wasn't going to not talk to her. Jenn says that it's awhile until Thursday and that could change, but that she hopes it doesn't.
Big Brother Live Feeds FREE 3 Day TRIAL: Try them and see what's happening right now!
1:45am Meanwhile in the have-not room Ian tell Frank that he doesn't want them to gang up on Ashley. Ian tells Frank that Ashley is now crying. He also says that he is mad about the HOH crew bashing Boogie when he is going home. Frank goes up to where Ashley and Jenn are outside the HOH room and tells them that he doesn't like hearing when Ashley is crying. Jenn tells them they're fine. Frank heads back downstairs while Jenn and Ashely continue to talk. Meanwhile, Dan, Shane, Joe and Britney watch from the HOH room on the spy tv. They talk about how they can't believe that Jenn and Ashley are making up. Dan jokingly asks if anyone wants to play chess. They all laugh. Shane says she had better not use up all the tissues saying that the HOH room only gets one box. They all laugh about how everyone is crying tonight. Joe yells that he isn't crying! They all tell him to be quiet. Dan tells Joe that his voice can break through walls. Shane says that its hot in here. Dan asks if they want to prop the door open. They laugh. They wonder if Ashley is an actress. Shane says that Frank is going to tell Boogie we all threw his name under the bus. Britney says that she will say it was all Joe. Joe says he will say it was all Dan. Danielle starts pointing out how Frank is a hypocrite for coming up here on his white horse to defend Boogie's honor. Danielle says just yesterday they weren't calling Shane a pussy and calling Dan "Father Dan" and making fun of him reading the bible. Britney asks Joe to call the house together to serve some fire and brimstone tomorrow. They all laugh. Dan starts listing all the shots he has taken from his past season. Britney tells Dan that he will always be Judas to her. They all laugh. Britney says that Boogie taking the $10G's was bold. Britney does an impression of Ashley and says that she didn't know that keeping Boogie meant voting you out Jenn, I thought that fold meant veto?! Britney says her favorite line of Jenn's was when she said she is gonna go downstairs and burn this mother down!
2:15am Jenn and Ashley finish talking and head downstairs. Ashley gets Frank out of bed and talks to him in the stereo room. Ashley is upset still and tells Frank that Jenn is a fu*king washed up, wannabe rockstar. Frank says that he told Ashley that she shouldn't have gone up there. Ashley says that she is glad that she did and says that she doesn't care if they talk about her. Ashley says that they can call me a big slut and say mean things if they want, they love it, they love the fighting. Frank says that Dan is the worst of them. Ashley says that Joe loves it, she says that they all love that Boogie's going home. Frank says that we are going to win HOH and they are going to sh*t their pants. Frank makes fun of them all saying ones a wanna be rockstar, a wannabe chef, a wannabe model. Frank says that Danielle wants to be married so bad she can taste it she is chasing Shane's jock around the house. Frank says that he is going to call Joe out him not washing his hands and Britney not cleaning up her dishes. Frank says that he is gonna call everyone out on all their sh*t. Frank says that Boogie is going to be livid tomorrow. He is going to say stuff to people that I can't say. Frank says you know they are thinking let's stay up all night and sleep all day so that they don't have to deal with Boogie.
2:50am – 6am
Britney, Dan, Joe and Shane head downstairs and out into the backyard. Britney says that Boogie is going to be upset tomorrow and they are all going to be passed out. Britney says that she liked when Jenn told Ashley to suck it! Joe joins them. Britney starts making fun of Joe for getting misty-eyed. Britney makes fun of Joe and tells Joe's son that his father wants The Notebook for his birthday. Joe throws a pillow at Britney. Joe says snowflake, you are on my sh*t list! Shane says Joe has got balls for telling Frank, it's a no for working with them. Joe says that tomorrow is going to be nap until 4pm and them play non-stop salsa ball. Joe says that he will just smile at Boogie. Britney jokes that Joe is now Teary Eye Joe and not Eagle Eye Joe anymore. Shane tells the them that since he can't win HOH he hopes that whoever wins will put up Frank. Dan says that's the consensus. They continue to laugh and joke around. Shane asks Dan and Britney if the plan is to put Frank up right away or to back door him. They agree and both say that they need to put him up right away because he could still have the chance to play in POV and then he could save himself and Ashley. They talk about how they will know on Thursday if Ian is loyal or not by how the votes come down. Dan says that the vote better go down as 6-1. Britney says it's okay if it's a 5-2 vote because she knows where Ashley stands. Dan says no matter what Frank will be pissed because he thinks it's going to be 4-3 vote and he will realize that either Ian or Ashley flipped on him. Danielle comes out and tells them that its 5am. Britney tells the live feeders that they are trying to stay up all night so they will sleep really late tomorrow and avoid the drama with Frank. They continue to talk about whether or not Ashley was faking it and if she is an actress. Britney brings up that Joe insinuated that there is something more going on between Frank and Ashley. They talk about how Ashley has made out with everyone on Boogie's team; Boogie, Ian and Frank. They finally decide to go to bed at 6am.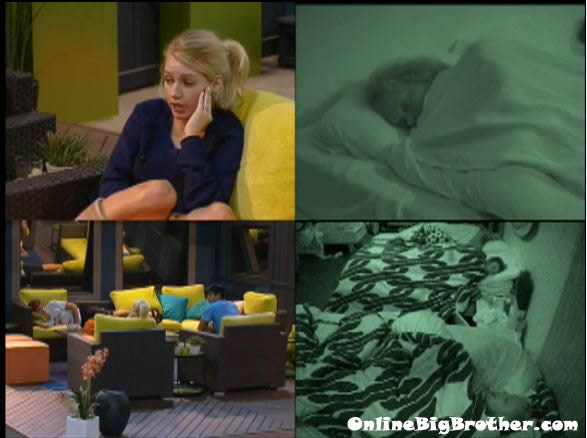 6:30am All the house guests are sleeping…
Watch what happens, AS it happens: Big Brother 14 Live Feeds!
FREE for 3 Days, then ONLY $14.99 per month!
Share it YO!!
Tweet