POV Holder:
Frank
Next POV:
Aug 18 (Saturday)
POV Used
Yes
POV Ceremony
Aug 20 (Monday)
HOH Winner:
Shane
Next HOH:
Aug 23 (Thursday)
Original Nominations:
Boogie And Frank
Current Nominations:
Boogie And Jenn
Have Nots
No Have Nots This Week
Last Evicted Houseguest
Wil
HOH temptations
Britney Safe this week, Boogie gets 10grand
8:40am Boogie and Frank are talking. Boogie seem complacent that he will be leaving this Thursday. Frank says that he thinks if he gets a chance he will send home Dan home first. I think he is acting like the Shepard up there. Frank says that its hard because there are so many targets. Boogie says that he know that he isn't going to like to hear this but, I think you could pull Shane if you get rid of Dan. Frank tells Boogie that Ashley and Ian were crying last night and really upset. Boogie says that he wonders if he should call a house meeting and tell everyone that I am going on Thursday and that I am fine with it.
Watch what happens, AS it happens: Big Brother 14 Live Feeds!
FREE for 3 Days, then ONLY $14.99 per month!
Boogie says that he has to go either one of two roads, and I am a father now and need to be more responsible. Years ago I could I would have no problem going hard at them but I want to leave with my head held high. Frank says that he doesn't know who he is going to talk to now. Boogie says that he got tricked into being here. Boogie talks about how $50,000 isn't even that much money after taxes, what are you going to do with that pay some bills for a few months. Boogie says that the others don't get any satisfaction from his leaving because none of them have any concept of $500,000, they have no idea of what I has outside this house. Boogie says that he is going to something outside this house that they will never have. Boogie says hopefully you get to avenge me and that you wear a Brady t-shirt or something else I give you so that they remember me. Boogie says f**king jokers… because I was an alternate and not even supposed to be here. He says that it could get so ugly in here and I have nothing to gain by being mean.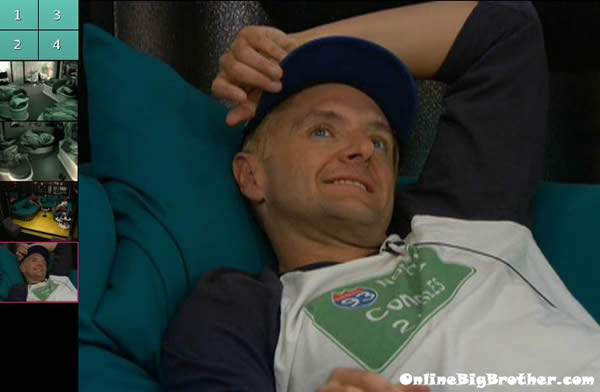 Frank says that he doesn't want to work with any of these mother fu*kers. Boogie says just make sure you get Ian and Ashley to continue to work with you. Boogie says that when he calls a house meeting he is going to call out Joe and say you said you had a heart condition so I didn't want to make it worse so I was respectful of which is why I went to bed early, and you were up in the HOH making fun of me. Boogie says that if I go the other way only Dan would get pleasure out of it, but if I go this way maybe they will all feel bad. At least I can leave with my head held high. Boogie says that he is going to keep his cool, shake everyone's hand, and make them all feel guilty. Frank says that he is concerned that Julie Chen will ride Boogie when he goes out there. Boogie says that there is nothing to be gained from making things ugly in the house. Boogie talks about how he will still try and trick Danielle into thinking he has a power. and will tell her he knows she is a nurse. Frank says it was bad seeing Ian so upset last night, but say that maybe it will light a fire under him. Boogie says that going the ugly route isn't good for the evolution of Mike Malin. He says that he doesn't want to make Ian or Ashley upset. Frank says that none of the others deserve to be here. Mike says in a game like this, the best people don't win, sometimes they do. Frank starts counting the votes against Dan and says that in the end he would give the win to Joe over Dan. Frank says that the others flip flop so much and don't know the game. Frank says that he is living his dream right now and Dan is sh*tting on it. Boogie says that Dan thinks they will still be friends after the game. Frank says that if he can't do it he wants a floater to win, he says that this is how a floater wins the game. Boogie says that he is going to tell Jenn how much it hurts to hear that she was talking bad about him.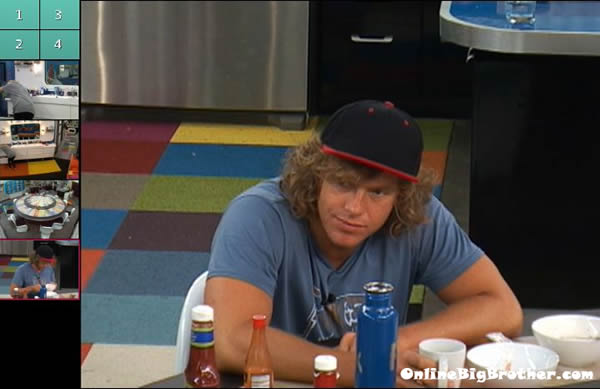 9:30am – 10:10am In the bathroom Boogie and Ashley are talking. Boogie tells Ashley that he is going to just call a house meeting when everyone gets up and tell them all that this is all so unnecessary. Boogie tells Ashley that she can tell Jenn what she wants to say too after he says what he wants to say. Boogie heads back to the kitchen to eat breakfast with Frank. Frank says that Jenn talked about how she was fine with going home so that she could see her friends and now she is throwing you under the bus. That ain't Brooklyn, Jojo is more Brooklyn than she is. Ashley and Frank head into the arcade room. Frank tells her that if he is on a team with them for the have nots he will tank it just to make them have-nots. Ashley talks about how mean Jenn was to her and told her that she would not work with her until she saw how the votes fell. Frank says that Jenn is dirty brown water trash.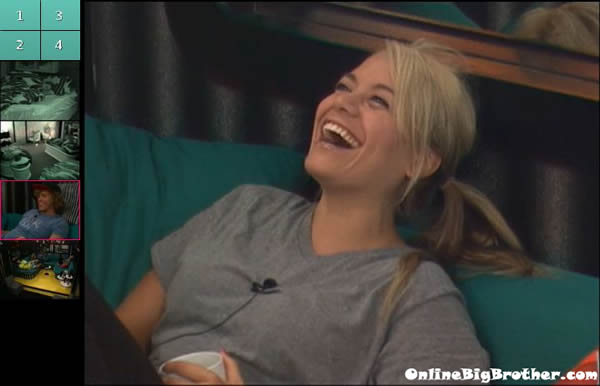 10:35am – 10:45amFrank tells Ashley that if he goes to the jury he will be campaigning for her to get the votes. Boogie brings up how he thinks there will be a double eviction this week for sure. He says that one will happen on Thursday and another on Sunday. Boogie talks about how he just wishes he could leave and how have to think about this at all, no internet, no CBS, nothing.. Ashley tells him that at least he gets to go see Brady. Boogie says that makes it all worthwhile to get to go see him. Boogie says that the things on the internet aren't as bad for some people as they are for others, like for me it would be bad and people online would call Danielle a fat b*tch and a cow. Big Brother cuts the feeds to wake up the house guests. When the feeds come back all the house guests are told to be on a HOH lock down. They start speculating on why they would be locked down in the HOH room. Danielle says that she thinks someone is going home today. She says that she went into the storage room too and the bags are in there and they don't normally put those in there until Thursday morning. Boogie says oh sh*t you're right. Oh please, please, please let that be right! Maybe I can go home 24 hours early! Boogie tells them that he want to have a short house meeting. Frank wonders if it will be a live show tonight with an eviction and another one tomorrow. Boogie says that they probably will.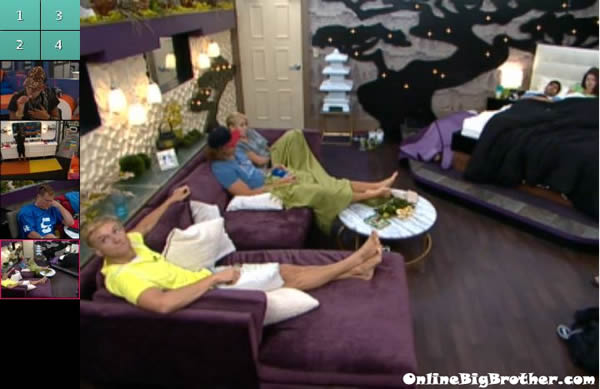 10:50am – 11am Boogie says that he just wants to say a few things. I heard everything that went on last night, lets just leave all the negativity out of it all. He says that he thinks a lot of Ashley and Ian and that he doesn't want then caught up into the negativity. Boogie tells Joe that he didn't appreciate the things he was saying and doing last night because I was being respectful of you and your bad blood pressure and how you said you didn't want to talk about it anymore. Boogie says that he already won this and he has nothing to prove, you can all vote me out. Boogie says that is it, that's all he wanted to say. Shane says that is very nice of him to say that. They all agree it was nice of Boogie. The house guests notice on the spy screen that they can see the living room and the back door opens. They can see someone down there and wonder what they are doing and why they are locked down. They try not to talk about it so that BB wont know that they can see, but big brother switches view. Ashley then gives a short speech about how everyone is a good person and have families and stuff outside the house. She says that Boogie isn't a bad person. We're all going to get stabbed in the front or the back and it is just a game and we are all good people. Frank yeah, it is just a game but it is our lives too, 24/7 and I don't want to get heated but this is my dream.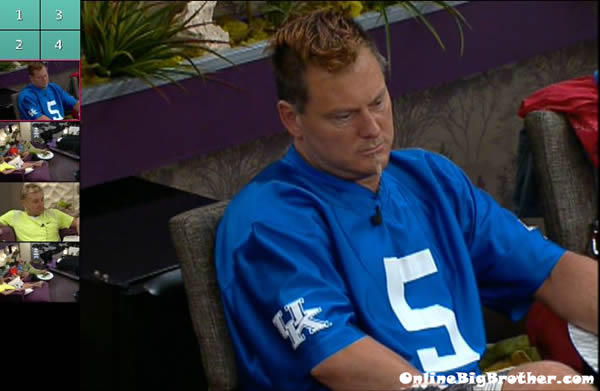 What the house guests see in the spy screen while on an HOH lock down: Someone is in the backyard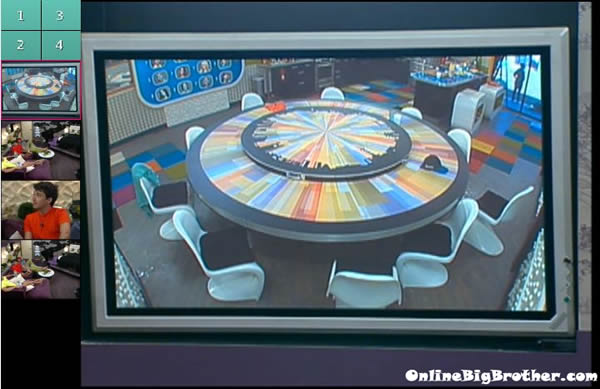 Share it YO!!
Tweet