POV Holder:
Frank
Next POV:
Aug 18 (Saturday)
POV Used
NO
POV Ceremony
Aug 13 (Monday)
HOH Winner:
Frank
Next HOH:
Aug 16 (Thursday)
Original Nominations:
Wil / Joe
Current Nominations:
Wil / Joe
Have Nots Cod fish/Candy Canes
Joe, Shane, Danielle, Britney
Last Evicted Houseguest
Janelle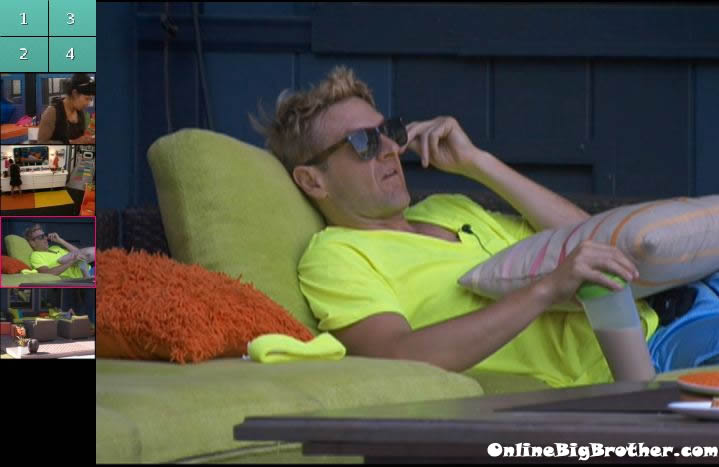 9:45am – 10:50am Danielle, Jenn, Wil, Ian and Boogie are awake. Boogie heads out into the backyard to lie on the couch. Boogie starts talking to the camera and how he has a really bad ear infection. He says three times on the show and an ear infection every time. Ashley gets up and heads into the kitchen. She tells Jenna that her back feels the best it's ever felt. Ashley curls up on the bathroom couch with Danielle. Ashley asks Danielle what's the matter. Danielle says she is sleepy and doesn't want to get ready. Ashley asks for the diary room sessions or for life? Danielle says for life. Ashley tells Danielle that she only has two more days in the have-not room. Dan and Ian are in the kicks room talking. Ian says that he had a couple kids in his university that had no idea how to make their bed. Ian continues to talk about stories from his university dorm.
FREE 3 Day Big Brother Live Feed TRIAL: Join Now!
11am – 11:30am
Joe and Wil are out in the backyard. Joe is tells Wil about the conversation he had last night up in the HOH room. Joe starts talking about tossing someone's salad and how he still doesn't understand why it's called that. Wil says that it sounds like a 18 year olds conversation. The conversation turns to talking about them being on the block. Wil offers to call Joe's wife if he is sent home to tell her a message if he wants. Joe says that as it stands right now I think I am going home. Wil talks about how Frank had the opportunity to take out a big target and he didn't. Joe and Wil comment on how they both aren't big threats and they neither of them have won a competition yet. Joe starts talking about all the sex terms her heard last night and that now he is able to talk to his kids about sex. He comments that it was pretty funny. Wil heads inside. Joe and Jenn continue to talk. Joe says that he has resigned to that fact that he is going. Wil comes back out and Joe tells him that if he hears anything that I said about you come talk to me because I will not use your name in my campaign. They both agree that they wont throw the other under the bus. Joe says the only thing you would hear is that you are the bigger threat. Joe says no matter what happens this Thursday is going to be the most emotional send out of the season. Wil agrees. Joe says that we are both every social people and we have gotten to know everyone. Wil brings up again how Frank could have made a big move. Joe says that maybe it was too soon, like how Daniele last season made a move too early and she got chastised for it. Joe comments on how he thinks they are working together and that they are keeping the competitors in the game. Joe also brings up that Hayden didn't win a competition till week 7 and he ended up winning. They talk about how no one wants to evict Ashley because no one want to have the villain card. They joke about Ashley being in the final two and he wondering how it happened. "I just got up to get a snack, how did this happen?!"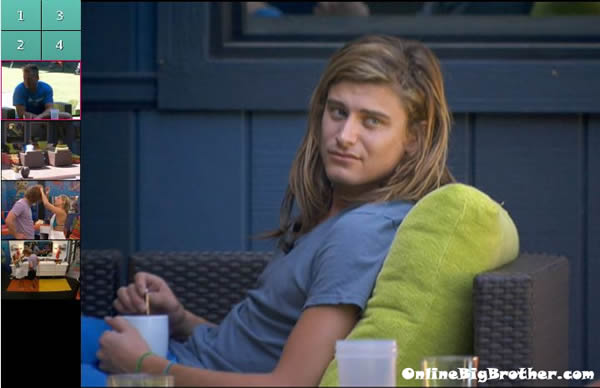 11:45pm In the bathroom, Ashley is styles Franks hair while Britney watches. Meanwhile out in the backyard Jenn, Joe, Boogie and Wil are talking about how messy Britney is around the house. They wonder how she is at home and if her husband cleans up after her. Boogie says that some guys are just so whipped. Joe heads inside. The others talk about what they are missing while inside the house. Boogie says that he misses the Olympics the most, he talks about how he will have to wait another 4 years just to watch it.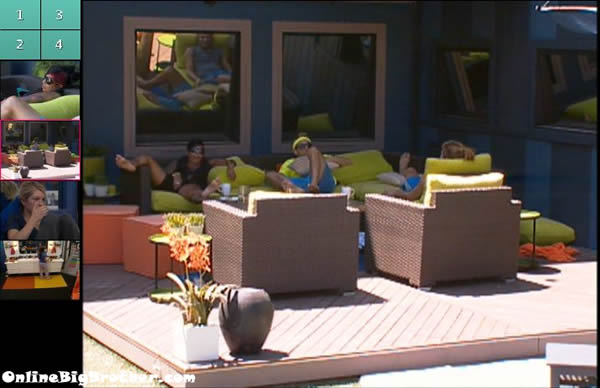 12pm Britney and Danielle are in the bathroom. Britney comments on how it is really easy to get Shane to talk about something else by just mentioning something else. They talk about how they can't tell Shane anything because he blows it out of proportion. Joe comes in to the bathroom and leave twice. Britney comments on how he just came in here. She tells Danielle Joe you are staying, calm that fu*k down. Britney asks Danielle if she is sick of Mike Boogie continually asking you questions about your class room just because he knows your secret. Big Brother cuts the feeds.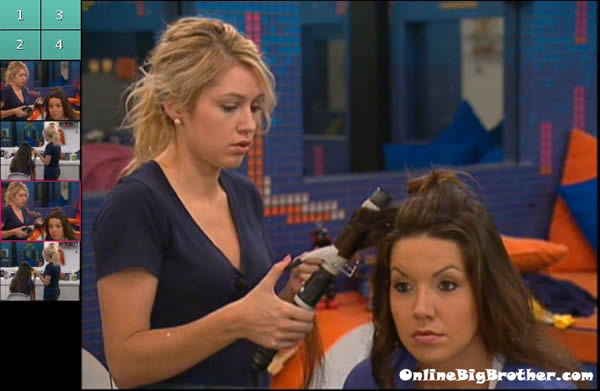 12:40pm Big Brother asks Boogie and Wil to clean the backyard windows by the couch. Big Brother says Boogie, Wil, Thank you very much! Boogie tells Jenn and Wil about his babies momma. He says that when things started going south they split up. They continue to talk about LA and other random things. Inside Joe, Danielle, Frank and Ashley are making lunch. Joe talks about wanting to try like crazy to have another kid when he gets home, he says that his wife got her tubes tied after the last one but he is gonna try like a motha f*cka.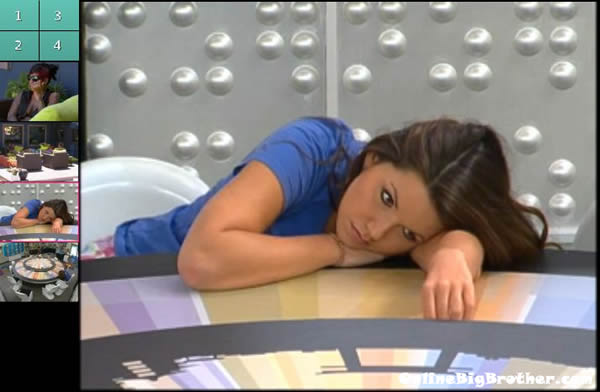 1:10pm Boogie, Wil and Jenn continue to talk on the backyard couch. They discuss the limited amount of alcohol they get. Wil talks about how Janelle is an attention wh*re and when Britney was rapping she tried to take the attention off her and onto herself by starting a food fight. Boogie says yeah I think the last time I started a food fight was back when I was four. Shane and Danielle join them. Danielle and Shane start talking about their explicit late night conversation. Danielle says that she is worried about how sites recap and write everything you talk about in the house. Danielle is worried about her family finding out about the conversation. Danielle then continues to bring up things that they talked about.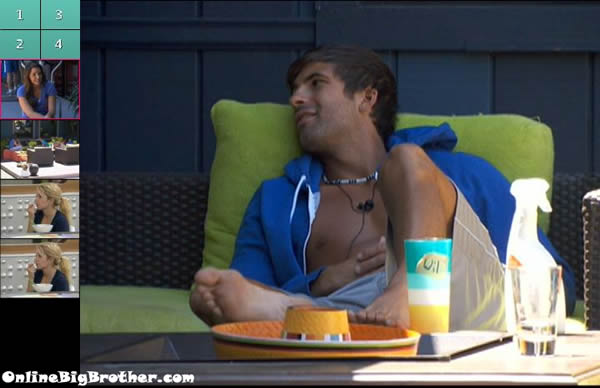 Share it YO!!
Tweet