POV Holder:
Frank
Next POV:
Aug 11 (Saturday)
POV Used
NO
POV Ceremony
Aug 13 (Monday)
HOH Winner:
Frank
Next HOH:
Aug 16 (Thursday)
Original Nominations:
Wil / Joe
Current Nominations:
Wil / Joe
Have Nots Cod fish/Candy Canes
Joe, Shane, Danielle, Britney
Last Evicted Houseguest
Janelle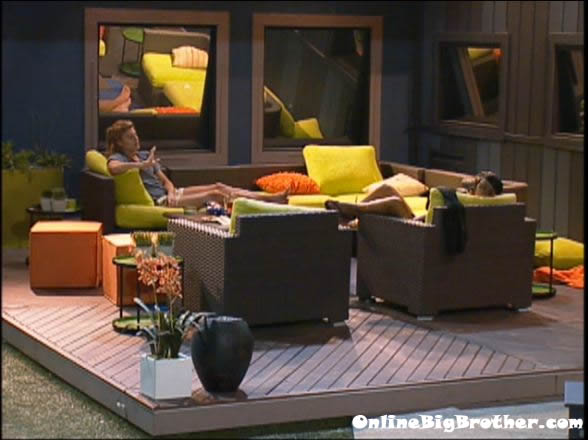 1am Jenn and Wil are talking on the backyard couch about how they think Boogie and Frank are working with Danielle, Dan, Britney and Shane. They talk about how they think Frank made a dumb move that will end up costing him his game. Jenn says that it would suck if Wil leaves. Wil asks why would they want to keep Joe? Wil says that he just doesn't know what else he can do, it's a giant group against us. Wil tells Jenn that at least she has the balls to play her own game. Jenn says that she kind of feel like it's guilty by association; you know because you were with Janelle. Wil says that he just hopes that if he goes home on Thursday, that Dan takes out Frank. Wil says that if you don't want Joe in Jury, then … Jenn says well, he is the kind of guy they would take to jury. Jenn starts talking about how she is the only person of ethnicity here. Wil says that he guess it shows the viewers. He says that he think there are a bunch from the mid-west. They give shout outs to the mid-west. They say wash your a$$ and enjoy yourself. Wil says that if he gets thrown out, at least he did it his way, not someone else's. Wil says that he sees it that they do not want any real competitors to be in the end. Jenn says one of us needs to get into the HoH room in a real bad fu*king way. Wil agrees. Jenn says no risk, no gain, Danielle is the one who really is playing the game. Wil says that he wishes the game had more real life skills, because then he would be good at it.

Watch what happens, AS it happens: Big Brother 14 Live Feeds!
FREE for 3 Days, then ONLY $14.99 per month!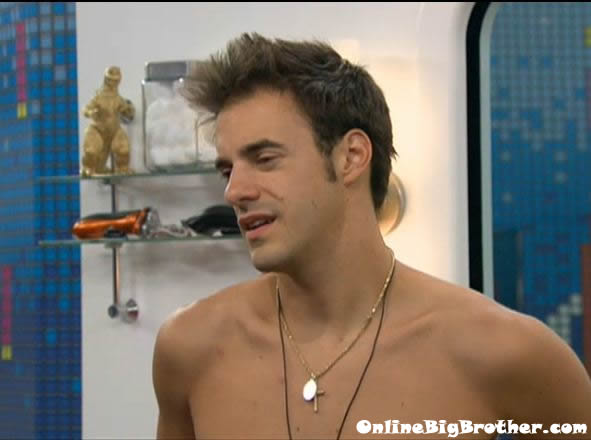 1:35am Dan and Danielle are talking about the money he won from winning Big Brother 10. Danielle asks if he blew all this winnings. Dan asks do I look like a guy that would blow money? Dan says that if Danielle wins he would recommend her invest in real estate. Dan says that the market tanked when he won and he bought dirt cheap real estate and rents it out. He says that he doesn't feel bad about leaving his wife because he knows she is being taken care of by this. Dan says that after he won he spent $1000 on the Vegas Trip, bought a TV for $1500, donated to Saint Mary's, and put a down payment on a condo he bought.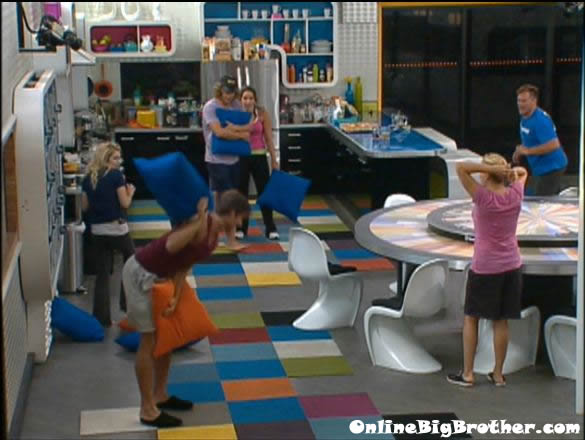 1:50am Danielle, Joe, Britney, Shane and Frank have a pillow fight and fool around in the kitchen in the kitchen. Meanwhile Ashley, Jenn and Joe are talking. Ashley says that Joe is talking about what he is going to be cooking on Thursday. Jenn says that she is going to be in people's faces tomorrow. Ashley asks if Wil has been studying? Wil says that he has to get through this first. Ashley says yeah, you're right. Ashley starts calling the other house guests fu*king idiots. She says she is just being mean because she doesn't want Wil to go home.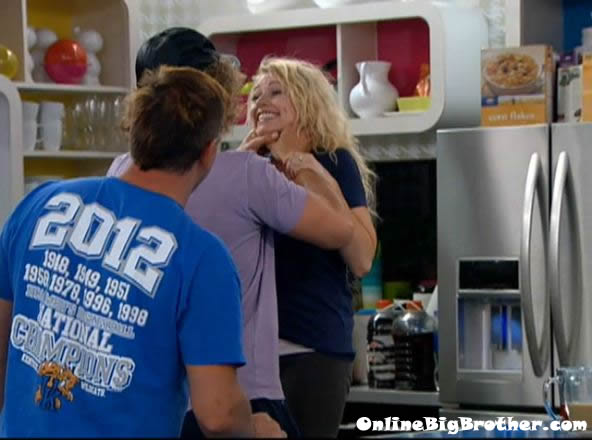 *** WARNING THE FOLLOWING CONVERSATION IS EXPLICIT ***
Watch it ALL on FlashBack: August 14 2012 2:20am Camera 3 & 4!
2:20am – 3:25am Frank, Shane, Britney and Danielle are in the HOH room talking about random stuff. They start talking about going to the bathroom. Shane asks Frank if he is a sitter or a stander. Frank says that he is a sitter, if I stand my b*tt cheeks squeezes all that stuff between my cheeks. They talk about how many times you wipe? Britney explains Frank says that when you wipe the first time, do you get all up in that and look. Britney says first you just wipe, second you just wipe, third you go all the way up to be sure your crack is clean. Danielle and Shane can't believe Britney doesn't look after she wipes. Britney says that she only wipes three times. Shane says that he does it like 5 times and has to look to make sure he's clean. Britney says that she doesn't look after she wipes because she can just feel if she's clean. Britney says that on the 3rd wipe she wipes the top of her butt crack. Frank asks why she wipes all the way up there? Britney says it's in case the first two wipes went too far up when she was wiping from front to back. Britney says that girls forget to clean up there and says that she once saw a girl bend over to get something out of the copy machine and show her crack and it was …Big Brother cuts the feeds. Britney talks about taking 30 minute sh*ts. Danielle associates p**ping with extreme pain so it isn't relaxing. She says that it hurts almost everytime. Shane asks if they know what a bumpkin is? Frank explains it's when you are taking a sh*t and getting a bl*w job at the same time. Britney jokes that she would do that. Danielle brings up that is like tossing someone's salad. Britney says let's be real, I have never licked b*tt hole, but I have licked a scrot*m. Britney says that she can't answer if her salad was tossed. Shane asks Britney if I give you a banana, can you show us. Britney says that everyone knows that area on the scrot*m is really sensitive to a guy. Shane says that his salad has never been tossed by a girl. Danielle says that she had it done to her once in the shower.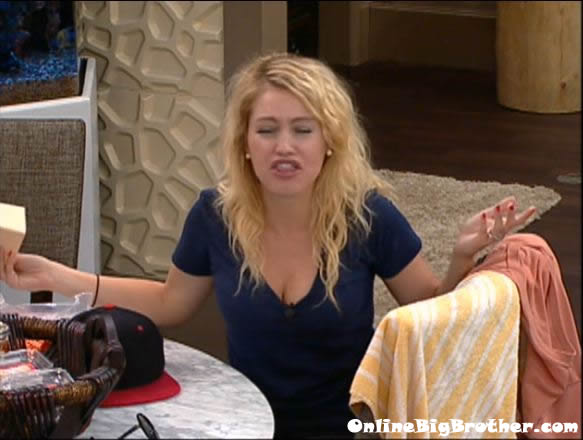 Big Brother Live Feeds FREE 3 Day TRIAL: FLASHBACK!
They talk about giving or*l sex. Danielle asks if Frank does a sniff test. Frank jokes about an ear wax test, you get ear wax on your finger then put your finger down there, and if she jumps you don't go down there. Shane and Frank say that they do a finger test first and then don't go back down. Britney asks if they have ever taken off a girls tattered undies. Danielle says that she has a question because she worked for Victoria's Secret, what about if you're with a girl, her bra de-flats and it's not real. Frank says one time thing, what a disappointment. Joe joins them. Danielle starts talking about little p*nises. Joe says yeah like Asians. Danielle says no Caucasians. They ask him if he has had his salad tossed. Joe says he doesn't know what that is. Danielle asks if she is the only one in here that has had her salad tossed? Danielle starts talking about a riding a bull. She says that she thinks it's when a guy rides a girl from behind and then opens the door and a bunch of friends come in and ride her. Frank says a bucking bronco is when you are doing her from behind and then call her fat. Shane says no, he had a friend who would tell a girl he had AIDs and would hold on while she bucks. Joe talks about buddies who were twins and would switch off to see if the girl would know. Shane says no, you keep your friend in the closet, you pull out, walk over to the window while your buddy gets in. Shane talks about a hot sausage where you put it in the b*tt then pull out real quick so the rect*m turns inside out. Shane then talks about having sex while a girl cr*ps on guy's chest. Britney talks about putting saran wrap on the face and having someone cr*p on your face. Joe talks about a dry run, he says where you cum so much, you can't org*sm anymore and it hurts. Joe then starts talking about whisky di*k. Shane says that he hasn't gotten off too much during oral s*x. Britney says that it's all about eye contact. Danielle says she throws her head in front so they can't look at her. Britney says if I know my face doesn't look good right now so I'll throw my hair there. Joe says come in my face baby.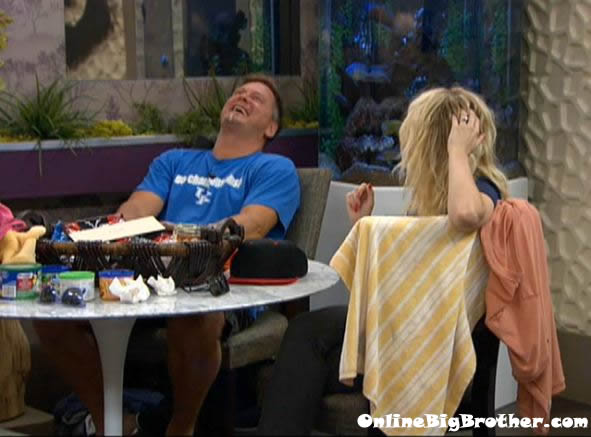 Watch what happens, AS it happens: Big Brother 14 Live Feeds! 
FREE for 3 Days, then ONLY $14.99 per month!
Shane says that it's easier for guys going down on girl. Frank talking about it being worse because it's a crevice down there, your fu*king nose is in her sh*t. Joe asks everyone if they've tried an*l beads. Joe says he has tried them and they're stupid. Shane asks if the guys have passed out from the heat under the blanket while going down on a girl? Britney says that's called a Zingbot 3000. Talk about having done an*l before. Britney and Danielle both say no. Frank says that he is like Joe, it turns me off, sh*t comes out of there. Frank says that he hears you have to be careful and go slow. Danielle talks about a friend who did and the guy pulled out, the girl sh*t all over his shirt. Joe talks about how he and his wife love s*x in the kitchen and that they did it in a fitting room too. Britney says oh, my god, did you buy the lingerie? Joe says yes! Danielle asks Britney if she dresses up. Britney says oh my god Danielle, what are you asking. I've been on a honeymoon. Britney says that she has a friend that figured out her boyfriend was cheating because she discovered in her car foot prints on the ceiling of the car. They finish their conversation and head to bed.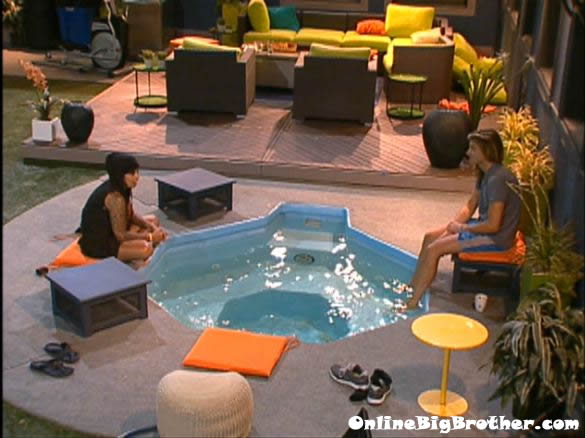 3:40am – 4:55am In the have-not room Shane comments how he might have morning wood. Danielle and Britney laugh and say they can't believe he just said that. Shane asks what it's been 38 days, what about you Joe? Joe says that he has had dreams like that. Britney and Danielle say EWW! Britney asks when did you do that, did you do the trumpet. Joe says no, not that I know. Shane asks are you girls touching each other? Britney and Danielle joke about touching each other's skin and hands… Britney says this is so awkward and tries to change the subject. They joke about walking in on Boogie in the toilet with a towel tent over his head while masturbating, saying he creates a privacy tent. Meanwhile Jenn and Wil are talking out by the hot tub about wanting to win HOH and how they would want to back door Boogie if they won. They also talk about wanting to put up Dan and Boogie to get them to go against each other. Wil starts talking about Britney and says that she is a pu$$y lying bit*h that needs to be kicked in the face. Jenn says that it was weird to lie to Janelle about her vote, she says that she should have just told Janelle fu*k you, you don't have my vote. Wil they decides to go to bed. Jenn stays out by the hot tub by herself. Jenn finally heads to bed around 5am. All the house guests are asleep..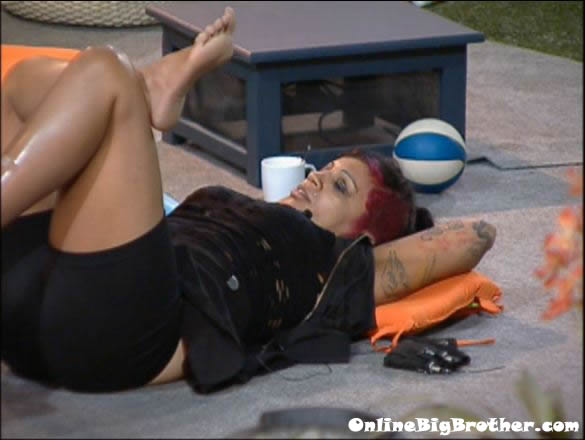 7:15am All the house guests are sleeping..
8:30am – 9:30am  Big Brother wakes up the house guests. When the live feeds come back, all the house guests are still sleeping with the lights on.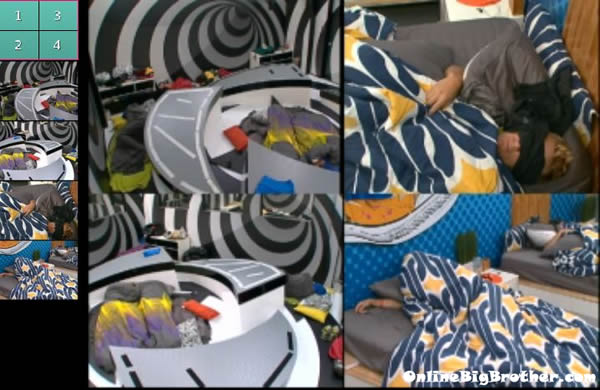 Share it YO!!
Tweet