POV Holder:
Next POV:
Aug 18 (Saturday)
POV Used
POV Ceremony
Aug 20 (Monday)
HOH Winner:
Shane
Next HOH:
Aug 13 (Thursday)
Original Nominations:
Current Nominations:
Have Nots Cod
Last Evicted Houseguest
Wil
HOH temptations
Britney Safe this week, Boogie gets 10grand
11:15am – 11:25am Ian and Boogie talk about who Shane will nominate. Boogie this Shane won't nominate him or Frank because they kept him safe last week. Boogie says that he thinks this will be an easy week. Meanwhile, Shane and Joe are up in the HOH room talking. Joe tells Shane to be careful of Jenn and says that he thinks she is a lot closer to Boogie and Frank. He says that he thinks Boogie has her out there as a plant. He says that he feels like she goes back and tells him everything. Shane says that he knows and says that Jenn is the target after Frank and Boogie. Joe tells Shane that he eye balled Ashley and told her to tell Shane that she has his back and that she needs to promise her vote. Shane says yeah for at least a week. Joe says that he told her that she needs to be loyal and stick to it. Shane says that this week we have have the votes, we need to put them up together, that way if one of them wins the POV, one still goes home. Joe comments on how next week we have the votes too. Joe says that Boogie went for the cash because he knew he was going home and how he wants to go see Brady. Joe says that he thinks that if Boogie wins the POV he will use it on Frank because he only wants the cash. They talk about how Boogie is a multi-millionaire and used to drive a Bentley. Joe says that's why we need to keep him and get rid of Frank. Joe gives Shane a military oath, there has never been something this strong in this game, except for the Brigade. You have got my word! Shane says I appreciate that. They both head down stairs.
Watch it ALL on FlashBack: Pick the Day, Time and Camera View!
11:30am – 12:15pm Big Brother calls for an backyard lock down. All the house guests head out into the backyard. Britney, Ashley, Boogie, Ian and Joe are sitting on the backyard couch talking about food and drug reps. Shane, Danielle and Dan are by the pool. Danielle asks Dan if he saw her wipe out? Dan tells her that she has asked him that 12 times. Danielle says that she didn't ask him. Dan says yes, you've asked everyone. Danielle is talking about her family.
12:25pm – 12:50pm Big Brother ends the lock down. Frank, Boogie, Ashley and Dan are in the pool talking about random stuff like pod casts and Ashley's tanning business. Joe heads inside to lay down to take a nap. Britney and Danielle are in the bathroom talking. Shane comes through. Britney tells him that in their relationship they aren't very needy. Shane asks are you talking about me? Britney says no me and Danielle. They start telling Shane what to do and say if he gets a Pandora's Box. Shane says so should I say it was a money tree and says it was $1463. Britney says just say you got a $1000 envelope, a $400 envelope and a $63 envelope. So if you get a Diamond Power of Veto or a Coup D'etat, then you wont need it this week because you have the power but that you could use it next week. Britney explains that with the coup d' tat he can replace two people and the diamond POV he can only replace 1 person. Britney says that it could also be a box where you win a prize and it puts us into a Fast Forward week. Big Brother cuts the live feeds. Shane asks how he should tell Boogie and Frank about being nominated. Danielle says that she thinks he should tell them they aren't going up and then after tell then that you changed your mind at the last second. Britney says that when she got her Pandora's Box she was still in her veto costume. Danielle says that would be smart if they did that because then we would be out there and we wouldn't know.


1:10pm – 1:20pm Danielle tells Shane to put Joe, Ashley and Ian's keys near the very end so that they don't think they are working with us. Britney says in 2 days we are at the half way mark. Britney says that at the end of this week we with be down to 9. She counts out the weeks and says that there are 5 game weeks left. She says that once jury week's starts they might do two double eviction weeks in a row. She thinks about it and then says that they probably won't do that because this game is about strategy and that takes all the strategy out of it. Danielle says yesterday Boogie said to her are you ready to win if it is an endurance competition, I will throw it to you. She says he said are you ready to make a big move, you won't like it. Danielle says that Boogie was coming after you two (Britney & Shane). Danielle says that is why she didn't even put any in the other two bowls during the competition. Britney comments on how now next week Danielle, Ian and her will all play for the HOH. Shane says we should all study together. They speculate on who might get America's Favourite. Shane thinks Frank because he is funny. Britney questions that and says he isn't funny to me, then she asks Danielle if he has ever made her laugh. Britney asks Shane I told you about Boogie's genital wart right? Shane says someone.. Big Brother cuts the feeds. Shane says Ian might win it too, or you Danielle because you are the underdog and have won stuff.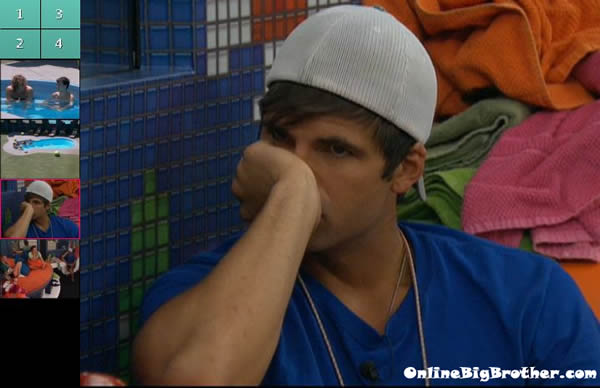 1:26pm – 1:35pm Shane tells Britney and Danielle about his original plan was to come into the game and act as the gay guy. Britney says WHAT?! Shane says that he though he wouldn't be portrayed as a threat and that he could get all the girls secrets, but that he didn't do it because he didn't was America to think he was gay.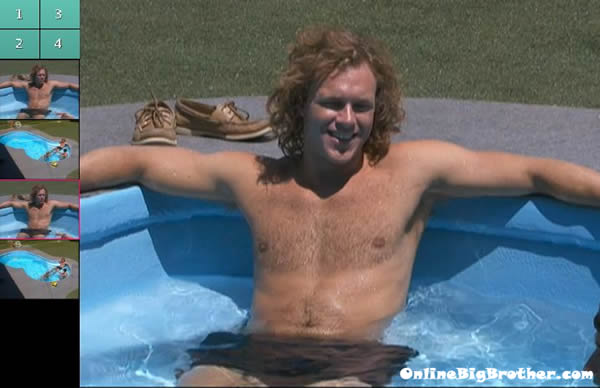 1:50pm – 2:05pm Frank is talking to Ian in the pool about the nominations. Frank says that he will be mad at Mike for going after the 10G's if I get put up. He says hopefully they still want to go after Joe this week. Ian says yeah for sure. Franks says I would like to get my name drawn out for POV, even if I am not worried about being up put up I need to keep our competitions close to the amount Shane wins. Ian talks about throwing the memory competition. Frank says you threw that one and I was on the block son! Frank says you just don't want to admit you lost a memory one. Frank says that Shane is only up on him by winning two competitions, but that I have been up on the block 3 times and survived. Frank tells Ian that if Ian was in the final two he would have the 4 votes to win (Frank, Boogie, Jenn, Ashley). Frank thinks he would have the votes against Shane too. Britney comes out talking about lunch and Frank and Ian get out of the pool. They head inside to eat lunch.
Big Brother Live Feeds FREE 3 Day TRIAL: Try them and see what's happening right now!
2:20pm Shane and Danielle are up in the HOH room. Shane says that if Frank goes out this week, next week we put up Boogie and get him out. They talk about how even if Ian wins the POV he wouldn't use it on him, we would get him to not use it. Shane asks if he should take that road and tell they (Frank and Boogie) are good with the silent 6. Danielle says yeah. Shane says that he hates lying and that he said he wouldn't come into this game. Shane says that tonight is going to be a sh*t show. Shane says that he thinks because CBS does have to pay out the 100K to a coach they will have more money to play with for a luxury competition. Danielle says they have lots of money, they're not worried about that. Shane talks about the order of the keys, he says it will be Britney then you. Danielle says thanks Shane! Shane explains how Danielle is a good girl but not.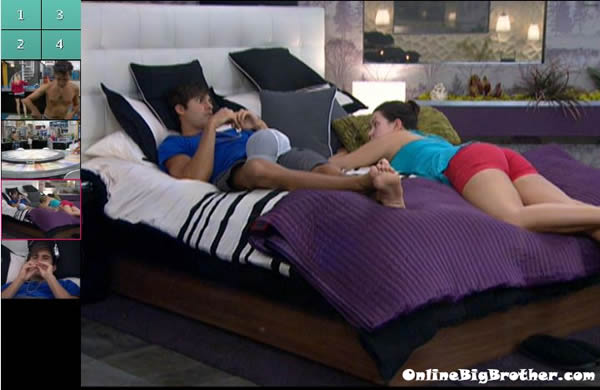 2:45pm – 2:55pm Meanwhile Frank and Boogie are talking in the backyard. They talk about how they are annoyed with Ian. Boogie says aren't you surprised how un-athletic Dan is? He says once we get Shane out it should be easy. Boogie says there is no reason to keep Ian longer then Ashley. Frank agrees. Boogie says that it be better that someone else gets Ian or Jenn out it would be better since they would hold a grudge in the jury if they did it. Boogie says that once they get Shane out of the house, who is going to fu*k with us?! Boogie talks about how Danielle thinks she got Janelle out, you didn't I did, I made it happen. Boogie says and Ian talking about clowning people in the DR, okay calm down youngster. Boogie says all of these people don't bug me as much as Britney. Boogie says that Ian, Joe, Jenn and Ashley all together don't make one good competitor.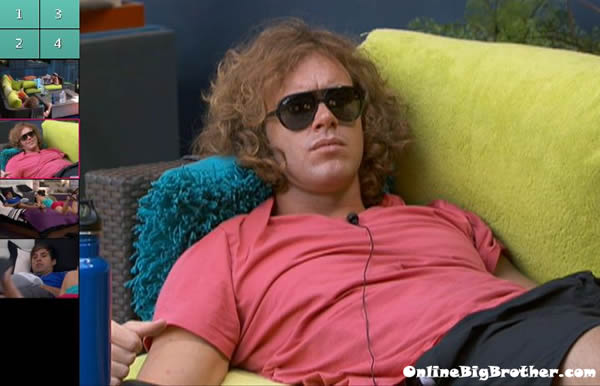 Share it YO!!
Tweet