POV Holder:
Next POV:
Aug 18 (Saturday)
POV Used
POV Ceremony
Aug 20 (Monday)
HOH Winner:
Shane
Next HOH:
Aug 13 (Thursday)
Original Nominations:
Current Nominations:
Have Nots Cod
Last Evicted Houseguest
Wil
HOH temptations
Britney Safe this week, Boogie gets 10grand
8:25am Boogie says that Britney took safety temptation, Shane took HoH. Boogie says he built some trust two weeks ago and should not go on the block. He says he had no need to win that HoH. He says on a confidence scale between 1 and 10, not being nominated, I would say a 9. If it was just Shane, I'd say 10, but Britney is smart so a 9. Boogie says he wants Britney as the first juror and that he wants her to go on a fast forward. Boogie says he needs to keep Jenn around, says she needs reassurance and support and that he can give her that. Ashley is a sweet, sweet nice girl and only complained (Big Brother cuts the feeds) She would be my dream house guest to bring to the finals. She's like chicken George. Joe has been here longer than than he should have but it has been ok that he stayed, thinks he will be loyal.
Big Brother Live Feeds FREE 3 Day TRIAL: Try them and see what's happening right now!


8:50am – 9:10am
Shane, Captain F'n America , he is a beast, one of the sickest athletes around here. He sees our mutual competitiveness. He will be loyal as long as Britney doesn't get to him. He is a monster target, and if we get into harm's way we can just say look at him. He has won 5 out of 11 competitions. I don't want him near the end when you can win yourself to the end. Boogie says that he will keep Shane because he will be super loyal and he is a huge target. Boogie start talking about Danielle and explains that back dooring is when you plan to do it before the veto. Boogie says that Danielle is a nice gal, cast in the Jordan role. Boogie says you treat Danielle like a video game you just grab the controls to get her to do what you want. I would be willing to go up against her in the end, she is the strongest girl left in the house now. Boogie wonders if Dan will chose him over Danielle. Boogie says that he has a love hate relationship with Britney and that she keeps it real, she is a classic complainer, and it's a little too much. She is a super cool chick, mature, yet immature. She is married, lives in New York but she is messy and doesn't clean up after herself. He says that he expects more out of House Guests who live on their own, not like Ian who is still in school and probably still has his mom clean up after him.
Boogie say that he trust Britney the least. He says that he loves Dan and that he hopes to have a life-long friendship with him. Boogie says that if Dan scumbags him, he will look him in his eye shake his hand and say good job. Boogie says that Dan is a great player. Boogie says that he can't take the chance sitting next to Dan in the final two because he has great relationships with other house guests and is good at public speaking. Boogie says the plans for the weekend are to not get nominated and to play in the power of veto and as long as he is safe he says he doesn't want to win it. Boogie says that he hopes Shane wins the POV and makes himself an even bigger target.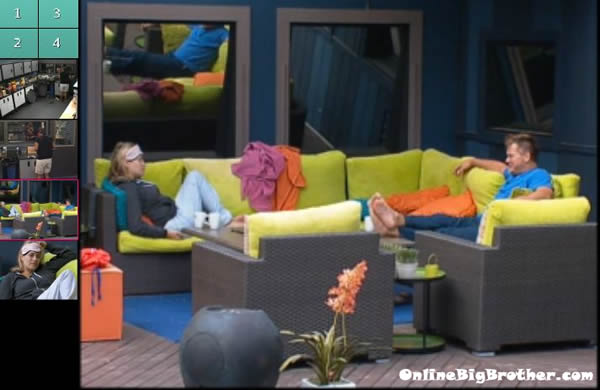 9:30am – 9:45am
Ashley and Joe are out in the backyard talking about how if they keep us safe for the next two weeks then we need to return the favor. Joe says that they will want to sit next to us in the finals; they don't want to sit next to Danielle. Joe says we just need to sit back and relax. Ashley agrees and says that we aren't good competitors. Boogie joins them and they talk about the competition and the alcohol they got last night. Joe heads inside. Ashley and Boogie discuss her caterpillar technique in the HOH competition.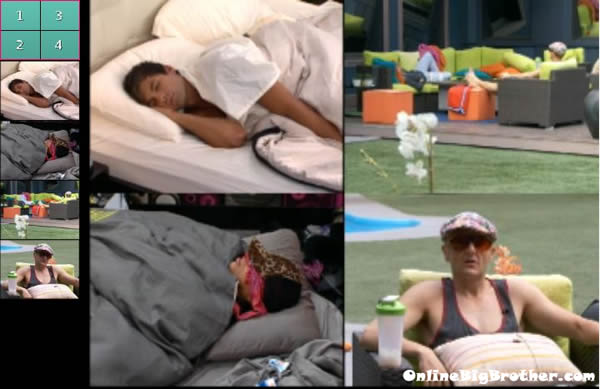 9:50am – 10:20am Boogie says when they first started he thought that competition was only going to take 15 minutes. Boogie says that he was worried about Shane winning the HOH before he could get the $10K. He says that Shane just wants to be captain America and do things as fast as he can. Boogie says that if he hadn't gone for the money he think he might have been able to beat Shane. Frank joins them. They continue to talk about the competition. Frank says that sucks how he had to sit and see all these extra prizes and he could not compete for it. Boogie says that he talked to Ian and Ian said he had $600 to his name when he came into the house. Joe says how bad would you feel if Ian wins this and you don't get the $100G for being his coach. Boogie says that would be horrible. The conversation turns to talking about football. Boogie starts working out. The others talk about how happy they are there isn't a have-nots this week. Ashley tells Frank that if he is unhappy when he eats it will stick to him and if he is happy it wont. Frank says that doesn't even make sense. Frank comments on how Wil's game was so weak sause, I don't get why people lie when they come in here.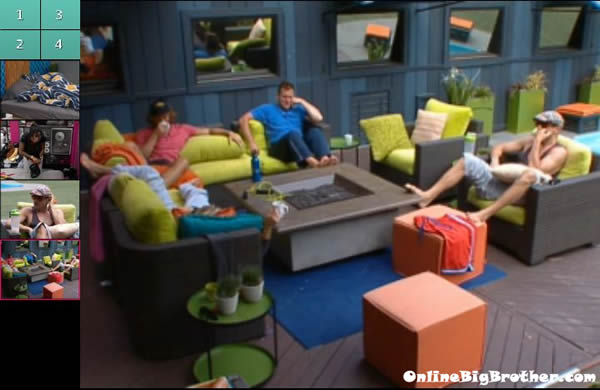 10:40am Ashley tells Boogie that she went on a chicken and cool whip light diet for like 2 weeks and she gets so skinny. She says she eats that every three hours. It's for any model wanting to lose some lbs. She says she also drinks Phylum husk and she can't even finish a conversation before needing to go to the bathroom. Ashley comments on how she found that found the alcohol in the storage room. Boogie tells her that she should have stashed a bottle of wine for herself or a friend. Ashley says she wished she had. Ian joins them.
Big Brother Live Feeds:
FREE for 3 days then $14.99 to watch the last month of BB14!
10:45am – 11:10am Ashley and Jenn are talking about the competition. Jenn says that she wishes she had just gone for the HOH because she think she could have given Shane a run for his money. Jenn worries she might go up on the block. Ashley says that it will probably be her (Ashley & Joe). Ashley and Jenn discuss how they were the only votes for Wil. Ashley says that Wil didn't deserve to go out without a vote. Jenn says she thinks its funny Britney got safety when Shane won HOH, such a waste. Joe and Boogie join them. Ashley heads inside.
Share it YO!!
Tweet