POV Holder:
Jessie
Next POV
Aug 10th
POV Used
?
POV Ceremony
Aug 5th
HOH Winner:
GM
Next HOH:
Aug 8th
MVP:
AMERICA
Original Nominations:
Candice and Jessie Amanda (MVP Nom)
Current Nominations:
Last Evicted Houseguest
David, Nick, Jeremy, Kaitlin, Howard
Have Nots
no have nots this week
Big Brother 15 N*de flashback times here
7:40pm HOH Helen, Andy and Jessie
Jessie says her name was being thrown up here by McCrae and Amanda that is why she was nominated. Jessie doesn't feel safe next week. Jessie doesn't understand why they were not sticking to the original final 7 plan.
Jessie: "Think of all the people she's made cry i'm sick of her sh!t.. If I go before Amanda.. Andy my blood is on your hands because if we had your vote she would be going home"
Andy doesn't think they have the numbers they would need JUDD. Jessie thinks they can get JUDD if they have Andy's vote.
Helen says next week it's possible but this week they need to get out Candice.
7:53pm HOH Aaryn, GM and Andy
Aaryn is worried if Helen and Elissa are coming after her now why didn't she do the nomination last week like she wanted to.
Andy: "Helen is super emotional she hears something and flips out.. she does this all the time"
Andy: "Don't worry she (Helen) is going to vote Candice out.. she's not a idiot she knows if she votes to keep Candice she'll gain a ton of enemies… it's Sunday we have a lot of time until Thursday but I think Candice is going home"
Andy leaves..
Aaryn says Elissa, Helen and Jessie want to keep Candice and all they need is one person.. "you know how easy it is to get one person's vote"
GM says Helen respects her HOH she will vote out Candice.
Aaryn: "I don't care if she says she respects your HOH she told me the same thing my first HOH and look what happened"
GM: "Jessie is a flip flopper she's going to flip flop next week and f*** someone else in the a$$ Helen knows that"
Aaryn mentions that Andy wants to stay in good relations with Helen because she feeds him all the information. She knows Andy is working with Helen to a certain degree. They cannot trust what he says about Helen is 100%. Aaryn is really worried that Helen is starting to think about coming after her and Amanda.
Aaryn: "He (Andy) could be lying to our faces like he lied to our faces the first 3 weeks"
Aaryn points out that JUDD f****** them twice as well. GM agrees mentions that JUDD screwed her and Nick over with the vote, she points out that JUDD promised her he won't cross her again and she believes him.
Aaryn thinks they can trust JUDD but doesn't think they can trust Andy 100%.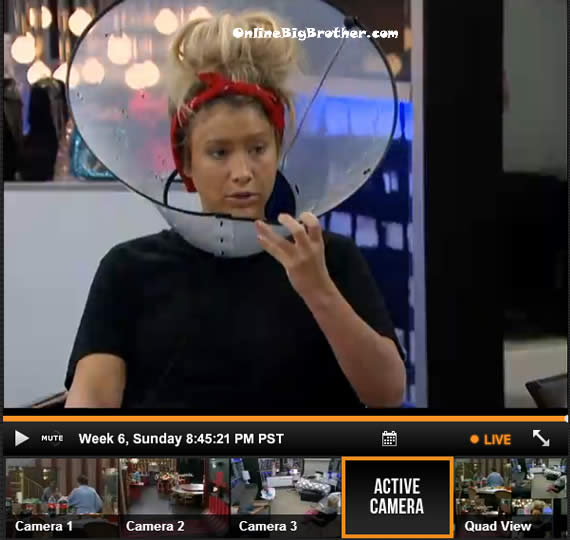 8:07pm JUDD joins them.
GM says she's getting a little vibe in the house she's unsure what is happening. JUDD is worried asks her right away if he's going up.
GM tells him basically tomorrow she has to put a new nomination.
JUDD interrupts: "You putting me up"
GM: "Since you were HOH I need to ask you a little advice.. if you were HOH this week who would you put up"
JUDD: "Spencer"
GM: "Here's the deal I need solid people to stay off the block to vote out Candice"
JUDD: "I'm voting Candice out 100%"
Aaryn comes up they all agree they trust each other 110%. Aaryn's only concern is how Elissa and Helen are starting to talk about doing something different. She knows they are not going to flip the house just the thought that they are changing things up is worrying her.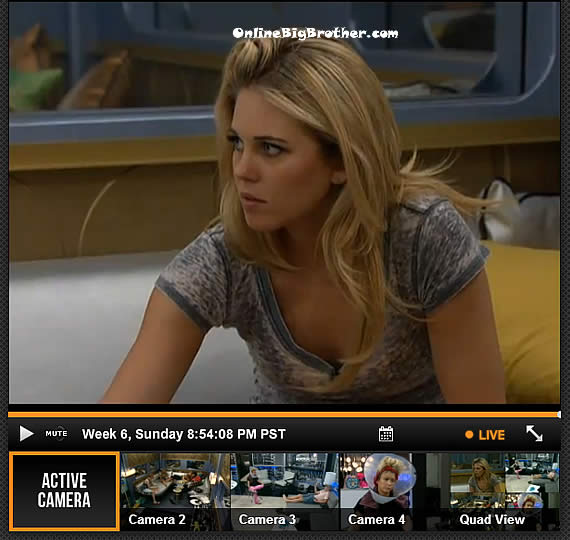 8:13pm Cockpit Aaryn, Andy, Amdana and McCrae
Aaryn is pissed at GM for pulling JUDD up into the HOH she thinks it shows to JUDD that she's cannot be trusted. Aaryn says that JUDD told her he only trusts Andy, McCrae, Aaryn and Amanda. She believes he's not MVP. Andy agrees he thinks that last week they were over thinking everything. Andy trusts JUDD again. McCrae agree that they went overboard last week they agree that Howard was just really bad a the game and it wasn't all an elaborate plan byu JUDD to flip the house.
Andy says they squashed what Helen was thinking about voting Amanda out. Andy is going to stop telling people about Helen's crazy paranoid madness because 20 minutes later he's able to talk her out of it. He points out that Helen is so emotional that Jessie was able to tell her a little rumour and she blew it way out of proportion. Andy adds that every week he has to talk Helen down from "Flipping the house" or "firing the first shot" ( I like Andy but I wish he would stop talking Helen down)
Aaryn says Gm's HOH is wht worst she's ever seen"
Andy: "I dunno Helen's was pretty bad"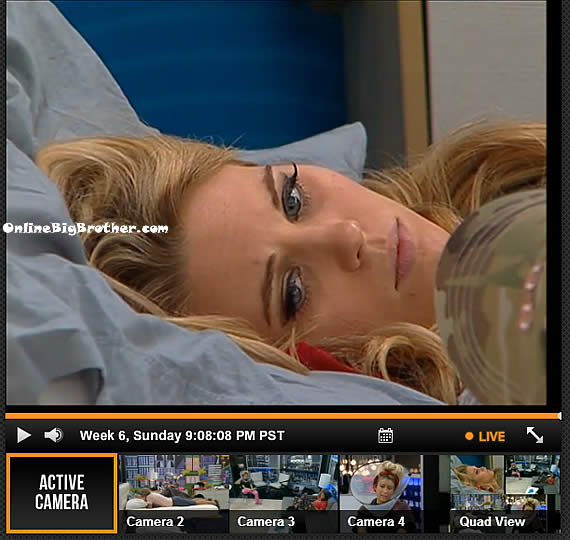 8:40pm Aryan and JUDD Bedroom
Aaryn: "Gm has to go soon I can't have her doing shit that rubs off on me"
JUDD: "Jessie has to go to"
JUDD points out that GM gave both nominees a bad speech you don't do that you give one a bad speech and the other a good speech. One person always stays you don't want them coming back after you.
JUDD says if GM put him or Andy up they will not have the votes to get Candice out. Judd is certain he would go home. Aaryn assures him he is not going to be nominated.
JUDD cringes at the thought Jessie running the house, "she will be skipping around the house like a 12 year old b!tch.. they will be running the house how disgusting is that"
They talk about how this season will be ruined if Elissa, Candice and Jessie get control the house. Aaryn says it will be the type of season where people stop watching. JUDD cannot imagine a more boring final 3.
JUDD says Jessie is the type of girl he would say he has to go to work early in the morning. Then he would drive down the road until she left then double back a side road sneak in the back of this house hop into his room to go to sleep.. (LOL)
JUDD says having Jessie win or getting to the end would be a travesty the worst thing since season 6 Maggie winning. "Makes me sick.. she's the ultimate floater of all time"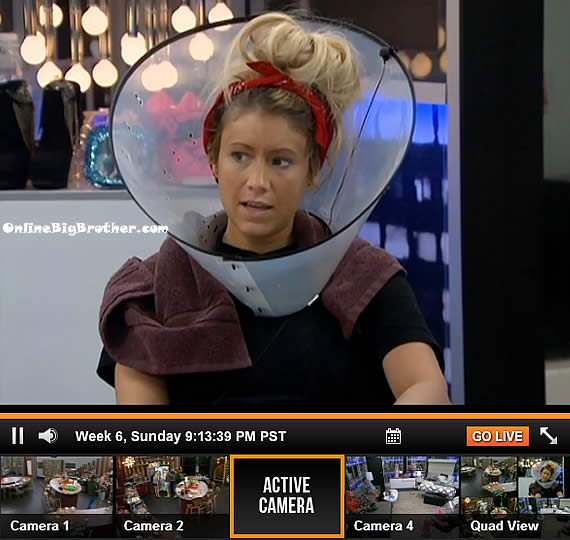 8:57pm HOH GM, Amanda and McCrae
Amanda is shocked that just a few hours ago Jessie was going around trying to get teh house to vote her out. She tells them she isn't oig to confront Jessie or even talk much game this week she is going to lay low. She's confident they have the votes to get Candice out.
GM saying they have McCrea, Aaryn, JUDD and Andy the votes are there it doesn't matter what Jessie does. Gm "F*** Pot belly pig vomit"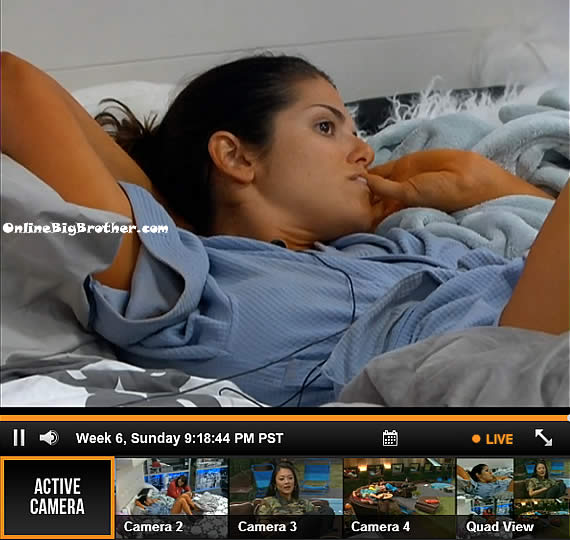 9:16pm HOH McCrae and Amanda
They are thinking Aaryn was the one that told Jessie they were going after Helen next week. They agree no more game talk with Aaryn.
McCrae: 'We never have to worry about Helen because Andy can control her.. he squashed that quick"
Amanda seems to trust Aaryn a lot more than McCrea. Amanda says that Aaryn is really trying to make JUDD look trustworthy and he's not MVP this makes her think that Aaryn is working with JUDD. MCCrae agrees.
Amanda can't believe how flip floppy Jessie is she'll make a deal with McCrae than 20 minutes later comes up to the HOH and is going against the deal.
Amanda: 'Jessie.. god damn that girl wants me out bad" Amanda says she only really trusts McCrae and Andy everyone else is sh!t to her. McCrae: "Do not talk to Aaryn anymore.. she just wants to use the information against you for her own benefit.. I don't know that her plan is"
9:50pm Bedroom Things have slowed down a bit. The plan to get Amanda out is now 100% squashed. Elissa has been going around acting like she has no idea people were talking about voting out Amanda. GM continues to spew dislike about Jessie and Candice. Aaryn has said on multiple occasions to Amanda, McCrae Andy and JUDD that she wants GM out sooner than later. And and Elissa have been teasing each other pretending they are enemies.. it's kinda funny but not really.
Sounds like GM will put Spencer up as the replacement nominee tomorrow after Jessie uses the Power of Veto to save her.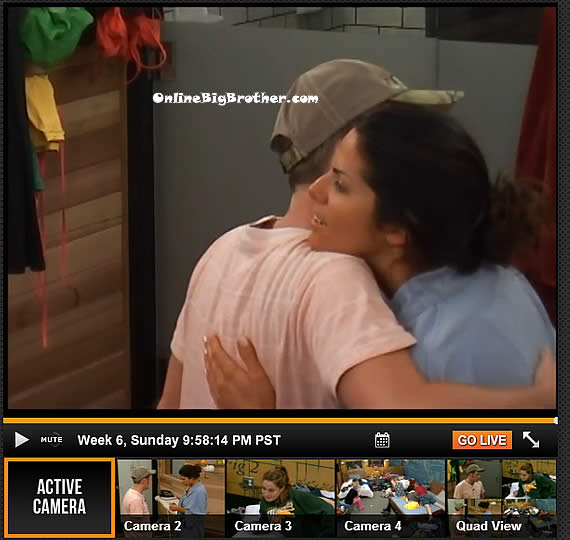 10:00pm bathroom JUDD and Amanda JUDD says he's worried one of them will go up as the replacement nominee and they won't have the votes to get out Candice. Amanda is certain Spencer is going up. They Hug it out, JUDD asks her to stop bringing up that he has MVP he doesn't. Amanda says she only brought it up that one time today and was joking.