POV Holder:
Jessie
Next POV
Aug 10th
POV Used
?
POV Ceremony
Aug 5th
HOH Winner:
GM
Next HOH:
Aug 8th
MVP:
AMERICA
Original Nominations:
Candice and Jessie Amanda (MVP Nom)
Current Nominations:
Last Evicted Houseguest
David, Nick, Jeremy, Kaitlin, Howard
Have Nots
no have nots this week
10:15pm HOH Aaryn and GM
Aaryn saying she really trusts JUDD now she knows he screwed them over twice but she thinks they can rely on him now. Aaryn mentions how Judd will put Jessie up if he wins the HOH.
Aaryn: 'I'm going to sleep with JUDD tonight"
GM: 'WHY.. I want you to stay with me.. Please"
A: "OK.. I'm starting to feel bad I don't want you to feel like I'm taking over"
GM: " 'A' you're not taking over and 'B' I would totally 100% tell you I want to be by myself"
(earlier in the day when Aaryn was pissed at GM she told JUDD she didn't want to sleep in the hoh anymore)
Aaryn: 'Everyone has been so shady and Judd's the only person that hasn't been shady since he kept me"
Aaryn: "He conjured up that entire plan last week just so I can stay here"
GM: "I think he's good Candice is leaving.. I don't care what she comes up about it.. I'm going to be up everyone about it.. we'll be fine"
Aaryn says she trusts McCrae, Andy and JUDD. Aaryn says that McCrae came up to her after Amanda went up as MVP and said he didn't want them to use veto to take her off the block because Aaryn would go up. Aaryn and GM believe.
Aaryn: "The reason I trust Andy is everything Helen tells him he tells me"
Aaryn: "What if I win this next HOH"
GM: "Blonde on blonde on blonde action "
Gm says she's worried she'll be going up next week. Aaryn: 'you are not going anywhere.. I don't even want to hear that nonsense"
Big Brother 15 N*de flashback times here
10:40pm bedroom Spencer and Aaryn
Aaryn: "JUDD really wants to keep you for a long time I do to"
Aaryn: "Amanda and McCrae want to keep you moving onward.. and if they want you you stay"
Aaryn mentions that the BBQ would have been a perfect time to talk game and the other three girls refused.
Aaryn: 'Helen, Elissa and Jessie are working together.. that is why there was no game talk.. that is why I knew something was weird today"
Spencer: "I am totaly free agent that's no bullshit.. I've been trying to work on relationships.. I talk game with you more than anybody"
Aaryn is saying she thinks McCrea, Andy, JUDD, Amanda, Spencer and her can steamroll through the house. She starts to bash Gm a bit playing down how close she is with her
11:00pm Bedroom Spencer, Aaryn, Amanda and McCrae
They are talking about Jessie's attempt to flip the house.
Aaryn says she's trying to get Jessie to freak out that is why she's been closer to JUDD than normal, "She's ridiculous" .
Amanda mention this is the fourth time she's tried, "ridiculous"
Aaryn says Jessie "McCrae's d!ck in her mouth so bad she wants to taste it"
Amanda: 'You're so lucky I haven't drinked tonight"
Aaryn: 'You said it tastes like coffee.. she really wants some coffee.. McCraes coffee
Amanda asks if Jessie's brought up McCrae recently
Aaryn: 'Just about how salty his b@lls probably are.. she's just craving sodium"
Amanda: "You're full of sh!t F****g a$$hole"
Amanda tells her to stop confining in Jessie. Aaryn says if Jessie is saying she's confining in her she's a "BAt sh!t crazy liar"
11:10pm JUDD and Elissa backyard couch
Elissa: "Do you like aaryn… do you think she's hot"
JUDD says she's attractive but wouldn't date her
E: "because of her attitude"
J: 'Not my type.. different looking"
E: "Who do you think is hotter Jessie or Aaryn"
JUDD says Jessie more his type
E: "I think Aaryn has pretty eyes but that's it, Jessie is cute"
E: 'She's got lots of cellulite though…" Elissa adds to be that young and have cellulite.
J: 'Ya"
E: 'I'm a fitness freak .. but really to be that young usually the older you get.. she's got the adipose the thick cellulite"
JUDD says when she has a couple kids she'll be like (Makes a size with his arms)
11:27pm Cockpit Helen and Elissa
Helen thinks a lot of people are going to try and throw HOH but Aaryn is going to try and win it.
Helen says the best case scenario is JEssie wins HOH because she's not afraid to go after Amanda.
Elissa: "If know one votes her out it doesn't matter anyways. Helen says Andy won't vote out Amanda. Elissa: 'JUDD won't do it"
Helen: "Nobody will do it"
Elissa: "I would put her up .. not next week but after"
Helen: 'If MVP goes away we're screwed.. She's on the block right now.. why doesn't anyone want to vote out the MVP nominee they are all scared"
Helen: 'The problem is if MVP goes away"
Helen until the time is right they have to be loyal to Amanda and vote out Candice.
Elissa: 'That sucks"
11:21pm GM, Aaryn with Amanda in the shower
GM is worried what Elissa and JUDD were talking about outside. Aaryn didn't know says JUDD was laughing.. she had him cornered.
Aaryn tells the girls there was no game talk in the BBQ it was really weird. Aaryn says Elissa is going back to treating her bad the last 24 hours.
Aaryn says her name is getting thrown out a lot as a possible target and she's getting nervous. Amanda says her name isn't being brought up.
Amanda is worried that Helen, Elissa and Candice have been stuck together like glue for the past 48 hours.. and they have been up JUDD's a$$hole.
Aaryn points out if Helen and Elissa can be manipulated by Jessie they have to go it just shows how stupid they are. Amanda asks them if they talk game with JEssie. Aaryn says no.
GM: "I don't talk to that F*** b!tch she a f*** rat just like Candice .. she's flip flopper and a rat B!tch "
Aaryn says the only reason Jessie wants Amanda gone is because she wants to jump on McCrae's d!ck.
Amanda: "Ok thanks.. can you stop saying that because it's making me STEAM"
Aaryn: "Good I want you to get steamed you can't go home"

11:34pm Elissa and Jessie
Elissa says they do not have the numbers they are screwed right now
They needs one vote to save Candice. Elissa is sure he won't vote get Andy's to vote out Amanda. Elissa is really worried if they lose Candice they will go one by one she wants to act. Jessie says the reason Andy doesn't want to rock the boat right now is he's covered on both sides. He's in good with Amanda and McCrae and Elissa/Helen. Once those two sides start fighting Andy has to pick a side and that will make him a big target for some people.
Elissa says the worst move ever was taking out Kaitlin over Aaryn because Kaitlin would be gunning after Amanda and McCrae. Jessie: 'At the time I wanted Kaitlin out because she was so strong"
Jessie: 'You can tell now that Aaryn is devoted to Amanda.. She's up Amanda's a$$"
Elisas: "they're kinda gross"
Elissa points out that She's overheard JUDD and Andy talking Andy is not loyal to them he's loyal to Amanda and McCrae. Elissa adds that Amanda and McCrae are making final 4 deals with everyone in the house Andy is solid with them.
Elissa knows now that they were using her for her MVP.
Jessie: 'I'm so glad you see this.. "
E: "I saw this two weeks ago.. I wanted Aaryn gone but Howard, Candice and Spencer didn't see it"
J: "Aaryn's dangerous for everyone's game"
E: "It's the sk@nk squad up there"
Elissa says JUDD told her Jessie is hotter than Aaryn. She needs to get up opn JUDD big time they need his vote.
Elissa coaches her the things she should say to JUDD, "I got a crush on you.. I want to work with you" Elissa: "KISS him just do it.. say they need to get Amanda out because Amanda and McCrae are going to win"
Jessie: "Oh my god I'm going to do it.. Oh my god"
(LOL too funny.. I'm cheering for both sides right now)
Jessie asks what if Helen is going up as the replacement nominee. Elissa is certain Spencer is going up
Elissa: "are you solid with this you not going to change your mind.. "
Jessie says no
Elissa: 'You need to work JUDD tonight"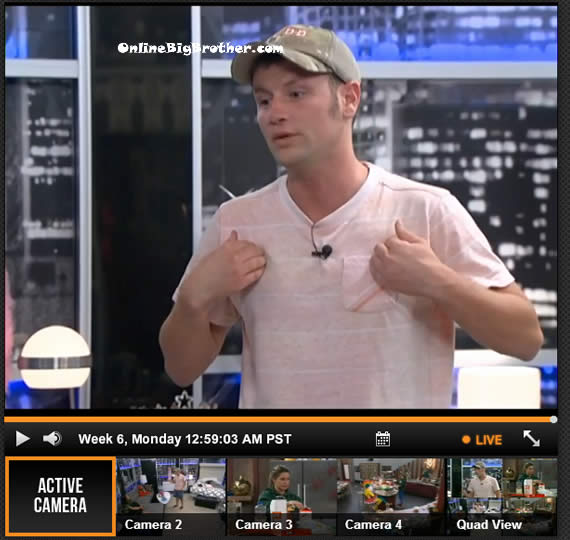 12:26AM HOH Helen, JUDD, Amanda, GM, Aaryn, McCrea, Andy
JUDD stressing how him and Jessie are not a couple anymore. He feels wronged by how Jessie is handling winning the POV. (He gave Jessie the POV and took the cash prize)
JUDD is talking about how he regrets giving JEssie the Veto because now she is talking around like she's the most deadly player in the game.
JUDD: 'I'm a broke a$$ m***f****r but I would rather Have the POV than her gloating around the house with it"
JUDD: "She never talked to me she brought all these people into separate rooms and whispered to them.. she was like F*** JUDD.. F*** JUDD"
JUDD: "He gave me the POV but F**** him to hell he'll do whatever I saY.. I look pregnant but I'm not I'm a hot b!t*h"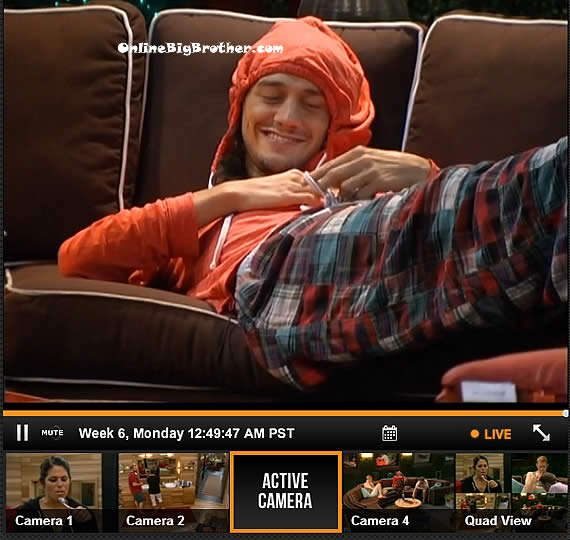 12:40AM BAckyard JUDD, McCrae and Amanda.
JUDD: 'I can't stand Jessie I f**** hate her.. not on a game level a personal level"
JUDD really feels slighted that Jessie asked him to leave the Cockpit when she was chatting to Elissa.
McCrae: "I'm worried Elissa is trying to flip the house"
JUDD: "She is.. she might have to go before Jessie"
Andy joins them (Drink)
Andy says he's just giving JUDD a heads up Jessie is sleeping with JUDD tonight.
JUDD: 'I'm sleeping in the have not room.. i'm not sleeping with JEssie"
1:12AM Cockpit Amanda, MCCrea and Aaryn
Aaryn: Jessie is the biggest sl*t I have ever met in my life"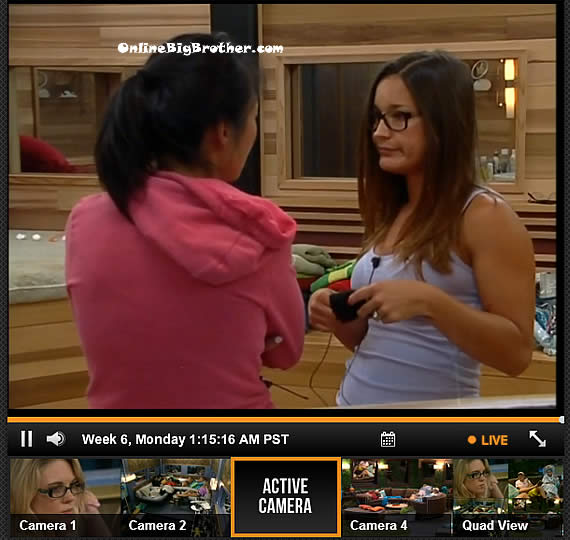 1:16AM Jessie and Helen Jessie says she's going to try and keep Candice. Helen doesn't think they have the votes. Jessie doesn't care she has to try it's there only chances. JEssie is going to work JUDD.
Helen: "I Don't know if I can do it Jessie.. let me think about it"
Jessie: "You can do it"
Helen: "I don't know if I can do it"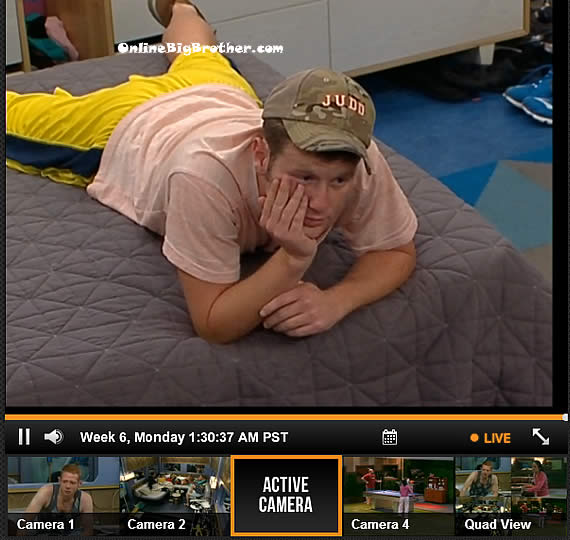 1:30AM JUDD and Jessie
JUDD explains he threw the POV to Jessie because he didn't want to have to use it on her. This way she saves herself, he gets the money.
Jessie: "I appreciate you so much.. I want to go far in this game with you.. We have to trust each other… this week is a huge week.. if you want me to go home next week.. Vote out candice"
JUDD: "You want me to vote out Spencer"
Jessie: "I'm asking you to vote Amanda out"
JUDD: "why her"
Jessie: "Amanda and McCrae are solid.. Aaryn is loyal to Amanda GM is going to do whatever Aaryn tells her.. .those are a solid 4 .,. Andy is loyal to Amanda and McCrea over Helen"
Jessie: "thats five. Spencer and Amanda have made a deal I saw them talking this morning" She counts 6… this leave Helen, Elissa, Jessie and Candice. If Candice goes home this week it will just be Helen, Jessie and Elissa. They are going to get picked off one by one.
Jessie: "Amanda is a huge target in this game …she's running it.. she's been running it since day one you know and I know it.."
She tells him if he flips the vote and joins the girl they will be loyal to him to the end. Jessie thinks Andy will jump ship right before the vote once he finds out Amanda is going home.
Jessie: "We need to get her out.. "
Judd: "how many we need 5"
Jessie: "we need 4, ELissa, Helen, Me and JUDD"
Jessie: "Just think about it you don't need to have to answer it right now"
Jessie: 'If we don't do it we are giving Amanda and McCrae the game"
JUDD: 'I don't think she's as powerful as you think"
Jessie: 'She is untouchable.. you know how badly she's been treating me JUDD.. all those things she's been saying about me"
JUDD: "Ya"
Jessie understands JUDD has previous loyalty to them from the beginning of the game but they're over 1/2 through now.
Jessie: "They are the last Showmance.. nobody is targeting them because they are afraid of her"
Jessie: "By himself McCrae will not be as strong.. He will need people and you will be there for me. "
JUDD: "He'll never partner up with me after that he'll be after whoever did him wrong"
Jessie explains that once Amanda leaves there will be Helen, Elissa, Jessie and Candice on one side. Aaryn, McCrae, Spencer, Gm on the other side. THis leave Andy and JUDD in the middle both sides will want to work with them. JEssie adds JUDD is in good with many of guys on the other side, "they will want to work with him They will have to work with you"
JUDD: 'Thats a good point.. "
Jessie: "It could change the whole game"
Jessie: "Me and you we can make it after the dust settles McCrea will be coming after me and Helen not you"
JUDD: "Do we need to distance ourselves. "
Jessie: 'We can just do what we usually do… it's a big move I know"
Jessie: 'I will sacrifice myself for you.. if you would do this it would change the game.. if not we're handing Amanda nand McCrae the game.."
Jessie: "they are two among very few people.. they made it this far.. the more they go the more power they get the more people are afraid of them"
Jessie: "McCrae is smart they've plane that is all from day one and it's doing down flawlessly"
JUDD says they didn't control his HOH they wanted Howard out and he got out Kailtin.
JUDD: "It's all a good point I'm going to give it some consideration"
He asks her if Helen and Elissa are on board. Jessie says they were but they didn't think they could get JUDD's vote so they dropped it.
JUDD: "I don't want you going anywhere.. I don't "
JUDD says if anyone asks them what they were talking about they say they talked about where their loyalties lie with each other.
JUDD: "We're not going to vote against each other, not going to put each other up, we're going to watch out for each other"
Jessie: "and we're going to vote the same that way they believe i'll vote with you"
Jessie "think about it please"
Jessie: 'Will you come sleep with me please"
JUDD mumbles something
You can re-watch ever second on the feeds using the flashback feature.. It's just like a DVR and is super easy to use. click this link for a Free Trial —> Subscribe to the Big Brother Live Feeds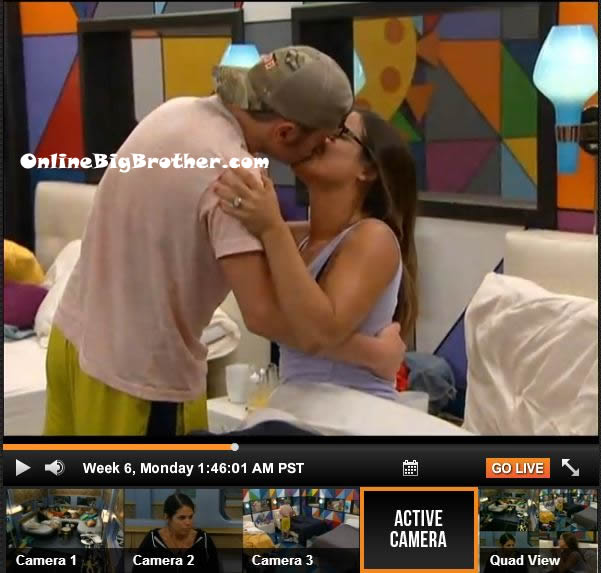 Share it YO!!
Tweet