POV Holder:
Jessie
Next POV
Aug 10th
POV Used
?
POV Ceremony
Aug 5th
HOH Winner:
GM
Next HOH:
Aug 8th
MVP:
AMERICA
Original Nominations:
Candice and Jessie Amanda (MVP Nom)
Current Nominations:
Last Evicted Houseguest
David, Nick, Jeremy, Kaitlin, Howard
Have Nots
no have nots this week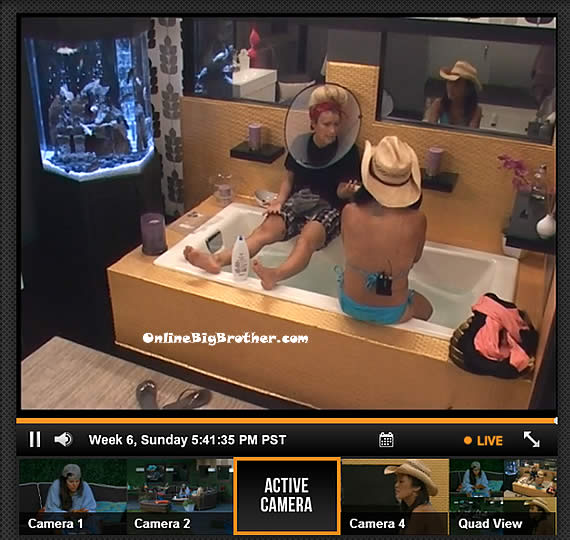 5:36pm HOH Bathroom GM and Helen
Helen: "You know I know you are close to her yo know I know that you are close"
Gm says she tried for three weeks to get Elissa out she has given up on it.
Helen: 'You know I know Elissa rubs people the wrong way.. Yo uknow.. She has a good heart she doesn't mean it maliciously you know.. that is what makes her her. you know .. OK "
Helen : 'This is big brother YO know.. this is a different type of game you know.. YOu know"
Helen: 'She likes you.. You know "
Helen says that someone like GM adds a lot excitement to the house. You know.
Helen: 'You know Elissa is my closest friend in the house you know.. I'm trying to form more friendships in the house.. yo know "
Helen says that after Nick left GM was a real fighter so many other people would have just thrown in the towel You know
5:35pm Backyard Aaryn, Amanda and McCrae
Amanda says she's heard Helen and Elissa talking about getting rid of her over Candice.
AManda: 'If Candice goes this week and it's some kind of Double eviction we have to be on the same page" She hints that perhaps Helen should go.
Amanda warns Aaryn if she gets another HOH people will start worrying because it makes her look strong, she's already won 2. Aaryn says she hasn't won a Veto and her first HOH was a half Jeremy the second HOH was a crapshoot.
McCrae: "As soon as MVP goes we can start winning HOH"
Aaryn thinks it will end once they get to six players, "I think the first Pandora's box will end the MVP
Amanda knows Jessie and Helen talk about splitting McCrae and Amanda up .
Aaryn: "Jessie talks about that a lot.. she wants to get on McCrea so bad she cannot handle it"
Amanda: "Jessie and judd are so scarey"
Aaryn: "I want GM to make it to Jury .. I do things that benefit all of us I have proven that"
Amanda agrees says she doesn't think getting rid of Elissa right now it isn't smart. Amanda says Elissa will not put up Andy and McCrae. She's not worried if Elissa puts up Aaryn because they have the numbers to keep her in the house
Aaryn doesn't like that arrangement she doesn't want someone in the house that is targeting her especially when there are Pandora's boxes on the horizon.
Amanda: "Helens loyalty is with Elissa and Andy" Amand adds that Helen wanted to get Jessie out but if Jessie isn't on the block she will work with Jessie.
Aaryn says Andy is in the best position in the house.
Amanda agrees says it's good for them.
Amanda wonders who will vote against her next week.
Aaryn says Gm will vote out Amanda .. "she doesn't think straight she doesn't get it"
Amanda: "Still.. "
Aaryn leaves
MC: "I still think getting rid of Helen soon is a bad move" He points out once Helen is gone the entire house will be targeting them at this stage of the game there are too many people.
Amanda: "The common denominator in all this is Jessie and JUDD.. "
Aaryn comes back Amanda thinks that the house will play it safe next week and put up Jessie and Spencer. Aaryn thinks it really depends on who wins the HOH but it a good guess.
Amanda asks her if they can get GM to put JUDD up as the replacement nominee.
Aaryn :"No way.. GM has a crush on JUDD 100%.. she promised him he's not going up"
Amanda: "Elissa and Helen want to back door Judd"
MC: 'It's too tricky.. there's no point to take out JUDD this week"
Aaryn: 'Do you really think keeping Elissa in this house is good for us"
Amanda: "She's not a smart game player.. she hates Spencer.. he'll be her target"
Aaryn: "We should keep Spencer here.. As long as Spencer is here that is all Ellissa can think of as a target"
MC agrees "You are off her radar as long as he is here "
Aaryn: "The problem is he's kissing everyone's asses so bad and lurking around us"
Amanda asks them to hear her out before they get mad at her. She brings up schemes to convince GM to put up JUDD.
McCrae again tells her this is not the best move for them not this week.
MC says GM only mission is to take out Candice, if she doesn't get Candice out it's mission failed for GM which could come back to them. They talk it out a bit and convince Amadna that Candice will put Amanda and Aaryn up if she wins HOH. Amanda agree they have to get Candice out this week.
Amanda keeps telling them they all have throw the HOH next week. THey are low on the numbers and need everyone playing for HOH the following week. She says they do not want the wrong person to win the HOH. Aaryn thinks Andy really wants to win it, So does JUDD. Amanda is afraid if JUDD wins it she'll go up. Aaryn tells her no.
Aaryn asks them who Elissa will put up. Amanda thinks Jessie. Aaryn completely disagrees she thinks it's going to be her and Spencer. Amanda tells her not to worry Spencer would go home.
Amanda: 'JUDD is the common denominator of all our issues with us having our alliance broken up"
Aaryn doesn't agree.
Aaryn: 'How do we know for certain if he's MVP"
Amanda: 'get rid of him"
Aaryn :"That's what we did with Howard and it didn't solve the problem"
Amanda says that Helen confines with Andy so at this point she's OK to keep in the house but soon they have to get her out.
MC leaves
Aaryn says she really thinks JUDD will go after Jessie
Aaryn says GM has told every single person in the house she is not coming after them. Aaryn mention right after Jessie won the veto GM was telling her "You did what I want to do.. "
Aaryn: "She said that right in front of Spencer.. GM isn't smart"
Amanda doesn't understand why people what to evict her from the house she's the biggest target if they were smart they would take out MCrae nobody is targeting him.
Amanda: "I'm telling you the MVP is JUDD"
Aaryn: "Why does JUDD want you out":
Amanda: "Because he doesn't want me in the Jury.. He knows if he takes McCrae or Andy I would vote for them"
Aaryn asks if Spencer will leave if he goes up as the replacement.
Amanda: "No Candice is going home.. 100%"
They agree they have to keep Spencer. Amanda says Candice makes Helen and Elissa stronger. Aaryn suggest if Candice and Elissa go all Helen has is Andy so they would essentially control the house.
Amanda tells her Helen will backdoor JUDD if she wins HOH. Andy will put up Spencer and Jessie.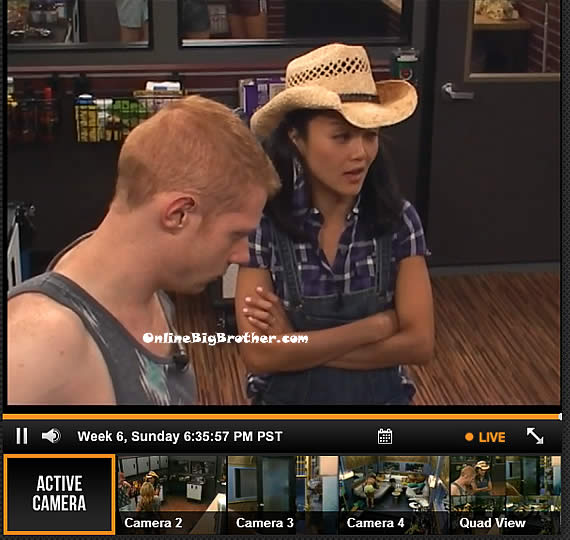 6:33pm Storage room Helen and Andy
Helen is saying Elissa, her and Jessie will all vote out Amanda this week they need Andy on their side. They will go to GM right before the vote and promise to get out Candice the following week. Helen adds that McCrae will be with no one at that point he'll be scrambling he'll have to work with them.
Andy obviously doesn't think this is a good idea. he says Amanda and McCrae have not done anything to betray his trust. He doesn't think right now is the right time.
Andy: 'I'm going to be straight up with you I do not want to get Amanda out this week.. Amanda is more loyal than Jessie"
Helen: "My friends are strong about this.. "
Andy: "I trust McCrae so much more than I trust Jessie.. it's way too early to make that move.. if we get rid of Candice the waters are calm"
Helen says she will talk to Jessie and tell her that this is not the week to get rid of Amanda they will try next week.
JUDD comes in. They start talking about who they want in Jury. All three of them want Spencer in the jury. JUDD says Jessie will not be a good jury vote she's just going to vote to whomever is nicest to her during the finale night.
Helen tells them they will have to all work together to get Amanda out. Andy says it's too early right now. Helen points out that Amanda is not going to vote for any of them in the end. Andy: 'I still think this week Candice has to go"
JUDD :'Ha but next week"
Helen: 'maybe I don't know"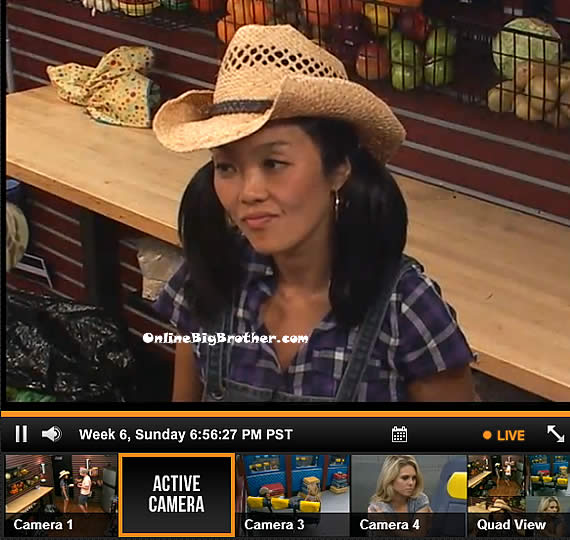 6:53pm Storage room Helen and JUDD
JUDD is asking who she wants him to put up if he wins HOH. Helen wants Elissa to win it thinks JUDD should wait it out.
Helen: "Elissa will put up Aaryn and Ginamarie"
They agree that this week is too early to get out Amanda. Helen: "This week we got to do it for Ginamarie and Aaryn"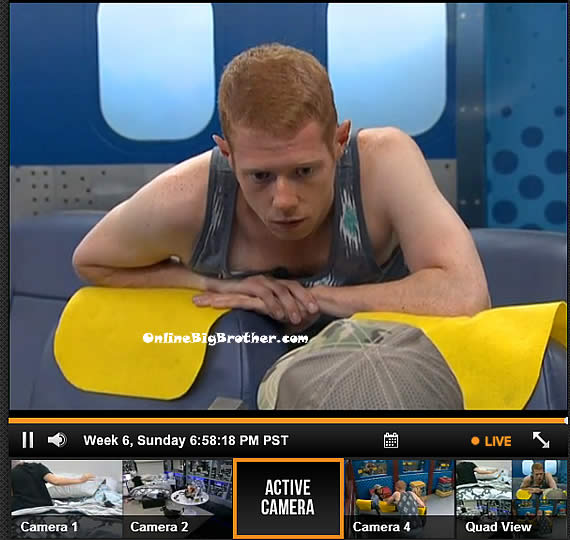 6:59pm Have nots room Andy, Aaryn and Amanda
Andy is saying they need to start talking to Helen more because she is starting to drift away.
Andy leaves, Aaryn says that Helen lied straight to her face. (during the conversation between Andy and Helen in the storage room Aaryn walked in. Aaryn asked them what is going one. Helen and ANdy told her they were chatting about Candice. Helen elaborated about how Candice is giving her puppy dog eyes etc etc.. Andy tells aaryn they were not just talking about Candice. Helen is thinking about keeping Candice and she is skeptical about Amanda and McCrae's loyalty)
Andy leaves. (Andy does tell them that Helen is questioning keeping Amanda this week)
Amanda: 'She want Candice to stay.. "
Aaryn: "She's trying to get the votes"
McCrae joins them. They start counting the votes, Aaryn says Elissa, JUDD and Jessie will vote against her. McCrae: 'Why don'[t we put up Elissa then it's the only way to be sure"
Amanda: 'Elissa will not vote against me she will vote out Spencer. They wonder if perhaps Helen should go up as the replacement nominee. Aaryn says there is no way GM will out Helen up.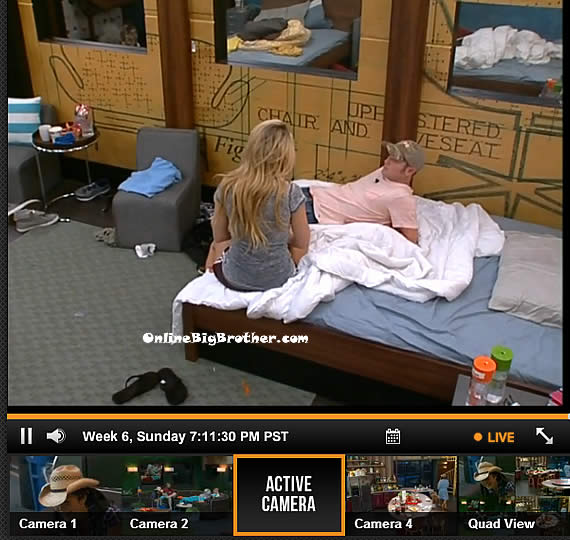 7:12pm JUDD and Aaryn Aaryn telling him something sketchy is going on she's worried that Cadnice is not going home. Aaryn says Elissa, Helen and Jessie are voting against Amanda
Aaryn: "I need to know right now are you working with Jessie "
JUDD: "NO.. It's a act"
JUDD says he will vote out Candice. Aaryn thinks they have to put up Helen or Elissa as the replacement nominee it's their only way to ensure Candice goes home.
Aaryn tells him Amanda is the biggest target in the house she needs to stay. JUDD says the thought of voting Amanda out this week never crossed his mind.
Aaryn warns him that word is going around that the fight between him and Jessie was fake. JUDD swears it wasn't. Aryan instructs him to go to Jessie and tell her they can work together in secret this way he can still get in her head but won't tip off the other players. Aaryn adds that the entire house wants Jessie gone next week.
JUDD says Andy is starting to make him nervous. Aaryn: "Andy is getting information from Helen.. he tells us everything from Helen" JUDD would rather wok with Spencer than Jessie. Aaryn instructs him to work with Spencer and Jessie this way they have the scrubs covered. She asks him who he will put up if he wins HOH. JUDD says it's a terrible week to win HOH no matter who you put up you are drawing a line, He knows he will put up Jessie.
Aaryn: 'Don't put me up again JUDD"
JUDD: 'I won't"
JUDD points out that Amanda and McCrae never talk game to him anymore. JUDD knows that Amanda thinks he's MVP but he swears he doesn't have it, "A common person cannot win MVP"
JUDD: 'Candice is MVP she gets it every f**** week"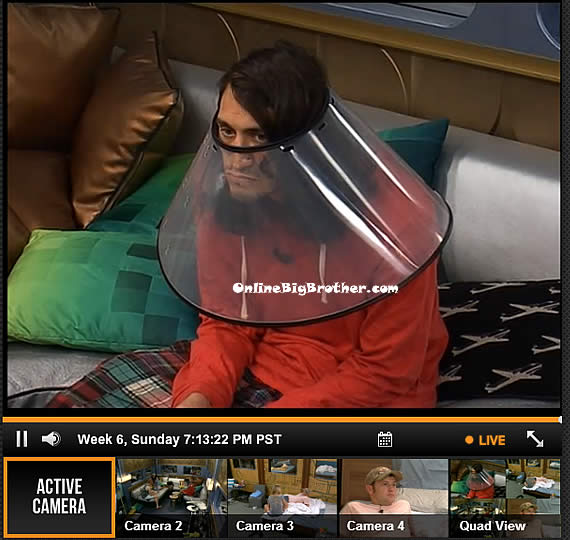 7:14pm Cockpit Andy, McCrae and Amanda
Andy says that Helen is wanting to vote out Amanda this week because Jessie cam to her and told her there was a plan to Backdoor Helen next week. Andy says he will deal with it Helen just needs to be talked to. Andy: 'Jessie has go to go"
Amanda says she is not going to talk any game this week she's counting on McCrae and Andy. They start thinking perhaps Helen is the best person to get GM to put up.
Amanda is thinking that Aaryn started spreading the rumours about he plan to backdoor Helen next week. MC suggest that perhaps Aaryn, Specner, JUDD and Jessie are working together.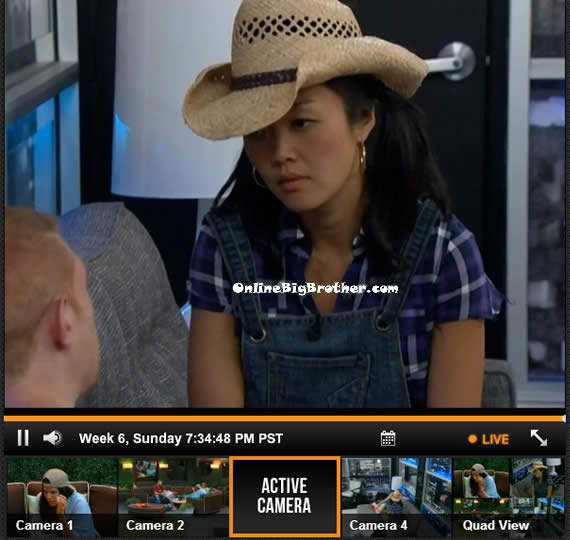 7:35pm HOH Helen and Andy Helen tells Andy she does not want to get Amanda out this week.. Andy says there was no play to backdoor Helen next week he thinks it's Jessie grasping at anything.