POV Holder:
Jessie
Next POV
Aug 10th
POV Used
YES
POV Ceremony
Aug 12th
HOH Winner:
GM
Next HOH:
Aug 8th
MVP:
AMERICA
Original Nominations:
Candice, Jessie and Amanda (MVP Nom)
Current Nominations:
Candice, Spencer and Amanda (MVP Nom)
Last Evicted Houseguest
David, Nick, Jeremy, Kaitlin, Howard
Have Nots
no have nots this week
3:00pm Cockpit Helen, Andy, Andy, Ginamarie
Ginamarie is power crying because she struggled writing her HOH blog. She thinks people are going to think she is stupid. .
GM: "People are going to make fun because I can't spell or right"
Helen is very vocal trying to calm her down and pour praise on Ginamarie. "you have something so special I have never seen it before in my life "
Helen tries to tell her the fans don't want to read about How plato's theories relate to the game they want to year from Gina MArie YO YO YO staten island"
Helen: "No on likes perfect.. missed spelled words and sentences that are grammatically imperfect.. no one likes perfect OK.. They want to se the Ginamarie you are"
Andy: "Everyone loves who you are"
Helen: "you are so special it's going to come through the page.. it's going to come through the page.. Your are not going to be writing the same type of blog I would write, JUDD would write or
McCrae..OK.. You have to realize.. i'm not kidding you have a thing about you that is very unique"
Helen: "I'm not kidding I have never met someone like you there's millions of people that are book smart there is only one Ginamarie.. you are so special.. I wish I was more like you.. out of my 37 years I have never met someone like you .. ok "
GM: "Thanks"
GM sobbing saying guys always made her look stupid. GM: " Nick never made me feel stupid ever that's why I really Likeded him … " (never heard Likeded before had to google it )
Helen: "I would give my right arm and a quarter of my brain to have 1/2 your personality.. so what you can't write a blog you aren't good at writing I can't write GInamarie. … You are a show among yourself.. if you weren't on the show this cast wouldn't be worth watching"
Amanda: "Don't let guys tell you you're not smart"
Andy: "you are one of the emotionally brilliant people I have ever met"
Amanda tells her to stop putting herself down she's so smart. It upset them to see her to it.
Amanda wants her to know she is on this show because of who she is, "how she speaks, how she writes .. so when people read that they are going to be like YEAH"
Helen: "you are smart in what you want to be smart in"
GM thanks them for supporting her and apologizes for being such a sobbing mess. They comfort her some more and leave. Helen and GM end up going to the HOH where they talk about how difficult the HOH blog is to write.
3:20pm HOH Pictures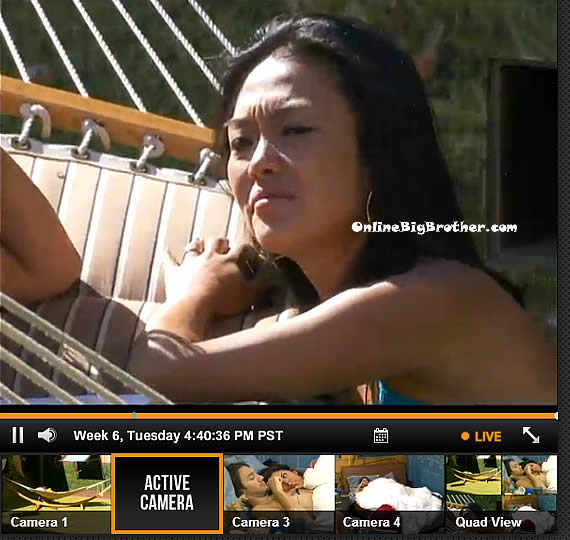 4:35pm Elissa and Helen Hammock
Elissa is getting sick of the mess around the house. SHe's disgusted by it. Helen tells her not to let these things get to her because it will damage her game.
Elissa: ""I hate doing stupid things I am annoyed with myself"
Helen: 'You haven't done anything stupid.. GM is your biggest fan now after the hair"
They talk about GM crying and how it broke their hearts, "Helen the guys use to tell her how stupid she is"
Elisas: "Look at how much she has accomplished"
Helen brings up that Gina couldn't spell chicago and she's upset but she was trying to tell her they will correct the spelling for them. They both really like GM and think she has a good heart.
Elissa says Jessie and GM are easily influenced but they both agree they would rather keep GM over Jessie. Helen says GM has no credit and even 5K means a lot to her. Helen is convinced GM will get America's favorite.
4:53pm HOH Bathroom Aayrn and GM
Aaryn tells her they have to be mindful of how their actions affect the other.
GM: 'They already called me a bone head so they know I'm stupid.. "
Aaryn tells her she has no reason to think that.
Aaryn: 'When I do things I don't want it to reflect badly on you.. and what you do reflects onto me"
Aaryn says that McCrae is being bothered at how Amanda is playing her game.
Aaryn says Amanda is stressed by how she is being portrayed she's trying to frame Aaryn as the B1tch.
Aaryn: "This is what Helen said to me today she asked me if the two of us want to work with her and Elissa.. . Helen is worried once Candice is gone it will be 7 vs there 3.. Helen, Jessie and Elissa.. "
Aaryn says Amanda's ugliness is starting to get to people and they are targeting her. GM wants Candice gone before Amanda. Aaryn agrees but says she only has one vote. She has a really bad feeling today about Amanda.
They agree there is no point in talking about the votes tonight as thing change so fast in the house.. they will deal with it tomorrow.
GM: 'To be honest with you I wouldn't mind working with Helen and Elissa.. "
Aaryn says what freaked her out was after thinking about who went up and where the votes went and who the replacement nominations were. She thinks that Helen, Amanda, Elissa, and McCrae have been working together since week one.
GM agrees thinks they are working together.
Aaryn: 'I'm starting to think Amanda is trying to play me.. she's trying to get me to do her dirty work
Aaryn adds that her biggest fear with Helen and Elissa is they have a good chance to win the game if they get to final 4. Working with them is dangerous for their long game.