Check out our BB19 Ranking Grid. . rank your houseguests here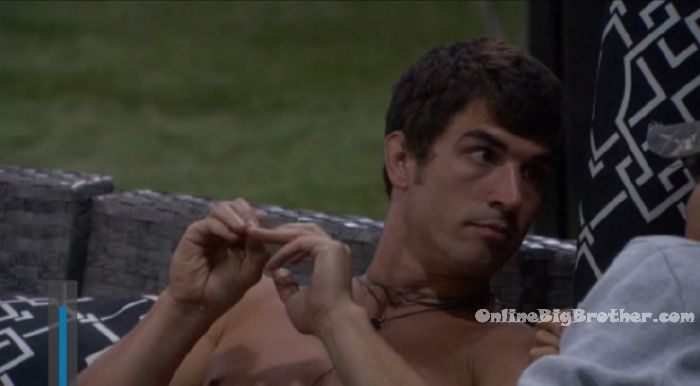 9:45pm Cody and Jessica.
Jessica – if you don't win HOH.. Cody – I'm going to talk to that person immediately. Jessica – lets say Matt wins and he puts you and Alex on the block next to each other and I have to use the hex right then and there. So what does that reset mean. What would that mean? Would that null and void that second eviction? Or would we go back into the backyard and immediately play that HOH comp? Cody – ah… Jess I wouldn't worry about it. Jessica – we have to be prepared for all situations. Cody – alright, situation is whoever gets HOH .. we be like hey we got this … HOH means nothing if you use it on us. Jessica – That was my dream by the way .. I told the HOH a very vague sense .. and because I had decided to come out that I had won the last temptation that they came over the loud speaker and talked about off camera rules like how this affects the game. Like all the specifics. And I am standing there like what the f**K! Like I didn't want all of that information and then today they called me into the DR and they said we just wanted to let you know that you talked to Kevin and told him about the hex and.. Big Brother – you are not allowed to talk about production! Jessica – this is important. Big Brother – you are not allowed to talk about production! Jessica – but yeah something similar to my dream happened, so no lying can occur. Cody – oh. Jessica – apparently my conversation with Kevin could be construed in different ways. Cody – I feel ya.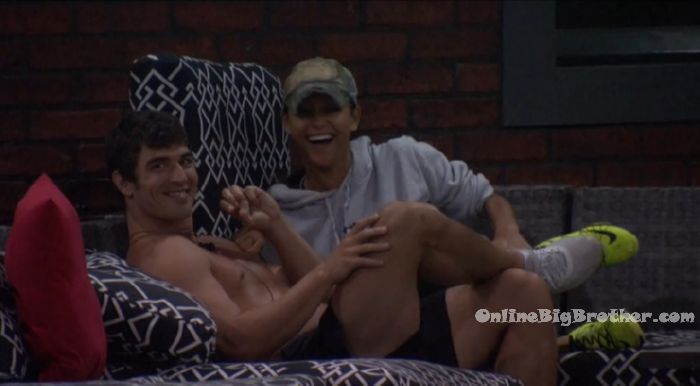 9:50pm Hammock. Cody and Mark.
Cody – I've been thinking .. like my head is so far in the future now… Elena and Jess are some of the best players dude. If we could just be like their missile and they make all the decisions. I mean they are f**king good. Mark – its a very good situation. Cody – when was the last time you talked to Matt and Raven? Has it been awhile since you've had a serious conversation? Like talked to them and they're cool this week. I mean we haven't had any good heart to hearts lately. We just need to win the HOH. Mark agrees.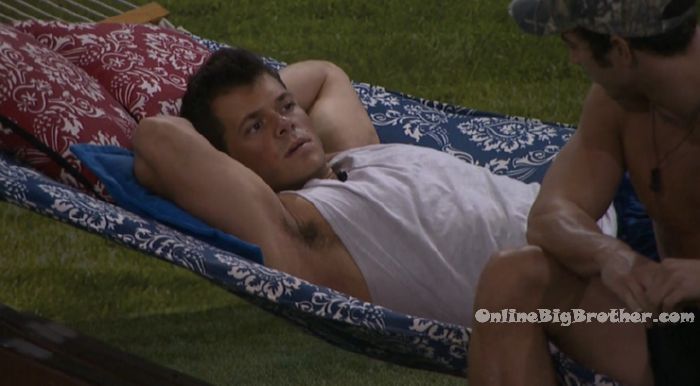 See what they can't show you on TV Try the live feeds for FREE!
9:55am Hammock. Mark – He loves the idea of the four of you don't think I should throw Paul under the bus with them (Cody & Jess)? Elena – no. Mark – You don't think I should throe Paul under the bus? Elena – no. Mark – Jess love you. Elena – I love Jess. Mark – I feel like you're her closest friend in the house. Elena – I'm going to wait and see what happens. Mark – I am telling you Paul has not come out of his (Cody) mouth. And its not going to. He's not stupid, I'm sure he sees how I am with you and Paul. The last thing that Cody is going to want to do is put me in the middle again but other people in the house.. its up in the air. Elena – I'm open to the idea as long as it doesn't interfere with Paul. Mark – its not going to. Mark – I really need to win HOH. Elena – it wouldn't even be that bad if Cody won it. Mark – he doesn't want to make a move on us.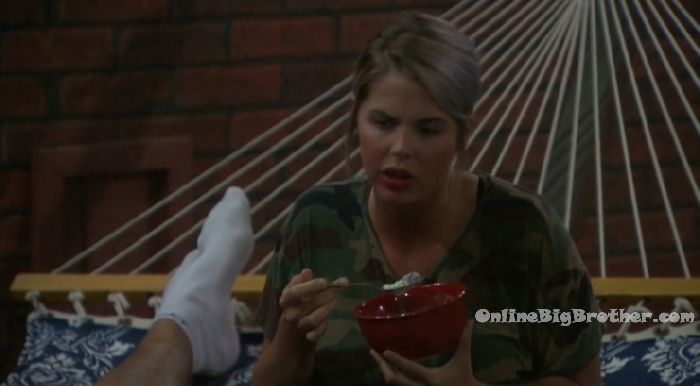 10:35pm Backyard Raven and Matt.
Matt comments on Mark wearing his pink swim short. Raven – I can't believe he wore that spandex outfit the other day. Bud, please don't do that ever again. Matt – you've got to be packing a monster to wear that sh*t! Straight up dude. Raven – Kevin was busting his balls so bad. He was like what am I looking at?! No Kevin. Matt – you've to know your strengths and weaknesses. Raven – what is Elena doing? Matt – this time last week I would have said that I trust Elena 3rd behind you and Paul. Matt – she has to know that Mark is playing a dog sh*t game and that he is on everyone's radar. She has to know. She is a smart girl. Raven – I think she is smart but she makes me question .. she tries to play not very smart. Matt – I am kind of offended because no one tries to get anything from me. Raven – nobody tries anything with me either. Mark and Elena come out in their bathing suits (Mark in his pink swim suit) to go in the hot tub.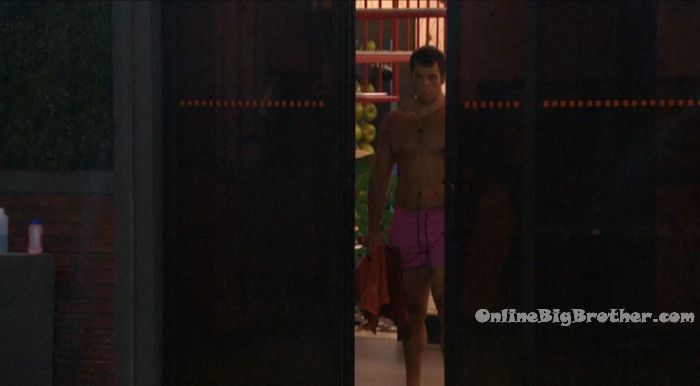 12am Havenot room. Jason and Ramses are messing with Josh. Josh – I am going to throw water!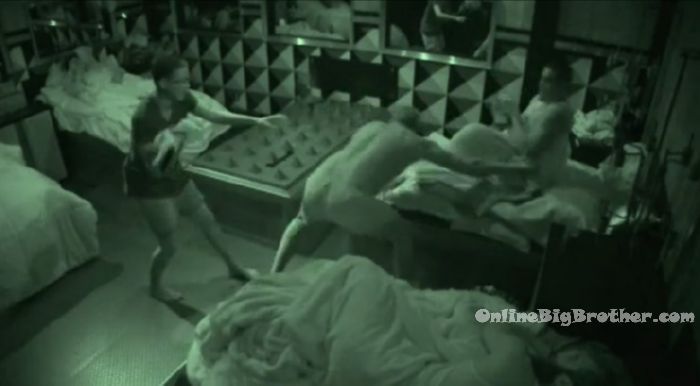 12:09am Ramses then tries to sneak up on Matt to scare him in the kitchen.

12:25am Bedroom.
Christmas – that's the game plan right there. If Cody wins, we put Elena up. Or we put Cody and Mark up right away and you know either one of them will use it. If we can get Cody out, we tell them (Mark / Elena) they are a pawn. There are so many ways we can f**k this up. Alex – we just have to make sure we have enough key players. You're the only person that came through. Christmas – but I didn't. Alex – you did better than anyone else. Christmas – Ramses was on the other side, you know they would have flipped him. We have to figure out what we're going to do and everyone better be on board.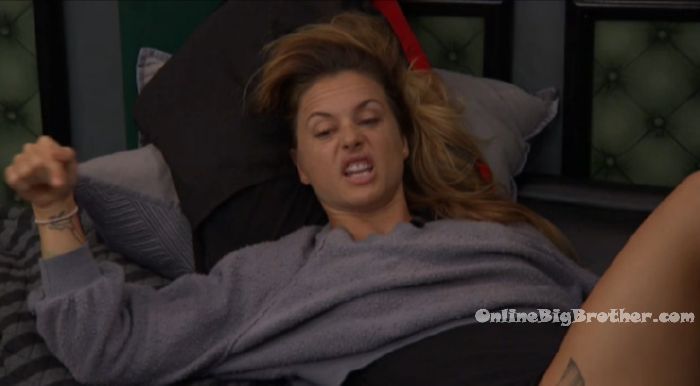 FLASHBACK and watch everything you missed: Live Feed 7 day FREE Trial!
12:50am – 1:20am Matt & Raven making out / having s**.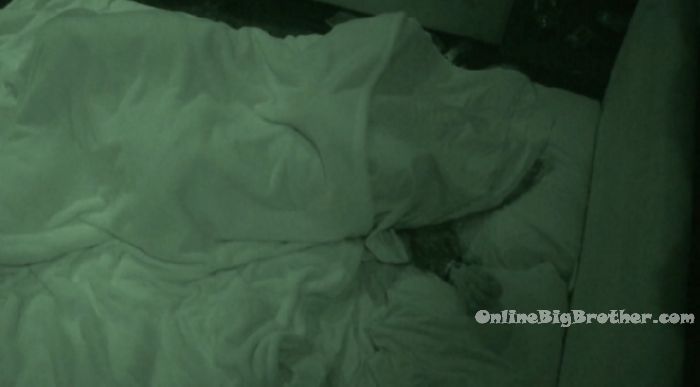 1:25am Kitchen – Mark and Elena.
Mark – I wonder who's radar I'm on? Elena – I wonder who's I'm on. Mark – nobody. Elena – you don't know that. Mark – I do know that. Elena – no one is going to tell you. Mark – who, who, who? Who would actually come after you? Elena – I don't know. Elena – maybe its not who would come after me but well I have to put someone up. Mark – who? Elena – Alex and Jason. Mark – nope, not a chance in hell.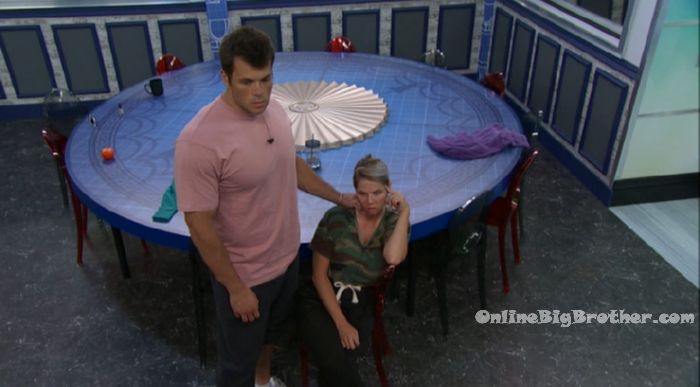 2am All the house guests are sleeping..
Links to the ranking system
Rank your house guests here
For those of you that like Statistics here are some expanded reports.