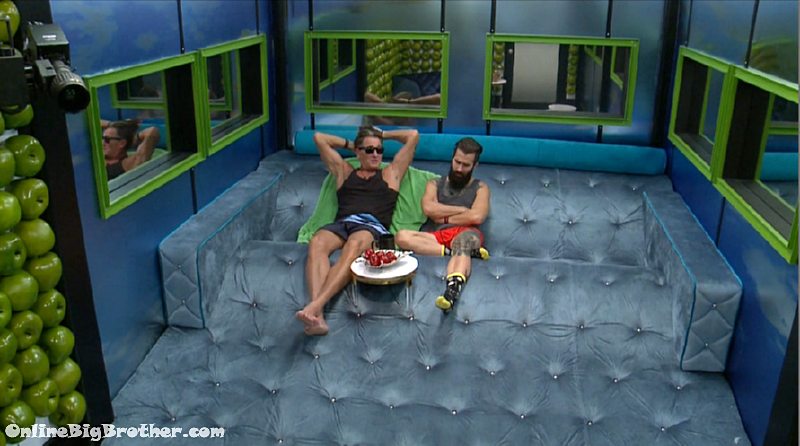 Feed subscription lets you go back and re-watch everything we post here CBS All Access Live Feeds with a FREE 7 DAY trial.

2:39pm Kevin and Paul
Paul says before Jessica comes COdy, Mark, Elena, or Cody, Elena, Mark.
Kevin – I'm with ya .. how about the other two
Paul says Elena is stronger than mark, without Elena Mark is a lost puppy.
Paul – without Cody Jessica is a lost puppy
Kevin – Without Raven Matt's a lost puppy
Paul – you gotta take out the strong ones first
Paul tells him Raven does better than Matt in competitions.
Paul – without Cody Jessica is nothing
Kevin – bit time.. not even nothing she's putting her finger up your a$$h***
Paul – Yup
Kevin – sexual harassment yo know
Paul – I said that mulitple times
Kevin – if you put it up her a$$ you know what would happen.. she would play and play until someone took it seriously
Paul – dude she has put her finger in my a$$ so many times i've turned around and said YO don't f*ing do that.. I don't like it it's not funny..
Paul – ROLL reversal I would be in f*ing jail
Kevin – answer me this has the finger gone up since he's been back
Paul – nope
Kevin – that's cold.. that's even more humiliating (LOL)
Kevin says nobody has told him but he's got a feeling jessica has something up her sleeve.
Kevin – I know people, she's got something up her sleeve… she's too happy too confident.. She can't be confident she's HOH she needs him to win HOH.
Kevin – she got the f*ing thing
Paul – I know that..
Paul tells him they have no idea what the temptation does so there's no point to worry about it.
Kevin – I think it's good.
Kevin talking about the Cody and Jessica showmance.
Paul says they have already had sex.
Paul can't understand how these people get an emotional attachment in the house, "30 f*ing days"
Kevin asked Jessica if she was in love.
Kevin says they are spending 2 weeks each in their home towns.
Kevin – I asked her you how do you fall so quick
Kevin – she said.. They told her at the beginning she was going to fall in love with a guy on the show.. I said how did you know they didn't mean me
They talk about a guy like Cody will get eaten up in LA.
Kevin says Elena is playing Mark like a fiddle.
Paul agrees.
Paul says the girls are more popular than the guys. Says the guys this season are duds.
Paul says Matt and Mark both never get called into the Diary room.
Paul goes on about how crazy he's going to be once they get down to 8 people.
Kevin thinks Elena, Josh and Mark will be gone before they hit 8.
Paul doesn't think Josh will be.
Paul starts talking about Meet and Greets.. Says he really likes going to Canada.
Kevin – they give you cigars in the HOH?
Paul – no , the f***
Kevin – What do you think about that girl Raven
Paul – She's too nice.. It's too much.. It's forced..
Kevin – exactly
Paul – but she's f*ing crazy you see those moments she has she's f*ing nuts and angry.
Paul – that will come out .. starting to chip away at it
Kevin – just put her on the block once
Paul – she would be done.. Once she doesn't feel safe she's going to go nuts
Paul – just like Dominique
Kevin – I hate to say it, she's using that for sympathy all the time
Paul – yeah
Kevin – I would like to know what's really going on.. Mother f*er looks healthy to me this is a game show
Paul – it's almost a downer.. She always relates it back to that.. Like I sympathize with you I empathize with you I hope they find a cure and fix it..
Paul – BUT don't make me feel bad about it all the time
They bring up when paul said the slop was harsh on his guts and she brought it back to her disease.
Kevin mentions how Raven "floats out there like a Russian ballerina"
Kevin – she's in better shape than everybody in here..
They comment how she really played up her cut foot.
Paul says they should technically be looking at this as a game not a charity.

3:32pm Paul and Cody
Cody tells him he was told nobody else will get a chance to come back unto the house.
Feeds cut..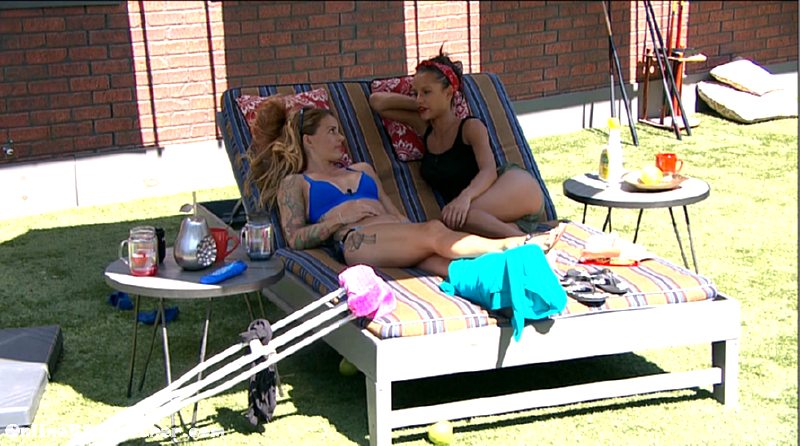 3:33pm Christmas says she's going to start dating older guys. Says she's not dating athletes "They're really high maintenance.. I'm excited what this is going to do for my date life"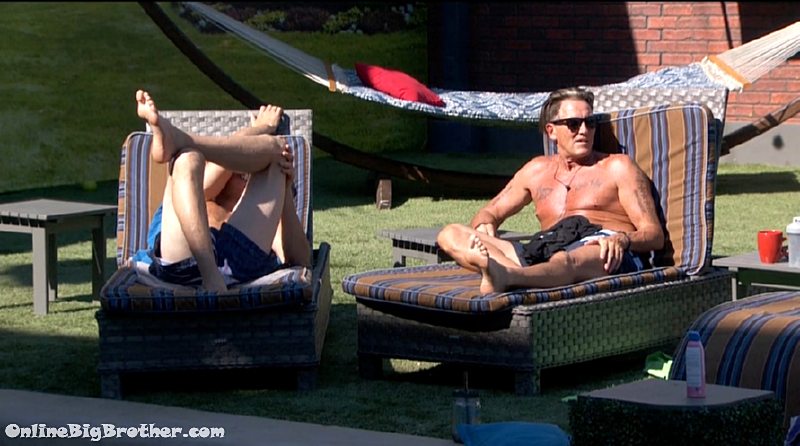 4:24pm Kevin and Jason
Kevin – I aint never let no women hit me like that (Raven hit Matt)
Kevin – this motherf*er is 33 years old and he lets her hit him like they're in high school
Jason – what do you want him to do
Kevin – say listen nothing going on here no more if you touch me again
Kevin – we can hug, kiss, talk, and grab a$$ but don't hit me no more
Kevin – she hits that motherf*er all the time
Jason – Alex beats the f* outta me
Jason – yeah but you ain't got your fingers up Alex's @$$
Kevin says they're more like bother and sister.
Jason about Matt and Raven – "When you're making out and hitting him in the face like that you make him look like a chump"
Kevin – she don't look sick to me.. take a look
Jason – I'm not disputing any of that .. I don't f*ing get it
Kevin – Paul talked to me he ain't to happy about it
Jason – about what..
Kevin brings up Paul complaining about Raven always bringing it back to her disease.
Kevin – to be honest it don't look like her stomach hurts
Jason – I ain't never seen her throw up
Kevin – me neither
Kevin – when she cut her toe she was walking around like Quasimodo looked like her shoulder was injured.
Kevin – I thought she fell on to her shoulder
Kevin says the girls in the house thinks everyone is looking at them all the time.
Kevin points out how the girls are playing with their hair looking into the mirrors when they talk.
Kevin comments on Raven constantly talking about her "rear end"
Kevin – wow loo how goofy those 4 guys are (matt, cody, mark and josh)
Kevin – can you believe that.. Paul was saying they cast strong girls but the guys.. if it wasn't for me, him and you nobody would be talking to each other.
Kevin saying they have to get rid of Raven and Christmas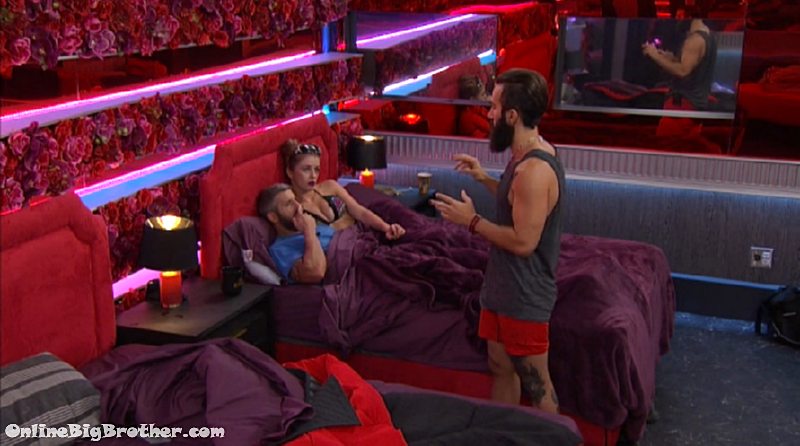 4:50pm Paul, Raven and Matt
Paul warns them that Mark was telling him there is a couple in the house that isn't doing much. Paul thinks he means them.
Paul – Elena is stronger than him and Cody is stronger than Jessica.
Paul – take the strong ones out first
Matt – Mark is the weakest player of those 4
Paul – big style.. he sucks
Raven says that mark wakes up every morning and goes up to the HOh to talk to Cody.
Paul says they are the only 2 he's close with
Matt goes on about how Cody and Jessica are not making good moves..
Matt leaves..
Paul says Mark is easy to catch lieing, his jaw goes down..
Paul says mark can't stand xmas, he'll be targeting her if he wins HOH.
Paul – just know he's talking about you..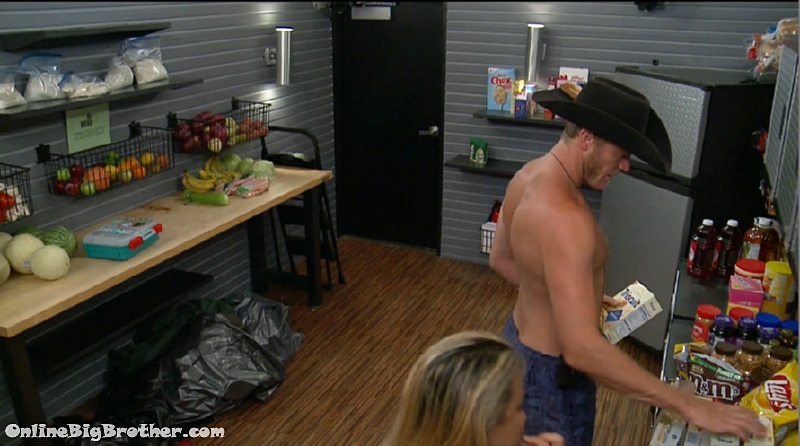 4:53pm Jason and Alex
Jason – I love triscuits.. I love that they (production) loves triscuits
Jason – they're going to be blindsided like a motherf*er
feeds cut..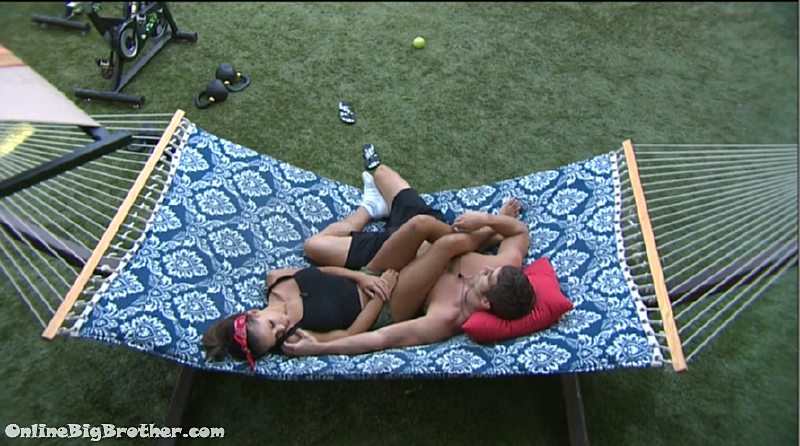 5:40pm Cody and Jessica Hammock
Cody saying that their best best is to stick with Mark and Elena. Jessica hopes they win a f*ing competition for once.
COdy thinks Christmas and Ramses will be the targets next week.
Jessica points out they'll have 60 days without Josh, they'll forget all about him.
Jessica – he is now going home with 4 grand before taxes.. our revenge is taking away his livelihood.. and we're done.
Cody – I love a things about you that I didn't realize I would..
Cody – I always thought I wanted a sweet girl… and you're not..
Jessica laughs.. "thanks babe"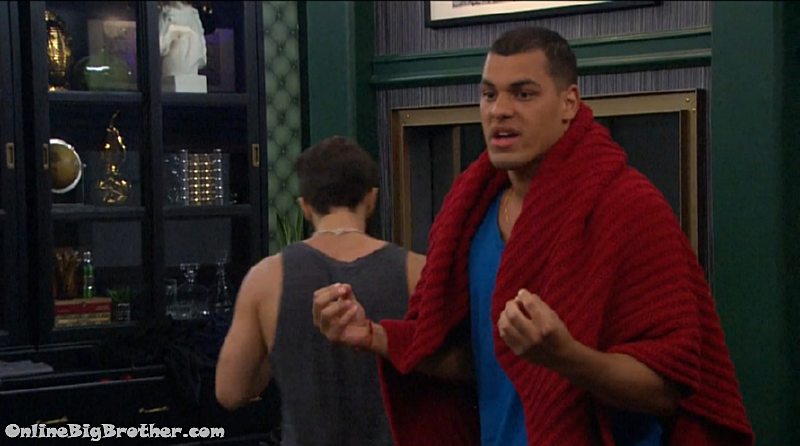 6:24pm Alex, Paul and Jason
Alex doesn't think the Temptation is a big thing she thinks that Paul was given the best one.
JOsh joins them.. All I beg is one of us wins the HOH and send them home..
Paul tells Josh to start acting depressed he's going to blow it.
Paul and Josh leave. Alex and Jason try to figure out how they can use Mark after Elena and Cody are gone.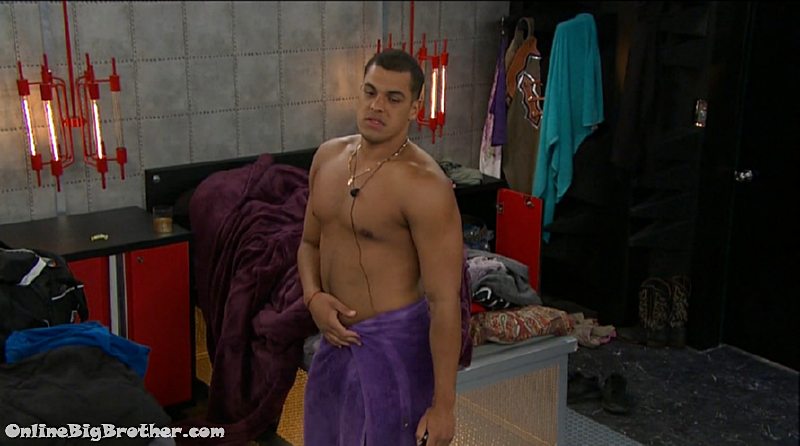 7:02pm Josh and Kevin
Josh says he's going to stop talking sh1t to Cody but Mark, "I'm going to crack him"
They talk about how beautiful Christmas is.
Josh says he's solid like the old days.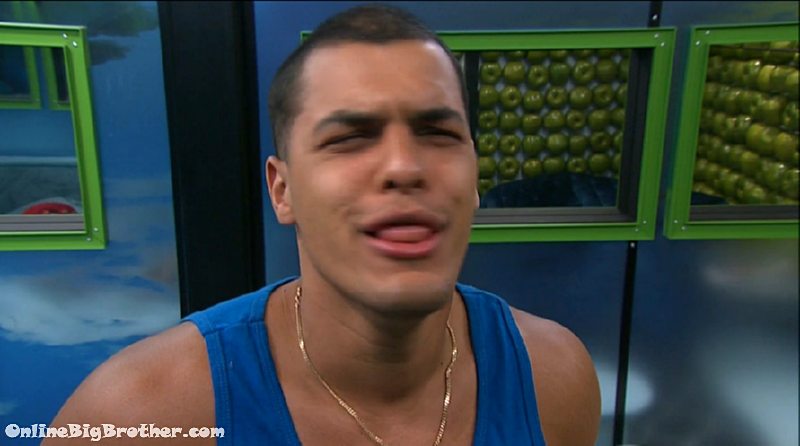 7:43pm Josh going off about Elena, Cody, Jessica and Mark.
Josh – this is the stupid face he (Mark) makes .. "Lets talk about it"
Josh – Let's talk about what.. let's talk about what.. that you're a f*ing meatball..
Josh – Elena thinks she's the Janelle of this season.. blurp..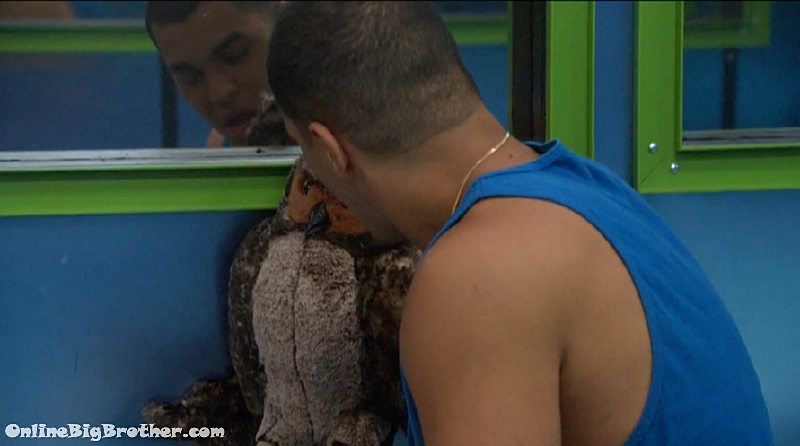 Josh starts talking to the Owl
Josh says he's stuck in this room until eviction because he's supposed to act depressed. Josh shows off the room.. "These are my four walls.. I got a padded bed.. you got the apples.. "
Josh has counted the apples says there's 355 apples on the wall..
Josh talking on the owl's behave – he says he hates Cody.. he says Cody's personalty is as dry as the desert..
Josh going on about how he should be on "Bold and the beautiful" Because he's been acting these last 4 days.
Surprise surprise JOsh says he's going to yell "Meatballs" when he wins HOH.
Orwell going through a crash Salsa course #BB19 @DawgsBigBrother pic.twitter.com/TH4Yu3gyOA

— OnlineBigBrother.com (@bigbspoilers) July 26, 2017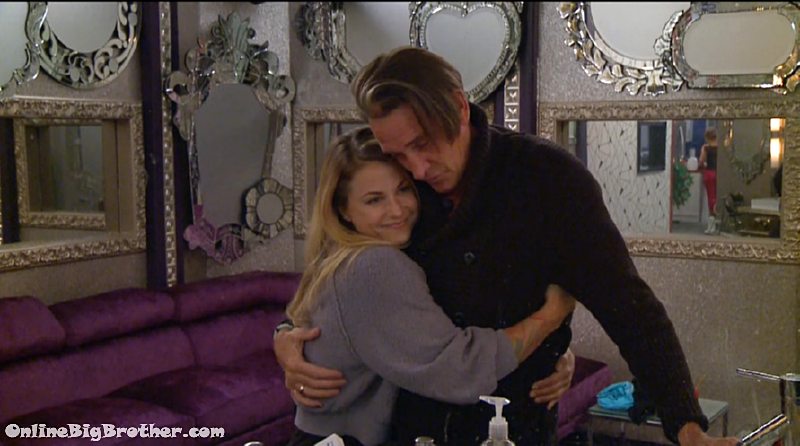 8:16pm Xmas and Raven
Raven is ready to win HO and put Cody/Mark on the block.
Matt joins them.. Says mark has a shit social game and isn't a strong competitor he's just a vote for the other side.
Matt wants to get Mark out before Jury.
Matt is certain that mark and Elena will come back to their side if they win HOH.
Kevin comes by breaks up the game talk..
8:44pm Chit chat.
Links to the ranking system
Rank your house guests here
For those of you that like Statistics here are some expanded reports.