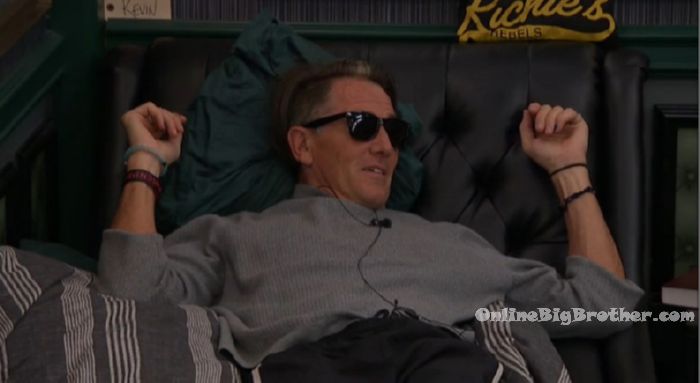 Check out our BB19 Ranking Grid. . rank your houseguests here
9:10pm Bedroom. Jason, Kevin and Alex.
Jason – I'm going to put my shades on and Kevin and I are going to walk around the house busting people around. Kevin – we need to get some of these big guys out first and then we can do it. Apparently if you put your hand on anybody you're automatically eliminated. Alex – What?! Kevin – if you hit anybody you're out. Alex – oh yeah, yeah. Kevin – if I hit someone in the head with a frying pan, I have to leave. Alex – yeah. That's because someone got stabbed here, that's why we can't have any knives. (No one got stabbed in the Big Brother house. Big Brother 2 house guest Justin Sebik held a held a knife to a girls throat and asked what would you do if I killed you. That's why they can't have real knives.)
9:25pm Alex and Jason.
Alex – until we know what's going on with him (Kevin).. don't tell him who we're putting up. He is acting really weird and really paranoid. It's not him, he's acting paranoid. He's acting weird! You know what like .. he's acting like one of those mobsters before they rat on someone or flip. That's not him .. he was like who are you voting for?! He is not like that. You said its in the past but we can't tell if he lied straight to our face .. and he (Kevin) was actually the one that flipped and he (Ramses) was not. Jason – f**k. Alex – because he's been talking to Mark, he's been talking to Paul. We don't know who he is selling us out to at this point. We haven't changed the way we are but he (Kevin ) has changed the way he treats us. He is more aggressive towards Ramsese. And he is kind of doing the same thing to me. And I know he (Kevin) is doing it to him (Ramses) because he is a rat. He (Kevin) calls him (Ramses) a super fan to out him … and he has recently started calling me a super fan. Alex – unless we start bringing friends over, we're going to be totally boned! And I don't know who to hit .. as much as Christmas says he is by herself she is definitely with Dominique, definitely with Paul. And we definitely need to get him away from Paul. We have to get to at least final 6. Jason – when are they going to decide to get rid of the five? Elena seriously, what the f**k!? Alex – if they're coming after you I'll let you know. I didn't like hearing him say we aren't going to win the 500K or 50k if we were up against him and Paul. Kevin joins them.

See what they can't show you on TV Try the live feeds for FREE!
10:05pm
Outside the HOH room. Mark and Kevin are playing a game of chess.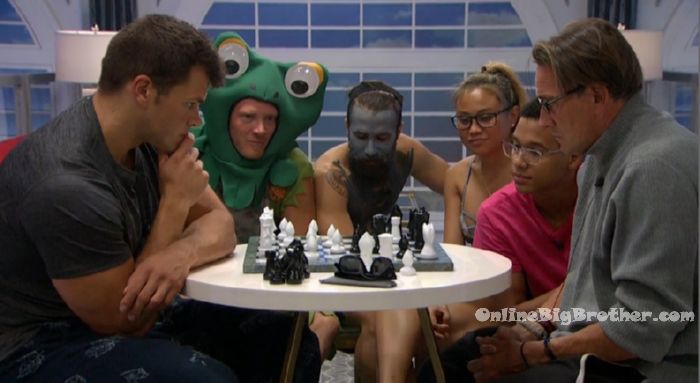 10:05pm Cody tells Elena about how he got rid of his Air Force and Marine core time so that way his time line. Obviously, I couldn't lie about the wars and stuff so I just got rid of the Air Force time. Elena – so your whole thing was to say you were younger so that you weren't the older person in the house. Cody – correct because that was the median age. Elena leaves the room. Jessica – no one buys your reasoning by the way. I promise you that. Cody – what do you mean? Jessica – your reason .. I didn't want to feel like one of the older people in the house. Cody – doesn't matter, I just wanted it to be a topic of conversation. Jess – for what purpose? Cody – because the conversation had already ended. Jess – if anything it kind of solidified the fact that you hid something. Cody – now you're making me feel like a f**king complete a$$hole. Jess – I'm not trying to make you feel like a complete a$$hole. Cody – no, I do see your point .. so now I do feel like an a$$hole. Jess – you better start thinking for two people …outside of this game especially. Cody – I know. Noted. Very noted. This wasn't the intention. I will do my best and shut the f**k up.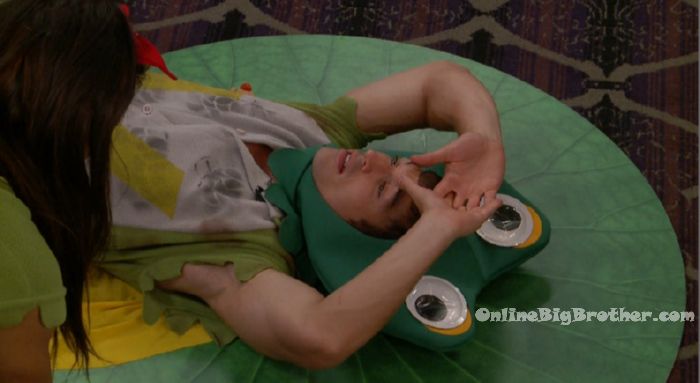 11pm Paul and Josh are next to play a game of chess.
12am HOH room – Mark, Dom and Paul.
Mark – I find myself meditation a lot these days. Paul – once she (Christams) starts feeling comfortable making suggestions to Alex she will .. watch it happen. Mark – I was like why did this happen? Paul – once people start getting comfortable then the real sh*t starts coming out. Mark – when I was up here with Elena and you came up and said oh my god Mark, I see what you're saying. Its so bad, its so freaking bad! This sh*t is like… and I can't even say anything because she's on crutches. Dom – I could try and talk to her but it wouldn't.. she wouldn't take it well. Mark – and then I finally come up here when I'm relaxed and she is like "You look stressful Mark, lets talk about it. I was so relaxed and then… Just hold up the f**king mirror… no words needed okay. Paul – its really bad. Mark – I feel like I'm going crazy like I'm the only one. Mark – its so bad. Its so bad. While playing pool against Josh last night .. I was hitting the pool cue over my head just hoping she would shut the f**k up. I am just happy I am not the only on to see it.I felt like an a$$hole at first. Okay I am going to sleep. Mark leaves.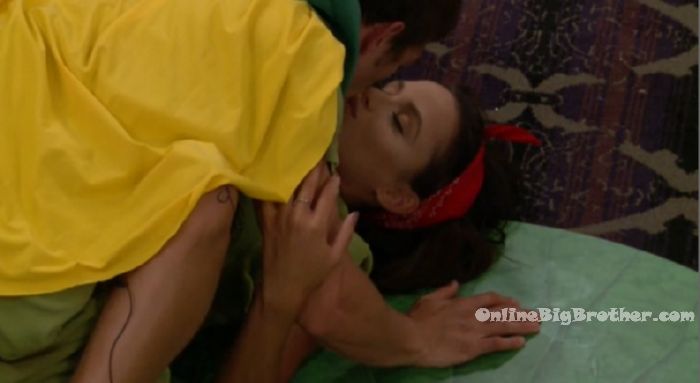 12am
Christmas, Ramses, Josh, Alex, Elena all give Jason the birthday bumps. Hitting him with pillows.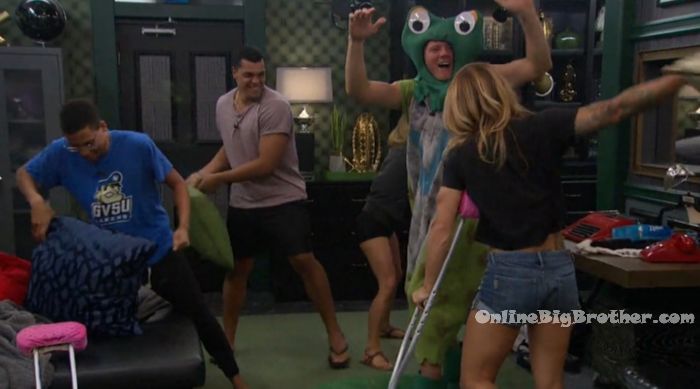 12:25pm Elena explains the conversation she had with Cody when he revealed he was lying about his age. If he lied about that what else did he lie about. They discuss who would be better to get out after Cody. Ramses or Jessica. Paul – Ramses is a better competitor. Mark – I want to win HOH so bad. Paul – she always tries to relate by telling something that is better than you. This is not the place to heal your leg. This is your bread maker in your real life. Elena – she wants to make it to jury. Christmas joins them. Paul – once Cody is gone Jessica is going to let Jessica out again. Even though we know she is doing that we can let the guard down. Who goes first Ramses or Jess? They wonder if there will be a jury buy back.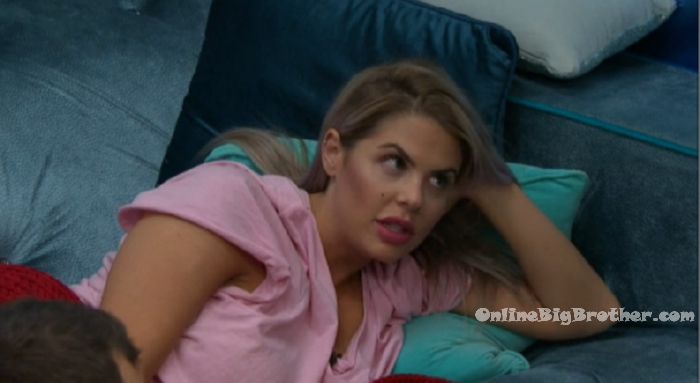 12:40am – 1:10am Josh and Jason.
Josh – I fully trust you. Has my name come up with anybody? Jason – shakes his hear. Jason – I feel like they're going to back door the f**k out of me. Josh – I feel the same way. The only way this friendship alliance will work is if we are completely honest with each other. They don't share information with us. Whatever you tell me is between me and you. The house is united we can take the shot at Jess or Ramses. This Thursday send Cody out. Jason – I will, I will.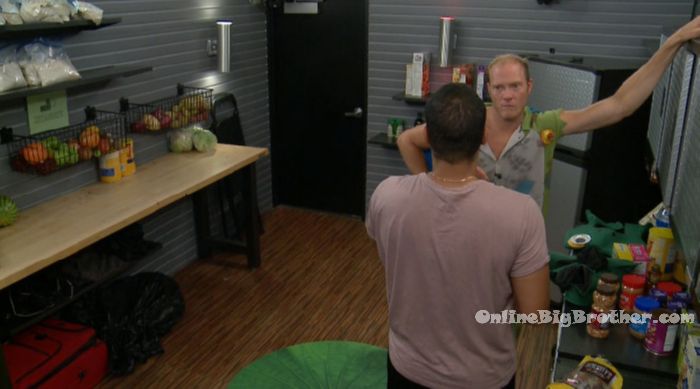 ~1:09am Jason, Alex and Ramses
Ramses swears to them he never voted out Jillian. Tells them that Kevin is playing both sides perfectly.
Ramses goes on about how he did not vote out Jillian and Kevin going around saying he does when Kevin was the one that did is dragging his reputation through the mud. Ramses stresses that Kevin is playing them. Ramses points out how Kevin and Paul are always in the HOH. Paul calls him up all the time.
2:20am – 2:40am Josh tells Mark – Moving forward .. we will get Cody and Jess out but I don't see where I stand. Mark – I don't know where I stand with everyone either. Josh – but you're in a way better position. Everyone f**king loves you. America loves you. Josh – back home I react to everything. Mark – we just need to get 3 more out and then that's jury. Mark – coming in here I didn't want to be a target because of my size. People are going to start turning on other people and true colours are going to start coming out.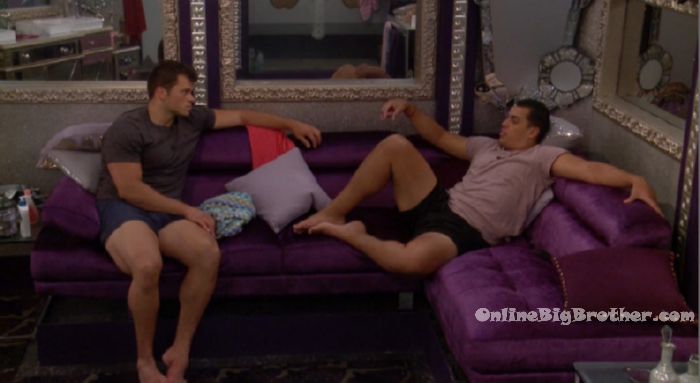 2:40am – 3am Josh – if I get past the next few weeks, this house is going to blow up. As soon as we get into jury .. Matt is going home.. well to jury. Josh starts talking about his family and how grateful he is.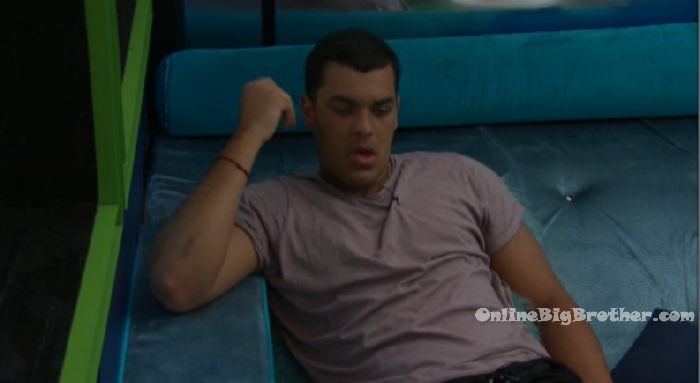 3:05am – Josh heads to bed.
If you plan on buying anything from Amazon. Use this link Amazon home
It doesn't cost you anything and we get a small cut.
Links to the ranking system
Rank your house guests here
For those of you that like Statistics here are some expanded reports.
er="0″>