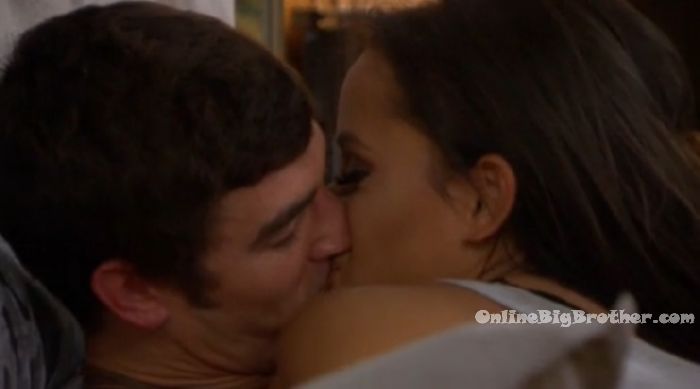 JESSICA IS THE HEAD OF HOUSEHOLD
9:05pm HOH room – Jessica and Cody.
Cody – I'm just happy to see you. Jessica – I want to watch Kevin's show and then come up here and go to sleep. Cody – when's that? Jessica – 9pm. Jessica – lets go downstairs for a little bit, be social and do our due diligence. Cody – okay. Jessica – and then I'll be yours for the rest of the night. Cody – f**k DEAL! Cody burps. Jessica – you realize when we're in the outside world the romance comes back and this (his mouth) gets sown up. You're getting a pass just because you're on slop. Jessica – if you want to see me naked the burping and farting won't be happening. Cody – I'll ditch the farting but the burping stays. Jessica – no. Cody – then no deal. Jessica – fine they I won't ever get naked. Cody – then well stay celibate till we're married then. Jessica – so you're saying we're going to get married?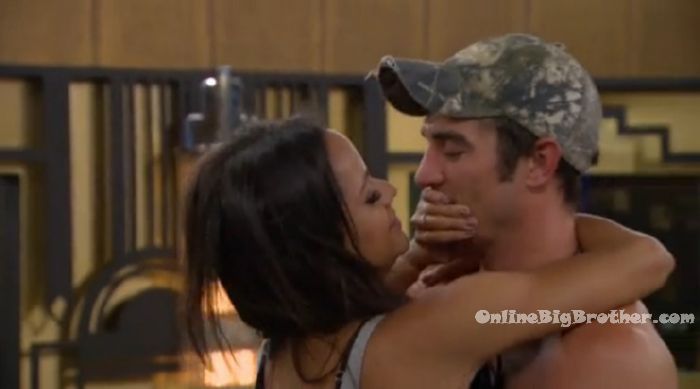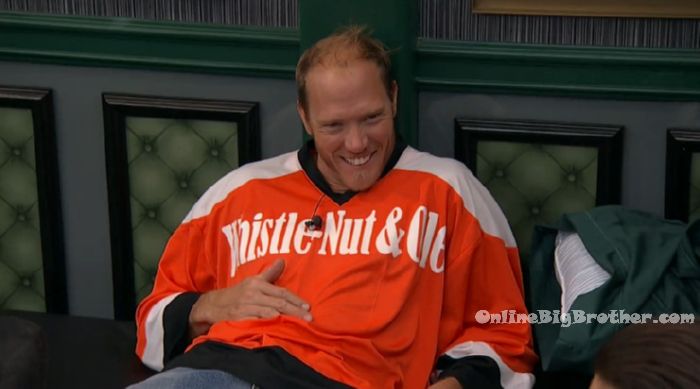 9:05pm Bedroom. Paul, Jason
Paul – this is our chance to steamroll this sh*t dude. Jason – she's a f**king dingbat. Paul – replace Jillian with Christmas. I knew, but you have to get the right pieces. Jillian wasn't going to do sh*t. Jason – she's f**king dumb dumb! Paul – Christmas almost won yesterday. You get what I'm saying. We have a pit bull on a leash. Jason – but she's sparatic. She's emotional as F**k! Paul – to me she will be the first to go out of all of us. When she has a vengeance for something she will not let it go. And now she has a vengeance for Mark.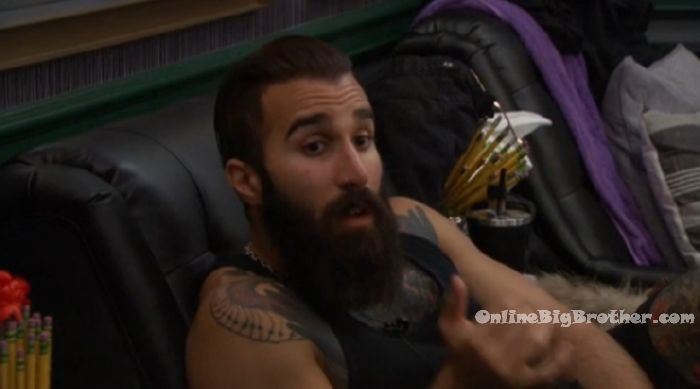 See what they can't show you on TV Try the live feeds for FREE!
9:10pm In the kitchen – Paul, Christmas, Elena, Kevin.
Paul is putting the girls in hold.
9:20pm Havenot room – Josh.
Josh – this is the definition of being loyal. People see your character. They see that you're a man of your word. Loyalty will take you real far in life. Remember that. Give loyalty to the right people. Give your word to the right people and sh*t on everyone else. You never know what will happen in this game but I do know that I will move forward in this game if I stick with the same people. Guys will you call my mom because I am pretty sure she has has like five heart attacks. This experience is crazy but I'm done being nice to people that disrespect me, that don't want to hear my word, that hold a grudge. I have a good heart. You do me wrong and apologize, I will forgive you. Guess what Cody, F**K YOU! Mark you're shady as hell. You switched up as soon as Cody walked through the door. YOU'RE GOING HOME!! Mark sucks as a competitor! Ramses is a floater. He is not loyal. I'm winning the veto tomorrow so I don't care.
9:25pm Bathroom – Matt, Raven and Christmas.
Christmas – are you guys interested in keeping Josh? He will be a number for us and chill the F**k out. Also Ramses is the triple f**king threat. Much better at competitions than people think. Stronger. Matt – I'm on board with that but lets revisit it after the veto.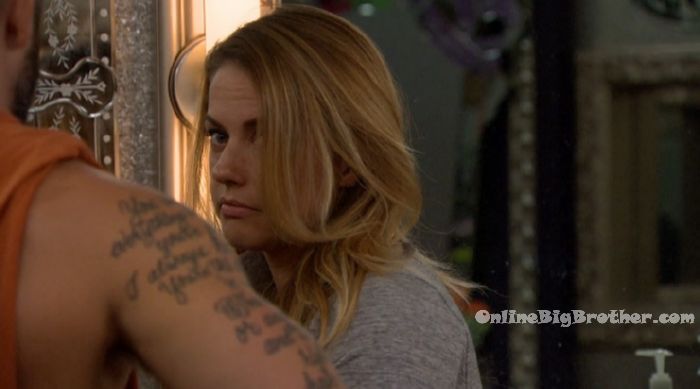 10:10pm – 10:20pm Lounge room. Paul, Jason, Kevin, Christmas and Alex.
They're all hanging out chatting about random things. In the kitchen – Jessica, Cody, Matt, Raven, Ramses, Paul, Elena, Mark and Kevin are chatting asking each other questions. Paul – Kevin what do you like to do for Deb? Kevin – who?! Paul – your wife!
10:30pm – 10:50pm Kitchen. Raven – do you think we should keep him (Ramses?)? Matt – not at all. Right now I feel pretty good. Even if Cody gets HOH, I think we'll be good. Raven – MMMmmmHHHmmm. Matt – i feel pretty good about everyone else too. So worst case scenario, Ramses stays. Raven – Ramses knew he was going up.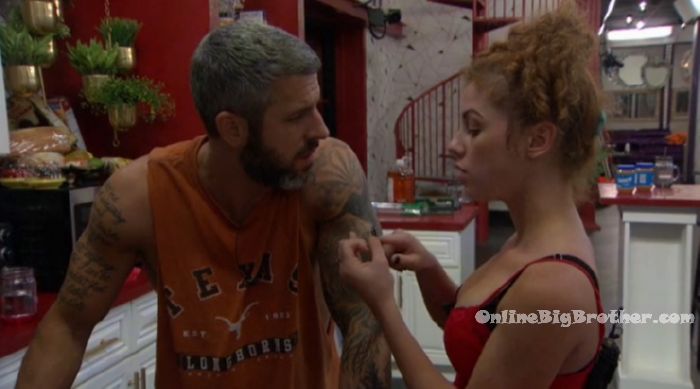 10:50pm HOH room. Cody – not saying they would follow through.. but next week if I don't get HOH .. they would definitely consider not splitting us up. It would be a consideration. Jessica – as long as we don't isolate ourselves.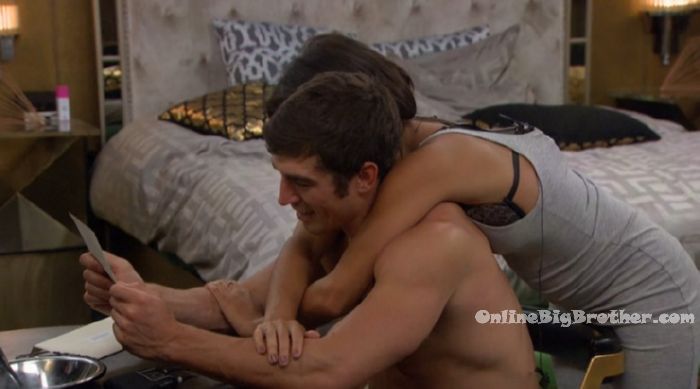 11:30pm Havenot room. Josh and Jason.
Josh – do you know how proud he is of you?! Jason – yeah I know. Josh – You know how much America f**King loves you?! I f**king love you! Jason – I know it sucks but you can't play the we shouldn't have told you. But it sucks, we feel bad about not telling you. Just pretend that that was the plan and it went south. Now you're on the block and you're f**ked because we don't want anyone sniffing a rat. Josh – I'm going to mope around.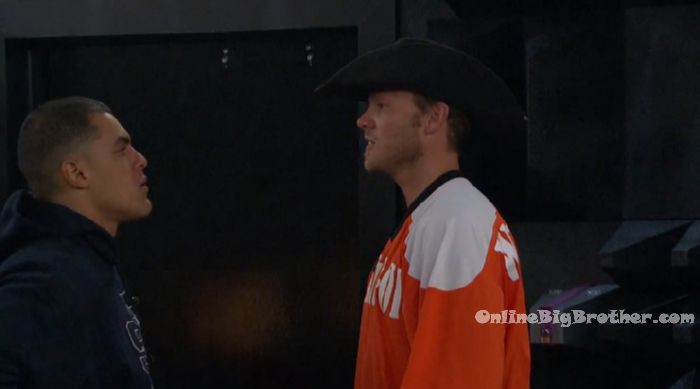 12am All of the house guests are eating including the havenots that finished their time this week.
2am Bathroom. Mark & Ramses
Mark – if it means anything to you, you're safe in my book. I think you are with the house gii. Ramses – thank you. I just need to take it one day at a time, week by week,
3qm All the house guests are sleeping..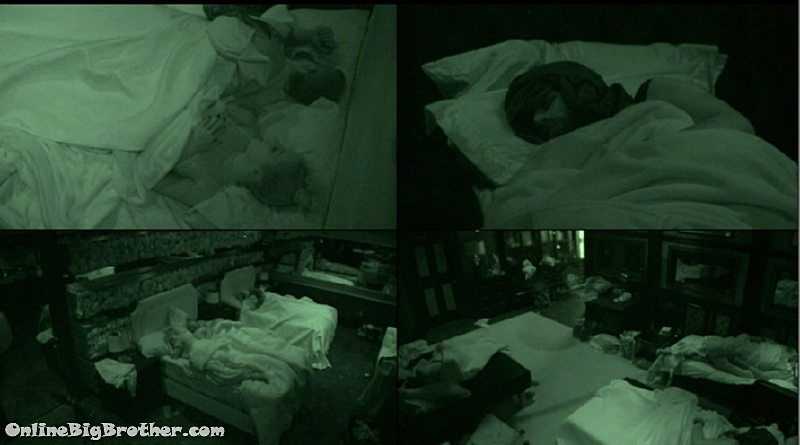 5:00am sleeping..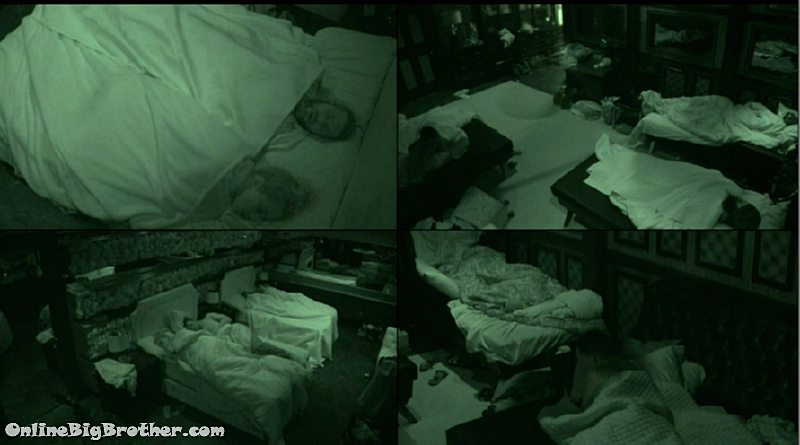 7:23am sleeping