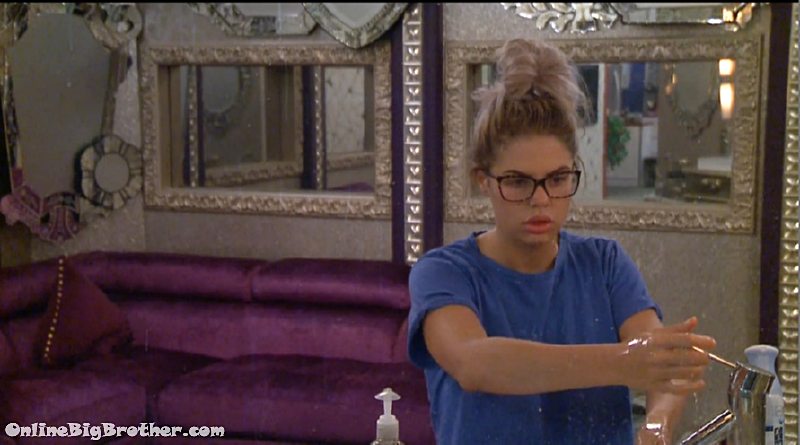 9:17am HOLY SMOKES! Look who's the first one up.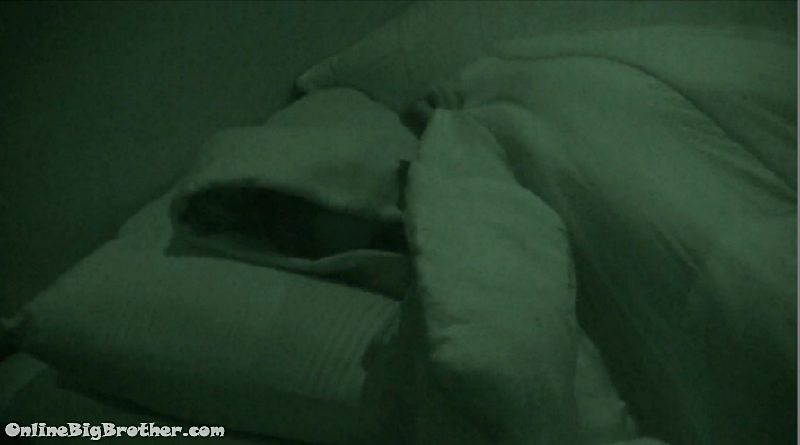 Never mind she's back in bed… (For some reason Big BRother is pretty soft with enforcing the "Bedroom lights must be on" rule. Slap their ass on Slop as a punishment.)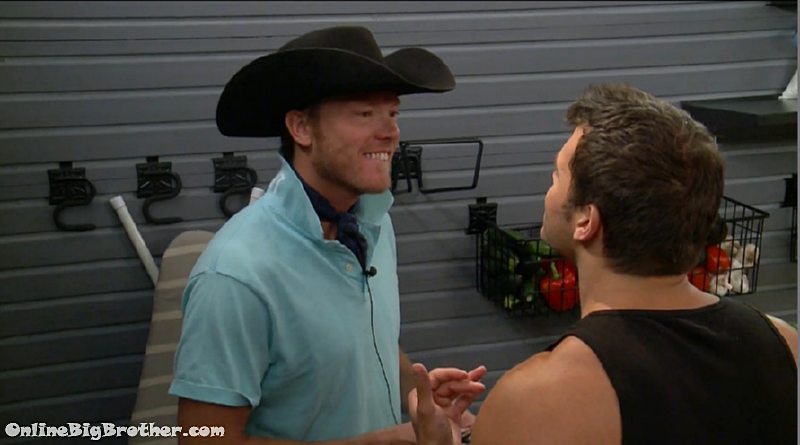 9:19am Jason and Mark Storage room
Mark – why did you say you were surprised when I said nothing changes between us..
Jason – I wasn't really surprised.. Err.. it was over. A done deal. f*ing.. The Cody thing.. Back.. I just didn't know after he talked to you
Mark – that was me and him just starting over because he threw me under the bus.. That's all it was
Jason – good
Mark – you silly f*
Jason – I know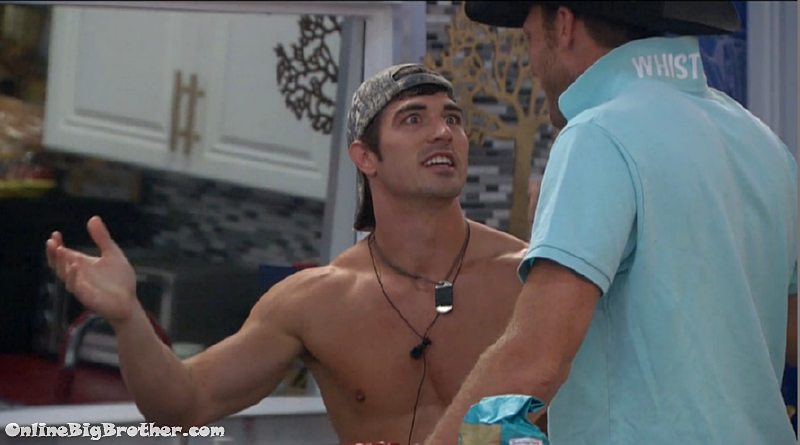 9:30am Kitchen Jason and Cody
Cody – you and me should have been out of this game way f*ing early and we're still here..
They laugh.
Cody – you know how much their shitting there pants right now..
Cody – holy sh1t Jessica won the HOH look at who can play next week, Alex, Jason, and I
Cody points out how poor the other side is at competitions.
Cody is worried if it's a "chance" competition though.
Cody whispers to him he thought Josh was a outsider but now he's realizing he's just a puppet for the other side of the house
Cody – Kevin is still solid on your side?
Jason – yeah
Jason mentions how Christmas was close to winning the HOH he was really worried.
Cody – it lines up on the board, me you Alex and Kevin.
Cody says Mark and Elena are best buds in the game
Cody – I thought I could trust him. he doesn't own any side loyalty Dom was his biggest ally
Cody – Alex was right about Dom.. i was happy when I saw her walk out on the stage.
Cody why do they think he's such a good competitor
Jason – he's done it before.. people just thought..
Cody – how many of these people are going to start playing their own damn games or are you all going to be DUDS and let Paul run the show for Season 19, that's your season.
Cody – I don'e trust a gosh damn one of them.
Cody – I take everything they did and their disloyalty extremely personally
Cody – you mother f*ers
Cody – people on the outside want you, me Alex to win. Everyone else is dud city
Cody – Mark, people should expect more outta him
Jason – I Have a hard time with that guy
Jason says he's seen Mark flip flop multiple times.
Jason – the guy has passion and I see it in his eyes.. he's not a leader but he's not a follower
Cody says Mark cowered to the house week 1 and because of that he lost a lot of respect for him.
Jason – I did not want to be doing everything that Paul said.
Points out that is what Mark is doing.
Jason thinks it's because people don't know what to do so Paul's always the first one to Throw something out there.
Jason – as soon as Alex put her up she Flipped her Cookies. (LOL)
Jason brings up how he wanted Dominique and Matt up. But Alex put Jess up to keep the other side Calm. Dominique wen't into a spiral and there wasn't much they had to do. Everybody wanted her out.
Cody – from this point on are you like f* the house do it Jason's way
Jason – I haven't talked to Jess yet
Cody – She'll tell you to take the safe route..
Cody goes on about how he wants to take the risky route, next week he wants HOH.
Cody brings up how Jason was really wanting to use the Veto on her last week.
Jason – they were going to put Mark up but he was sh1ting his pants..
Jason then wanted Raven up but Alex said the house would vote Raven out over dom.
Cody – what the devil..
Cody – I think it's weird how Chummy they are with Josh (They = Mar, Matt, Raven, Elena, xmas, Paul)
Jason – the guy is a mental midget.. He's like the wind, he's a pot stiring son of a b1tch
Cody says he heard about the pool game from Jessica, doesn't care it's Josh.
Cody – the only people that have been loyal to me are you and Alex
Jason says the only attribute those people have is "S*ck1ng d1ck" (Those people are Paul's posse)
Jason – seriously dude that Christmas is CRAZY, f*ing CRAZY, she's a emotional wreck everyone thinks she's solid she's not.. sh'es not.. I don't know why I'm the only one what sees it
Cody – She had an advantage in that competitions..
Jason agrees
Jason says everything Christmas says
Cody – we got a lot of weapons going into next week, they are sh1ting themselves.. I can compete you can compete
Cody says Paul was really trying during the battle back.
Jason wanted to get voted to compete in the battle back but everyone was saying PAUL PAUL PAUL
Cody – people just don't want to compete
Jason mentions how when they found out someone was coming back Paul got up and told them all to vote them out.
Feed subscription lets you go back and re-watch everything we post here CBS All Access Live Feeds with a FREE 7 DAY trial.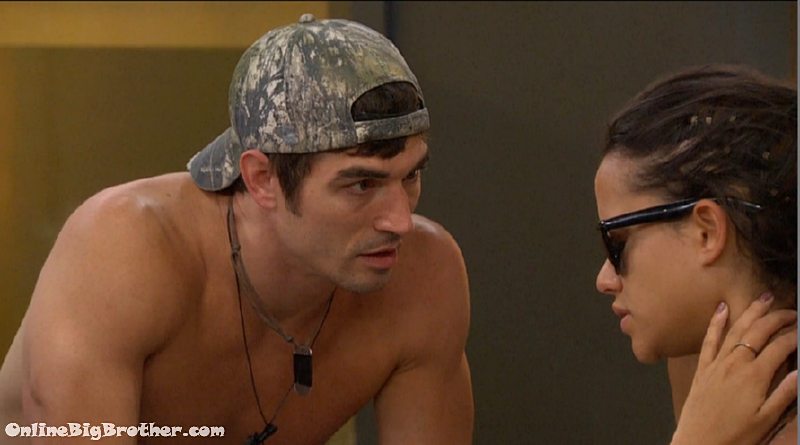 10:08am HOH Cody and Jessica
Cody says Jason didn't vote for him to stay it was Christmas.
Jessica – why would he tell you that
Cody says Jason is a idiot once he gets talking he lets it all out.
Jessica is surprised that Jason voted for him to leave..
Cody – Kevin said he was the one that voted for me to stay..
Jessica – I knew that.. I've been saying Kevin has been lying about his votes for awhile..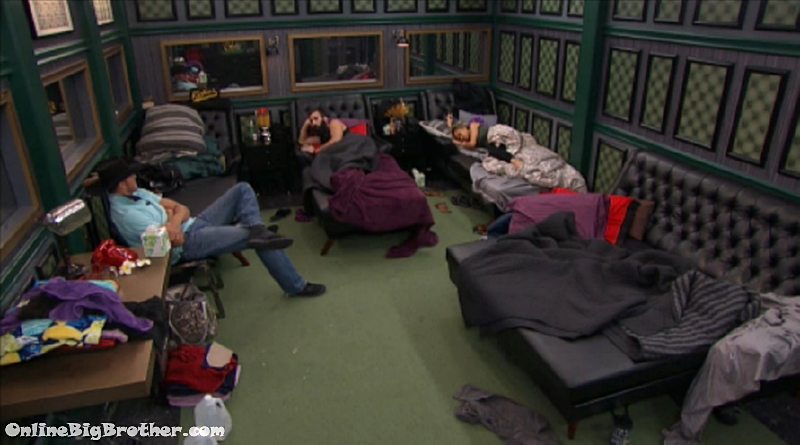 10:54am Alex, Paul and Jason
Jason brings up Ramses telling him he knew he was going up.
Jason says Cody told him this morning that they will take Ramses out next.
Paul – he's just saying that.
Jason – he (ramses) may have made a deal with him.. that f*er needs to go anyways.
Paul says now is the time for them to take out Ramses, "Pull the plug"
Paul says if they keep Josh he'll go after Cody, Jessica and Mark. Points out how good Josh did in the Head of house hold competition. Feeds flip..
When the feeds return.. Kevin is saying "There's some boring f*ing people in here" (kitchen group is Cody, Matt, Xmas, Ramses)
If you plan on buying anything from Amazon. Use this link Amazon home
Doesn't cost you anything and we get a small cut.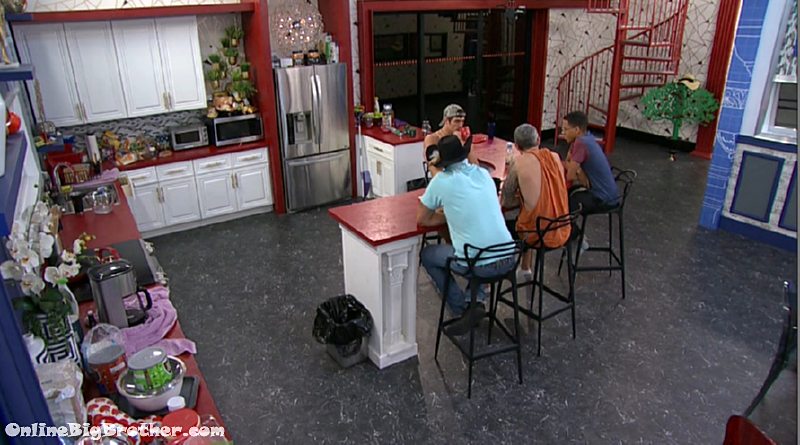 10:39am Chit chat..
11:20am Kitchen Matt and Christmas
Fitness talk..
Matt says the biggest thing for his body has been no drinking, "I like to party". Just cutting alcohol out has changed his body composition a lot.
11:23am Jason, Kevin, Paul and Alex
Jason explains his experience with chlamydia.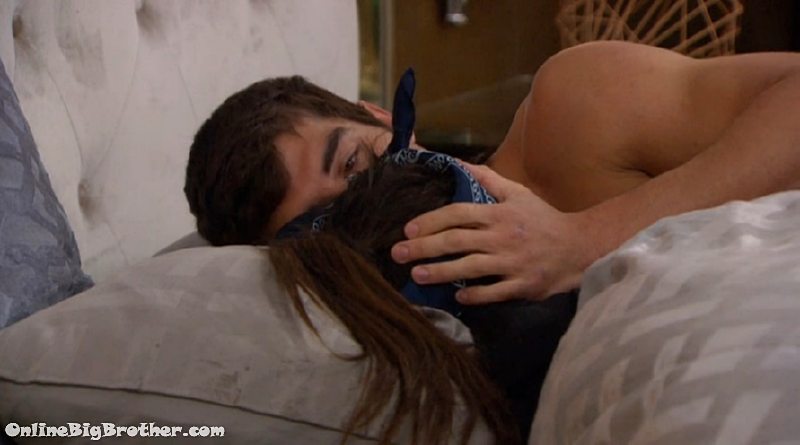 11:38am Jessica tells him if she hadn't won HOH this week he would be going home.
Christmas and Kevin #BB19 @DawgsBigBrother pic.twitter.com/7lyV0DNLFv

— OnlineBigBrother.com (@bigbspoilers) July 22, 2017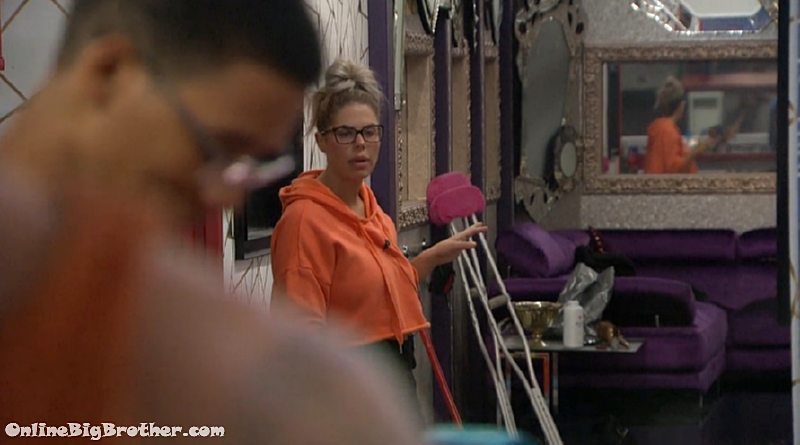 12:12am Elena tells everyone how nice it is to not have Dominique in the ASPR room "isolating herself" and "reading the bib;e" making it uncomfortable for her.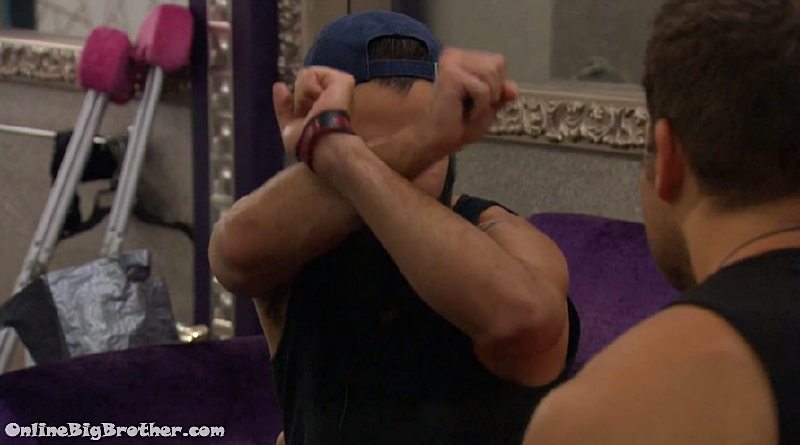 12:30am Paul wonders what the curse is.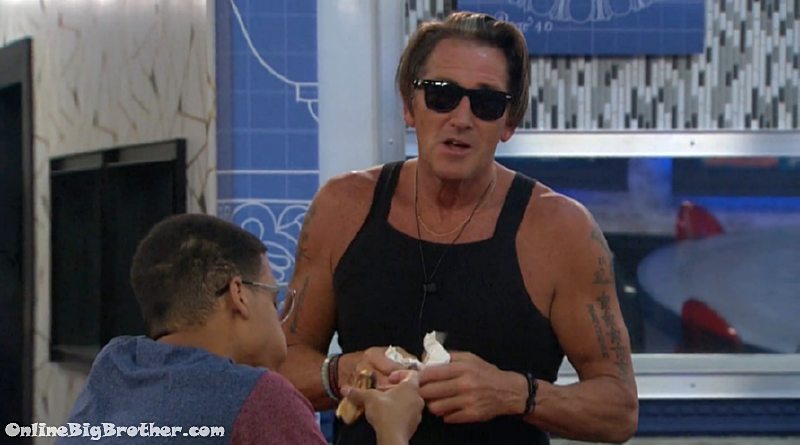 12:51pm
Kevin explains the Altamont Free Concert where the Rolling stones hired the hells angels for security. apparently they ended up killing someone.
Kevin – Everyone was on acid..
1:40pm Feeds have been on cats and rabbits.. POV players getting picked perhaps.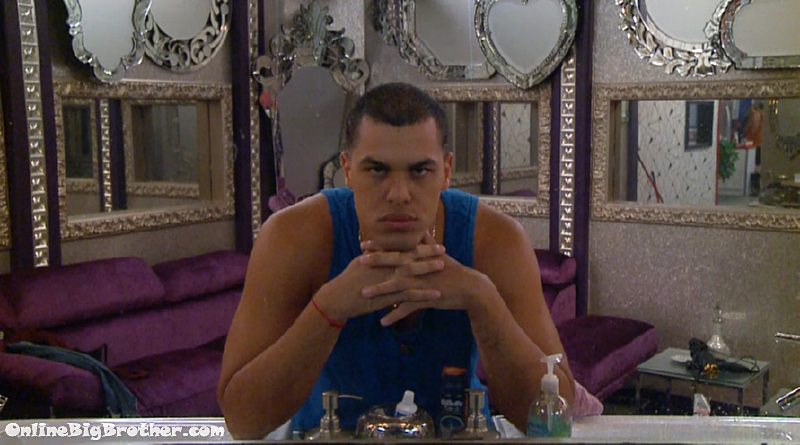 1:47pm Power of Veto players picked.
Jessica, Josh, Ramses, Christmas Cody, Jason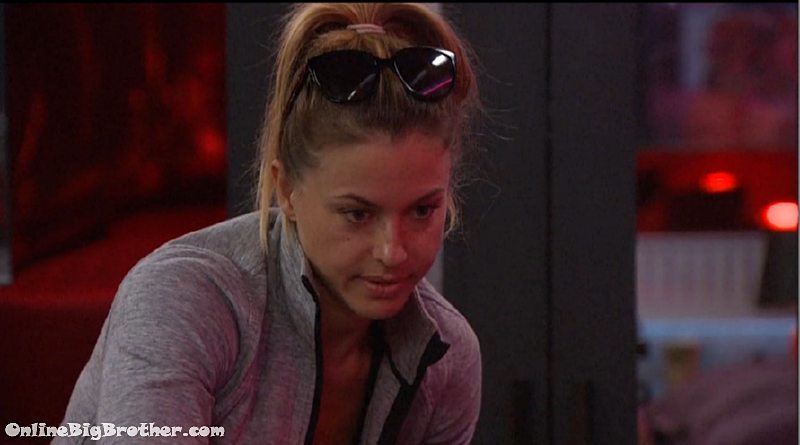 1:55pm Matt and Christmas
Agreeing that Mark and Elena are floating between them and Cody.
Christmas – Mark and Elena threw the comp..
Matt – mark was up there for a minute..
Xmas accuses Mark of bullying Ramses and Josh ..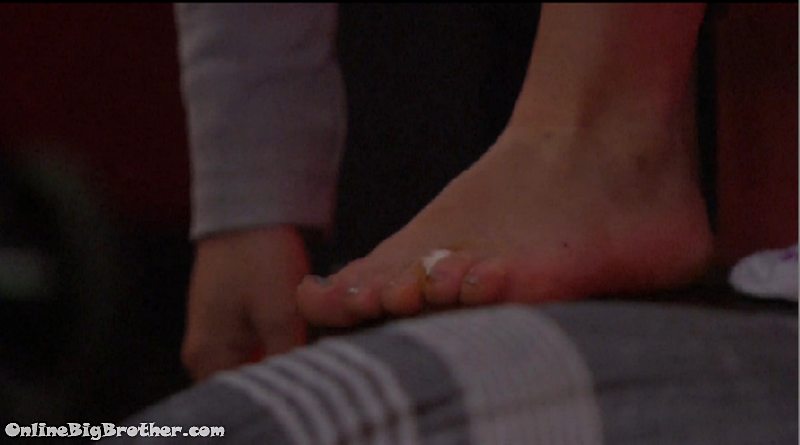 Raven got her stitches out..
Don't forget to lock your rankings in today!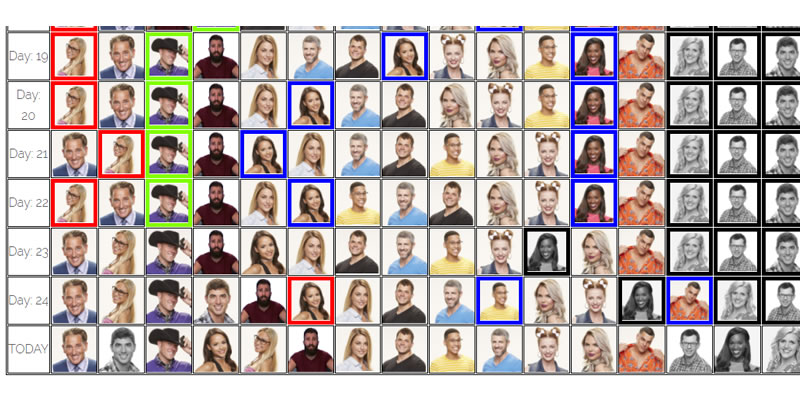 Links to the ranking system
Rank your house guests here
For those of you that like Statistics here are some expanded reports.