Check out our BB19 Ranking Grid. . rank your houseguests here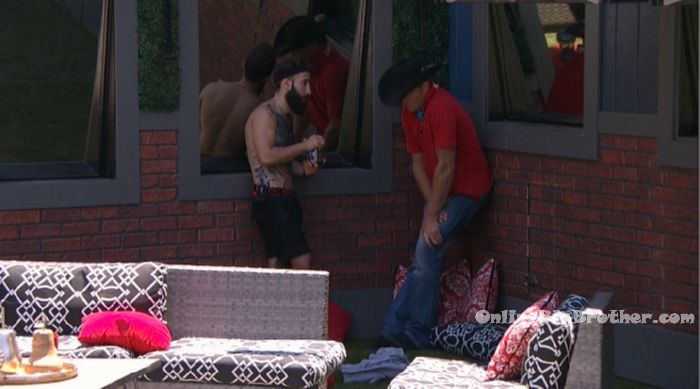 1:55pm Backyard – Paul and Jason.
Paul – Christmas is f**king pissed. And we're in the same boat. Jason – she just yelled out we had an eight person alliance. Paul – yeah she wanted to blow their smoke because she is f**king pissed. Jason – this is bada$$. Paul – yeah you liked my little medallion. Jason – they literally only have them. There's seven. Paul – not even. Okay maybe, maybe not even Dom. Dom and Elena will not vote Christmas out but the others will. I think Cody is intimidated by her big time. We can use her (Christmas) as a gun. Jason – the next couple days if she can dig in and blow their.. Paul – they're coming to me big time now. Jason – wasn't Jessica s**king your D**k. Paul – big time. I don't believe that sh*t for a minute. You're telling me that you're lying in bed with the fool and you didn't even get a smell of him going to put me up. Bullsh*t! Jason – I think that's why she waved bye bye to you… because she knew. Paul – now that I know you're straight… I had to test out the waters with these people. I want to go talk to Alex for a minute. Paul calls over Alex. Jason leaves.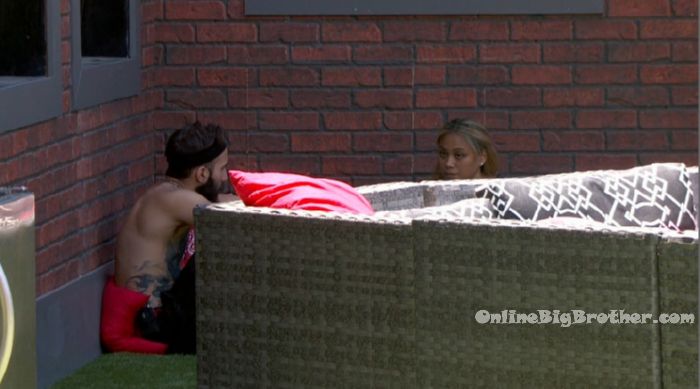 2pm Backyard. Alex – am I going to get f**ked hard next week because you have your medallion. Paul – no. You see this showmance sh*t, this is an easy repetition of last season only it is happening a lot quicker. They are already cooping up, lets go to the jury house and bang. So need to gather intel. Christmas and I are not a thing. Most of those people are acting like they didn't know but I call bullsh*t. What he is trying to spin it off as is that you guys you, Jason, I don't know .. cut a deal. Pretty much that you guys were feeding him Paul, Paul Paul is the threat. Alex – when he put me on the block I said I was coming after the showmances. Cody said he was going to make a move and not tell me. He had a conversation with me and Jason this morning. Alex tells Paul Cody wanted safety for him, Jessica, Matt, Raven, Elena, Mark and Dom. Paul – Kevin is tied in. Unfortunately we have to tie in Josh. Alex – Ugh .. I know. Paul – he is a raging bull that wants to redeem himself. You have to put it to a 3 because you're at a 10 a lot. Paul – how do you feel about Christmas. Paul tells Jason & Alex – play hard for HOH next week, lets battle it out and if you f**k me, I will f**k you harder.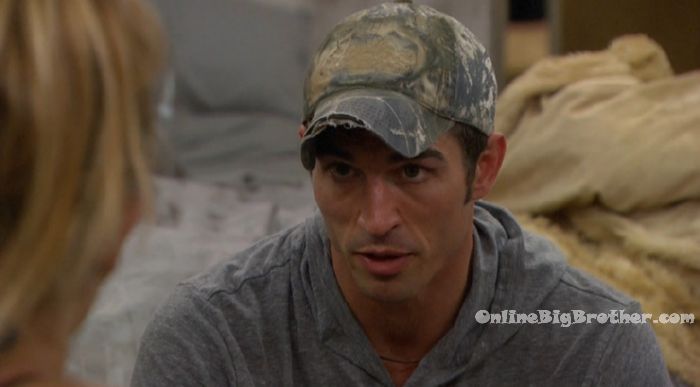 2:10pm HOH room – Christmas and Cody.
Christmas – I am not changing my position. Cody – I basically broke up the group right there and I take responsibility for it. I am the one that did it and I knew you were going to come after me. I knew after Paul pulled out the medallion that I had no other option than to put you up. It was my 5th nomination. Christmas – I feel like you've really gotten screwed over. Cody – I'm glad it was me but I would have been cool if it had just been Megan. That's what happened. So at this point I don't want to go back on my word to anyone. When you were in here the anxiety was a lot higher. You're passionate, which is a good thing. I have chill conversations with people but with you the anxiety was a lot higher. Christmas – do you think the anxiety is high because I'm a competitor. Cody – its not like you're bonkers it was just higher than I would have wanted it to be for the group. Christmas – that could have been a conversation. Cody – in my head Paul was it and then the 3 weeks came up so I had to make a split decision. Christmas – what I got so upset about is that I got bamboozled. Christmas – I hope you fully trust who you have and that they have your back like you think they do. Cody – If not I have enough blessings in my life that if I go home I am okay. Christmas – Hands down, I want Raven to take it. Cody – me too. I 1000% agree with you. I was thinking of taking out a second job after to help her with what she needs. Christmas – I hope that I do stay because I want a f**king battle. I'm pissed at you after what you pulled .. its not cool .. I just trusted you. I don't need the 500, I want Raven to have the 500. Christmas – its not your fault that I feel betrayed. I haven't told you everything that I've been through… but now is not the time. Maybe over some whiskey.
2:20pm Backyard – Paul and Mark.
Mark – me as a man I am not going to go to a man and express my feelings to another man in the house just to have him backdoored. Cody scared me because he didn't tell me anything. Paul – he is making deals with everyone in the house. Mark – all he said whatever happens Thursday, I don't want you associated with. Paul – had I not taken that temptation, I would be done. But were any of you in danger of the curse? No! Mark – I don't know what the f**king curse was. Paul – I know what the temptation and the curse was and that's why I took the temptation because none of you were in danger. Mark – outside of this I want to get to know you and your parents. I am not telling everyone this. I have your back.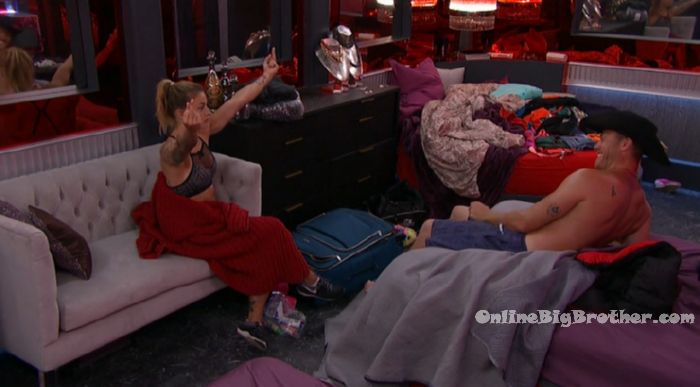 2:30pm Kitchen – Raven – Don't blindside me. Cody – I'm sorry I didn't let you know. Raven – I just want you to know how much I love you. I am a woman of my word. I would rather go home than go against my group. I love and respect you both and I've always got your back. I just wanted to let you know that.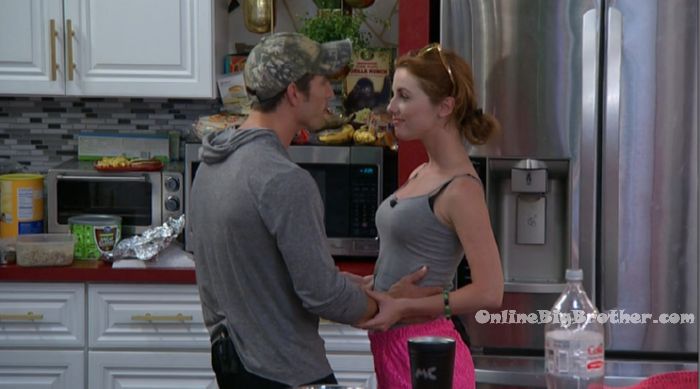 Raven tells Paul – I don't trust Jessica. Don't trust her. Paul – but Elena is cool? Raven – I trust Elena more than I trust Jessica. I don't trust Jessica. Paul – what about Mark. Raven – I don't know, he said he will vote out Christmas. I would rather go battle in the real world than vote Christmas out. I'm not voting Christmas out. Paul – I'm not either. Raven – I am not voting Christmas out. I would rather battle in the real world. Morally I would rather die. Paul – I appreciate your chat. Raven – love you buddy.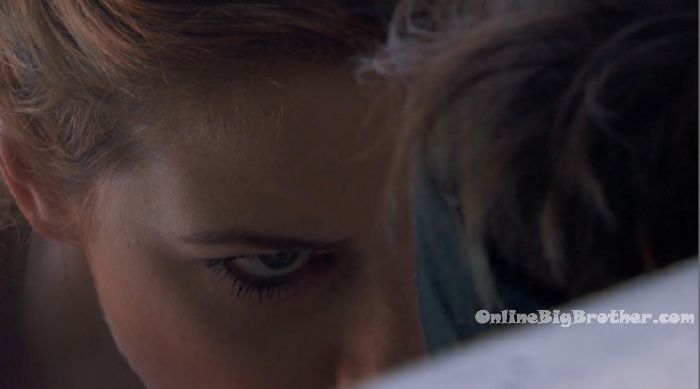 FLASHBACK and watch everything you missed: Live Feed 7 day FREE Trial!
Bedroom – Christmas & Jason.

Christmas – I am not playing both sides. Right now I feel f**Ked! I feel gang r@ped by my own team. Jason – you're a beast but maybe you're a beast for the other team. Jason – okay that's all I wanted to hear. Paul was like Jason she's a beast. And I was like yeah shes a beast for the showmances. Christmas – what? Jason – but maybe you're not. Maybe they really did put you up and you're not a pawn. I am trying to decide if you literally got backdoored or if you're f**king with me. Christmas – they just took this c**k and bent me over and said Christmas you're not going to f**king enjoy this. I want you to watch this when we are done and be like Christmas that f**king hurt to watch. Christmas – my connection with Paul is we have similar life experiences. There is no way I am going to come in here and backstab people. I am trying to be there for people that are having a hard time like Josh. If I do stay this week don't you dare think I'm not going out for heads. Jason – that's what I wanted to hear. Jason – this morning I had to make a deal. Christmas – and how do you feel now? Jason – I don't know because he kind of kept his end. Christmas – but he didn't with me or Paul. He was lying to the whole f**king group. I was batting for you and I hope you see that. Jason – so now if Cody says red rover, red rover Christmas come over… you're going to go (he puts his middle finger up. Christmas then puts up her two middle fingers. Paul joins them. Paul – from what I've gathered the house is split whether you stay or go.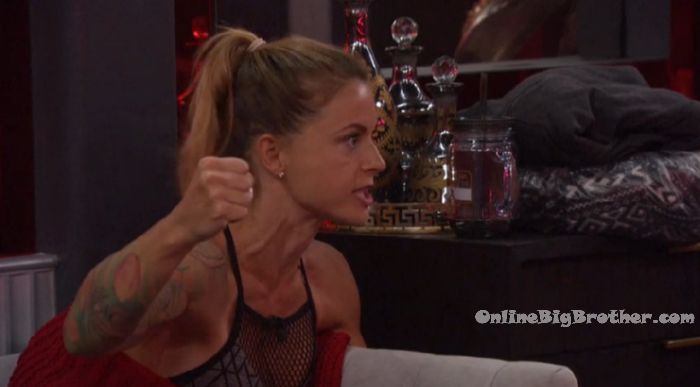 3:35pm Alex and Jillian.
Alex – if it comes to a split vote Cody will obviously vote Christmas out. Right now the votes are looking good. Jillian – Matt told me this was the best thing that could have happened to me. I don't think they would vote for Christmas to stay because she would come after them. Alex – Ramses said he would vote for you and he also said Jessica would too. Just go reconfirm those votes.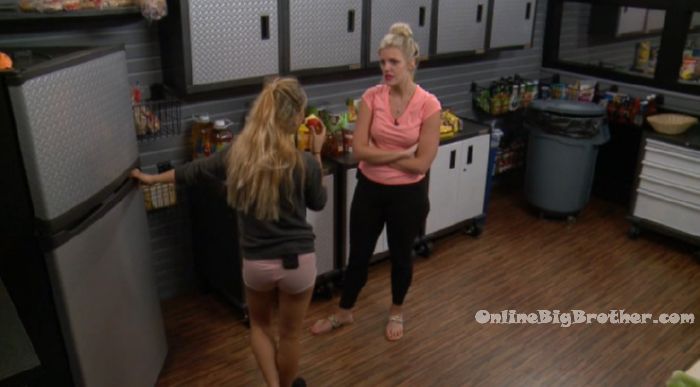 3:35pm HOH room – Mark tells Jessica & Cody that he is glad it happened. I was honestly getting bored.

3:40pm Lounge room. Christmas & Elena
Elena – I feel like we can get the votes for you to stay. Christmas – think its pretty split right now. I feel closest to you, Dom, Paul, and Mark but he still confuses me. Elena – the people that I am drawn to are you, Matt, Paul. I have a different connection with Dom. Mark and I are obviously getting closer but I've been hesitant due to his vocalness about wanting a showmance. Like red flags. And not wanting to be stuck in a house with a potential ex-boyfriend.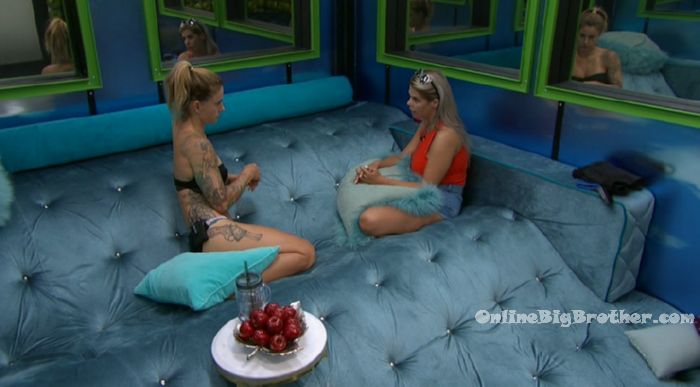 4pm Lounge room. Matt, Elena, Paul, Christmas, Raven, Mark.
Paul – lets count your numbers .. who is voting against you. Ramses, Alex, Cody, Jessica. Matt – I'm no mathematician but that sounds good. Christmas – I'm not sure about Jason. Mark – if you make it though this week do you truly can I have your… we've talked before. Christmas – I need to make it through this week to reinforce what we talked about. Matt – just to be clear Cody is my friend, I'm not… Paul – he just f**ked up.
Jillian – I feel upset. Josh – can we go on a date after this? Jillian – no f**king way .. because you said you were going to vote me out. Josh – who the f**k said that?! Jillian – we were trying to help you and you said you were going to vote me out pisses me off. Josh – I never said that! All I said was we need to look at the game. Whoever said that, call them out here. I never! I never said I am voting for Christmas or Jillian. I do know that you've been here for me. Jillian – I'm not going to say who it was. Jessica comes over and says veto is over, two noms are on the block. You're safe this week. Don't do anything to put a bigger target on your back. You're talking to one of the people that is on the block. You're fine. Just enjoy that. Josh says okay. Thank you. Jillian – tells Jessica thank you.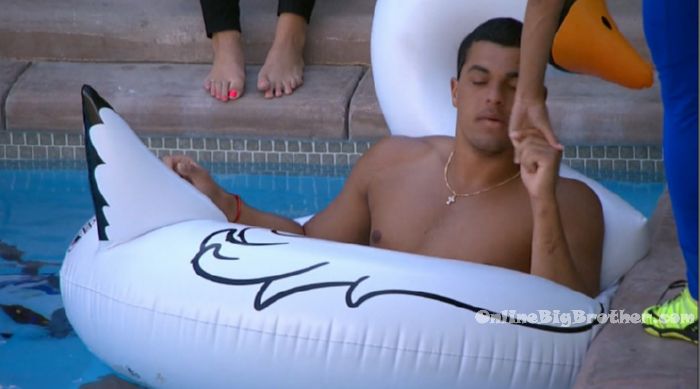 4:20pm Lounge room – Raven, Matt, Elena, Mark.
Raven – I am not voting Christmas out, I'm not! Elena – I don't want you (Mark) to go back to Cody & Jessica and tell them everything. Mark – I'm not. Matt – I'm going to have a sit down with Cody and say you've had my loyalty and I trust you but you're going to have to let me in on what you're going to do because this cannot ever happen again. Elena – and also that you're not voting for Christmas to leave. Matt – Oh I'll tell the entire house that. Raven – me too. Elena – same.
4:50pm The house has calmed down. In the kitchen – Paul, Christmas, Raven are in the kitchen cooking / doing the dishes. Out in the backyard – Jason, Alex, Jillian and Kevin are relaxing.
Links to the ranking system
Rank your house guests here
For those of you that like Statistics here are some expanded reports.