POV Holder:
Jessie
Next POV
Aug 10th
POV Used
?
POV Ceremony
Aug 5th
HOH Winner:
GM
Next HOH:
Aug 8th
MVP:
AMERICA
Original Nominations:
Candice and Jessie
Current Nominations:
Last Evicted Houseguest
David, Nick, Jeremy, Kaitlin, Howard
Have Nots
no have nots this week
Big Brother 15 N*de flashback times here
7:40pm Backyard random chit chat most of the house guests are sittign around laughing at the "Cone of Shame", Clownie costume and Amanda turning orange.
Amanda says it not real tanning solution it's food colour and water.
Amanda says she postponing the wedding again because she's going to be orange after all the spray tanning.
JUDD: "You are getting tanned for your wedding"
Helen says the DR told her the BBQ is either Saturday night or Sunday. Helen thinks it's going to be Sunday
7:56pm Storage room Candice's large Clown costume is in the storage room. McCrae is putting it on. Andy give the nose a try. Feeds cut to fish (I think McCrae was told not to put it on)
8:05pm HOH Andy, GM, Amanda and McCrae
GM is saying that Jessie is walking around like she has a power.
MC mentions how Jessie is acting like she won the BBQ contest last night. Amanda laughs say McCrae won it and gave it to her he should take it back. GM agrees tell Jessie you want the BBQ pass back.
Spencer joins them.
Random Jessie/Candice bashing.
Amanda mentions what she said to Candice during their POV fight today something along the lines as Candice opens her big mouth because you want Howard to stick his c**k in it but Howard really wants to stick it in Amanda's mouth.
8:18pm Hot Tub Helen, Jessie and Aaryn
Jessie says that Jillian from Big Brother Canada is a lot like Amanda
Helen: 'No I don't' think they were"
Jessie thinks going by meeting her she thinks their personalities are similar. Helen tells them both to go on youtube and watch Big brother Canada it was really good.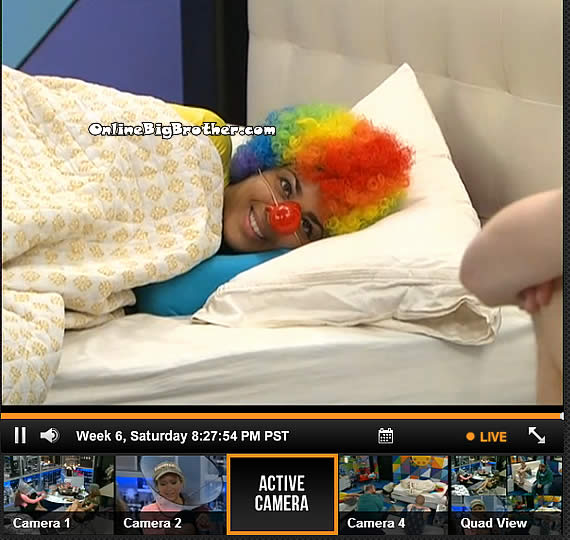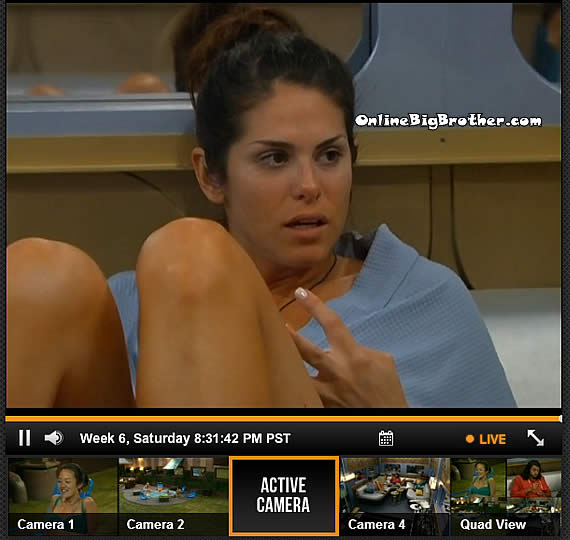 8:30pm Cockpit Amanda and McCrae
MC is saying when someone goes up two times and does not go home people tend to give up.
Amanda thinks as long as everyone stays loyal the next couple of weeks are going to be easy because whoever is against them will put up the floaters first.
Amanda: "There are too many people still in the house"
Amanda says she cannot count on JUDD she only counts on McCrae, Andy and Aaryn.
MC: "Thats not enough right now"
Amanda: "But Andy has Helen.. I don't want to go in that tanning booth again"
Amanda asks him if he's sacred.
MC: "not really .. I was scared last week"
MC: "we cannot become complacent that is why I made a deal with Jessie.. I'm not putting her up. (I assume the deal is they will not put each other up if they win HOH)
Amanda figures if it's double eviction they are all on the same plan. She goes through some scenarios, sounds like Spencer or Jessie are the targets.
Amanda says that Jessie is the one starting all the sh!t, "I'm so sick of talking about her"
MC: "I know it's better to get rid of her"
MC is going to talk to Jessie tomorrow and make sure they are clear on the deal.
GM comes in for minute to chat it up. After she leaves.
Amanda says she likes GM now and knows GM is starting to trust them.
MC: 'I don't want to put her up ever.. she is loyal"
MC says Spencer pointed out that once one of Elissa or Helen go home the other one will pick up the other houseguests and come after them. This is why he thinks Helen has to go first because no one will follow Elissa
A: "That is why Jessie and Candice have to go.. who else can they pick up.. not Aaryn and Ginamarie"
MC: "One of us will be up on the block with JUDD"
A: "We have Aaryn and Andy"
MC: 'Aaryn might go with JUDD.. I still think there is something going on between Spencer, JUDD and Aaryn"
A: "I think we won't even have to take out Helen someone else will"
MC agrees tells her to lay low and let some other people get the blood on their hands.
Andy joins them (Drink) Says he was talking to Candice. She feels ostracized . Andy is going to vote her out but that doesn't mean he's going to be mean to her.
MC leaves. Amanda says that Helen scares her sometimes. Andy isn't worried about Helen she tells him everything. Right now Helen wants to go final 2 with Andy. Andy: "She says she wants to split up you and McCrae final 6″
MC joins them. Andy fills him in on what Helen has been saying about splitting up Amanda and McCrae. They decide to make the strike on Helen before she strikes them but there are plenty of targets before they get to that.
Andy: 'If Jessie doesn't win HOH next week I want her gone over Spencer"
MC and Amanda agree. They figure Spencer will put up Elissa and Helen.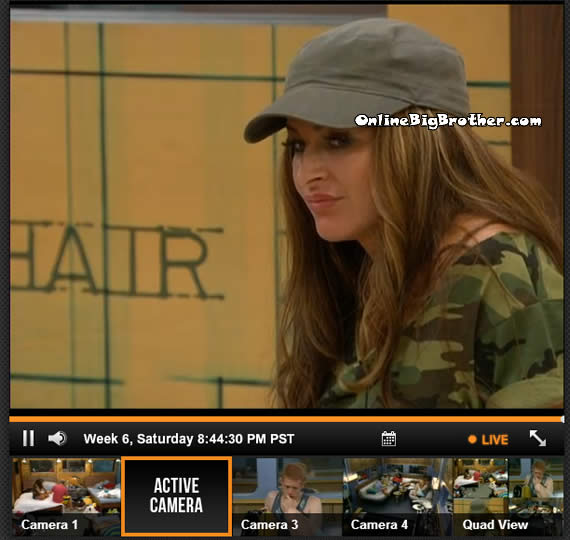 8:43pm Bedroom JUDD and Elissa
JUDD: "You don't think I'm MVP do you"
Elissa: "No.. I think it's America voting or something like that.. It really doesn't matter"
JUDD: "MVP doesn't matter anymore all the people that were blindsided have been blindsided alread.. you know"
Elissa asks him who he would put up next week, She wants to know if it's Aaryn, Jessie ot Spencer
JUDD it depends on what goes one between now and then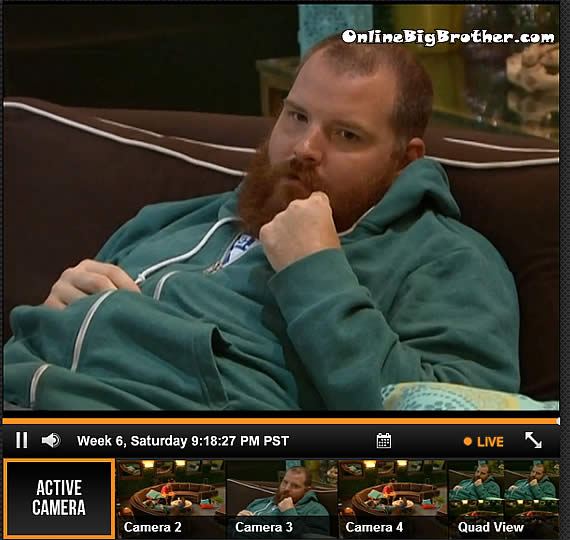 9:20pm Spencer and JUDD backyard couch
JUDD is worried he's going up. Spencer tells him not to worry one bit he's certain he'll be the replacement nominee on Monday. Spencer is worried about going home. JUDD thinks if Spencer goes up he'll be fine, it's clear who the target is.
They hope they get alcohol tonight so they can have the bachelor party. Judd: 'What are we going to do"
Spencer: "Drink and Bullsh!t"
Andy joins them (Drink)
Andy plans on drinking a bottle of wine tonight.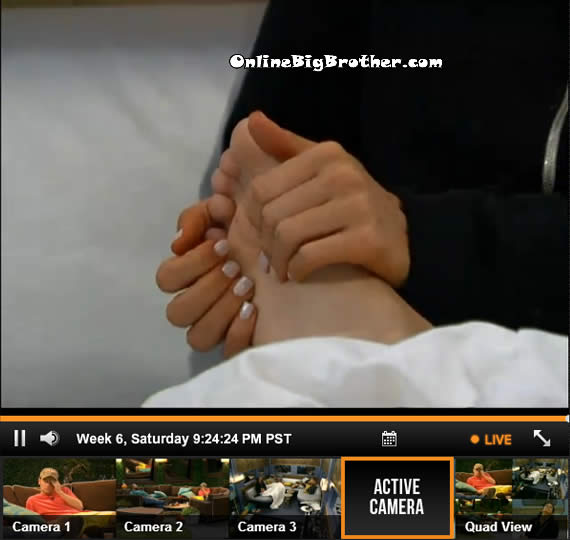 9:25pm Amanda and McCrae Cockpit
They are giving each other foot massages. Andy joins them (Drink)
MC asks him whats the word. Andy: "Helen is in the back yard talking about her childhood nobody cares" Amanda asks about Candice if she's sad. Andy thinks she's doing alright he caught her crying a couple times. Andy says that deep down Candice doesn't think Amanda is lying about what Howard told her. Andy says Candice is a bit upset because she feels she cannot go to the HOH room.
Amanda: "It's her own damn fault.. she never dropped it.. that racism stuff she never could drop it" Amanda adds that in this house you have to drop sh!t, After Elissa called her a stripper she dropped it after a day. They wonder if Candice will just roll over this week.
Andy doesn't think there will be a lot of strategizing and scheming. Andy: "it's going to get tough these next couple weeks" Amanda list off all the people they need to
Andy: "JUDD scares me because he's playing a similar game to me"
Amanda points out JUDD has all these tiny schemes that he keeps to himself whereas they tell each other everything. Amanda: "whats Spencer's deal"
Andy: "Spencer is grabbing at straws.. I don't want him in a position of power again because he'll start scheming"
MC: "Theres nothign much to do this week instead of lying low and making sure we got the numbers"
JUDD comes in "Why aren't you tanning.. "
Spencer joins them
Amanda: "I've never seen a veto where people are fighting during the veto"