POV Holder:
Jessie
Next POV
Aug 10th
POV Used
?
POV Ceremony
Aug 5th
HOH Winner:
GM
Next HOH:
Aug 8th
MVP:
AMERICA
Original Nominations:
Candice and Jessie
Current Nominations:
Last Evicted Houseguest
David, Nick, Jeremy, Kaitlin, Howard
Have Nots
no have nots this week
5:30pm Helen and Elissa Cockpit
Helen I'm really mad that during that competition Candice threw their names out in public she said JUDD was MVP and people like them were targeting him.
H: "That was really bad .. She continues to ruin our game.. I had to talk to JUDD for 30 minutes to smooth things over"
E: "Ya"
H: "She doesn't help our game she wrecks our game. "
E: 'Ya"
Elissa says she is scared because Jessie is totally inconsistent. Helen keeps saying over and over that Candice is not on their side.
Elissa: "We really only have Andy that we know is on our side 100%"
H: 'That is all we need.. Candice is not on our side.. She tried to turn the house on us last week.. she threw our names out there"
Helen mentions that Howard has very dangerous player he was using Candice and still she protected him. It was really hard for them to get Howard out. H: "I made Aaryn put Howard on the block.. She didn't want to"
Andy joins them (Drink)
Both of them are working on Elissa to make sure she votes out Candice.
H: "You can just lie to her the whole week and say you are voting to keep her"
Andy says if she doesn't vote out Candice people will be pissed.
Elissa points out that candice might be a vote for them she doesn't feel that comfortable getting rid of someone that could vote their way in the future.
H: "She's not for us.. I don't know why you think she is.. she's not for us… she's never done anything for your game"
E: 'you're right"
H: 'If you vote her out the entire house will now and you will gain their trust."
5:37pm Living room Spencer and McCrae
Spencer says he wants to get in a position where putting him up isn't the easy way out anymore.
MC tells him if he goes up and Elissa throws a vote at him and doesn't tell anyone it will be "Super Beneficial" to Spencer.
Spencer points out that is more or less what he did last week voting out Candice and not Howard like the house did. MC thinks those are two different cases because Spencer told everyone he was voting to keep Howard whereas Elissa won't tell a soul she's going against the house.
MC thinks Elissa voting out Spencer would give everyone a reason to put her up next week.
Spencer brings up how MC was worried yesterday about Helen and Elissa coming after them once they get the numbers. Spencer wants to fortified their numbers now.
MC: 'Aaryn seems the closest to GM.. Aaryn has no relationship with Elissa"
Jessie rolls by Spencer says he wishes she got the clownie-tard it would be something to look at the whole week.
MC says seeing Candice walk out wearing the clownie-tard is going to be funny. Spencer points at the rubber duck in the cage on the coffee table. He says Aaryn put it in there last week and AManda was freaked out kept saying "What do you think that means"
They laugh.
6:00pm HOH Helen and GM
H: 'I just talked to Elissa she is going to vote out Candice"
GM: 'Ohhh awesomeness"
Helen mentions how Candice threw her names out there when fighting with Amanda she said "Amanda I knew you were talking to Helen and Elissa about JUDD being MVP"
GM: "This is what I was getting at she's a rat she rat's out people"
Helen goes over all the reason she brought up with Elissa why they need to vote out Candice this week.
6:19pm HOH MC and Aaryn with Amanda in the shower
Talking about how humiliated Candice is going to be when she leaves in the clownie-tard. MC points out that it's going to bug Candice a lot because the clown is Aaryn's doll. MC jokes that she might self evict.
Aaryn: "It's the best revenge of what she did to me"
Gm joins them.. says if she's choking while she sleeps she is allowed to take the cone off. She's also allowed to take it off while she changes her tops.
Andy joins them (Drink) says Candice just go called into the Diary room to probably get her clownie-tard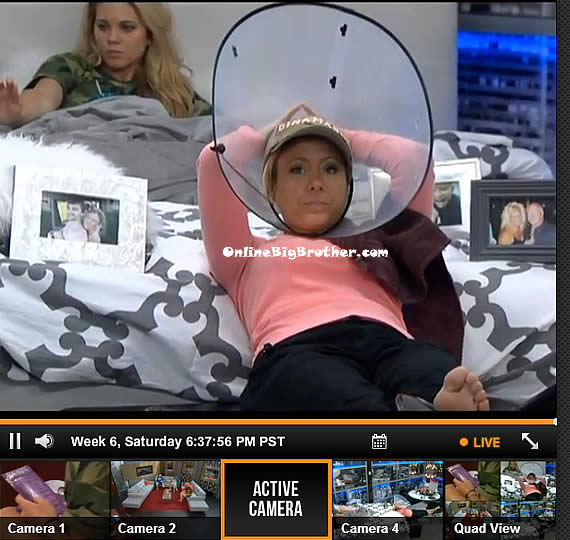 7:01pm Clownie!
GM watches from the HOH room. Spencer, Elissa, MC, Andy, JUDD and Aaryn are around the couch to great her as she exits the Diary room wearing the clown outfit. She tells them the costume is too big so they are going to get her smaller one. Right now she has to wear this one. The nose squeaks when to squeeze it. Right now she's wearing the collar around her waist because the costume doesn't fit right.
Elissa is asking for a costume from production. Andy: 'These are supposed to be punishments"
Take a look at the image below Aaryn put her clownie on top of the hat.. bringing back Hatgate.
7:11pm HOH GM and Andy
Andy laughs at all the photos GM has set up to watch the HOH TV and the clownie costume reveal.
Andy says it's was as much fun as he thought.
GM: "it wasn't entertaining she fu***ing sucks "
Andy: 'you really hate her
GM: "I don't like people like her.. dude I can't stand her"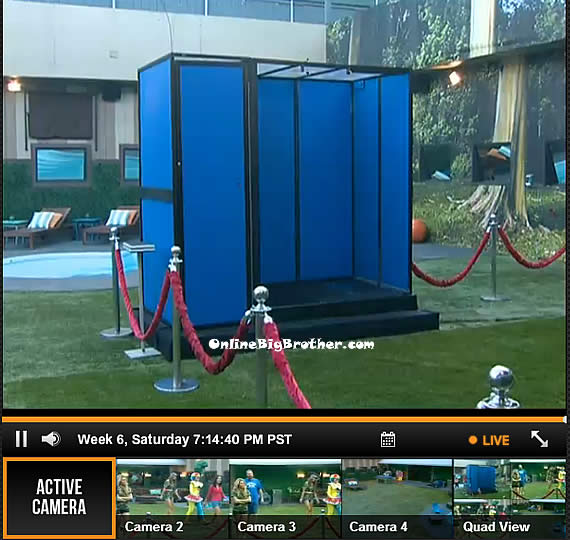 7:15pm Backyard opens up
Spencer: "Dude this is awesome like Bill and Teds excellent adventurer"
Aaryn: "It's so cold out here it's not going to be fun for her"
Helen: "She has to tan a little over once a hour"
First of 50 spray tan sessions #BB15 pic.twitter.com/YfI6N7MpOL

— OnlineBigBrother.com (@bigbspoilers) August 4, 2013