POV Holder:
Jessie
Next POV
Aug 10th
POV Used
?
POV Ceremony
Aug 5th
HOH Winner:
GM
Next HOH:
Aug 8th
MVP:
AMERICA
Original Nominations:
Candice and Jessie
Current Nominations:
Last Evicted Houseguest
David, Nick, Jeremy, Kaitlin, Howard
Have Nots
no have nots this week
10:17pm backyard MC, Amanda, Spencer, JUDD and Andy
They're trying to figure out who the MVP is. Some of players in the house are starting to think the MVP is America, Spencer being one of them. Amanda says something along the lines that she only gets in fights with people that are mean. She doesn't know how she is getting edited. McCrae thinks America would like Amanda because she brings drama doesn't understand why they would vote against her.
They wonder if Candice is MVP. Amanda: 'She's so F**ing annoying they wouldn't vote her MVP"
Spencer agrees says if Candice won MVP she would have told Howard and Howard would have told him
JUDD: "I don't think he was telling you every single thing"
THey don't think Nick and Ginamarie will Hook up after the show but they can totally see them begin good friends.
Just random chit chat
10:39pm They get alcohol so decide to have there bachelor party. Andy has a bottle of white win. McCrae a bottle of red. Spencer and
JUDD had a glass of wine and 3 beers but he's also trying to bum more drinks from Andy. Andy doesn't want to give him any. Amanda is also trying to get some of Andy's wine but he refuses.
MC Suggests to Amanda she puts the bandaids back on when she goes into the tanning bed..
"Get wild get crazy get f**** up" -JUDD #BB15 pic.twitter.com/eWFyKreXSG

— OnlineBigBrother.com (@bigbspoilers) August 4, 2013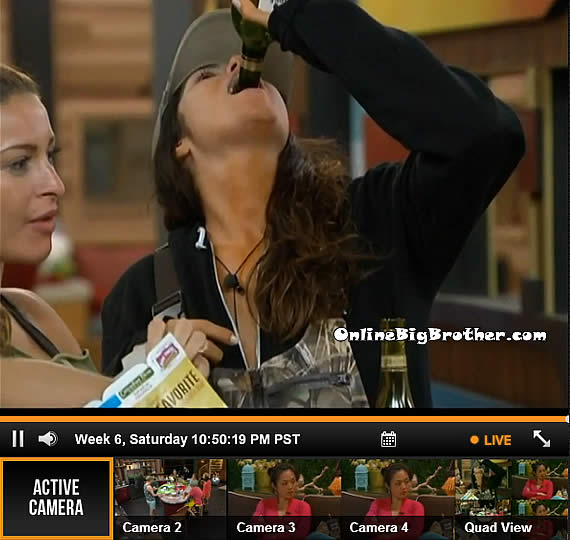 Amanda is able to get some alcohol.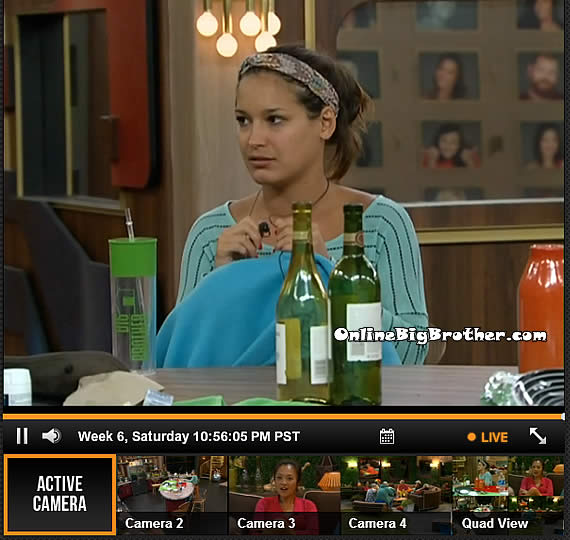 10:55pm Kitchen Jessie and Elissa
Elissa: 'I cannot believe they did that"
Jessie: 'All the alcohol is gone"
Elissa: "It's messed up don't you think"
J: "Totally"
E: "This is a good week for you Jessie.. You got the BBQ and you got the veto and now you are save"
J: "For this week… but i'm worried about going up"
Jessie thinks people are saying she's the target for next week in secret.
Elissa asks her who would she put up if she won HOH.
J: "Gm and Spencer"
Jessie nervous that Spencer is really cool with them now and so is Helen, '
Elissa: "Do you think there is any way we can get Candice to stay and him gone"
J: "No because that is what GM wants"
Jessie says that Aaryn talked GM out of putting ELissa up as the replacement nominee.
Jessie tells her she loyal to Andy, Elissa and Helen. She feels that Aaryn is more loyal to Amanda than her.
Jessie asks her what is wrong with her lips. Elissa explains Amanda gave her some strips for her lip. She's never waxed before and has super sensitive skin. Elissa says her lip is very sore.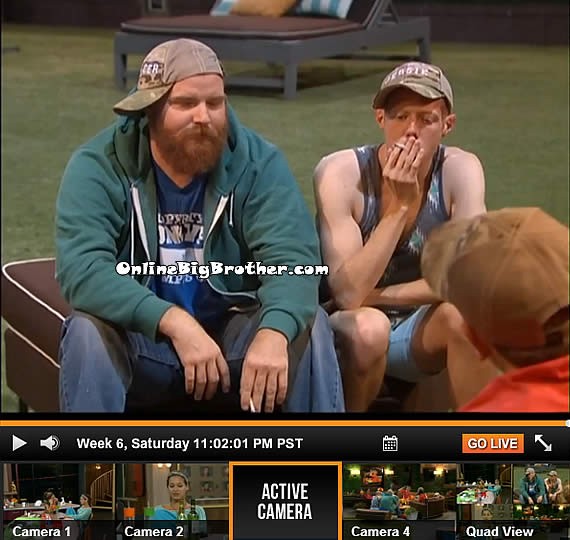 11:06pm Bachelor party
Andy is drunk smoking telling all sorts of funny stories. One of them involves him bringing some random guy home from the clubs. Andy had just moved into his new apartment with his two roommates. His parents bought him a new bed and it was his first night in it. Andy was too drunk to remember but his roommate heard some of the conversation Andy had with this guy. Apparently Andy was warning the random guy he better not "Ej@culate" on the new bed because his parent had bought it.
Andy now tells a ghost story, "Who stole my chicken cutlet t!tie" (OMG Andy is awesome tonight)
11:06PM JUDD and Amanda BAckyard
JUDD is telling her he never got the MVP. He promises it he thinks it might be Candice trying to start chaos so they turn on each other.
Andy says he fu*** hated Nick wanted him out of the house so bad, "Sorry Nick.. " (I wish I knew why Andy disliked Nick so much)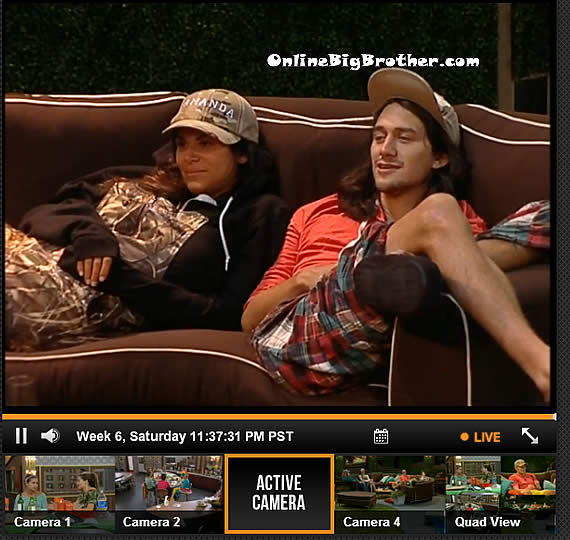 11:26pm Bachelor party
JUDD is talking about his buddy back home called SCOOTER, "He's a party Animal.. my partner in crime we do all the scheming"
Andy says he was a bit bummed to see Howard go he thought he was a nice person. Andy, Kaitlin and Howard were the hardest two for Andy the other four he didn't give a sh!t.
Andy brings up when he was in the room with Helen and Jermey during Jeremy's last ditch effort to stay in the house, "I was with Master Chen… OHh that was racist .. Master Kim.. f*** I'm going to sit Jeremy down and chop his head off with a samurai sword" Amanda says he's a racist now. Andy explains Helen always calls herself Helen Chen bot he was thinking Chen instead of Kim.
They talk about Jeremy leaving. McCrae felt a bit sad for Jeremy leaving, he respected how he went out and how he tried to stay
Spencer: "His I'm a champion when I poop speech didn't help him"
Andy: 'If jessie burritos herself in the bed tonight I'm going to baby shake her"
They start talking about requesting joint Diary room sessions but were told by production they don't do those. Andy: 'Umm Sorry I know you do"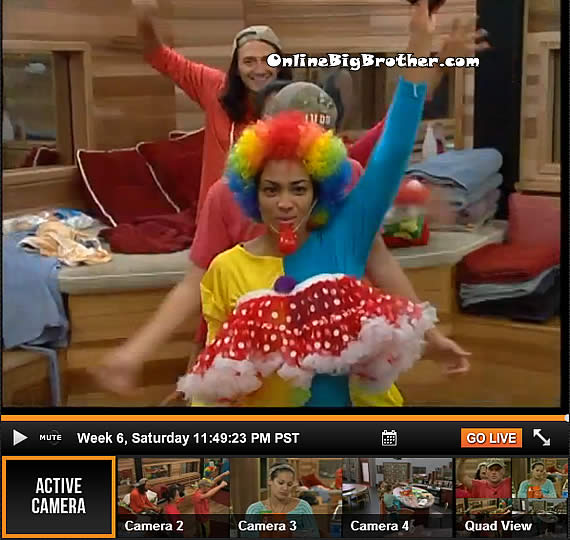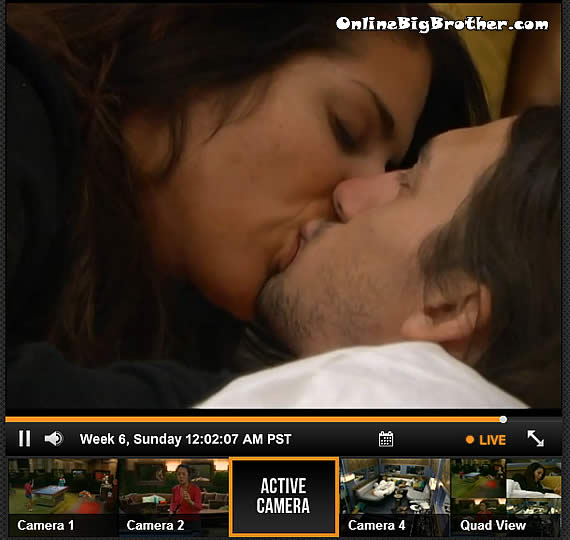 Midnight
12:01AM Jessie and Helen playing pool
Helen brings up their conversation earlier where Jessie had suggested they get Amanda out.
Jessie is telling her if she doesn't win HOH she will go up and if she leaves Helen will lose someone that would go to the end with her.
Helen: "I have been thinking about it because it's haunting me"
Jessie: 'You might make a enemy out of GM and McCrea.. I don't know if people feel threaten by her like we do but they should"
Helen: 'I don't feel threatened yet.. I'm worried about how comfortable she is"
Jessie :"I feel threatened … people are scared of her"
H: "How does ELissa feel about it"
J: "Similar.. you said it yourself that Candace will stay a big target"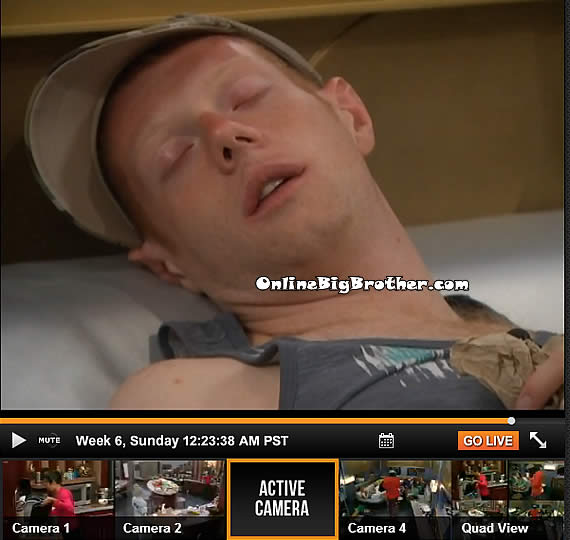 12:18AM Cockpit McCrae, Andy, Amanda, Jessie
Andy and McCrae are drunk especially Andy
"I'm staying up all goddamn night.. I'm staying up until your next tan"
Andy starts complaining about Jessie stealing all the sheets. He's been saying she burritos in the sheets
"Give me some damn sheets burrito a$$"
Andy: "You have venn diagram areolas"
Amanda starts laughing says no she doesn't she flashes them. it's shown on the feeds. 12:21AM Cam 3/ more N*de flashback times here
12:46AM Friends playing volleyball. GM, Elissa, Helen and Jessie with Candice on the couch.
Ellissa was really looking forward to seeing AManda go in the spray tan booth every hour. Helen thought it was going to be 50 times. Candice mentions how orange Amanda looks right now and she's only gone in once. One of the girls mentions Amanda gets 8 spray tans. (Check out the time they did this on BBUK)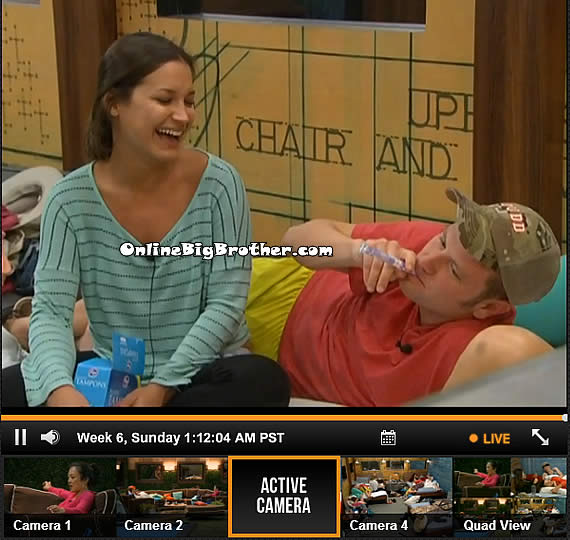 1:13AM More Bachelor party tom foolery Andy, MC, Amanda, JUDD, Jessie, Aaryn in the bedroom.
JUDD smoking a tampon.
Aaryn saying "I can't wait for the bachelorette party "
Andy: 'The bachelorette party is going to suck"
Random drunkenness going on. Jessie was inching closer to JUDD but he kept his distance.
1:20AM Andy showing them his face during the MVP ceremony
1:25AM JUDD and GM Bedroom
JUDD asks her if she's heard anyone talk about him and MVP. Gm says no, tells him not to worry just blame it on Candice she's going home.
JUDD: "That pissed me off" (Candice was spreading around that JUDD was the MVP)
JUDD tells her he swear if Candice had a chance of winning the POV he would have past the money up up and won the veto. (JUDD won the Veto but choose to take the 5 grand instead. He's been saying he knew taking the money would mean Jessie won the Veto)