| | | | |
| --- | --- | --- | --- |
| POV: | FES | Next POV: | July 21st |
| POV Used | ? | POV Ceremony | July 23rd |
| HOH: | Sam | Next HOH: | July 26th |
| Noms: | Kaitlyn and Haleigh | Have Nots | |
Big Brother Spoilers – Looks like Fes plans on using the veto on Haleigh. Not idea who will go up as the replacement but kaitlyn will be the one in teh hot seat.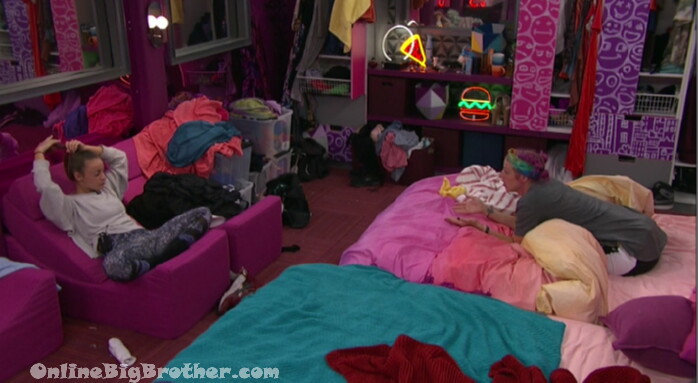 12:16am Rockstar, Kaitlyn
Rockstar is talking about Brett. Calls him a d1ck.
RS – I just wish I had won a HOH…
Kaitlyn – Sam's not putting Brett up.. just off how she is acting tonight..
Kailtyn asks her if they are cool moving forward or will they still holed the "swagy thing" against her.
RS – are you going to be more inclusive with your deals… is it going to be Kaitlyn knows best and Kaitlyn will do what she wants well than Kaitlyn is a lone wolf.
Kaitlyn says she still feels like people are holding this grudge.
RS – I'm not holding a grudge.. I am very reflective of how we got here..
RS says she blames Tyler.
Kaitlyn goes on about having no where else to go and if people on her side keep questioning her "Where am I going to go.. I need to know are you guys with me or not.. "
K – if you are not I need to figure out my sh1t.. I get it if nobody wants to forget it. and move on
K – my intent was never to hurt the group is was for me to stand up for myself I didn't think of anybody else but myself in that moment.
Kaitlyn says a power was used last week and the 7 of them did not lie they were all loyal to each other'It's not our fault a robot won a power app"
Kaitlyn says they figured it out "Fully" in 36 hours.. they know how Brett stayed.
Kailtyn says she flipped the vote on Steve because she was trying to protect her friends.
RS – who told you about that
K – a few people.. Sam was one of them
RS – SAm, Tyler and BRett
K -Tyler was the one that told me and I had Sam confirm it.. It was never BRett
RS says they understand week1 and 2 buit week 3 Brett makes up a lie about Rockstar and Kaitlyn is questioning RS about it. Believing Brett.
RS – if you are not trusting your team from the very start.. loyalty is like a trust thing.. I don't you had the trust with the people you should have
Kaitlyn says her team was questioning both sides how is she supposed to trust the team when the team didn't trust her
RS – I'm not a Representative of the team
Bayleigh comes in.. Followed by JC.. CHit chat.. Kialtyn leaves to talk to Fes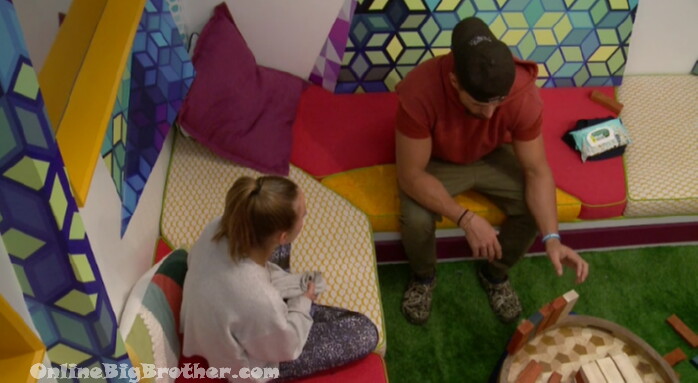 12:38am Fes and Kaitlyn
K – if you don't save me they're sending my a$$ home.. Rockstar and I just had a conversation…
K brings up parts of her conversation how the teams has been bringing up week 2 Swaggy getting evicted all day. She say that they were wearing SwaggyC shirts, "you guys were just talking about me and it walking around with these shirts"
Kaitlyn adds that Rockstar told her that what she did messed up their game but they still want to work with her.
Kailtyn says when she put up Swaggy she was still with their side.. She could have easily ran to the other side but she didn't she stuck with hinm. Getting Swaggy out was about her sticking up for herself
K – I'm not wanted by this side..
K – dude they are going to vote for me to go home they would never do that to Haleigh..
Kaitlyn says if he wants her to stay he's got to use the veto on her, "I'm going to win HOH and I'm not going to put them on the block.. I'll show them what it is like to be loyal"
FEs – it's a hard situation to be in..
K – I want my squad to make it, Make it to the end.
Kaitlyn – I have to be saved..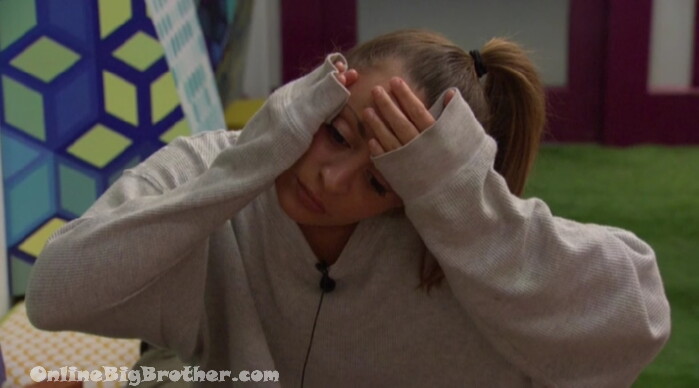 Kaitlyn goes on about how fes wants them both to stay and in order to do that he has to use the veto on her.. Haleigh hasn't don' anything to threaten anyone's game. Kailtyn says she's a much bigger threat and people are voting her out this week.
K – I'm a top competitor people see me on the block they will vote me out.
Fes brings up the things Kailtyn has done.. Like not telling him about the flip week 1, taking swaggy out week 2 etc etc..
Fes – what has she done to me… In this game. (Haleigh)
K – ok
Fes – I think I am real in this game.. I want to be honest to the both of you all.. I'm telling you the same thing..
Kaitlyn says she did the flip "to save my friends"
K – can we talk about intent first.. I was under the impression all the people that voted Steve.. something bad was going to happen.
Fes – why didn't you tell me
K – it was 30 minutes before I was scared..
Fes – 30 minutes before is an excuse.. I don't want excuses I want answers..
Kailtyn accuses him of yelling at her, "I was scared.. that's my answer"
Fes – that's not a good answer Kailtyn.. I was scared.. this game is scary..
K – I'm not proud of every decision I have made so far I can only move forward. This game changes every single week..
K – I know what you are going to do
Fes – why are you being like this it's really agitating
K – the one thing that never shift for me was between you and Tyler.. you were it like that's it.. I don't care if you doubt me..
K – dude how many times to I have to tell you how I feel.. how many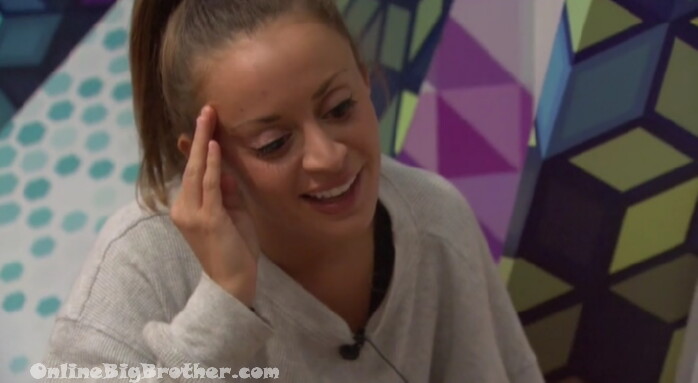 K – we need to move forward in this game.. If you want to f*ING win and make it to the end you cannot not save me I will go home I will that's the bottom line and everyone knows it. that' is why I'm freaking out .. Haleigh has done nothing to nobody
K – If you save me we can both be safe if you save her that's not an option
K – the last thing I want is for you to not save me and I still make it .. I will be broken.. like broken .. I can't even think about it..
K – If you want us both to stay you'll f*ing save me .. Bayleigh and F*ING rockstar will vote to evict me they f*ing will
K – if you don't save me that's embarrassing for me.
Kailtyn – Bayleigh and Rockstar are still holding that Swaggy grudge..
Fes – you made that move on swaggy so that you would be good with everybody in the house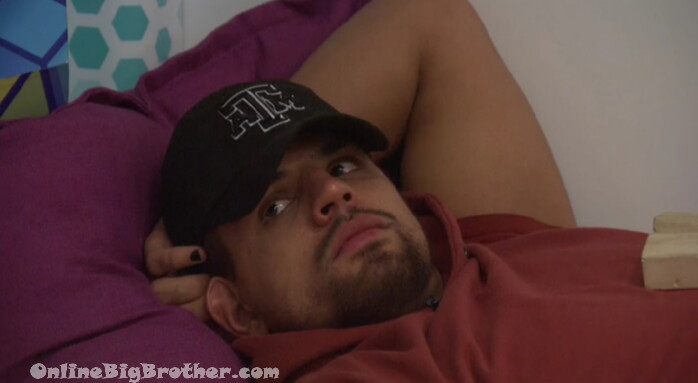 Fes – you now how stupid it'll look if I don't save you
Fes – First week you flip on the alliance, Second week you send Swaggy home third week Brett stays fourth week you go home..
Fes – people will be like what the f* they are sending each other home…
Kaitlyn says everyone is expecting him to use the veto "He's my best friend"
K – I get your perspective.. it's not a no brainier.. this whole game comes down to day ones.. loyalty and final ;s
Fes – you made a final 2 with Tyler
K – With Tyler? no I didn't we promised to help each other get to the end I swear on my live.. loyalty to the end but not a final 2
Kailtyn apologizes for her erratic decisions says she doesn't know how to "do this"
Fes says he's thinking about this he knows Haleigh will probably stay if she's on the block. "what if I save her and she goes.. than I'm f***ed"
Fes tells her that every week things haven't gone the way they thought.
Kailtyn again says that a power was used week 3 they all voted the same way to evict Brett.
Kaitlyn – it would be really f***ing weird if you didn't save me.. would be again another f*ing twist..
They talk about how Fes was getting close to Haleigh before she put up Swaggy. Fes tells her she has a boyfriend and Haleigh is a single girl they were always still friends. Kailtyn – are you like that with her.. I wold get it if she was your f**ing girl..
Fes – we haven't yet we haven't even kissed
Kailtyn – I would never expect you to pick me over you girlfriend and I would never pick you over Joe in that case..
Kailtyn continues that Haleigh isn't his girl they are just friends and Kailtyn is his number 1.
Fes – I know..
Kailtyn asks if Sam has hinted to him what he should do with the veto.
FEs asks if RS will be the replacement nom
K – she's not going to be the replacement nom because she's all up in Sam's v@g1na
Fes – I need to talk to haleigh and bring up the point if I save you she has a really good chance of staying.
K – will you tell us before
Fes – I don't know..
K – decided until the last minute.. you have to use it.. either on me or her.. you have to use it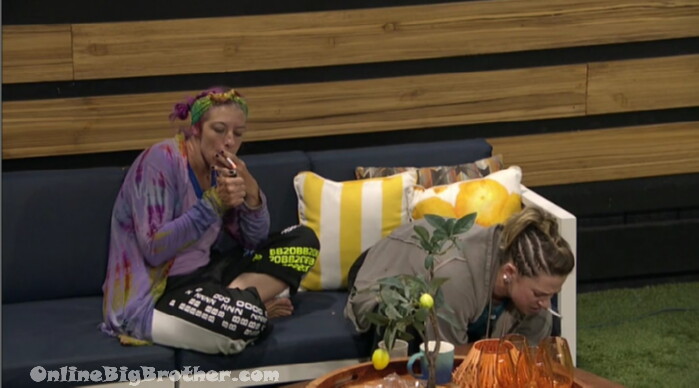 12:58am Rockstar and Sam
RS – I want to say briefly.. before the veto I went to talk to Brett.. he would not speak to me and a whole table of people say that..
RS was going to apologize to him about the way she acted
Sam – ohh Rockstar..
Rs goes on about trying to talk to Brett but he wouldn't talk back.. "whole table of people saw that"
RS says last week she was "pms-ing"
RS mentions what Brett said was a lie and goes on about it more.. "people are still questioning my integrity"
RS – it's hurt me personally the fact that he doesn't acknowledge my presence at all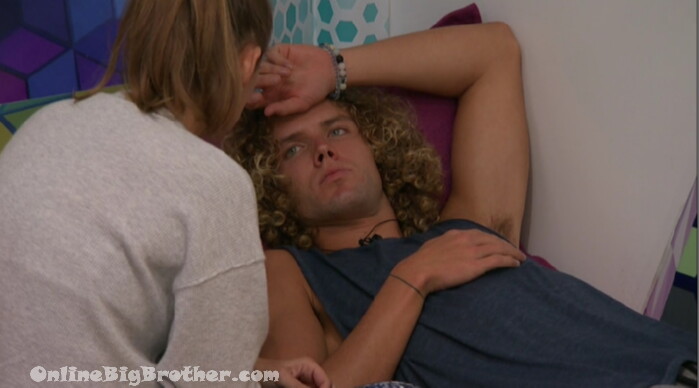 2:08am Tyler and Kaitlyn
Kailtyn says she's had long talk with Bayleigh a couple days ago and JC has been spreading alot of sh1t about her
Kailtyn says that JC was the one person that was coming up to her saying that she will be embarrassed if she doesn't put Swaggy up.
Kaitlyn says she just saw the two of them in the pink room talking, "they've cleared the air"
Kailtyn – when I walk in they look at me like I'm a fuking ghost..
Kailtyn asks him if he's got final 2's with anybody. Lists everyone off. Tyler says no to them all.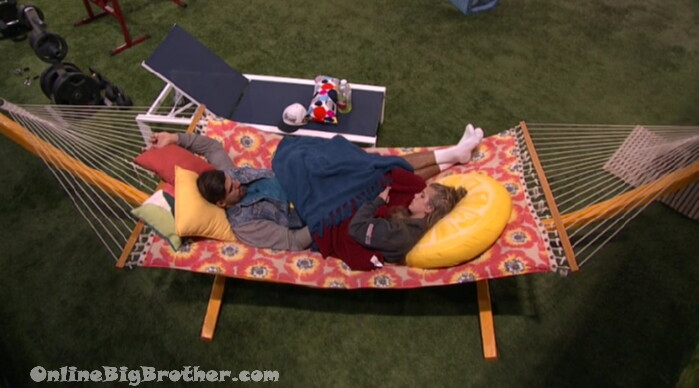 3:30am Hammock Fes and Haleigh
Fes – I want to make sure we get to spend some time together before Thursday
H – it's not funny
H – I don't want you to feel like you have to use it
FEs – why
H – I don't want yo to be in that position.. I told you that last night and I still mean that
Fes – I told you if you were ever on the block I would save you . It's going to kill Kaitlyn
H – I don't want you to feel like if you don't use it I would think about you in a different way. Will I be upset yes, will I get over it? probably.
H – if you don't use it I will stay be OKay with you.. I know you and Kaitlyn have whatever it is you all have
H – you told me to pick you and I did.. it's not a fair situation for you.. I could have picked Scottie
H – what I don't understand is she so confident she has your vote and you will use it on her
Haleigh says Kaitlyn truly thinks if the two of them stay on the block that she would have Fes vote over Haleigh.
Fe s- she's trying so hard.. I'm trying to be real with her.. she's lke but you promised me before you would use it on me..
Fes says if it was Kailtyn against anyone else he would use it 7 days out of the week but it's Haleigh, "you both mean a lot to me"
Fes – haleigh has been loyal to me.. I still trust (kaitlyn) 100% but you (kaitlyn) left me in the dark several times.. yeah I've been rocking with you since day 1 but you've done some things that make me question.. "
Fes – the only good point she brought up .. was if I use it on you she goes home no matter what
H – that's not true..
Fes – that's how she feels .. if I use it on her you're safe no matter what
H – THAT'S not true
Fes – I know .. i'm relaying..
H – that is not a good point there is no guarantee in this game
Fes – I know I've seen the first three weeks..
Haleigh says if she stays on the block next to Kaitlyn there's a high chance she'll be okay "but then again I thought I knew what was going on the last three weeks"
Fes confirms with her he's using the veto on her but doesn't want her to tell anybody.
Haleigh says bayleigh already knows and RS suspects it.
H – She just thinks you are.. if you don't use it on me.. she's going to be pissed
Fes – you know I got you..
H – I hope so ..
FEs – it's going to get real tough in this game.. I need you to be the one no questions asked
H – OKay.. it's fine.. I'm okay with that..
haleigh says she's always been hesitate because she's never knew where he stood with Kaitlyn.
Haleigh mentions how weird things were the first two weeks in the house. at first she thought he was into Angela. then he was with Kailtyn who was also her friend.
Fes says when he first walked in he thought Angela was cute but now that he knows her and knows Haleigh he doesn't even look at her the same way he looks at haleigh. Fes comments how strange the human mind works..
FEs – first day I saw you I thought you were cute..
H – thanks.. dogs are cute..
Fes – you just called me cute..
FEs says the dress she wore first day wasn't her.
Fes goes on to tell her when they did the bathing suit photo shoot and that is when she really caught his eye.
Fes starts talking about football how he was supposed to be in the NFL but he hurt his shoulder his senior year. (Feeds flip)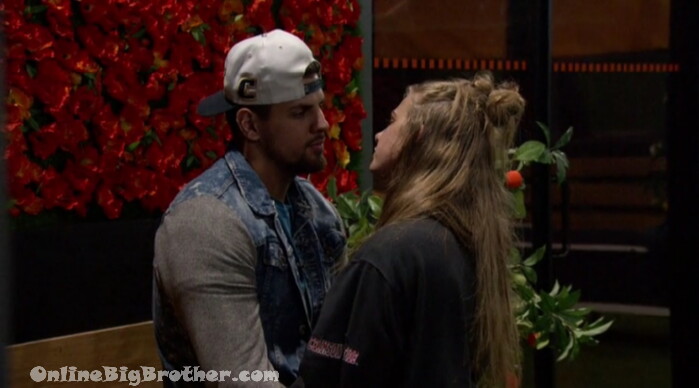 5:06am
Haleigh says Kaitlyn started packing today..
Haleigh telling him about Rockstar saying she wants to quit but only saying that because she wants them all to say no don't go rockstar, "F**ing stop you know you're not going anywhere"
Fes asks who she thinks is going up to replace her.
Haleigh – your guess is as good as mine
Fes says he's signed a 1 year lease but he's thinking about breaking it.. (teasing/hinting that he'll move in with her at college station)
Fes – I got you .. you got me
Haleigh – yes
Fes – I got you .. you got me
Haleigh – yes #BB20 @DawgsBigBrother pic.twitter.com/SAueJV6OQB

— OnlineBigBrother.com (@bigbspoilers) July 22, 2018
5:17am Sam and Haleigh
Sam has started capturing spiders to help keep the ant population down..
8:40pm they are all sleeping now..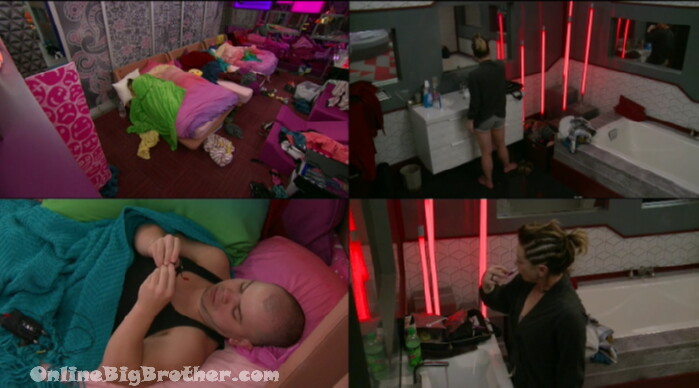 10:26am Waking up..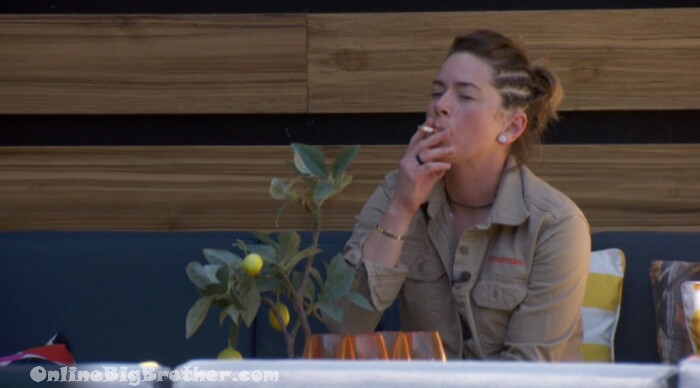 10:56am Sam is outside smoking Kaycee joins her to chat. They mention how bloody hot it is already. Sam mentions how she has to fix Bayleighs hair. She then remembers she needs to get that batter "in" otherwise they won't be able to have donuts. Kaycee laughs tells her it's OK they don't need donuts.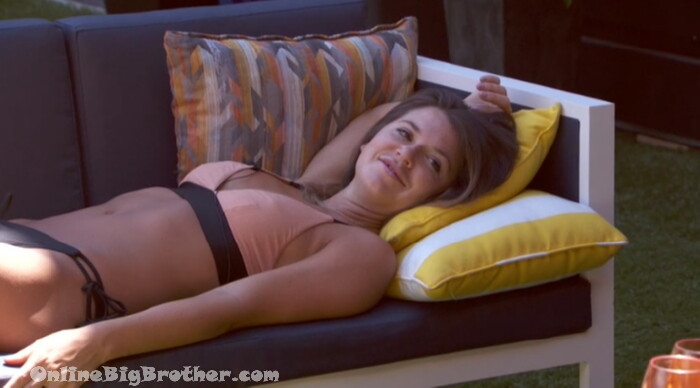 11:18am Sam and Angela
Sam asks Angela who she would put up as a replacement.
Angela says she would put up the one person seen bullying "I will not stand for bullying.. Rockstar"
Sam – ok
Angela – She hasn't spoken 2 words to me since other than this female alliance thing I know the first few weeks she was going hardcore for me..
Sam – ok
Angela – some of the things she said to Brett were downright awful
Sam asks if she has a preference which person comes off the block.
Angela "I want Kaitlyn to go home though.. "
Sam – me to
Angela – Rockstar needs to be punished as a replacement.. it's the only thing that would make sense to me
sam – ok, the only thing that's complicating things is that the jury part.. where she would be an easy out next week but it's not a guarantee..
Sam is worried they are getting close to having to spend the entire summer with some of these people and spending it with Kaitlyn is not desirable.
Angela says if you are a mom and you aren't going to win it why go to Jury go home and be with your kids, "no reason for her to stay 5 weeks in a house where she's not going to win the 500K or the 50K just to place a vote where her children are at home and her month old"
Angela – a mother standpoint .. if she is going to make it to jury she might as well get out now or next week
Sam – .. that's a good point I hadn't thought about..
Angela – she's not strong enough to win this game and her going to jury isn't fair to her family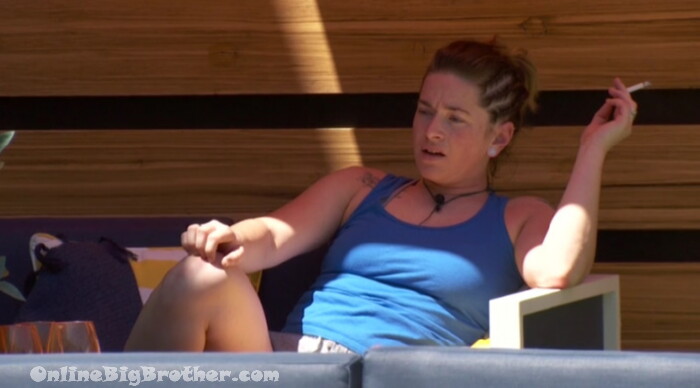 For all you folks that need a VPN I use this one
Rank the houseguests!
Easiest way to Rank the house guests use link below