| | | | |
| --- | --- | --- | --- |
| POV: | FES | Next POV: | July 21st |
| POV Used | Yes | POV Ceremony | July 23rd |
| HOH: | Sam | Next HOH: | July 26th |
| Noms: | Kaitlyn and Haleigh Rockstar | Have Nots | Scottie, Rachel, Bayeligh, Kaycee |
Big Brother Spoilers I think Kaitlyn is going…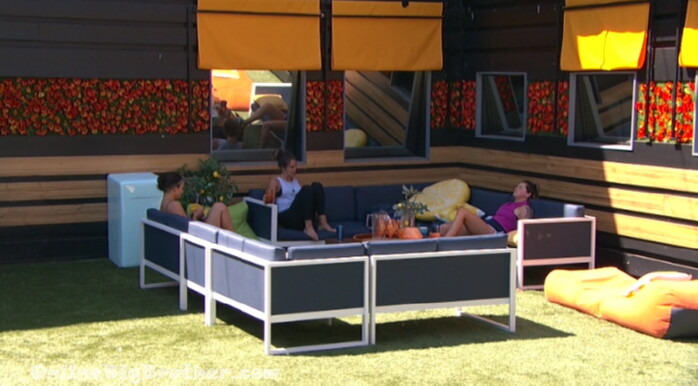 10:34am talking about their periods all syncing up.
Sam talks about how she's never had any roomates.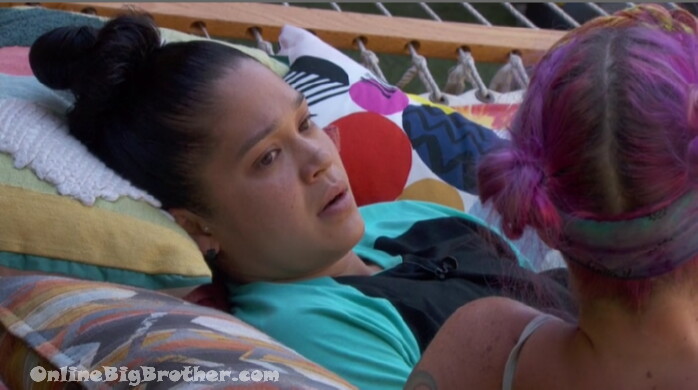 10:40am Rockstar and Kaycee
RS – I was not bullshitting the many times I mentioned working with girls.. YOu have never been a target like NEVER..
RS says her goal was to at least get to Jury and enjoy the process "as a fan of this show"
RS – I want to sit up there and decide who wins.. THAT'S what I thought would be really cool… this isn't a springboard into a better thing.. I'm not here to further my modelling career.. (LOL Kaycee has shown interest into getting into modelling)
RS – I'm just somebodies mom.. I came here to do this thing.. I'm a benefit to you I'm not a physical threat..
RS – you are NEVER going on the block.. NEVER
RS – I would love to stay here and I know my babies would love me to stay here..
RS – I'm a team player and i'm loyal..
RS goes on about the game is going to get really shady wouldn't they want to keep a straight shooter in the house that they can beat in comps.
RS says Kaitlyn has done a good job on her social game but ROCKSTAR considers her social game to be pretty good also.
RS – that Bracelet I gave you may not seem like a big deal but
K – I still got it
RS – It's nice and I gave it to you because I really like this girl.. Like I really like her
RS – I didn't give those out to everybody because they're 20 dollars.. they're real crystals so like.. you know
K – that's awesome I appreciate it
RS – I'm not even going to ask you what you are going to do I don't even want to know
K – I'm right down the middle you guys are both awesome..
RS says she apologized to Brett for the pots and Pans, "I am very balanced"
RS – I don't have a power
RS says she thought Kaycee had a power. Kaycee says no.
RS – no matter what I am appreciative to be here..
RS – unlike some other people.. I don't need to be her more than anybody else.. I have a family. I don't have a trust fund.. I don't have any of that..
K – I'm so glad you came to talk.. that's awesome..
K – I was going to say something but I forgot..
RS – I believe I have 5 … 5 solid.. it on;y takes 6
K – I heard a tie would be Kaitlyn gone.. that's what Sam wants..
RS – I would like to not tie and if it was a 1 vote difference I would not forget that..
RS – everybody loves an underdog story.. there's nothing more than I want to keep the ladies in here..
RS says the one enemy she's made in the house is a "macho macho man"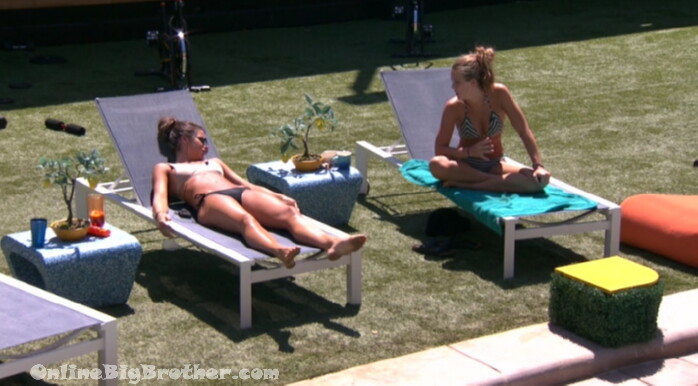 11:09am haleigh and Angela
H – now that we have this little group that is enjoying our company I don't see why we can't vote the same
Angela – yeah
H – that's 4, we need 1 more. Kaycee's 5
A – yeah
A – how do you think Fes is going to vote..
H – I don't know
A – he might vote to keep Kailtyn just as a guilt
H – I was talking to him about it and he said I heard she might be gunning for me I was like if that's the case and we have the numbers to send her home I'm sending her home
A – oh really
Angela tells her Brett is on board with whatever they decide because he wants either one to go.
Haleigh – the better competitor and the better social game is Kaitlyn ..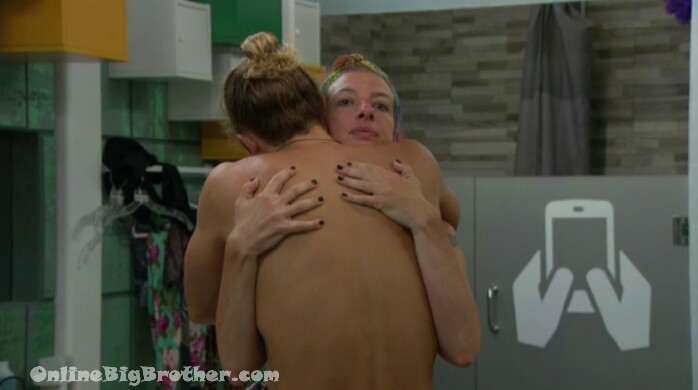 11:29am Rockstar and Tyler
RS says she can't play the game the other girls play, "I can't flirt with you guys.. I have a committed relationship"
RS – I've played a honest game.. you want someone that has played an honest game and hasn't been doing weird things and putting alliance members up.. can you trust that person at the end of the day..
RS – I'm also a good person to keep around cause you can always use me as a pawn..
Tyler – my vote's not locked now..
Rs – for 3 f*ing weeks we counted votes wrong.. I don't want to hear I got you..
RS – just staying in Jury is helpful to my family… to my family…
RS – I haven't done anything to anybody.. I made a big show towards Brett..
RS says what Brett did that it was the most ridiculous thing she could hear so she decided to do something ridiculous in return (pots and pans)
RS stresses she's not easily swayed she' loyal.
RS stresses that her performance in competitions hasn't been great she's nervous if she has to battle back against to Swaggy she won't win.
Tyler tells her he doesn't think that is how it will work
T – no matter where my vote lies this week it's not beneficial for either of you to go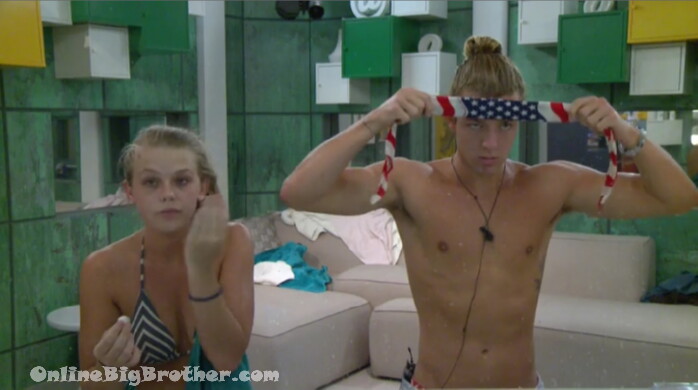 11:43am Haleigh and Tyler
Tyler asks where she's voting..
Haleigh doesn't know "it's a hard position.. you are in a better one'
Haleigh says she doesn't know a lot about their relationship but from the outside looking in it looks like they are very close.
Tyler says if he votes her out he'll never be able to make a strong connection in the house again.
haleigh – that's not true
Tyler – RS has never done anything and she's not a threat..
Haleigh says RS hasn't done anything Socially or physical but "I love Kailtyn"
Haleigh warns him that people are saying around the house how close they are together "that's comes up in decisions a lot"
Tyler asks if FEs and Kailtyn on bad terms.
H doesn't think they are on bad terms, "Some people think Kailtyn is targeting Fes"
H – I haven't told Fes that.. if he hears that I feel like
T – he's going to vote her out
H – I need to talk to her about that.. there's several people saying that.. it's fine if that's the way she feels but she needs to stop telling people that
H – I feel like the house is really working together on this one
T – yeah
H – If we are going to do it we need to go all the way like it can't be a 5 -5 vote
T – I want to figure out where everybody stands
Haleigh says Kailtyn has such a strong social game she doesn't think she could beat her if she stayed on the block.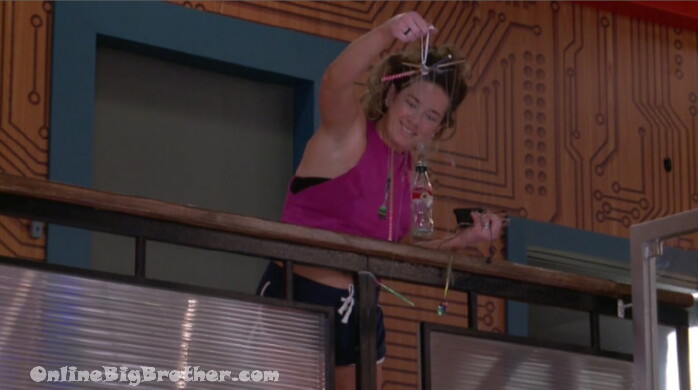 11:48am Another Sam creation
11:50am Suntanning
Rachel and Kaitlyn swap bras.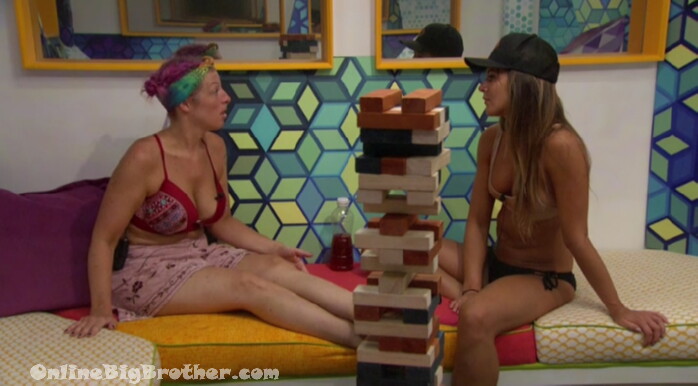 12:17am Angela and ROCK (Rockstar says the same thing in all the three conversations. I left bits out but it's the same speech she's giving them all)
Angela – so much for that girls alliance.. I'm still on board
Rockstar starts talking about fashion.. "certain pieces I would drop money on but I'm also a mom I can't drop money on that"
Angela says he's not a quiet person outside the house.. inside the house she is because she feels there's a competition for attention ..
Angela – that's just how I am personally but not outside this house.
Angela says people are reading their wrong thinking she's a stuck up b1tch
A – that's not me at all… people that don't talk to me never get to know me ..
RS says she wanted to take out all the guys first she wanted all girls in the jury house.
RS goes on about how she can't flirt with all the guys in the house and even if she could she wouldn't
A – I will not do that.. I will not compete for someone's attention..
Angela respects Rockstars for that.
they comment about Kailtyn.
RS – haleigh is 21 and single.. if I was 21 and single I would be bed hoping.. and Haleigh isn't even bed hoping like someone else is..
Rs says her goal is "the women in the house stay in the house"
RS – I'm going for Brett and Tyler… Everybody loves him.. he's kinda like Kaitlyn he's in everyone's ear.. he's teh one that slips through the cracks.. Scootie is another one that slips throught the cracks..
Angela agrees.
Rs – he floats under the radar
Angela – it's all the guys all the guys are the ones that scare me.. Kaitlyn's been saying she wants to pout Sam up.. she told me and Haleigh.. I don't make shirt up.. I'm not putting Sam up Sam is a powerhouse
RS – I'm a straight up mother f*er I have goals..
they talk about supporting the girls alliance. RS says as far as she's concerned the person that wins HOH gets to decide which man they can keep along.
RS – I am not ever putting a women on that block period I don't care how few of us period..
RS adds once they have a house of girls then they take out each other.
RS – I'm not going to do that by jeopardizing my home life
RS – I didn't come on here to Cougar all over these young men
Angela – it's not a good look for anyone.. I have so much respect for that..
RS says fes told her he wanted to prove to Haleigh he was loyal to her not Kailtyn "his best friend"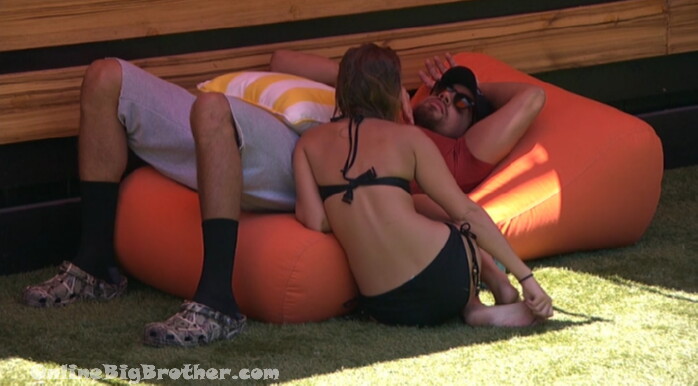 12:35pm Kaitlyn and fes
Kaitlyn – I know you are going to keep me but people have me worried.
K – RS has been campaigning all morning Angela told me
Kaitlyn says Angela has been really stepping it up with her coming to her many time making her feel better.
K – where are you at .. how do yo u feel
Fes – OK.. I need to talk to other people
K – You think I am going to be here
Fes – yeah
Kaitlyn says she has Fes, Tyler, Brett, Angela, Rachel,
k – Do I have Haleigh
Fes – I haven't talked to her fully
K – Maybe Kaycee, Maybe JC
fes – Bayleigh will do what the house wants to
Kaitlyn tells him to try and get Haleigh to vote for her tell her you used the veto on her because you wanted to keep us both safe.
FEs – I just want his week to be unanimous
FEs thinks it would be best for them to start acting like everything is fine then the house will start thinking they are moving and
K – you know what that means.. we'll have to spend a lot more time together
Rank the houseguests!
Easiest way to Rank the house guests use link below