| | | | |
| --- | --- | --- | --- |
| POV: | FES | Next POV: | July 21st |
| POV Used | Yes | POV Ceremony | July 23rd |
| HOH: | Sam | Next HOH: | July 26th |
| Noms: | Kaitlyn and Haleigh Rockstar | Have Nots | Scottie, Rachel, Bayeligh, Kaycee |
Big Brother Spoilers Rockstar as of right now is getting evicted.

10:15am Storage room Angela and Kaycee
Kaycee – are we still on the same page..
Angela – yeah .. we're just going to be really ambiguous not letting people know what we are doing
Angela – we're all going to vote to Keep Kailtyn but right now JC is freaking out
A – he's on a lot of bad terms with a lot of people becuase he's been campaigning so hard against Kailtyn.. we have to make sure they don't know what we are doing and JC think that the move is to vote Rockstar to stay so that he keesp his vortes to stay so Kaitlyn turns on all the people that voted her out
K – did Tyler say wha happened after he talked to Bayleigh
A – no
Angela says that JC pulled her into the hammock and said the only people that are voting to keep kaitlyn are kaycee, Rachel and Scottie..
A – he said it was going to be 7 to 3
A – I was like Ok thank for letting me know.. He's freaking out..saying I've been behind every vote.. he literally thinks he's been running the show..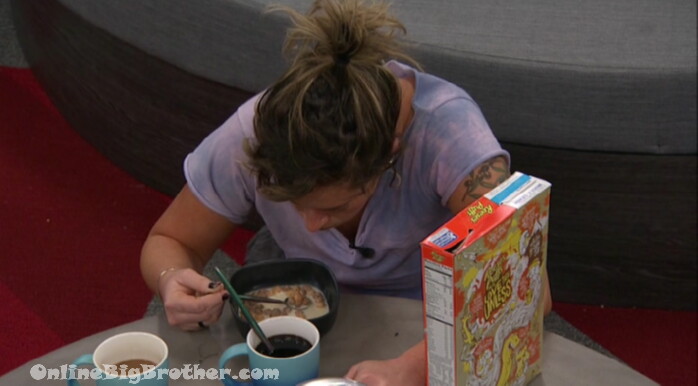 10:26am ROCKSTAR and Sam
Rockstar I got here by a chance.. I got nominated on by a chance and if I get evicted maybe there's a chance I come back
RS – so maybe the theme of this journey is chance.. so maybe that is enough
Sam – ok
Sam says if Rockstar leaves she will be sad.
Rs was going to ask Sam to say something during eviction but she doesn't want her to now.
Sam is happy – I don't want to do any of this I don't want to nominate anybody, I don't want to have to send anybody home so..
RS – I don't want to go home… nobody wants to go home. I want to complete this process I want to at least make it to Jury and be part of the whole show..
RS – my kids want… the older two.. I mean… I came out here..
Sam interrupts.. Have you thought about if you go to Jury you have to be here the whole amount of time away from your kids and still not win.. and you are OK with that?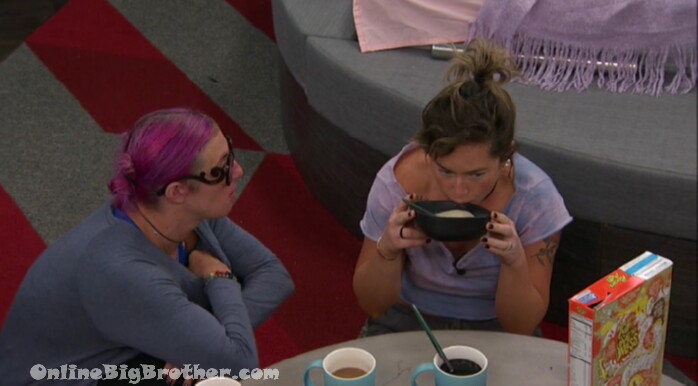 RS whispers to her about the money you make by being in Jury.. I think I year a 13 something.. (13 grand)
Sam – ohh, I didn't know that was a thing
RS – you get paid for every week you are gone
Sam – Ok.. I didn't know that.. well I knew that but I didn't think of that
RS – it's like a job.. a nice job
RS – If it doesn't work out it doesn't work out.. I'll just go get 2 or 3 of them (Jobs)
RS – that's what I normally do a bunch of different things that fit into a schedule..
Sam – I hope there's not a tie.. I really f*ing hope.. If it's a tie I'm doing dots (random)
RS – Sam that's not taking it seriously
Sam – that's fate dude… that's fair. I hate having that much influence over two people's lives
RS – You literally went down the line and picked me after JC after Haleigh..
Sam – you just said the whole thing is about Chance
RS – damn,…
Sam – you good good Karma
Rs – yeah
Sam – I hope it's not a tie if it's a tie I'm doing dots in a cup
RS – that's sad to hear
Sam – what else should I do
RS – facts
Sam says game related facts kailtyn voted to keep her week 1 ROCKS didn't. Personal facts they connect on a much deeper level than Sam and kaitlyn.
RS – I would have voted to keep you if you had said lets ride it out till the end
Sam – I never even spoke to Kailtyn and she kept me
RS says that Tyler and BRett told Kailtyn that Sam had a power and anybody that voted Sam out would be eligible to be nominated in their place.
Sam – I don't want to spend the day like this… I want everybody to have a semi normal day
S – I might bake something later..
Sam leaves..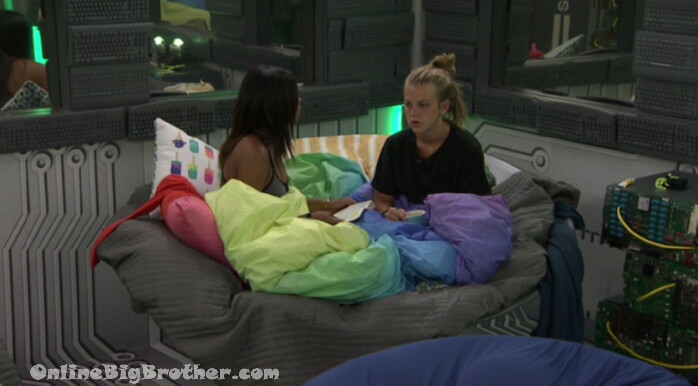 11:08am Bay and Haleigh
Haleigh says that if Fes votes against kailtyn she is targeting him
They talk about not being able to trust Kaitlyn .
Bayleigh says her 4 rules are
be impeccable with your word
don't make assumptions
do your very best
never take it personal
Haleigh says a snake can be a snake they will tell you what you want to hear so they can get your vote.
Bay asks about Brett. haleigh says that Brett feels since both of them are coming after him it doesn't matter.
H – he said there's only one that can win a comp that can potentially take a shot at him..
bay – the five we have are pretty locked in.. but if there was a 6th person that would make it so much better.
Haleigh says if JC gets wind that something is wrong he'll go with the majority.
Haleigh doesn't want to get rid of Kailtyn and she comes back.
Bay – she still not beating Swaggy we have no idea what kinda splash that kid made.. (LOL, not a very big one.. they speculate that it'll be America's vote who comes back)
H – I still don't know who those 2 flip votes where..
H – you don't think it was JC?
Bayleigh doesn't.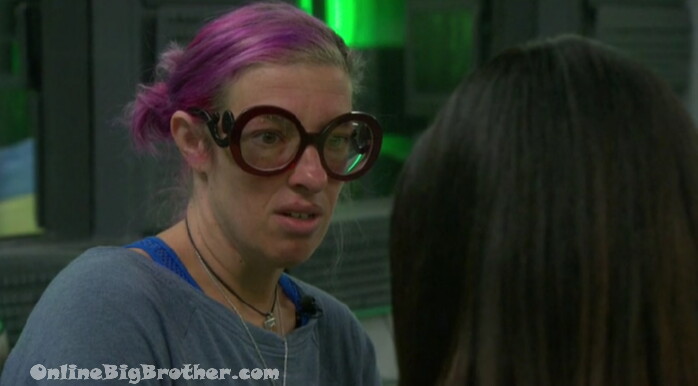 RS joins them "Can I vent"
RS – I hate how flippet Sam is about this whole thing.. It means something to me it means something for my family and she said
RS – what are you going to do if you go to jury and you don't even you don't even win..
Feeds cut..
When we come back RS is talking about the all girls alliance.
RS – I meant it to a certain point.. what matter to me that is what I wanted to show my daughters..
RS – but these f*ing people they just don't care.. it's just.. it's frustrating me because I've done everything I said I was going to do
RS – I wasn't in people ears, I didn't make f*ing promises I didn't keep, I didn't make loyalties I couldn't keep I didn't even….
Haliegh called into the Diary room
bayleigh mentions to Rockstar that she told Sam she was going to keep her and she didn't she voted to Keep Steve. Kailtyn voted to keep Sam
Bay – you know what I'm saying..
Feeds cut..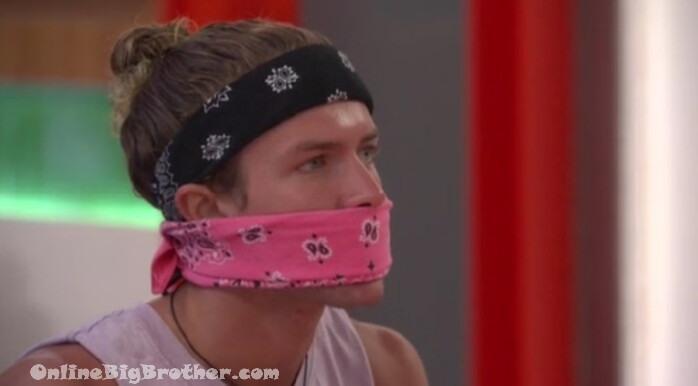 11:38am Rachel comments that Steve wore it like that once and production told him to take it off.
11:47am JC in heels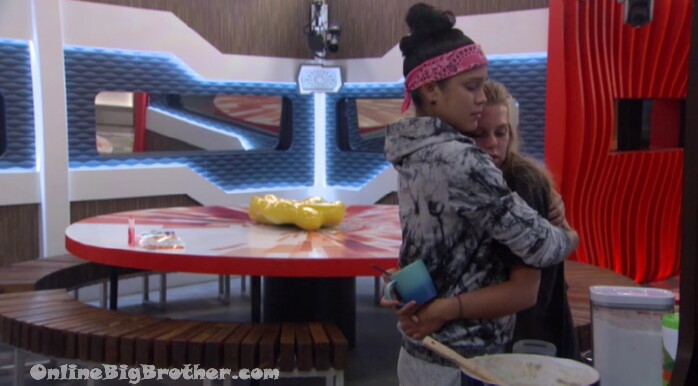 11:54am Haleigh and KAycee hugs (just a picture)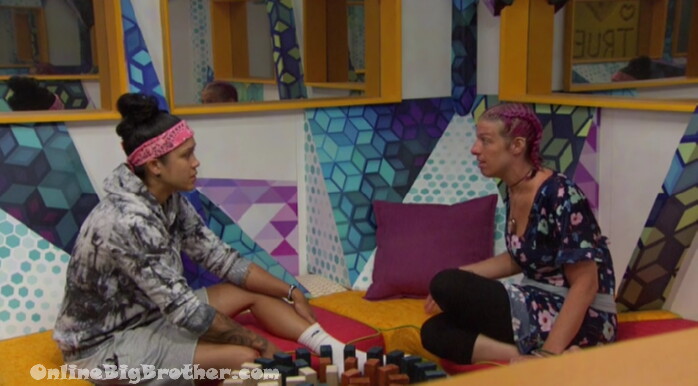 12:02pm RS and Kaycee
Kaycee tells her she's voting with the majority, "I don't understand why people think me and Rachel are a thing.. it's really annoying"
RS – here is what I will ask.. It really matters.. I have 5 people
K – yeah
RS – there's 5 other people.. and Sam told me she's going to eenie meenie miney moe it
K – I love you and I care about you.. you deserve to be here.. both of you do
RS- my only request I've been tried and true and honest with my goals..
RS – my goals are beneficial to you I don't have an alliance with any men..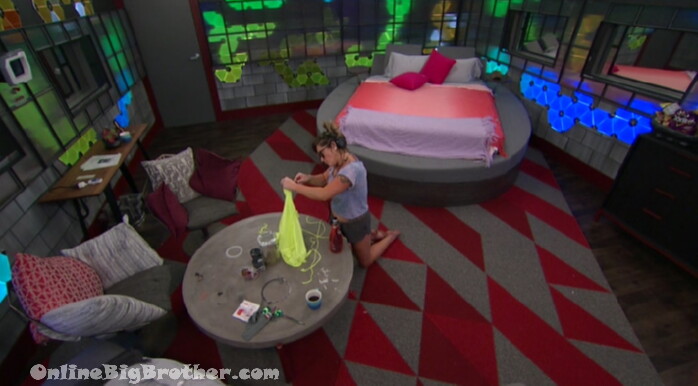 12:15pm more Sam crafts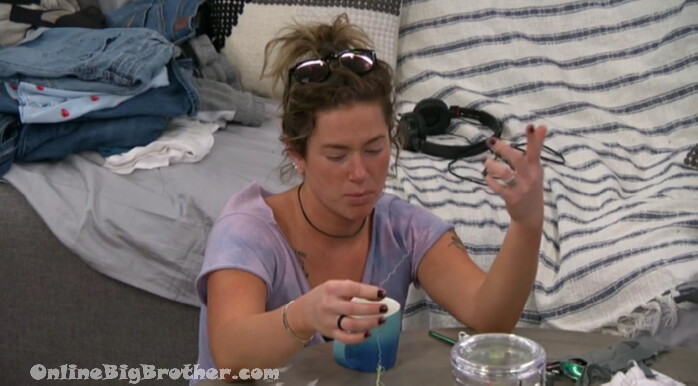 12:28pm HOH Sam and Bayleigh
Sam saying RS came to her this morning first thing and started in on her speech. Sam says it was like she was rehersing it so it would be good for TV. Bayleigh says the same thing happeend to her this morning in the saucer.
Sam – she wanted to make her an official goodbye nominations speech.. I just walked away it made me mad..
Sam didn't understand the request..
Sam adds that RS followed her into the HOH room and old her never mind don't do the speech.
Bayleigh – why would anybody want to do the speech.
Sam says she's been hiding in her room since.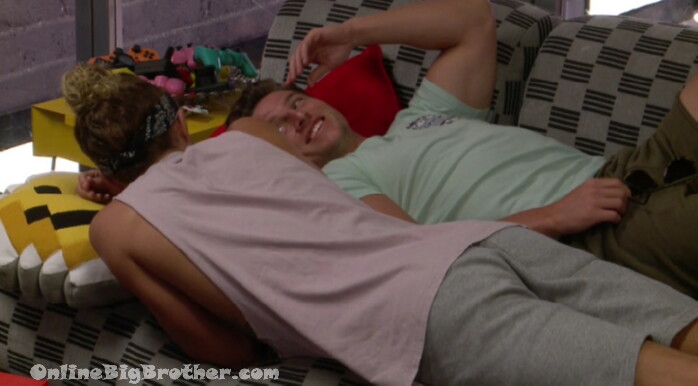 12:47pm NeuBRO (hard to hear)
They talk about having to win the HOH.
Brett – I feel like my name is in everyone's f*ing mouth
Tyler – my names in Haleigh, Rockstar and Fes .. probably JC now
They are surprised that KAiltyn hasn't blown up on JC.
Brett says Kaitlyn is like Christine from Season 16.
Brett – at least she's not married.. I feel terrible
They comment on Sam being targeted by Kaitlyn now.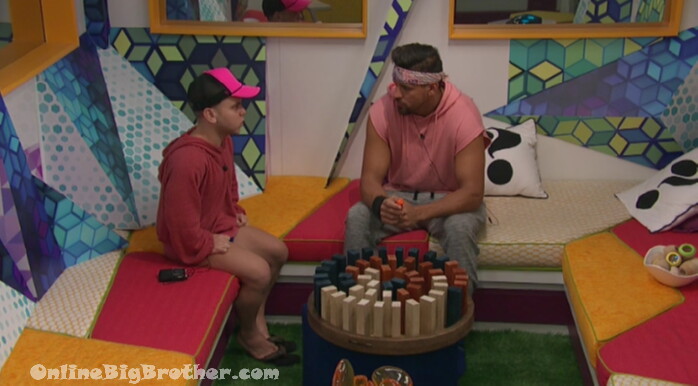 12:40pm JC and Fes
They talk about how Rockstar is losing it.
JC still wants to get kailtyn out says she's stuck in Tyler's head.
JC says that Rockstar is throwing people names under the bridge like water.
JC – I'm sticking to the plan and you stick to it too
JC – you need to grab that b1tch and tell her she needs to stop spreading so much sh1t (rockstar)
JC – she's throwing our names around .. she's f*ing paranoid.. she's like a ghost..
1:02pm Angela and Kaycee
(going bacjk nad forth about what girl they want to keep.. ohh man here we go again)
Talking about their side has 3 strong girls and 2 guys..
Angela says the girls on their side are so much stronger than the other side.
KAycee says she feels bad about Rockstar she really wants to be here..
AS of 1:06pm these two are saying they now want to keep Rockstar..
Rank the houseguests!
Easiest way to Rank the house guests use link below