Head of Household Winner – Jess
Have note are:
Nominations are:
Power of Veto Players are –
Power of Veto holder –
Power of Veto Ceremony –
Powers in the game
Christie – Panic
At any of the next four Power of Veto Ceremonies, Christie can turn the Golden Power of Veto into the Diamond Power of Veto and allow the current veto holder pull someone off the nomination block, but instead of the Head of Household naming the replacement nominee, the veto holder names the replacement.
Field Trip
Choose three houseguests they compete while on a field trip. The winner gets safety for the week the loser gets nominated as the third nominee.
Doesn't affect this week it affects the following week. 8 days of voting.
Head of Household of the applicable week are not eligible to receive votes
Grab your live feeds —-> BB21 Live Feeds Subscription Link
Rank your houseguests —-> Big Brother 21 Ranking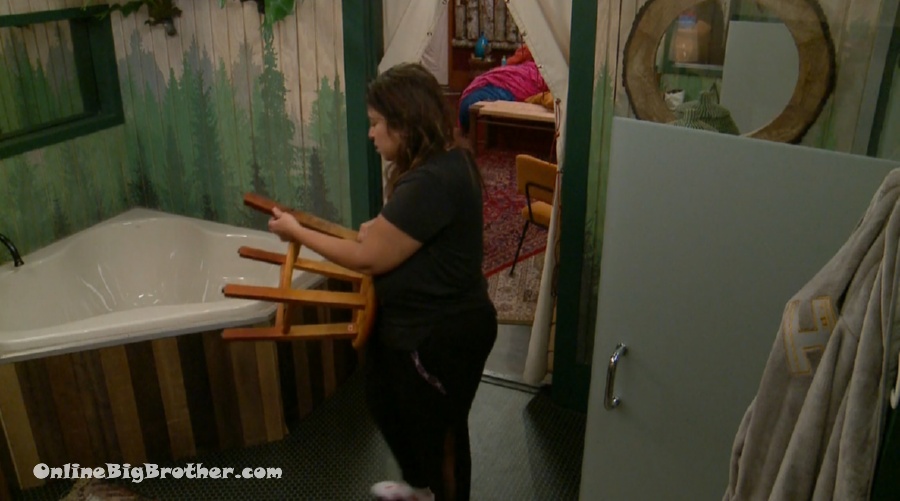 9:32 pm Jessica finds jack and Christie's sex Stool
Jessica – it looks like it's broken.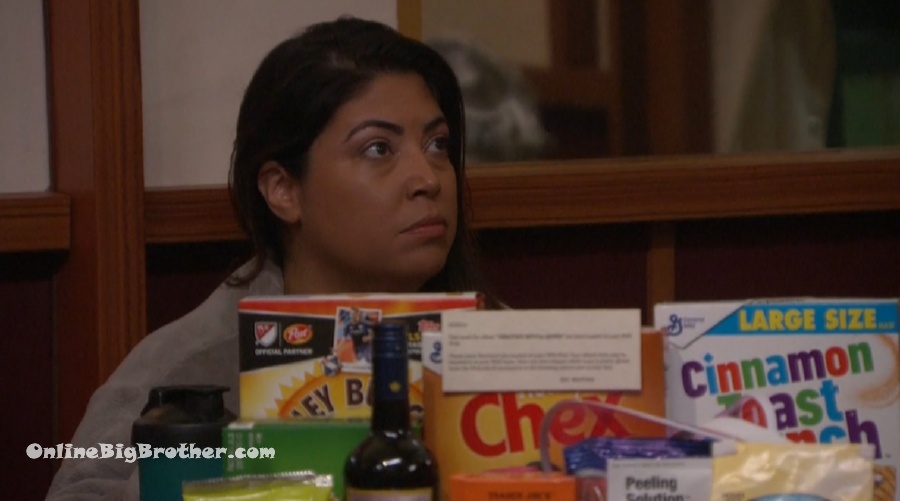 10:43 am Jessica and Cliff
Cliff points out at this point there are four tight people it would be nice to see some of that go. reminds her that everyone has her back.
Jessica – we have the numbers to go either way
Jessica says she feels like the common person to have been left out of the loop.
Cliff says his point was always to try and break up the six.
Cliff – I don't know if it was a little bit me or Sam but we're there (it was Sam)
Cliff – it's so nice being a part of a group I've wanted that the whole time and it feels like we're there. I thank you for that
Cliff leaves
Jess – thanks cliff.
Cliff comes back. "If you want to keep Jack weaker say I'm going with the three guys or something.. put Nick, Me and Jack up there. I'll keep an eye out for him"
Jessica – thank you for that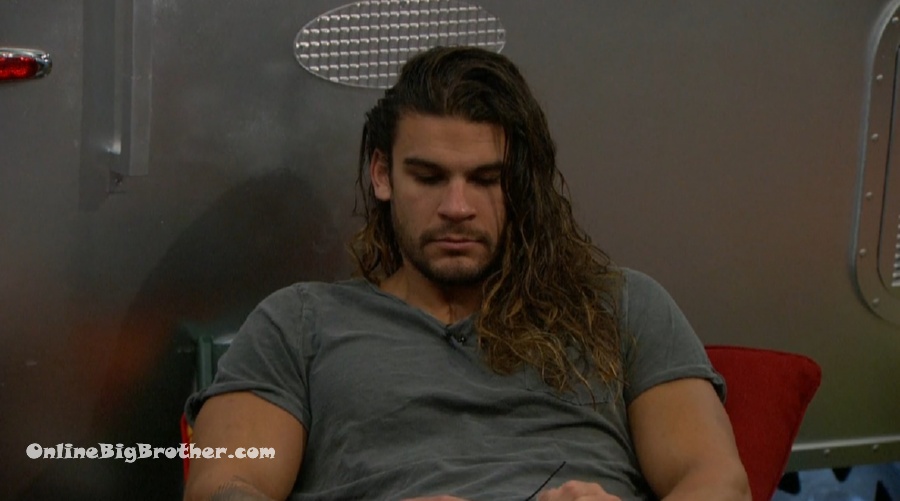 10:51 am Jack and Holly
Holly – Jackson is sad
Jack – he feels betrayed
Jack – Jackson's a good person I never thought he wasn't.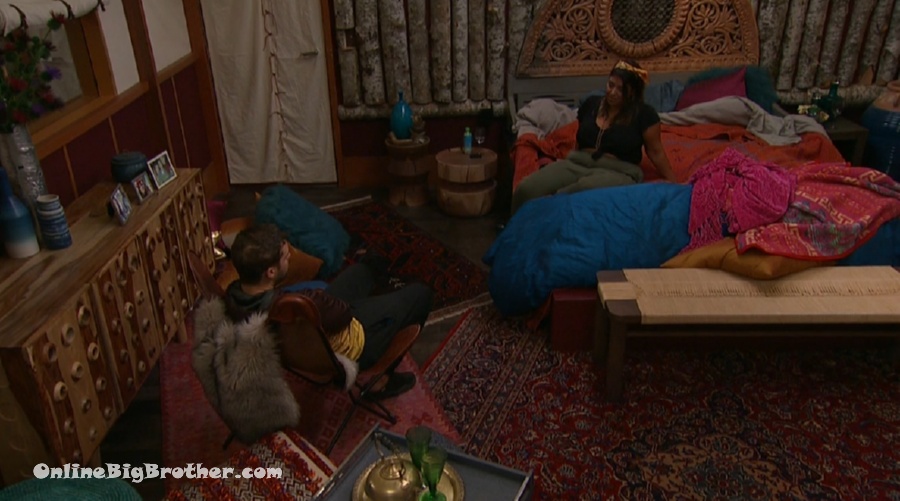 11:23 am Nick and Jessica
Nick pushes for the six.
Jessica – I'm not part of an alliance.
Jess – people are disrespecting HOH's and flipping votes.
Nick – You know I can win a veto. If you need me to keep the noms the same I got ya
Jess – we have to take into account that there is a power
Nick – I don't think she'll use it this week that will make her a target for double eviction. If she f*ed you over
Nick points out that the 4 of the 6 all want Michie out. Nick says there were two people that were going back and forth yesterday they were Michie and Christie.
Nick – Michie got the brunt of it. I personally love Christie.
Nick says one of the six was telling him hardcore to go for the HOH this week and now he finds out they wanted him to win so that he wouldn't be able to win during the double.
Nick says after the blow up with the 6 someone from that group came to him and told him a bunch of stuff, "They were scared"
Jessica says she already heard that the Jack is feeling upset for outing Jackson. She thinks they are going to get back together.
Nick – they're coming after me
Jessica – I admire watching you when you feel like your life is on the line and it shows you want it and you are also not a cocky alpha dude that walks around making decisions for everyone.
Jess – I'm not saying anyone in this house does
Nick talks about how all them underdogs should stick together. He pushes that next week they can win Hoh and he'll take a shot at the six regardless. (he's a lot of talk, unfortunately)
Jessica says she wants the nomination to be the same. She doesn't want to backdoor anyone they're competitors let them compete.
Nick says if he wins veto he'll do whatever he wants he'll keep those noms the same
Nick – I'll go out there and win it for you. You will go out there an win it
Jessica is sore that nobody told her about the vote flip when Nick was HOH and the potential vote flip last night. She heard that someone in the six was saying not to tell her. jess reminds him that Kat's her girl.
Nick – you, me, cliff, Kat, Ncilel we need each other otherwise we will be annihilated. You won this win I'll win the next one.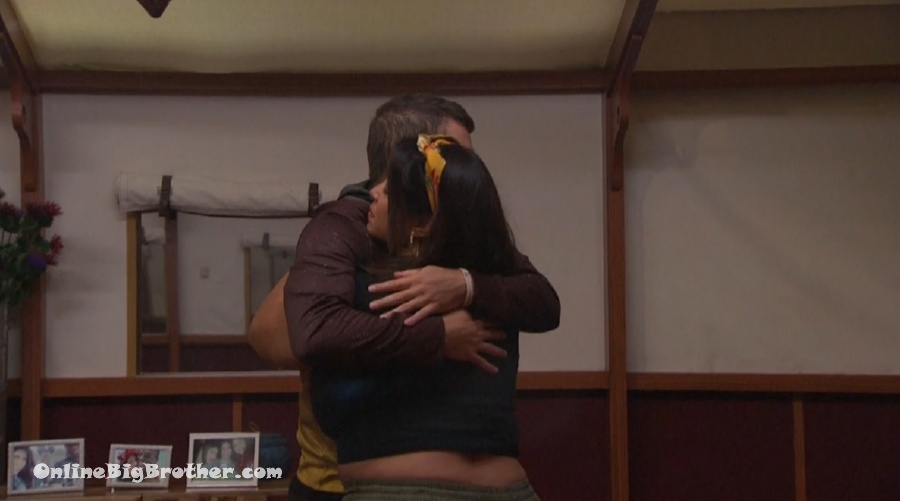 they hug it out
12:10 pm (this is a short version.. he's going up)
Jack's turn to chat with Jessica.
Jessica calls him out on none of the six telling her about all the flips and potential flips
Jessica – My mind's in a jumbled mess
Jack – there's bigger threats in the house
Jessica says she's been blindsided too many times
jack – yup
Jack – no judgment .. I love you
Jack – I'll back you no matter what choice you make I'll back you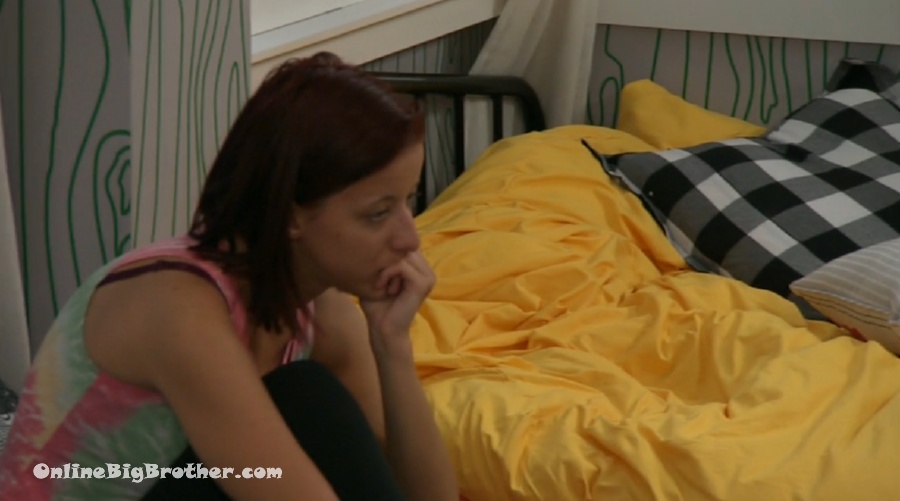 12:23 pm Nicole and Nick
Nick says Sis is going to win something soon she's very athletic and competitive.
Nick mentions that he told Jessica that he wins HOH next week he's talking shot tat the six he's not going to be a coward
Nicole – Sis was pushing for me
they talk about the talk of the morning was how Cliff made Jessica breakfast and brought it up to her.
Nicole – So what other people have done it before
Nick – yeah but it wasn't them.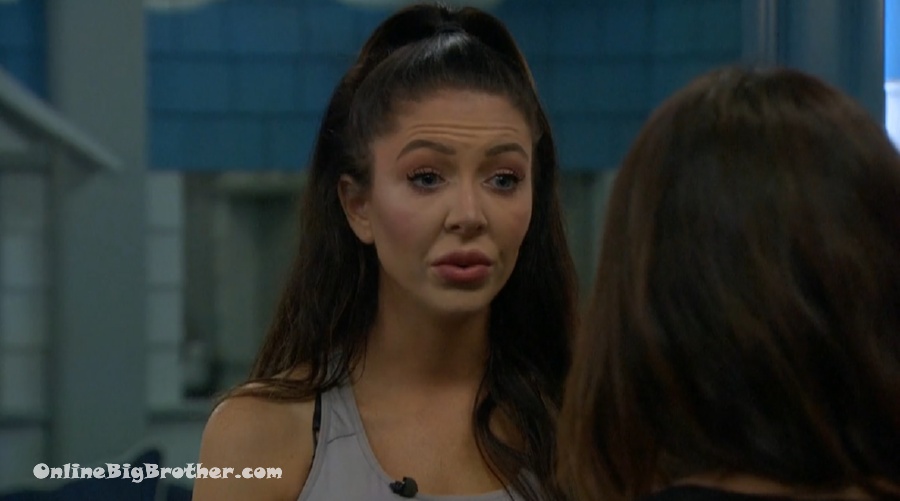 12:27 pm Jessica and Holly
Holly says she will clarify anything with Jessica.
Jess – I've only talked to two people right now.
Jess says Holly is not even an option, "we've been very very honest with each other since day one"
Holly – I one million percent respect whatever you want I will back you 100% you are my girl and I'm so damn proud of you and I'm proud that you earned this right to make a very important decision.
Holly – whatever happens if you want to talk to me I will help with clarification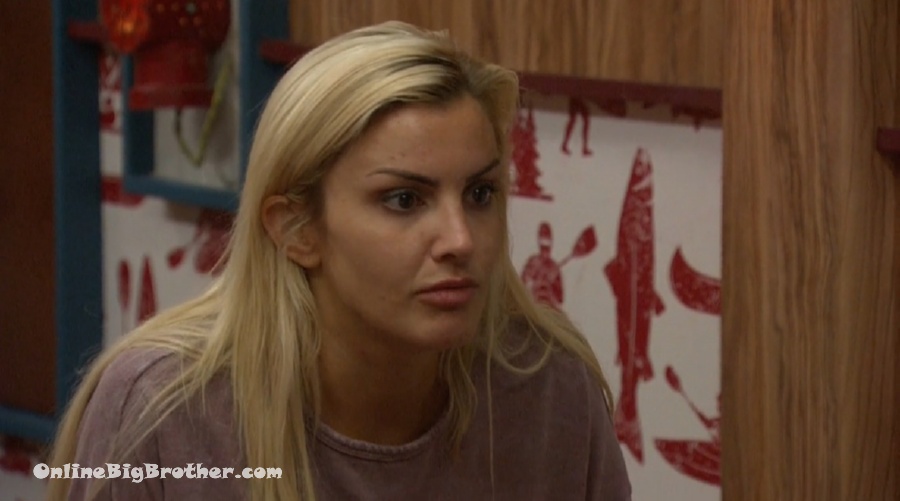 12:37 pm Tommy and Kat
Tommy going on about Jack is upset because he betrayed Jackson and Tommy is the reason he betrayed Jackson
Kat – Are jack and Jackson still working together
Tommy – No, No they're not
kat says that Jessica loves christie if Jackson goes up to the HOH and throws Christie under the buys Jessica will put Jackson (Michie) up for sure.
They questions why Holly stands by Michie when he treats her that way. (again a long conversation where Jack joins and Kat lets it slip that jack and Jackson are probably going up)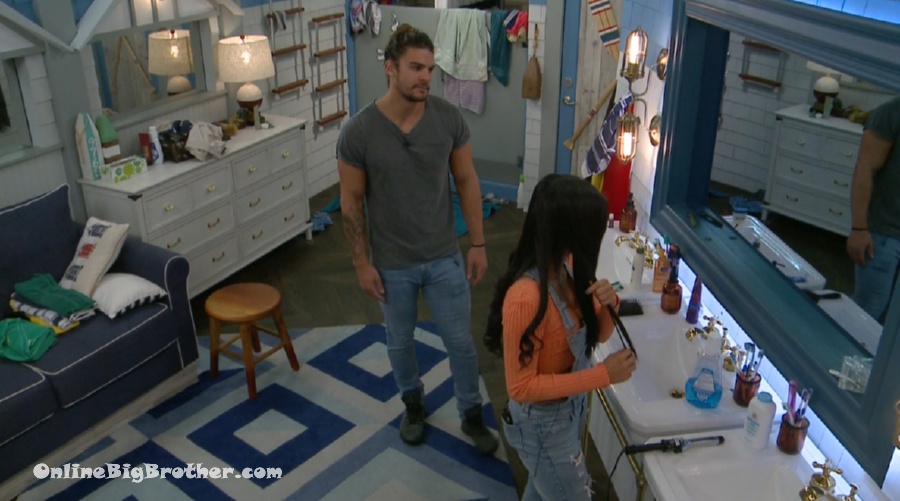 12:40 pm Jack and Sis
Jack – I made the wrong decision I drew a f*ing knife
Sis – why
Jack – because I think Christie is f*ing around
jack – this has to stay between us
Sis – why would I fu*ing tell her that when I feel the same way
Jack – she doesn't feel any type of remorse or thankfulness for what I've done. Any sincerity. She doesn't acknowledge the implications of all I f*ing did in exiling Jackson
jack – she doesn't f*ing care
Jack – she's just trying to cover her tracks so she can be good on both sides. that's all she f*ing cares about
Jack – Jackson was right about some things like 75% (about Christie)
Sis – I just feel confused I don't know what to do (just another day for sis)
Sis – what do we do now
Jack – we have to move forward and trust Christie, Tommy, and Nick (ZOMG)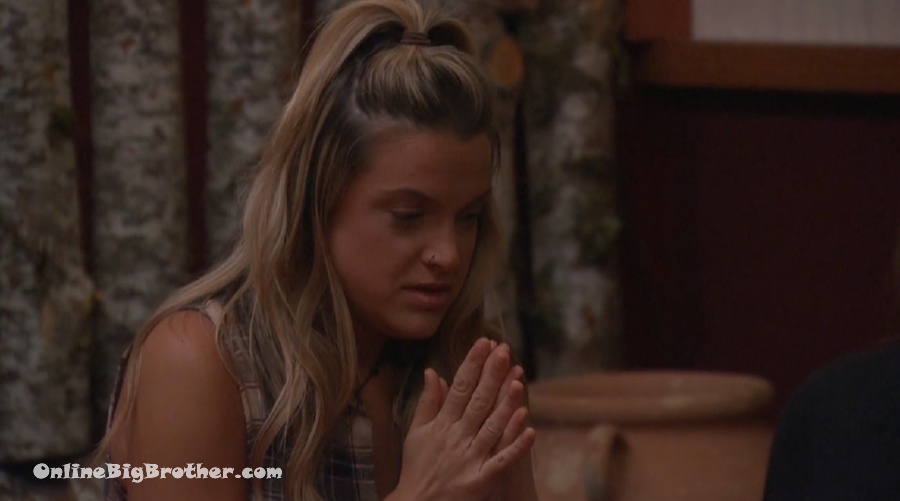 12:54 pm Jessica and Christie
Jessica – what happened yesterday through me for a loop
Christie goes on about hos "painfully awkward" today is.
Jessica – I kinda have an idea of what has to happen
Christie – you have my full support. I respect and I support you in no matter what you do what you do
(Right when she says you have my full support the tell )
Christie – I'm not going to take credit for manifesting your win But I prayed .. I prayed in the booth..
Christie says she prayed that someone from the other side wins HOH " I feel that there needs to be a shift something needs to happen. I feel like your win had to be"
Jessica goes on how she doesn't want to backdoor anyone
Jessica – you are someone I trust whole heartily
Christie – same
Jessica – I was never part of the 6 the 8 or the nine
Jessica tells her how she was left in the dark for two votes. Christie goes on about how she doesn't deserve that.
1:15 pm Christie tells her unless she's on the block she won't use her power
Christie – I don't want the veto. I don't want the power in my hands I want it flushed out I don't want to use it
Jessica – I would want you to win it and not use it
Christie – you want me to win it
Jessica says she wants everyone to play their a$$ off in the veto and if the nominees don't win it don't use the veto
Jessica says she has no reason to put Nicole, Kat, and Cliff up
Christie says she would think it's weird to put Cliff up "Cliff is someone else's targets he has your back if I were you I would never put him up"
Christie says she wants to team up with Jessica in a small group.
She goes on about "Gunning" for the double.
Christie says she doesn't want people to stay that will be gunning for Jessica.
Christie wants to be the one that takes out Jackson.
Christie – I give you my word I will gun for it (Veto) and I will not use my power and I'm giving you that on my sister. I won't be swayed.
Christie – I am playing for my home team.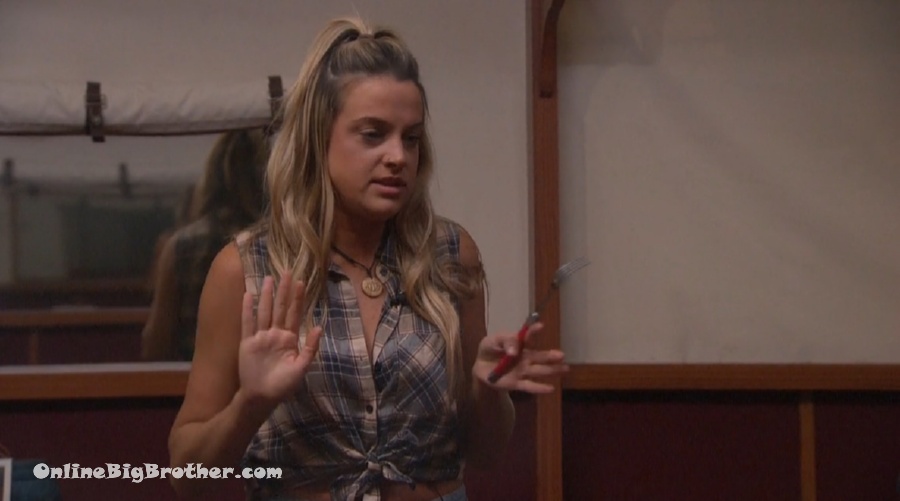 1:34 pm Tommy, Jessica and Christie
Christie says she's doing what she vowed to do this week just be alone and observe "soak everything in"
Christie – we're at the halfway point of this game I made like a bible joke cause now I'm reading the bible. It's the new testament. The Six is blown up. I'm a free agent in this game.
Tommy – Oh my god yes
Christie – I have a hand full of people that I actually trust and respect and that I believe have my back
Christie – I cam here to win this game and I'll to whatever I need to do to win this game with integrity to at least 4 or 3
Christie – I respect people that respect me
Timmie – I feel pretty shitty today honestly
After Christie goes Tommy starts telling her the entire time everything was happening yesterday he was thinking "jess needs to know"
2:00 pm Timmie, sis and Jessica
Crying saying whatever to stay off the block. Tossing Jackson and Cliff under teh bus