Big Brother Spoilers Jack wins the Head of Household. A new twist called CAMP COMEBACK allows the first four evicted houseguests stay in the house. They do not play in competitions or take part in ceremonies but one of them will be given the chance to come back in the house.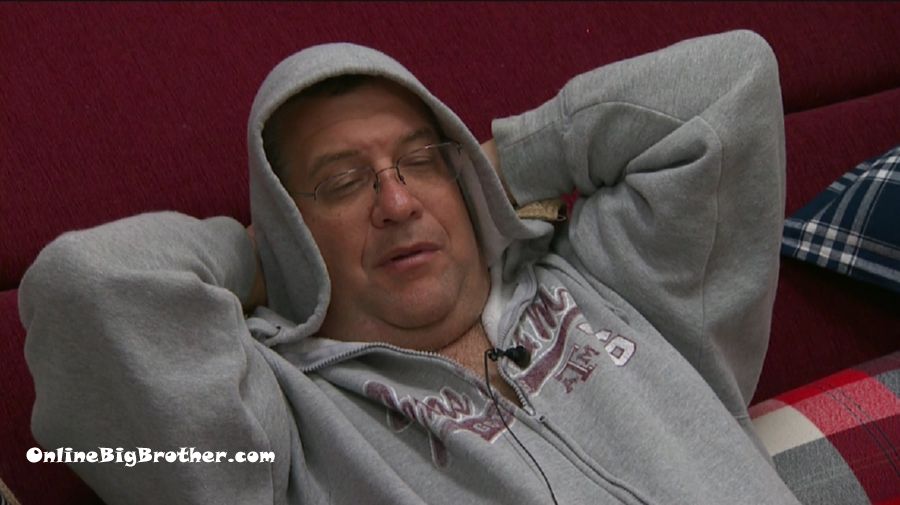 7:00 am Cliff Notes
Cliff says he feels okay with Jack and Jack will target the same people Cliff will.
Cliff – David is already getting under Michie's skin. He kinda rubs me the wrong way. Michie is worried because David was one of the people banished
Cliff – Kemi said that David told her he was going to wreak havoc if he came back into the game
Cliff – Michie figures that's directed to him and he's probably right.
Cliff says David has done a couple of things "Michie doesn't like the way he described him when trying to remember people's names"
Cliff – it really irritated Michie when he all he remembered was you're that guy that read that book and wants to change stuff so you moved to LA
Cliff – I'm going to continue to push a little bit that David is not so great. Michie is part of my little alliance group so he needs to be patient.
Cliff doesn't want Michie to do something that endangers his game "it could affect mine as well"
Cliff – I'm not sure it's a bad thing this house has a villain in the form of David. As much as the kumbaya circles are fun. we're all nice and happy and friendly being able to focus some. Not hatred, being about to focus on a person as an enemy to everyone else may help keep groups together that I want to stay together (BINGO)
Cliff – I need s few weeks of survival in order to create bigger targets than myself
Cliff – I'm friendly with enough people so that I won't be the target
Cliff thinks maybe Jessica is the only one that would target him and only because for her he would be an easy choice, "Most people are comfortable with me and feel safe with me"
Cliff goes on about his strategy of maintaining his relationship and being good with everyone in the house
Cliff says Nick and Bella are an item and therefore a voting block, "I feel tight with both of them"
Cliff – Jack and Sis, there seems to be a little more to their relationship than I first thought,…. noticed
Cliff – I feel tight with Jack having picked him for the veto choice helps. He's uh… a scary player.. he was deceptive to Ovi which gives me pause. He could do the same thing to me. I'll keep an eye on him.
Cliff thinks he's good with Christie isn't sure he can trust her.
Cliff says Kemi talks to him so he doesn't see being her target. Mentions a final 2 he has with Nicole so he's good with her.
Cliff – my core alliance right now is Michie and Holley. no alliance is perfect. We also have Kat in there. kat is not meant for this game. She's a wonderful person but Like I said to Holly and Michie last night I came in saying I don't want to sell products online after this I don't want to be an Instagram Celebrity I just came to play the game.
Cliff – I came to play the game logically and not emotionally everything I said is the opposite with Kat.. Holly said she wanted to bring her branded shirts into the game.
Cliff says Kat doesn't have a clue about the game "she's everything I don't want to be involved with and yet she's a strong vote for me as long as she's in this house"
Cliff mentions how Michie is going call it off with Kat this morning and it will cause a meltdown.
He mentions that during a commercial break after the votes were cast "Kat was squeezing my hand next to her.. saying am I good am I good"
Cliff – no matter how many times we told her.. she was so paranoid and nervous and so unsure about her position that she couldn't wrap her head around the fact it doesn't make sense to get rid of her right than.. she's going to do that every single time
Cliff says kat will be a meltdown every week.
Cliff – if not she'll continue to be this artificial arrogant person that's not much better than the person having a meltdown. I feel for her when she's hurting but she's not the person I want to work with. She's just a vote.
Cliff says his real core is Michie, Holly and himself. "Little nervous that Holly and Michie will be tighter than I am.. but we have a long way to go in this game. I'll bring Nicole in maybe I'll bring Ovi in if he makes it. I'll have the numbers down the road if I need to"
Cliff says Kat is looking for a showmance not sure if it's for security in the game or to make herself more famous
Cliff – talking about David and that comment. First if I say something like that I hope you all understand it's out of ignorance. I hope I don't but if so it's done outta ignorance. If i catch myself for doing it or am called out for doing it. I think my first action is going to be to apologize. .
Cliff – Hey I'm sorry I acknowledge that was the wrong word to use please accept my apology and let's move on
Cliff – he (David) didn't do that I think his initial comment was ahh hopefully no ones watching at 2 o clock in the morning
Cliff someone is always watching someone is capturing the screen shot.. he should have handled that differently. when he says something dumb like that to some degree he has to own up that he said it and take responsibility and be sincere. He didn't do that. doesn't seem to be a good idea in my book. WE'll see how that affects him
(not 100% sure what David said.. maybe the 'R' word)
Cliff apologies to his family for not shouting out "I was so nervous I forgot"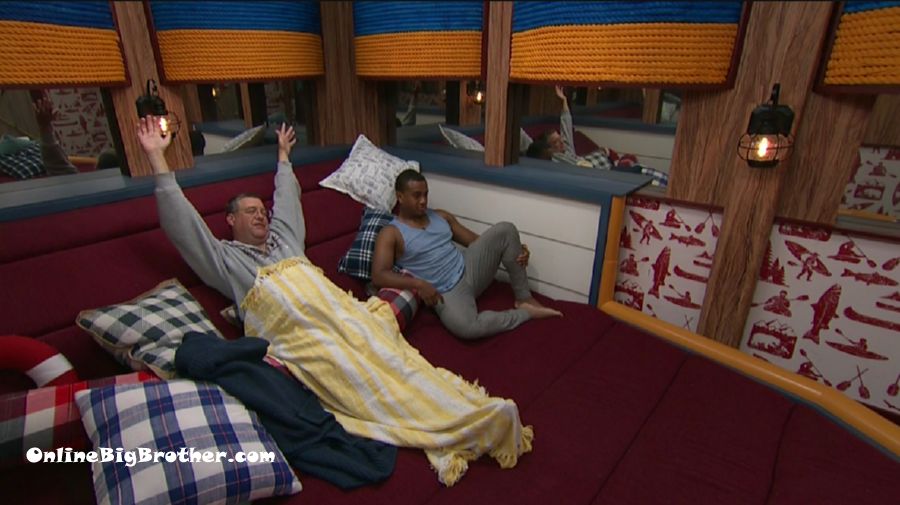 8:00 am David and Cliff
Cliff tells David there are no big groups in the house, "no huge division yet officially doesn't mean it's not there"
David – there's one thing I remember from last year. If there aren't big groups then if there's one strong group. these smaller tribes per sea are going to get picked off they need to rally together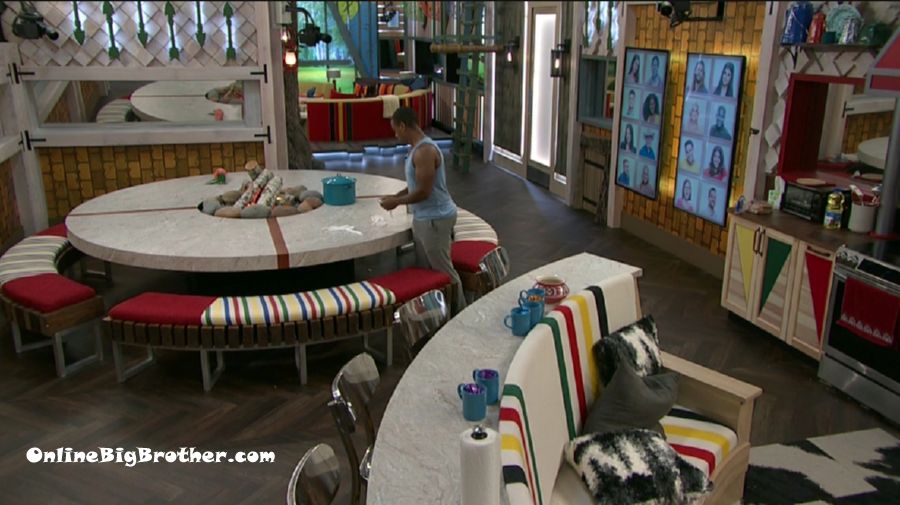 8:30 am David walking around "Gotta rally the troops gotta rally the troops"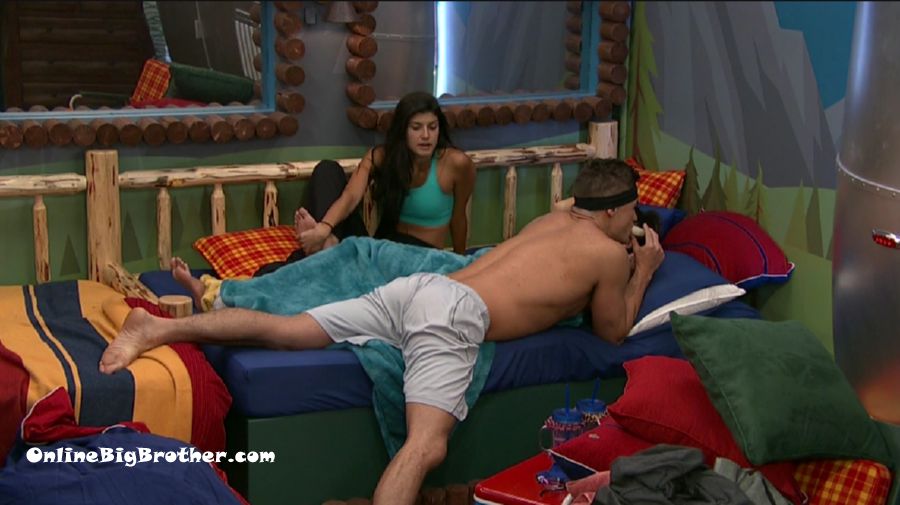 9:25 am Sis, Holly and Michie
(David did something in the bathroom don't know exactly)
Michie complaining about David
Sis – wow he's a little trouble maker
Michie – me and him are f*ing going to clash. I'm not going to ..
Michie leaves..
Nick joins them comments that they haven't slept downstairs in 12 days. They chit chat. Nick leaves.
Holly says that Michie told her he's breaking things off with Kat today.
Holly – I need to talk to her too
Holly complains how claustrophobic it is in the house and made even worse with Kat, "My energy is being sucked outta me.. that's not fair for her to take it knowingly"
Holly – he needs to talk to her.. she followed him into the f*ing shower .. ohh you saw..
Sis – she didn't come out for a long time
Holly – she just wanted to talk to him
Holly – he said he went to go pee and she tried to walk into the bathroom too.. like oh my god
Sis – she's crazy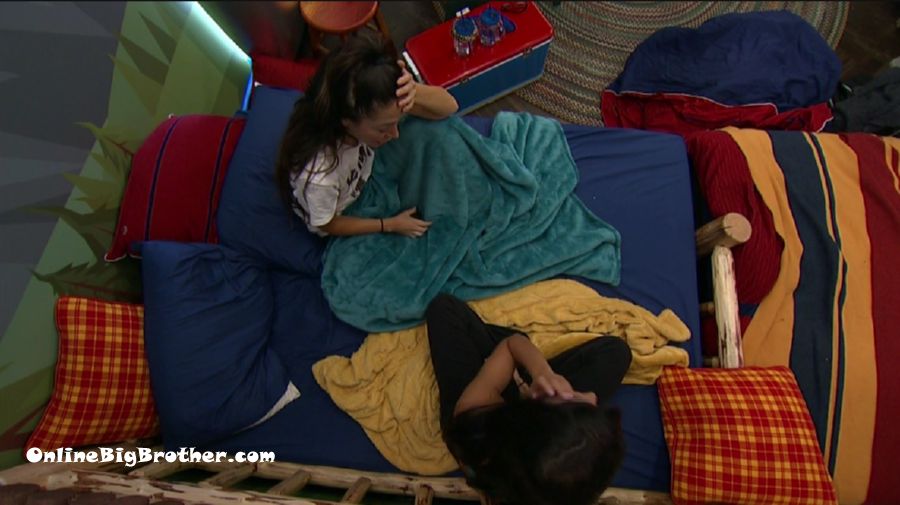 Christie joins them.
They bring up Jackson talking to kat today and calling it off
Holly – he's like f* that I can't f*ing do this anymore
They mention how Kat will be in the house for 2 more weeks regardless of what happens. That's a long time to have to deal with Kat.
Holly – I'm going to talk to her too I'm so depleted. My tank is on E all the time
Holly – Michie's final straw was when she followed him in the shower. My final straw when she f*ing charged right across the room and grabbed my arm. I was like don't touch me
Holly brings up a talk she had with Cliff last night. Cliff is 100% onboard with what they have planned, "he wants Kemi and Jess out next"
Holly mentions Cliff hating it when people come on this show for Fame and that's what Kat is doing, "It really gets to him"
Holly – he said I kinda regret telling her she reminds me of my daughter ..
They call Kat "Pyscho Child" and liken her to a "delinquent kid"
Sis says she heard Kat saying if she's evicted for jury she'll just go home
Christie mentions how Kat is allowed to sleep all day but the rest of them get in trouble from production "what the f*"
Holly – she's the most entitled here as she's is on the outside
Christie – she (kat) doesn't wash her hair she goes to the dry bar every time she has to wash her hair
They laugh because kat said "I'm poor" even though her parents pay for all "her sh1t"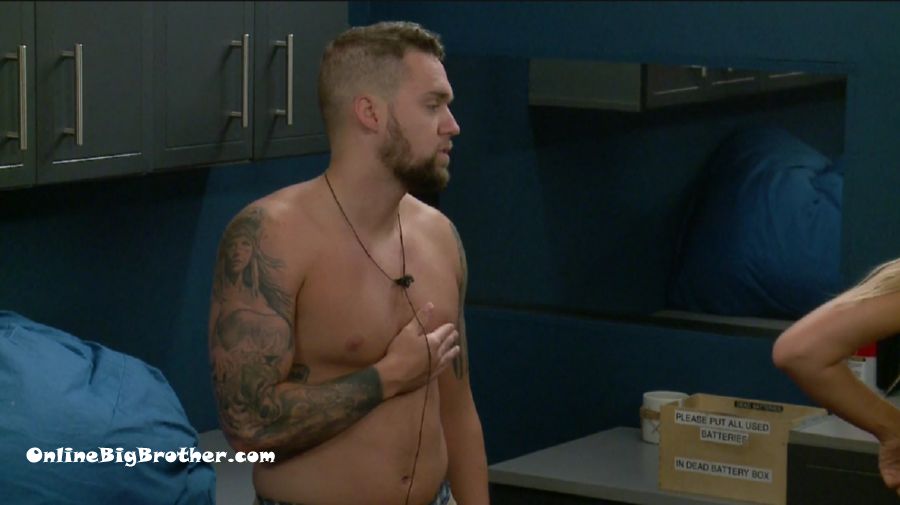 9:25 am Nick and Christie
Nick – I think we're good
Christie – yeah I think so to
Christie – Jack's been saying I really want to keep with the eight and I was like ohh great
Nick – I was shocked
Christie – I was nervous for like 5 minutes because he's a very ego based person and he could easily want to punish me for not doing what he wanted me to do
Nick says once he heard the twist he knew the eight-person alliance was good for another 2 weeks
Christie – worked out in our favour
Nick – yeah it got balled out
Christie says her hands are clean after the HOH because of the twist, "Clif's not mad at me, Kats not mad at me and Ovi is the most grateful person and I have two weeks wit win him over"
Nick – David is going to be annoying
Christie – yeah
Nick – he's going to start stirring sh1t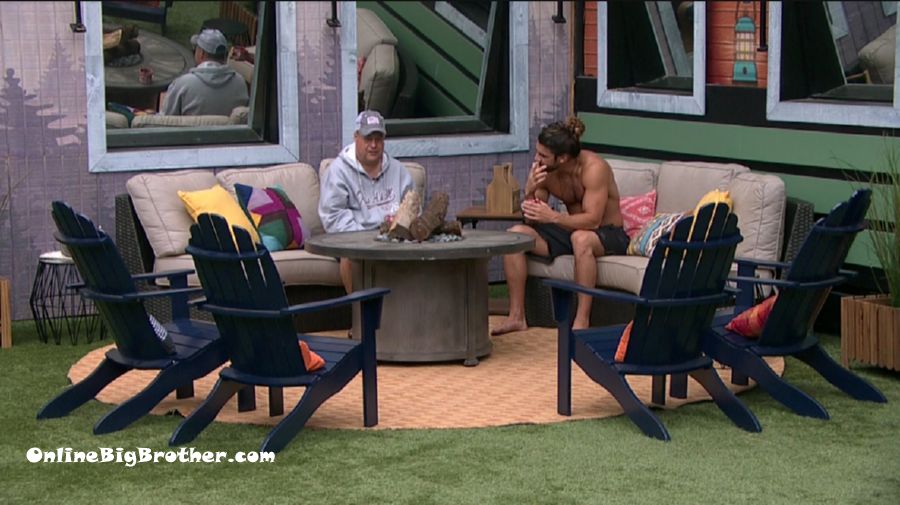 9:27 am JAck and Cliff
Cliff brings up his conversation with David this morning. Mentions David saying Cliff has to have an idea who is going on the block.
Cliff agreed to that but said to David he would rather keep his knowledge private
David said he can read body language and knows the groups, "He kept asking if you and Jackson are tight"
Cliff – His big thing and this kinda worries me.
Goes on to explain how David was telling him if a big group forms the smaller groups have to team up.
Cliff – I kinda steered it back with what it's like to be out for 2 weeks..
Cliff – the other day he said Jack .. I don't know him yet but that seems like a pretty big power move to call a group meeting like that and he said I was watching I'm a big body language person and I was looking at the people around the table while Jack was talking and he said there were people I could see fear and others were really happy I know there's divisions
Cliff says David is looking for cracks and divisions things he can exploit he's going to be targeting Jackson.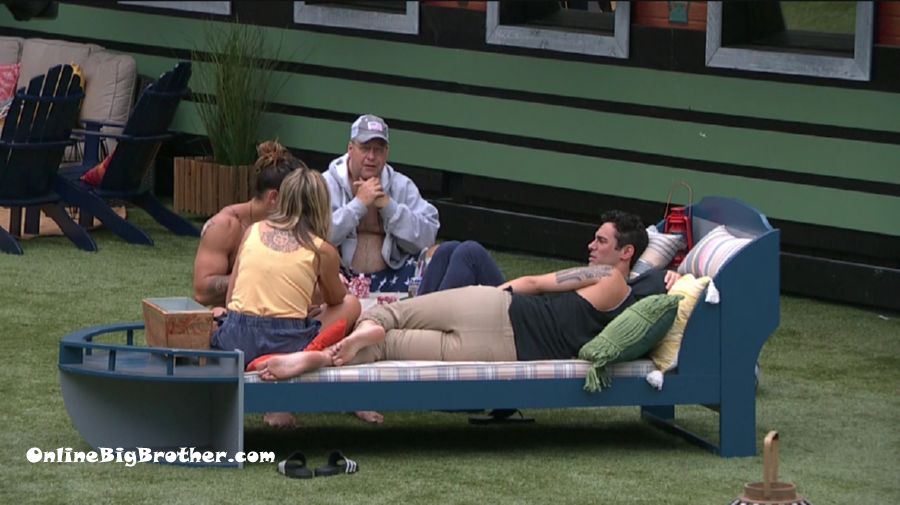 9:49 am Backyard Tommy, Nick, Cliff, JAck and Chrsitie
Jack tells them David wants to play game.
Nick – I don't want to deal with this sh1t
Christie – whats a matter
Nick – David is already trying to start sh1t
JAck – he's already gaming
Christie – no way I thought we weren't supposed to talk game (to David and Ovi)
Nick – we're not doesn't mean he's not goign to try
Cliff says David hit him up for some game talk this morning as soon as we woke up
Christie – abotu what
Cliff – he wanted to know who Jack is putting up .. I said well he just got HOH yesterday we'll see
Christie – why does he care he's not up for eviction so.
Cliff – he wanted to know about the repercussions for banishment in regards to Jackson
Cliff – I said no one wants to make waves
Tommy – the repercussions are like nothing he had to pick people and he was put in a shitty situation
Christie – oh he wants' Jackson out ..
Cliff – he talked about he's a master at body language
jack – he's the superior leader
Cliff – he could tell during the group meeting people had fear in the eyes or were excited. he can tell there's divisions
Christie says David told them he "manifested his own birth January 31st"
Cliff brigns up David saying last season if all the little groups don't align they will get picked off one by one
Nick – level 6 had 6 f*ing people
Jack – he's gotta battle back first..
10:30 am Morning workouts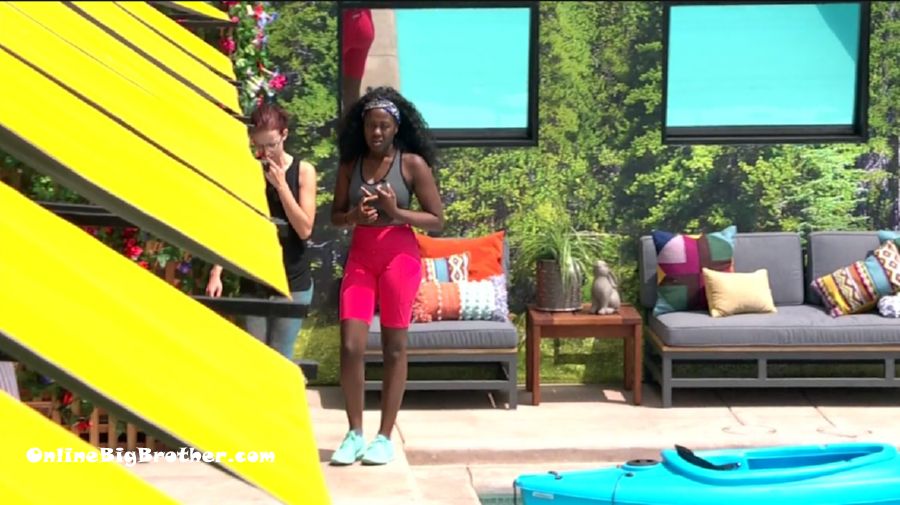 11:04 am Nicole and Kemi
Kemi says if she does go on the block she htinks she' has the votes. "you Jess and Bella, Nick, I'm not sure about Sam he's also close with JAck"
Kemi – more than likely cliff.
Kemi thinks she'll be backdoored Jack's not dumb enough to let her play veto.