| | | | |
| --- | --- | --- | --- |
| POV: | Tyler | Next POV: | July 14th |
| POV Used | yes | POV Ceremony | July 16th |
| HOH: | Kaitlyn | Next HOH: | July 12th |
| Noms: | Winston, Scottie Swagz | Have Nots | JC, Fessy, Haleigh, Rockstar |
Big Brother Spoilers – Swagz still going home .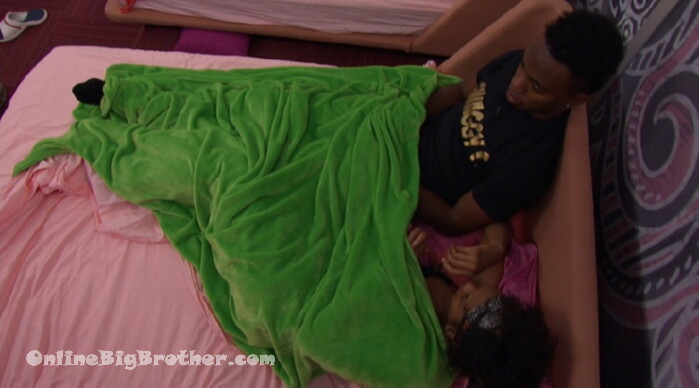 3:42pm Swagz and Bay
Swagz I'm going to play on Kaitlyn's emotions she's going to feel bad about this.. .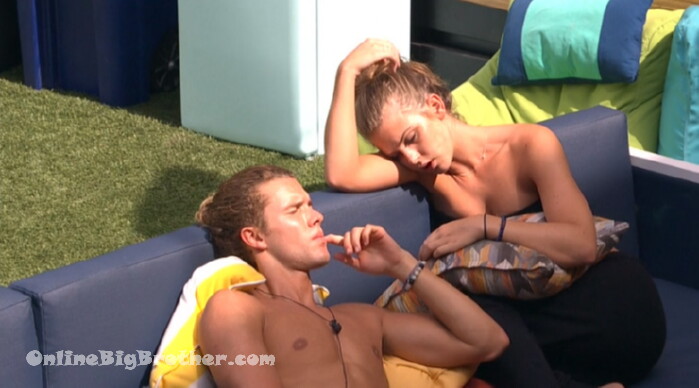 3:46pm Tyler and Haleigh.
Tyler says it was Kaitlyn that came to him. Swagz was telling him that Kaitlyn was Sketchy so he told Kaitlyn .
Haleigh – the thing about Kaitlyn there's that group but there's me and Kaitlyn and that's the priority
Tyler- I know that..
Haleigh – right now they are scrambling.. Scottie is like.. he doesn't want to vote for Swaggy anymore..
Tyler – have you talked to ROCK
Haleigh – she doesn't want to talk to me.. she doesn't want to talk to anyone right now she told me she wanted to regroup
Tyler says if FEssie and Rockstar win HOH they are putting him up.
Haleigh says they wont.
Tyler- I've been hanging out with Kaitlyn a lot
Haleigh – they have brought that up
Tyler says Kaitlyn was very upset by what happened last week.
Haleigh – what's done is done.. they don't have the votes to keep him (Swagz)
Haleigh says she's worried about winning a endurance competition against Fez. She thinks if it'll be brute strength she won't have a chance.
Tyler – It won't be brute strength.. they have to make it fair.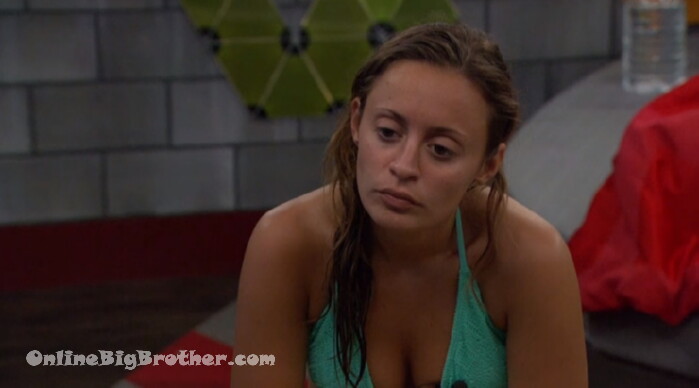 3:47pm Rock and Crazy Kaitlyn
Rock says Swagz swears on his dead fathers grave that he never said Kaitlyn was the bottom of the totem pole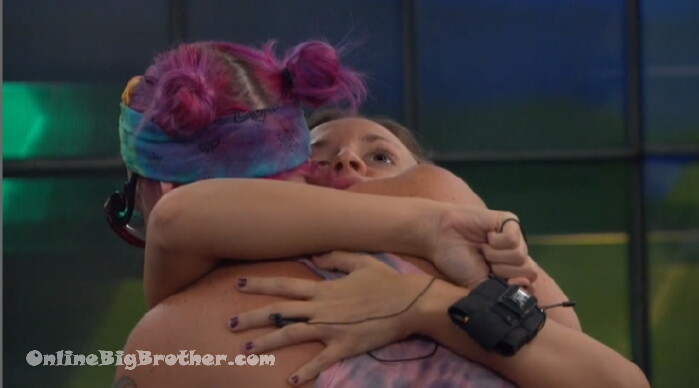 4:00pm Rockstar says since they have no idea what happens next week can she not tell Tyler and Brett they are her targets.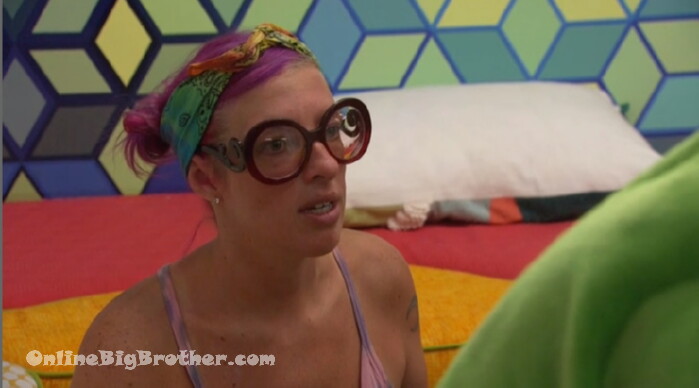 4:10pm Swagz and Rock
Rock says Kaitlyn says she heard from a lot of people that Swagz said she was a liability.
Swagz – I swear I never called her a liability. I want Tyler in the room.. because I want him to tell me to my face that I said that
Rock – I almost said.. at this point was he wrong
Rock – she was like.. I didn't feel safe in my own alliance. .. at a certain point none of us were safe.. at least she knew she was good until 6
Rock mentions Kaitlyn saying that if it was JC or Winston saying the stuff about her after making an alliance they would be the ones sent out.
Rock goes on explaining her conversation with Kaitlyn
Swagz blames this on Haleigh, Fez and KAitlyn drama.
4:14pm Tyler and Katlyn
Kaitlyn – does this week look like I'm just listening to you.. I don't think that.. that would be really sad
Tyler – is that what Rockstar is trying to push.., did they ever tell you that? did they say they would always look out for you personally or did they say they were looking after the whole group.
Kailtyn says Rockstar told her "you got a pretty boy in your ear"
Kailtyn goes on saying all the things Rockstar said about Tyler that he plays dumb and he's alot smarter.
Tyler – I play dumb with her because I don't trust a f**ing thing
Tyler – I'm incapable of telling somebody how much I trust them and will look after them and not do it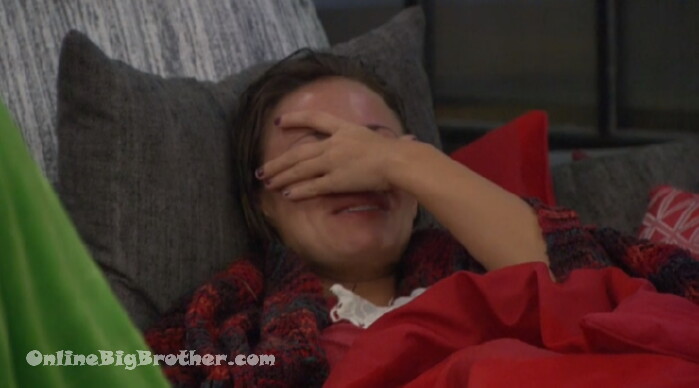 4:25pm Swagz and Kaitlyn
Swagz walks in.
Kailtyn – I can't look at you
Swagz wants Tyler to com up here at some point.
K – last week was hard for me I thought I had solidified friendships and alliances..
K – I heard from multiply people that I was a liability and i am reactive.. it's true i am .. I just didn't want it to be you..
K – you didn't speak to me all week.. I don't know.. I didn't want to do it Swaggy.. from the minute you won that first competition I was sacred.. I wanted to join you I wanted it to work.. my intuition told me not to.. you told me you didn't trust you that's scary..
K – I'm just sorry I liked you as a person, I feel so terrible.. my younger person .. never stood up for myself.. being part of a group I knew they were talking about me and I just stayed because I had nowhere else to go .. I kind felt like that with our gropu.. I knew it was a huge risk. I knew I had a lot to lose I kept saying I don't even care if I get out Week 3 at this point
K – If my future child watches this and at least sees like her mom stood up for herself that's enough for me.. I'm sorry it had to be you.. even if you don't go home that's still great.. I felt justified for me having to do that
S – I'm going to start about the standing up for yourself.. any situation you feel like you are being attacked you stand up for yourself..
S – I'll go back to day 5 when we made the alliance I meant that.. what separated that the whole fes and Haleigh .. the whole house believed you had a crush on Fes that's when Haleigh and Fez started to distance themselves
Swagz brings up that when she started to hang you with the other side they did get freaked out, "I did say Shady"
Swagz – I never said you were a liability on my dads brave.. I never Everyone thought you liked Fez
K – you and Bayleigh told Haleigh not to talk to me..
Swagz says that wasn't him
Swagz says Fez and HAleigh told him him not to talk to you and give you space..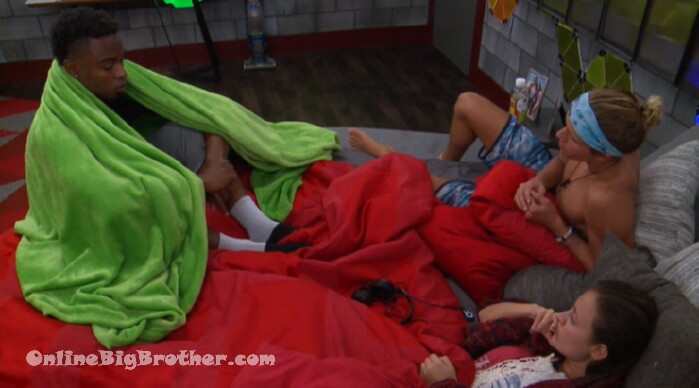 Tyler joins them ..
Swagz – I never called you a liability, bottom of a totem pole never on my dads grave say you were .. did I say that I did say I was the leader of the group
Kaitlyn suggest that maybe he got caught up in the moment and forgot what he said
Swagz says he trusted her 100% up until the Fessy thing
Kaitlyn – lets say I do have feelings for him .. why the f* does that make me shady
Swagz brings up her hanging out with the other side.
Keitlyn brings up her old group of friends that were horrible to her and she always said to herself "I'll be dammed" if she would let that happened to her again.
Swagz says Haleigh and Fez were always coming to him telling him not to talk to her
Swagz – they told me if I come to talk to Kaitlyn in the HOH it would F*** up the alliance..
Swagz – I wold have never put you up I swear on everything I love
Swagz – it would have been BRett and Angela with Winston as teh backup
Swagz says he loves Tyler. Tyler says he loves Swag and doesn't want to to do this either.
Tyler – what went did wrong.. is that you weren't the only one talking behind her back adn you didn't come
Tyler – that's where they (Haleigh Fez) f**ed you over..
Kaitlyn – i'm telling yo right now if there was a tie.. I don't know.. 5 minutes ago I would send swagz home
Swagz – on my dads grave you are not my target.
Kaitlyn – I'm certain Rockstar would put Tyler up
Tyler says HAleigh and Rockstar knew you were the main source and the fact they told you not to talk to her is suspicious.
Kaitlyn says if he goes home on THrusday and she wins she'll send him a check for 5K
Swagz, coming into the house wanted to at least make it to Jury .
Swagz – I have 5 Winston has 4 it comes down to Tyler, JC and Sam..
Swagz says he doesn't have a relationship with Sam but does with Tyler.
Swagz wants to be with Bayleigh, 500K is cool love but love is strong
Kaitlyn doesn't think Fessie will forgive her for this.
Wagz says he will if Wagz stays this week he says that it'll be because of Tyler and Kaitlyn not the other side.
Swagz – I'm not stopping until that entire side is gone, Rachel and Angela gone
Kaitlyn says she wants to talk to Tyler alone than Swagz and Fess..
Swagz says Fes doesn't want to talk to her alone, "He's hurt he almost cried"
Kailtyn thinks that'a problem that he won't talk to her.
swagz leaves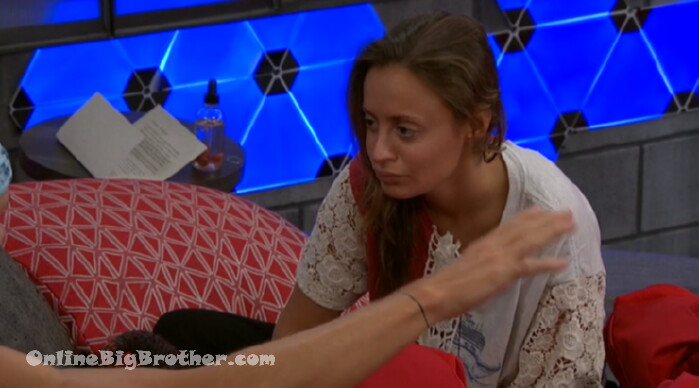 5:21pm HOH Tyler and Kaitlyn
K – where's your head at.. Tyler… he can't go. did that not speak to yo at all.
K – he's right we're sitting here doing their dirty work.. he's not wrong
K _ he can promise and look us in the eyes and say we're not the targets.. Winston can't do that..
T – I believe him 100% everything he said.. like I told him the thing he was not the only one.. adn he doesn't realize to what extent.. and they didn't even tell him that and they were telling him not to talk to you .
T – that tells yo the whole thing that alliance it naught.. and Haleigh is jumping ship to you .. she's doing it that soon
T – this is one of my favorite people I never met.. if someone told us we were brothers from different dads I would believe it..
T – this is a game
K – the way they spoke about me
Tyler says it's too much for him to deal with Rockstar, Bayleigh and Fessy with Swaggy still in the house.
Kaitlyn – I'm going to write him a cheque.. I have to
Kaitlyn whimpers that she;s doing the dirty work.
Tyler says Winston, Brett and Angela are kept around with them thinking we did their dirty work until the time is for them to take them out.
Tyler tells her he's a big target.
Kaitlyn whimpers – you can't leave..
Tyler – I'm not leaving..
Kaitlyn whimpers – will we make it to the end
Tyler – yes
Kaitlyn whimpers – Tyler it's so hard
Tyler – it's so hard.. I've never had to focus on something so hard my entire life.. so many distractions.. not naming anyone specific.
Kaitlyn whimpers – I'm going to loo klike a idiot.. and I'm breaking out..
Tyler – cause you are stressed out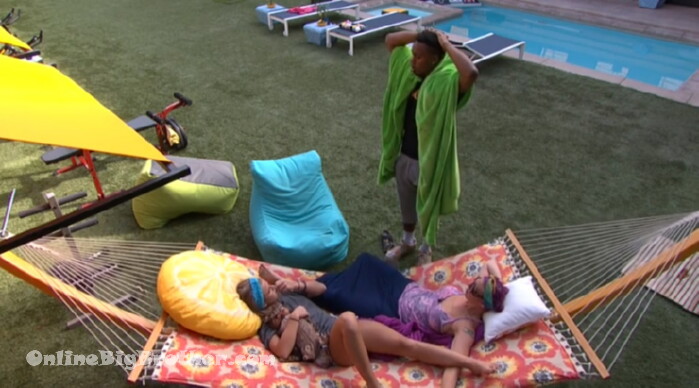 5:33pm Rockstar, Swagz and Haleigh
Swagz tells them that KAiltyn is worried that ROckstar and HAleigh are going after them. She said that ROckstar is going after Tyler.
Rockstar – so she said in front of Tyler..
Swagz – it was either her or Tyler
Rocks – she broke her promise
Swagz tells them to be nice to Kailtyn because she's scared.
Rockstar – I didn't know Tyler was in our group
Wagz – apparently..
Rock – she swore that she would never say to Tyler and BRett that they were my targets.
Haleigh – we don't know how much of what he said was true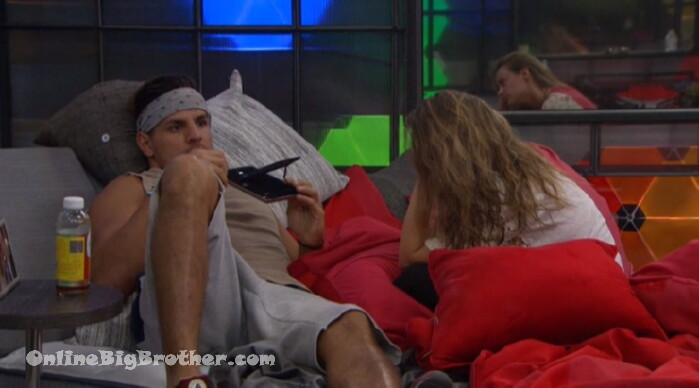 5:42pm Feysal and Kaitlyn
K – on a scale of 1 to 10 how much do you trust me
F – I'm not mad at you for taking a shot
K – I tried hinting it many a time
F – the hard part is being blindsided by your best friend to when they put your other best friend on the block.
K – swaggy came up here and owned up on everything.. you know how much I have to lose with Bayleigh ans swaggy running their mouths that I have a crush on you
Kaitlyn starts to cry..
Kaitlyn – I couldn't tell you.. what should I have done
Fez told me
K – you would have convinced me not to and I had already made up my mind
F – if that is what you wanted you should have tried to convince me ..
K – i totally respect if you win HOH next week and put me up
F – I wouldn't put you up I htought you knew that
K – I don't think you will ever trust me again that's ok
F – that's the worst thing you could have done to me putting up my friend week 2
Kaitlyn thinks she's getting the power app because she's making the biggest move in Big Brother history week 2. (LOL)
Kaitlyn going on about how she doesn't trust the group she only trust fes out of them.
Kaitlyn – by the way I don't f***ing like Winston he needs to go home .. I'm not aligned with him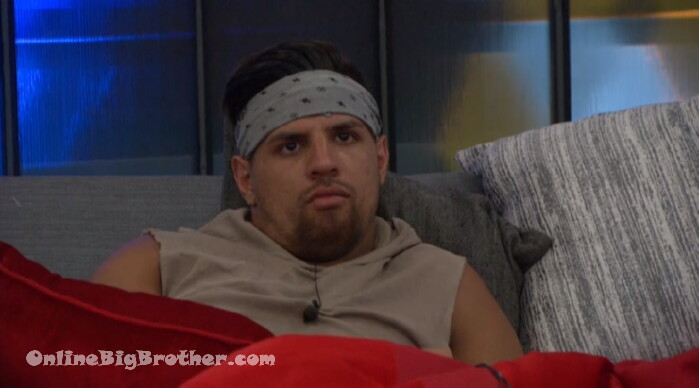 Fez – what about Swaggy man… he has to go back to the hood
K – Don't, don't because I know. I;m like not happy about it. I told him I would write him a cheque for 5K .
K – I am upset about it.. great am I supposed to play that game based on that.. he's fine.. he's going to have plenty of opportunities his way.. for Swaggy_c what do yuou want me to do this is a game.
Kaitlyn says as him as soon as Swaggy left the room Tyler told her he doesn't trust Swaggy.
Fes says there's a little cool fun fact he wants tot ell her about himself but he can't right now..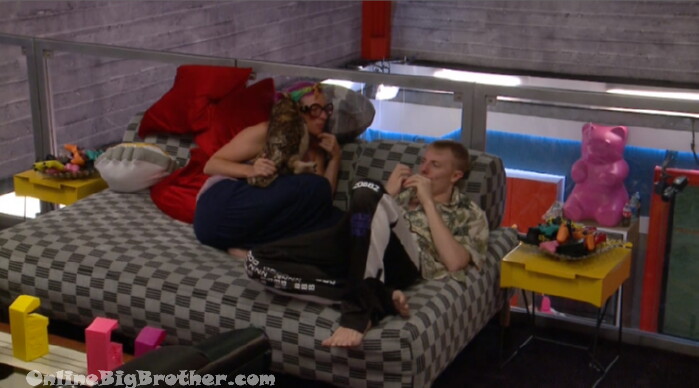 6:23pm Rockstar and Scottie
Scottie thinks Sam got the first one he's not sure about the second one.
Scottie says he has no idea who flipped.
Scottie – we know Winston knows because he made the showmance comment.. (Winston knew Swagz was going up)
Scottie – his speech was I'm not in a showmance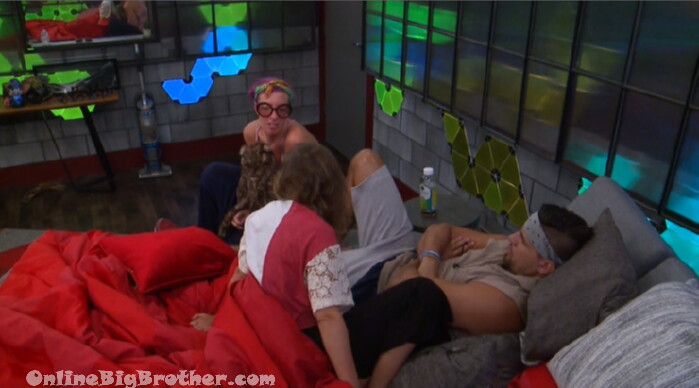 6:27pm Kaitlyn and fes
The Feeds cut to Kaitlyn and Fes. She's telling him about Tyler coming to her telling her she needs to votes out Steve or she'll be screwed by the power.
Rockstar comes up and brings up Kaitlyn saying that Rockstar would put up Tyler.
Kaitlyn – I didn't say that.. Tyler has no idea..
Rockstar mentions Swaggy has no idea Tyler is her target.
Kaitlyn denies.. (if you read above you'll know the truth)
Rockstar leaves…
Kaitlyn now goes back to telling him everything that happened last week with Tyler and the power.
K – Tyler came to me Wednesday.. said Kaitlyn do you trust me you.. you have to vote out Steve .. if you do that something really bad is goign to happen.. bad enough you could go up there.
Kaitlyn tells him that Sam had the power.
Kaitlyn – she has it for 2 more weeks..
Kaitlyn says she was the one voted out Steve "I put on the performance of a lifetime.. I deserve an academy award"
Kaitlyn says she's the queen of Big Brother and she's putting up the person that was talking sh1t about her all week.
Kaitlyn – your stressed think of me.. Flipped the vote and gave the speech of a lifetime..
Kaitlyn tells him she did all this to keep them safe.
Kaitlyn – do you think I'm the best player
Fes – probably the bet player in Big Brother history right now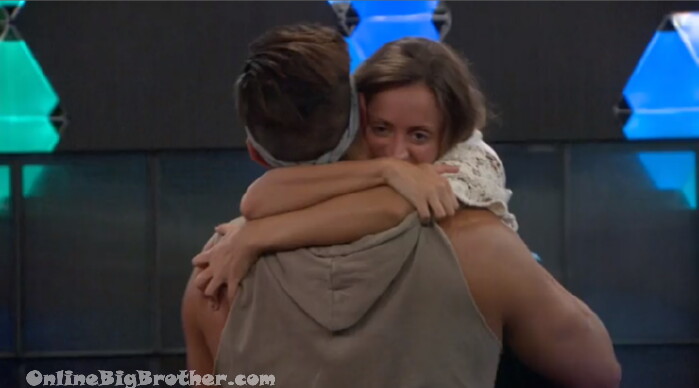 Kaitlyn wants their group to be Kaitlyn, Haleigh, Rockstar, Tyler and Brett
Kaitlyn – aren't you proud of me… a hug please..
Kaitlyn now tells him Haleigh knew about swagz going up yesterday.
Kailtyn says if the other side wins they want to put up Scottie and JC.
Fes – what if they want one of us
Kailtyn says she will go up
Fes brings up the app he owns called Fessie fitness. it hasn't made any money. It's on the app store..
Kaitlyn starts squealing "you're smart you're smart.."
Kailtyn – I don't know how this happened but I'm good at this (OMG that is the funniest thing i've heard this season)
Kaitlyn says the only peple that know she flipped is Tyler, Sam and him. She wants it like that.
Fes asks what if Swagz had a power before the Ceremony
kaitlyn was going to put up Bayleigh.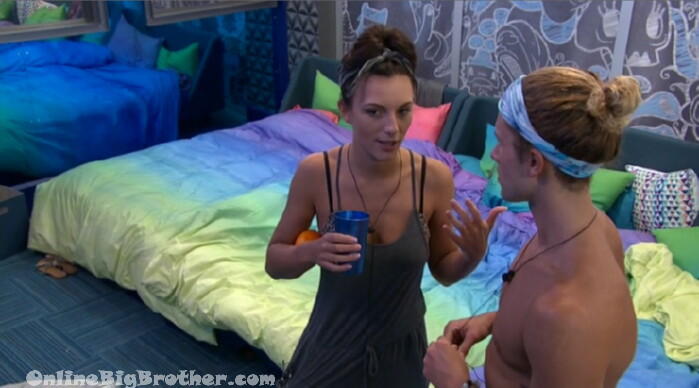 7:20pm Rachel and Tyler
Rachel says Kailtyn told her to be extra nice to fes because he overheard them say something about him being a target.
7:27pm Hot Tub. JC, Brett, Scottie, Kaycee, Angela, Haleigh
JC is telling them about this story that happened near his grandparents place. http://www.sun-sentinel.com/local/broward/davie/fl-sb-davie-gator-attacks-dog-walker-20180608-story.html
7:34pm Kailtyn tells Tyler she wants him and Fessy to be best buds.
7:44pm Kailtyn tells Tyler that she's really close to Fes and she wants them all to be best friends. But it's different with Tyler. Tyler asks her if she told Fessy that. She said she did. Tyler doesn't like that because it'll mean Fe will want him out.
Tyler goes on about how he needs to get ROCKSTAR out
7:52pm Haleigh joins them says she's voting with the house. (Swagy out)
For all you folks that need a VPN I use this one
Rank the houseguests!
Easiest way to Rank the house guests use link below