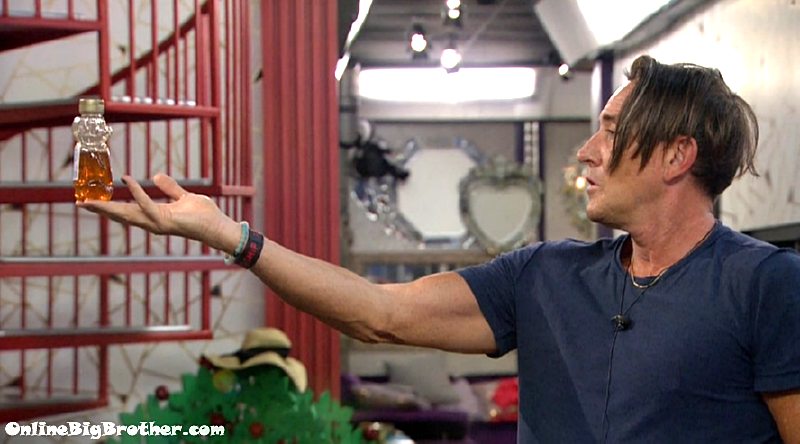 Feed subscription lets you go back and re-watch everything we post here CBS All Access Live Feeds with a FREE 7 DAY trial.

10:20pm Kevin, Matt, Jason and Christmas are up..
Chit chat and food prep.
Kevin and his Honey #BB19 pic.twitter.com/7LgpLLKjkQ

— OnlineBigBrother.com (@bigbspoilers) July 16, 2017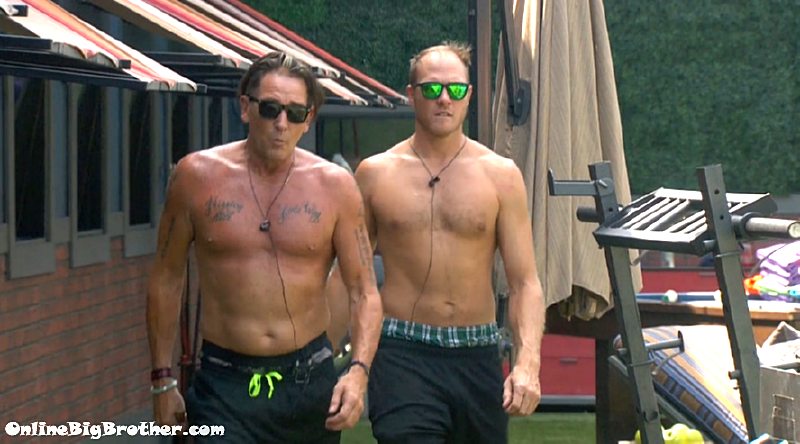 10:38am Jason and Kevin (Jessica laying in the sun)
Prior to this Kevin was talking about Jessica and how it's almost like there was this funny girl hiding in there all along.
Kevin – where was she
Jason – Riding ZORO (cody)
Kevin says Jessica would have made a great girlfriend for a week anything longer and he would've killed her.
Jason talks about how everyone falls in line with the HOH.
Jason – it's almost like it's their idea.. Everyone is waiting for someone to say it..
Jason is amazed at how fast people fall in line to the HOH
Kevin asked Dom how it's going and she said not good "it's devastating"
Kevin – Go back to sleep dom
Kevin says Dom's fall was fast. One day she was eating dinner with them doing her talk show and now they don't even say hi to her.
Kevin is shocked at how fast it all happened.
Kevin talks about packing a weapon at 14, "Just to get home"
He use to have a hairbrush that everyone would make fun of him for having.
Says in the hairbrush he had a ice pick thing for protection he only had to pull it out a couple times.. Says he had to carry it to just get to the store.
Kevin says some guys could fight real good so they didn't need to back a weapon.
Kevin – I was fast.. Good at running
Jason talks about working agricultural jobs at 12, In Iowa you could drive a vehicle for work and jason used to mow lawns.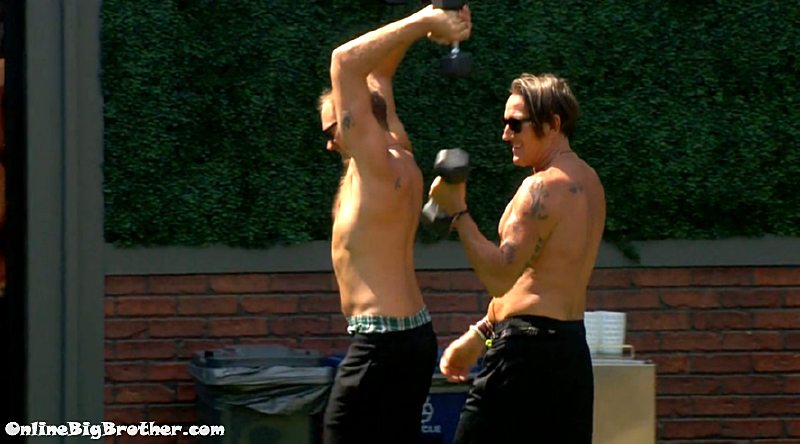 10:54am
Kevin – I have never seen people waste so much food.. Don't show this in the third world those mother f*ers will protest this show
Kevin explains If one person is hungry in the middle of the night they'll pull out a whole chicken, cook it up and eat 1 slice.
Jason – then they throw it out..
Kevin – see all the food they leave laying around..
Kevin – you're not falling in love with anyone..
Jason – f* that..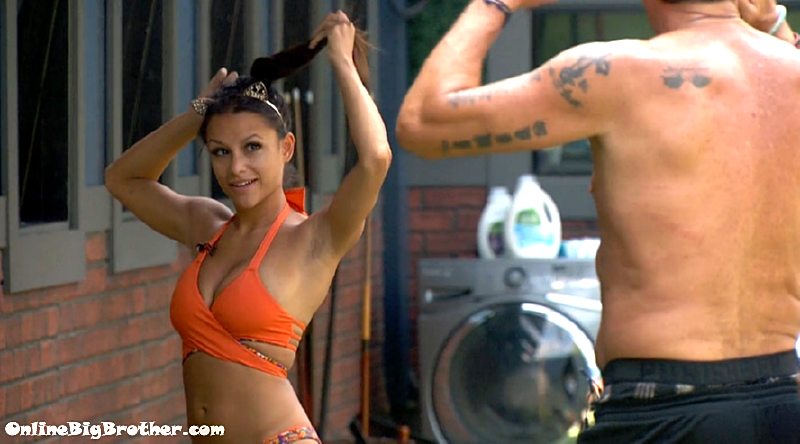 11:03am
Kevin – let me ask Jess a question.. Jess..
Kevin – If I wasn't married and 20 years younger.. would we go out you think
Jessica – if you super glued your lips shut yes ..
Kevin does some movement his his hands. "2 become 1"
Jess – that's scissoring..
Kevin – What the he;; does that mean.. Scissoring .. Is that trending.. is that a Thing… is that good or bad..
Kevin – what does that mean..
Jess – it means you bump uglies
Over the speakers Production tells Elena to get up and change her batteries..
Kevin – Elena won't be up until tomorrow.. Monday she'll be up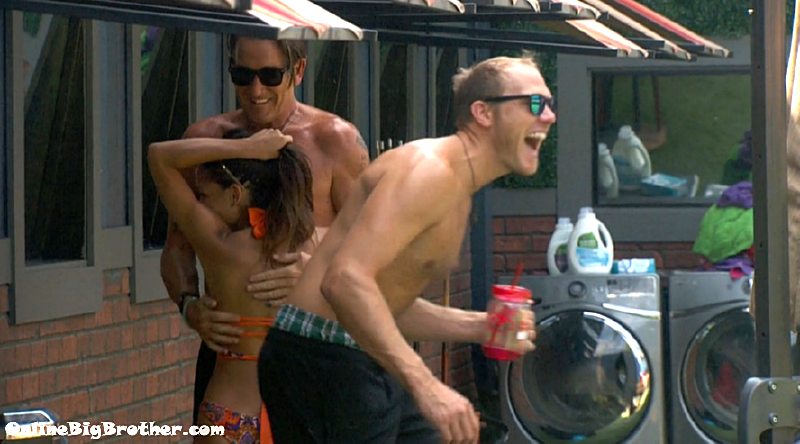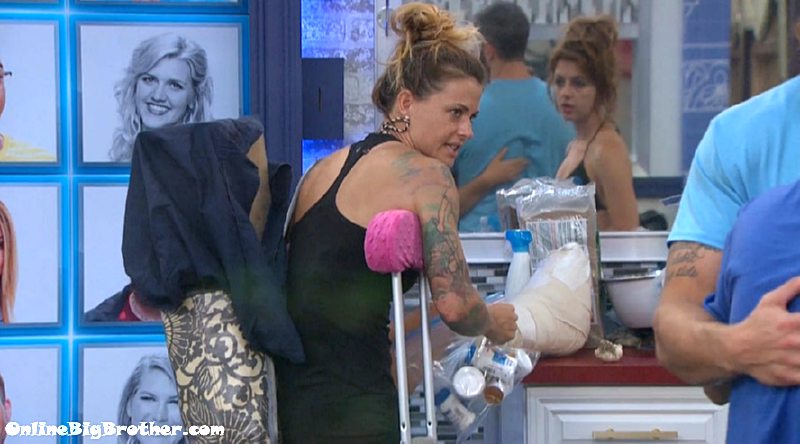 11:11am Christmas' foot…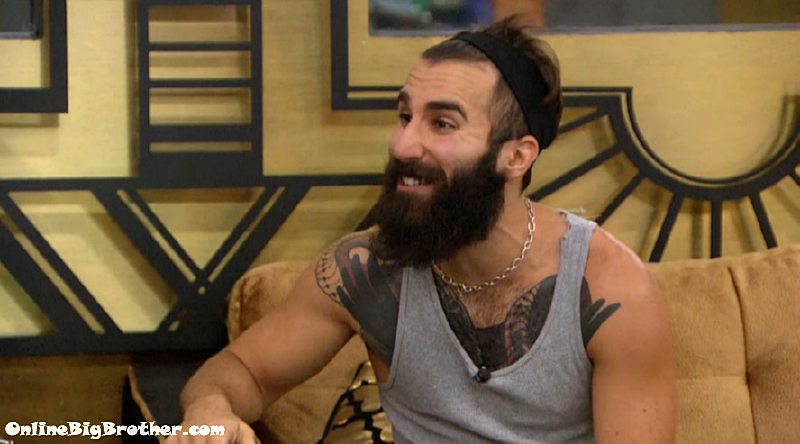 11:46am HOH Alex Paul and Jason
Talking about Dom going Rogue and how goofy Josh is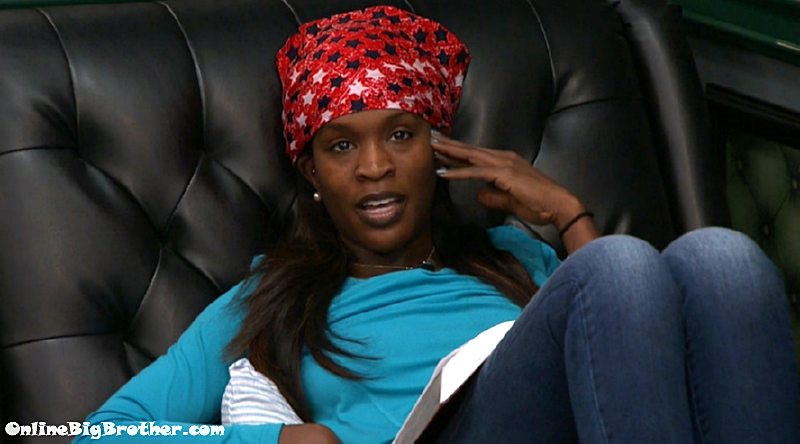 11:58am Dom and Mark
Dom asks him if he tells Elena anything they talk about.
Mark – Hell no
Dom – So you understand why I know it's Paul
Dom – you still don't understand that part.. OK, you'll see..
Dom – I will take shots but only from the standpoint of being christian.. they're going to know I'm coming after them and I'm going to do it the right way.
Dom – I am shocked your girlfriend would associate with someone like Paul
Dom – the one thing that was shocking is he (Paul) disrespected god..
Dom- Power of Veto Ceremony will likely be today.. and people won't like what I say..
Dom – I'm going to say you all can believe what you want to believe but Paul's a snake.
Dom – and the fact he mentioned an alliance with Elena should be a red flag for everyone in this room.
Dom – that's going to come up..
Mark – I don't know what to do
Dom – protect your game
Mark says there's a chance he'll be on the block with her today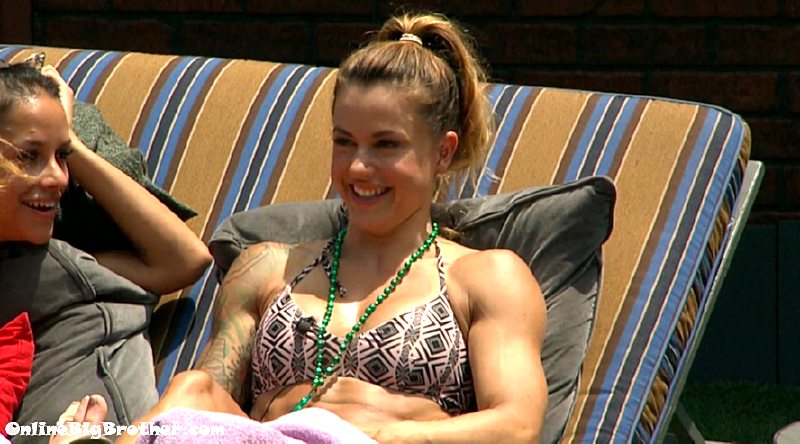 12:12pm Jessica, Raven and Xmas..
Chit chat.. (Jessica is reintegrating well)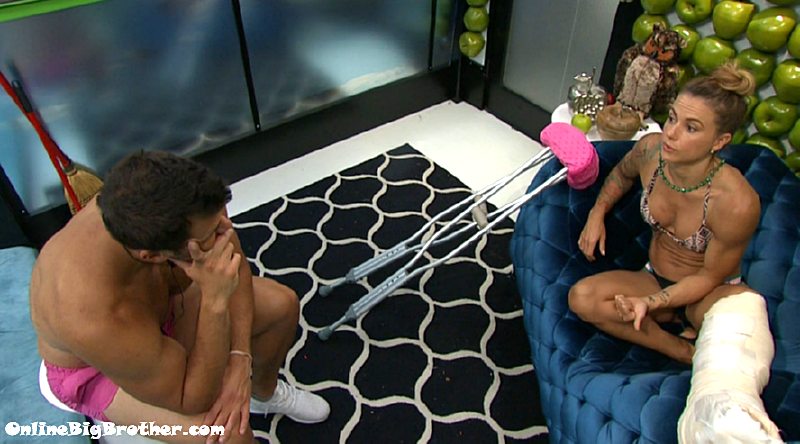 12:40pm Xmas and Mark
Xmas tells him she doesn't care but Cody did tell her that Dom and him campaigned to him to get Christmas nominated.
Xmas – I only want to be put up/voted out for Games or personal reasons.
Xmas points at her cast and says she doesn't want that to be the reason.
Xmas – helps everybody have a better chance at HOH..
Mark – not once did I campaign against you
Mark says he was with Cody but after that talk he had with her he changed what he thought about her.
Xmas says Cody told her Mark was his Ride or Die
Mark – he told everyone that
xmas – He did say you told him you were voting for me, you Matt and Cody the three of you had an alliance..
Xmas – you guys had committed to protect the girls you are with.. so the showmances..
Mark says the reason Cody told him he made that deal with Jason and Alex was to keep them around to take out Jessica.
Mark – it doesn't make sense.
Mark – me and Cody were close I wouldn't say ride or die.
If you plan on buying anything from Amazon. Use this link Amazon home
Doesn't cost you anything and we get a small cut.
Links to the ranking system
Rank your house guests here
For those of you that like Statistics here are some expanded reports.