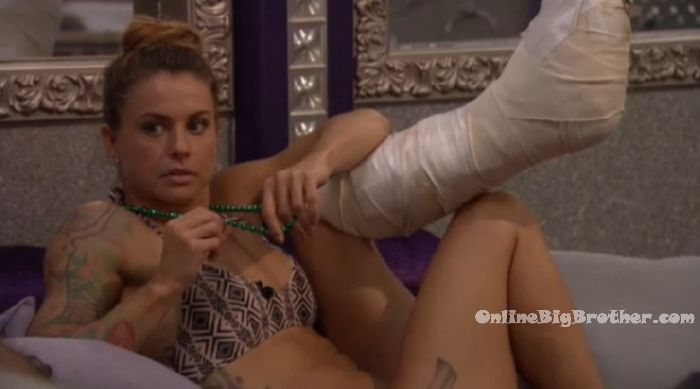 Check out our BB19 Ranking Grid. . rank your houseguests here
1pm Lounge room. Christmas & Mark.
Mark – me and Dom did influence people to keep you. Christmas – thank you. Mark – I made my bed with associating with in the beginning of the game. I'm trying to clear my name right now. Christmas – and luckily he is out of the house and its still getting some backlash but hopefully that fat will be cleared soon. Mark – people come in this game cut throat. Christmas – and they come in wearing a different face. Mark – and that's not me. It not me to be two faced with people. Christmas – me either. But she has played it the way she wanted to play it. She said to me do you see something that people would want to come after me for? I said the only thing that sets off a red flag to any of the house guests is the fact that you ask questions but you don't give information. It causes concern. Mark – lets see this week play out. Christmas – let me know if I can do anything for you. Now its just a big melting pot.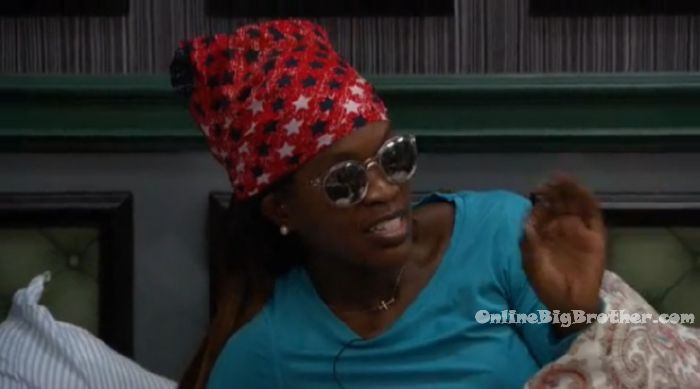 See what they can't show you on TV Try the live feeds for FREE!

1:10pm Bedroom – Dominique & Jessica.
Dom – in the beginning of the game I sat back and observed and I think that's what put a target on my back. Jessica – I think the only way to get through this game is to lie, cheat and back stab. You can clean, you can cook and be loyal.. and all those qualities don't get you far in this game. Dom – absolutely.
Dom – I'm good and people probably think I'm not good … I'm choosing to isolate myself. Its really not isolating myself. If I was at home and had not tv, phone, or something to write with .. or get out and do something that I would typically do. I would be just chilling at the house on my couch. You told me to come here and be myself and that's exactly what I'm doing. For some people they're playing the roll of a character… right? Jessica – yes. 100,000%. Dom – and in playing that roll they don't understand again the same consequences apply. Dom – what I've noticed is that BB and CBS are not going to force you to do anything that you don't what to do. Even in the diary room they want an accurate.. Big Brother blocks the feeds. Dom – I want to look out for the people that are true. I am planning on saying a few things. I hope that god allows me to do that. I know I'm not crazy, I know I'm not crazy. Its okay that people are doing what they're doing. I know I'm right. Time will tell if what I sensed is true.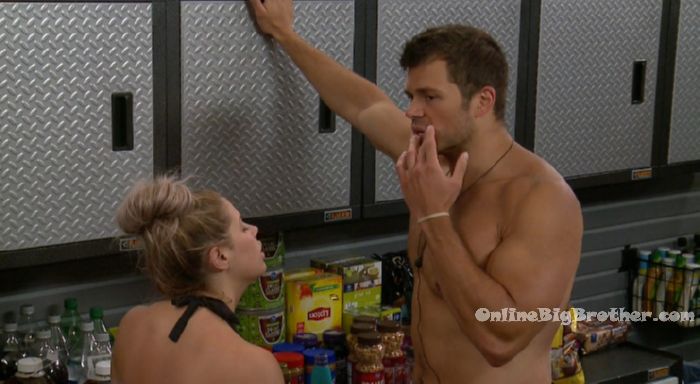 2pm Storage room. Mark and Elena.
Elena – How was your talk with Christmas? Mark – it was good. It was nice to talk. Do you think she would vote for her? Elena – no friggen idea but she told me the same thing that everyone else did so… the things she said to Alex were sketchy. Mark – I'm just trying to make it through this week. Elena – it is noted in my mind.
2:15pm Bathroom – Josh, Christmas and Alex.
Josh – People say things that they don't mean. I know that this house can turn into a monster. I don't have hate for anyone. Christmas – and every day and every week it can be different. Josh – on a game level and a personal level I am never going to trust her. Josh – I would never let a guy attack my sister. Its hard not to say something to her.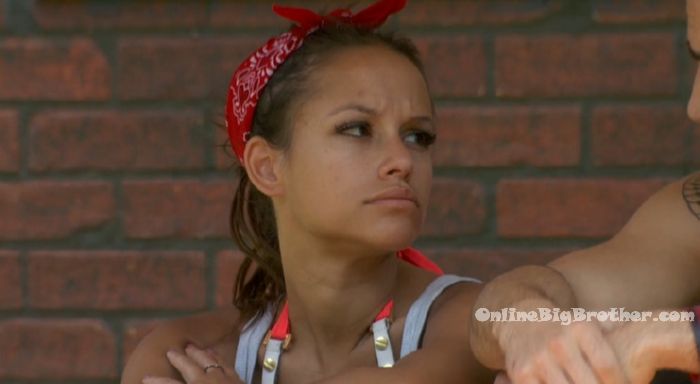 2:15pm Backyard. Paul and Jessica.
Paul – do you feel good? Jessica – yeah. Paul – as far as this week, I think you're okay. I feel for D too which is why I went up to her after and was like look maybe the information you got lead to something but if I hear my name five… Jessica – its going to get worse before it gets better. She's not done. Paul – oh I know. That's obvious. When I went in I heard her (Dom) say her, her, her.. So is she now going to toss it on a girl? Jessica – when her and I were talking she was feeling very betrayed by 3 individuals. Paul – Jesus Christ! Jessica – honestly telling you isn't going to help the situation. Paul – I don't care. I don't want to know. Jessica – and you're going to find out anyways because she is not done. Paul – so more for me? Jessica – yeah. Paul – okay, I'm ready! She had her audience. Just because she has a few days and time to orchestrate her bullsh*t I'm not convinced by it. If she wants to come at me again .. Please DO! Jessica – she thinks that you guys started targeting her because she was the first one to start asking questions about peoples loyalty. Paul – What?! Jessica – she said she kept saying that somethings not right. Paul – she literally made herself the target after she put herself on the block. I had not questions about Dom up until that point. When I heard my name I called her up and asked why are you saying my name? That is the extent of where that comes from. Prior to her being on the block I had no problem with her. I said look homie, the way you behaved after… you put yourself up there. Jessica – well I wonder if the veto will happen today because I'm pretty sure that's when its going to happen. Paul – I know she is going to start pulling people aside and having conversations with people again. Jessica – no, its going to be like a speech. That's my assumption based off our conversation. Paul – if she is going to do that I can dish the same thing back to her again. She made her 3 points and took 5 hours to come up with those points. And I had people that denied those points. Paul – I would use this time to solidify .. and maybe don't be caught chatting it up with her because that would make things look sketch. Jessica – I just feel for her. Paul – yeah so do I and I tried to have a heart to heart with her and she basically told me to f**k off.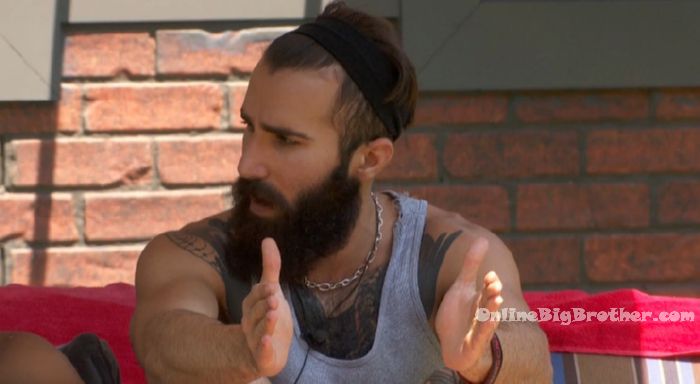 2:35pm Backyard – Paul & Alex.
Paul – which is why I said you need to use the veto. Earlier today, Mark was talking to Dom and you know what I think he was doing? He is telling them exactly that. This is what I thought .. if they are up together or if the veto is not used he is going to heavily campaign against Jessica. Just like he was trying to bat for her even after everything that happened. Paul – don't even tell Jason you're going to put up Mark. Because if you tell him its Mark, he's getting inside Jason's emotional sh*t. You just have to tell him to use it and say I've got a different idea. And you just have to make that move. Alex agrees.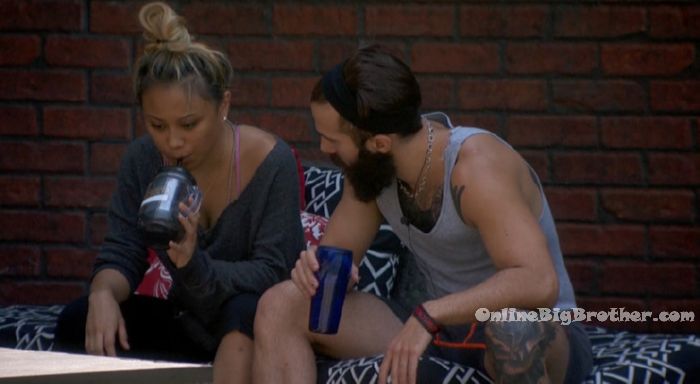 2:40pm HOH room – Mark and Josh.
Mark – I am in a really difficult situation. I love dom but I came in here for a game …so I have to step back. Josh – me too. I have a lot of love for her but on a game level … it just sucks. But on a game level you just have to do what you have to do. Mark – I just keep hearing D throw my name around.
Try the Live Feeds FREE for 7 DAYS!
Click here for your: Big Brother 19 FREE Trial
3:22pm – 3:30pm Lounge room. Mark and Paul.
Paul – I haven't heard your name all week long. Mark – I'm feeling good. Paul – I don't know why after my little call out people feel the need to come and .. your name .. gone! So if you're not on the block. Even better. Mark – I need you to win HOH! Because this is like wild sh*t keeps happening. Paul – I compete next week and if I win we get f**king Ramses out of here. Mark – oh my god yes! Paul – I've got you pal. Mark – he kept linking me and Dom. Paul – who do you think we should go for? Mark – I think we just see how the week goes. Mark – I only feel safe with a few people. You, Elena and Jason. Paul – even Alex now I feel good with her. Mark – she pointed at me and said they're coming after me next. Paul – all I am saying is if she drops a bomb with your name in it… do not react. Do not show emotion. Lets just close that casket and move forward. We have to win HOH. Paul – you're not going up anymore .. Jess is staying.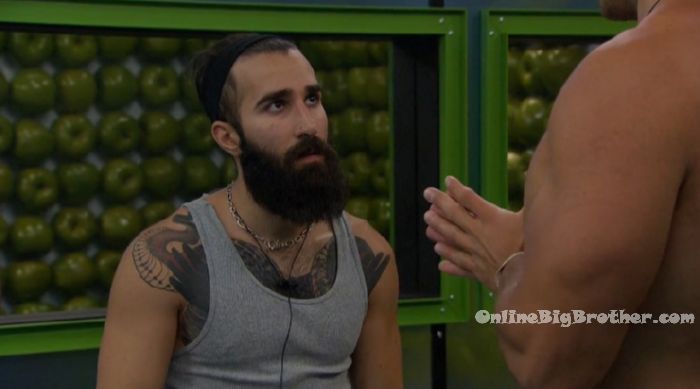 4:15pm Lounge room. Jessica and Dom.
Dom recounts her view on the blow up. I was excted to work with Paul because we shared the same mindset. Oh and He (Paul) disrespected god. And I hope the live viewers took note of that. You never ever disrespect god. I don't play that. Zero tolerance. I don't play disrespect to my father. And because of that he has lost a substantial amount of respect in my book. Its unbelievable that Elena would partner with someone like that.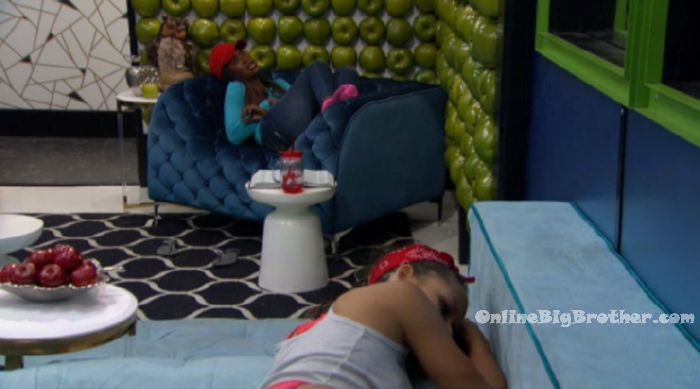 5:15pm – 5:30pm Paul puts on the snake skin romper. Christmas – I wish you could put something over it and he like "shedding my skin". Paul – I'm going to put something over it and be like release… Paul – this is going to be my live outfit with my black mask. Paul – is this not funny as f**k.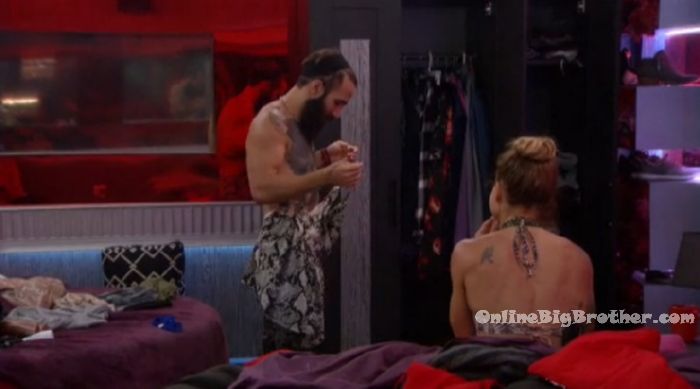 5:25pm HOH room – Alex and Jason.
Alex – for whatever reason Paul is starting to scare me about it. Which is why maybe I am thinking we should use it. We have to count the votes again. He is making me think that they have the votes to keep her here. That's why I was scared. Jason – that's why I was scared. What if its a coo. Maybe he is like Dom you act like we're all exiling you. Why is she so calm. Alex – that's what Paul said but I don't know if he put that in my head. She said that she thinks she is going and asked if I would do a prayer with her on Wednesday. Then I got all paranoid and like think she is going to do this whole backwards thing and be like pray that Alex sees the sinners in the house and the liars for what they really are. I don't want to do that in front of America. Jason – they don't do it. Alex – I think Kevin is the one screwing with us. You know what I wanted to do, put him on the block. Jason – you mean pu-pu -pull Jess off the block and put him? Alex – are you studdering … yes! Alex – pu-pu-pu it sounds like you're scared. Because then if we got everyone to swear and stuff then we know he's not the one. Jason – you can do whatever you want and then tell him later. This is what we do .. So I use the power of Veto .. Mark will sh*t his pants, Raven will sh*t his (yes he said his) pants, and then you say Kevin .. take a seat. He is going to sh*t his pants. Then tell him Kevin – they're the ones saying youre the one flopping the votes so we know you're not the one flopping votes. We put you on the block to prove to them that you're not the one throwing the votes. I'm doing you a solid. I'm sorry I blindsided you but I didn't want them knowing. Alex – yeah but we would have to talk to him first because he is the type to hold a grudge against me. Alex – the only reason why I think we should use it on Mark is because he says he isn't going to vote for her but I am worried if someone does vote to stir the pot .. it would always be in the back of my mind .. was it him. Kevin is in the back of my mind also. Jason – I don't care if its a landslide. And I don't want to put Raven up for the sheer fact that she might go home. Because no one wants to take that shot. Alex – don't tell Paul we're going to use it on Kevin. Jessica joins them. Alex – we're thinking of taking you off the block but we need you to vote out Dom. We're going to put Mark up there. Jess – whatever you want to do I'm down.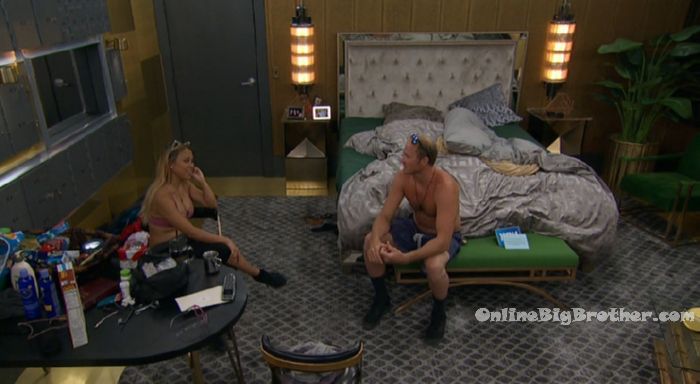 6:35pm – 6:40pm Havenot room. Paul and Jason
Jason – I trust Alex. Paul – okay, cool! Jason – but I don't want to f**king ask. Paul – then just do it. Jason – I want to go around and ask everyone… Dude, I'm going to use the power of veto… Paul – don't, don't do that. Keep it between you and I. Jason – but then I'm going to look like a giant a$$hole Paul – no you're not. Jason – I feel like at this point there is no problem. Paul – there is. He's expecting it. I told him if they do it, don't react. Jason – I really don't want that dude up on the block. Its too easy to get in there and flop their vote. I don't want to do it till the last moment. Jason – maybe I should say – I choose to use my power of veto on Jessica because I want to protect Alex and I really feel like Dom should go home. It takes a monkey off her back. Paul – done! And guess what the monkey is on my back too because did you not see my snake skin outfit? You're going to f**king die. It is the funniest thing ever. I called her (Dom) out for a reason because I didn't want it to look like you two are the only ones making the decision. I'm going to prove that you're a counterfeit piece of sh*t in front of the whole house. Jason – that's bada$$.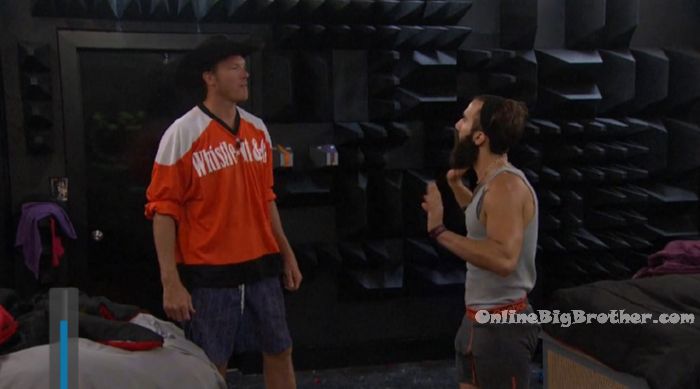 6:50pm – 7pm Jason and Alex in the storage room.
Jason – I feel like we should declare that we want her (Dom) to go home. Alex – but you don't know who I'm going to use it. Jason – well yeah, I'm going to know because we're buddies. Jason – Mark is going to sh*t a holy worm. ELena joins them. She says that Mark doesn't want to go on the block but is fine if he does. He would just feel better about everyone if he didn't. Jason – yeah but if he does he would really know. Alex – we also think we know who was the flip vote. Alex – do you know what we're doing .. kill two birds with one stone. We can out him. I think he was the one who voted against Jillian and Christmas.. and the same thing for this last week with that vote.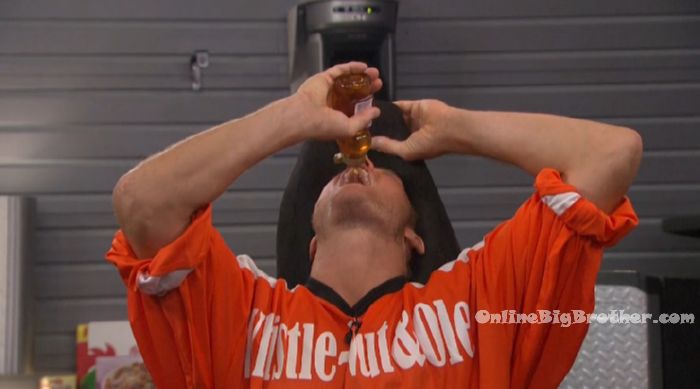 7pm – 7:40pm The house guests are making dinner / starting their pool tournament.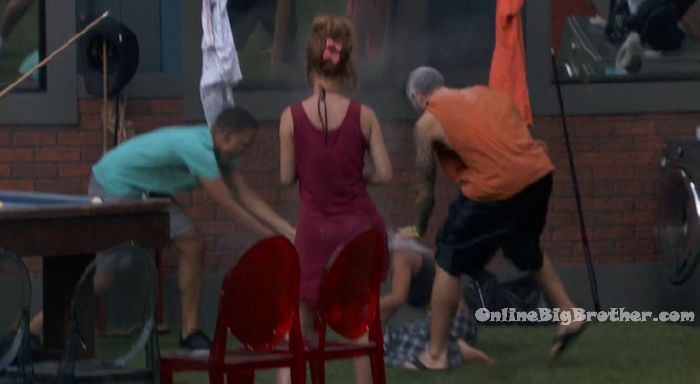 7:45pm – 8pmJessica baby powers Matt and Ramses. They then chase her down and powder her while she is on the ground. The backyard breaks out into a baby powder war.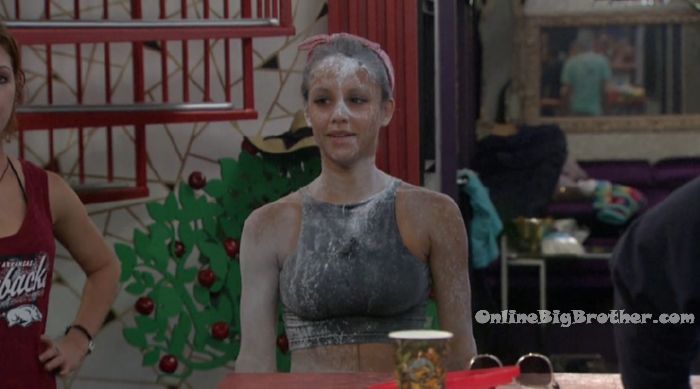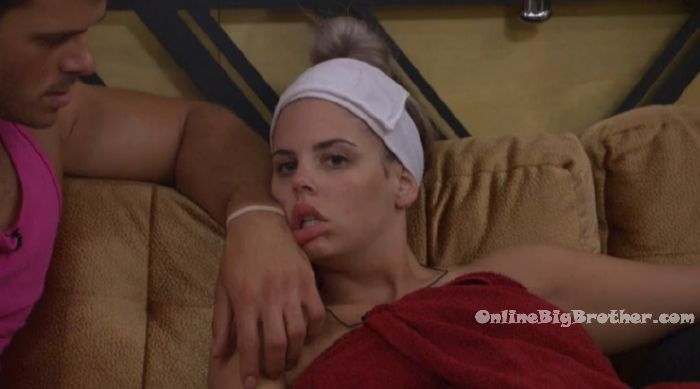 Check out our BB19 Ranking Grid. . rank your houseguests here
http://cbs-allaccess.7eer.net/c/130370/175680/3065

8pm HOH room – Mark & Elena.
Elena – do you think you'll be friends with Cody when you get out of here? Mark – it depends on how he acts because when he was going out his main goal was to f**k me over. I talked to Jess and told her I was going to evict Dom. Elena – are you certain they aren't going to use the POV. Mark – no, but wishful thinking. Mark – why do you think I have something to worry about if they do? Elena – no. Mark – do you think I will be safe if I am up there? Elena – yeah for sure. It doesn't mean that its not scary though. Mark – do you think I can trust Jess? Elena – no. Mark – do you? Elena – no. I'm not trusting her because I choose not to … not because she's untrustworthy. She will need to earn my trust. Mark – assuming everything goes as planned and Dom leaves this week who would be your target? Elena – depends on what happens this week and who f**ks around. Hopefully neither of us. I think there are always safe back up targets like Jess and Ramses and Josh. Mark – why do you think she (Alex) was pushing so hard for me to be a pawn? Elena – because it makes the most sense game-wise. Mark – why? Elena – for your game and for votes. Mark – my game doesn't need help at all. Elena – she is convinced that the two people.. whoever they are who had doubts about you would see this as I'm a team player. Mark – why would people have doubts in me? Elena – someone on the outside. Elena – people will see it as okay he is making a move to get Dom and is not working with Dom. Mark – do you believe that? That, that would work? Elena – it could. I don't know what people are thinking. Elena – the benefits are that you don't have to vote against Dom. Or if there is a rogue vote then people might assume its you. Mark – why would people assume it was me? Elena – because of what people are hearing. Mark – What are they hearing. Elena – that ya'll are working together, that you have an alliance. I see some benefits for you game and some risks. Mark – do the benefits outweigh the risks!? Elena – I don't know.

8:25pm – 9:15pm
Dom reading the bible and talking about her life to the cameras.

Hot Tub – Paul, Jess and Jason
Paul – so what were Cody's plans after he got evicted? Jess – he was going to stay in LA for a week to see if I got evicted. And if I didn't he was going to go back to Iowa. Paul – and then you would go there or he would come here. Jess – yeah he would probably come here.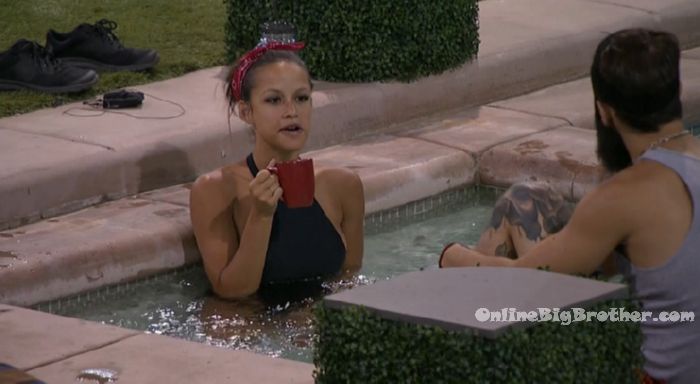 9:40pm HOH room – Paul & Alex.
Paul – A squared, AMF combo. Jason pulled me in the room today and said dude, my gut is telling me to use the veto. Alex – good. Paul – and I was like yeah good, use the veto. I said dude quit bringing it up to Mark because every time you do that he guilt tips you and that's why you're feeling emotions. I was like would you rather piss off Alex, your friend or just explain to someone later. He was like you're right I don't want to make Alex mad. Paul – tell him this don't worry about what I'm going to do, just use the veto please. Just tell him that and quit talking about it because its getting in his head. But also Mark and Dom were talking this morning about sh*t which is why I'm telling you its getting a little sketchy. She (Dom) is pulling people in and having private conversations. What Josh told her is that she doesn't have his vote. Paul – I think its sketchy that she is using "lets pray" to continue to campaign. And if she drops a bomb, I'll be like stop using your prayer sessions to continue talking game to people having private conversations. Paul – If I win HOH next week I am putting up Ramses and Jessica ..no questions asked. I'm really going to try for HOH and take a shot at one of them.

See what they can't show you on TV Try the live feeds for FREE!
9:45pm – 10:30pm
The pool tournament continues.
10:50pm Backyard Hammock. Paul and Elena
11:10am Jessica – Mark was asking me stuff about Cody today and I asked him come eviction night who he is voting for.
12:10am – 1:45am kitchen – Elena, Jason, Alex, Mark and Ramses are hanging out chatting about random things.
2:15am Backyard. Elena, Mark, Jason.
Jason – if Jess goes home, I have no attachment to her. I don't f**king care if she goes home. Mark – stop. We have an agenda. Last night you said Dom needs to go. Mark – she's the problem interest that goes home. Jason – that's the only reason I would use that. Mark – Jess is not going home. Jason – its Dom. Its Dom, Dom, Dom. She's going home. Paul joins them. Paul tells Jason you have the power of veto. You can literally tell people to f**k off.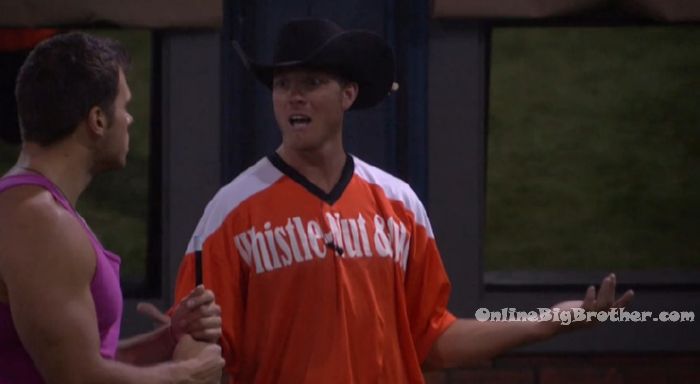 3am Mark and Elena kissing in the backyard. They head over to the hammock.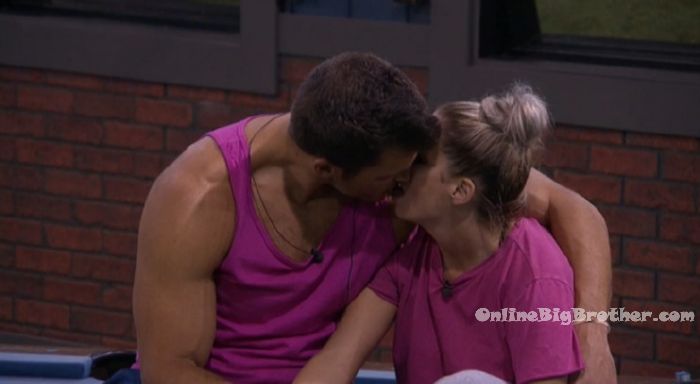 4am All the house guests are sleeping..
Links to the ranking system
Rank your house guests here
For those of you that like Statistics here are some expanded reports.