POV Holder:
Frank
Next POV:
Aug 11 (Saturday)
POV Used
POV Ceremony
Aug 13 (Monday)
HOH Winner:
Frank
Next HOH:
Aug 16 (Thursday)
Original Nominations:
Wil / Joe
Current Nominations:
Have Nots Cod fish/Candy Canes
Joe, Shane, Danielle, Britney
Last Evicted Houseguest
Janelle
12:25am In the arcade room, Britney and Dan are talking about Boogie and Frank. They discuss whether or not Boogie or Frank will make a move on them and which side Ian would choose. Dan says that he is concerned by how much Ian was celebrating when Frank won HOH. Britney agrees, says that she thinks Ian is solid because Ian has been sharing information with them. They talk about if they should have Britney telling Ian he is number two to Britney behind Shane, to make Ian feel more included. Britney says that she wants to be on the same page in case there is a double eviction. Britney says Ian made a good point when he told them there would not be a double eviction this early because they still have to draw for veto. Britney is annoyed that Ian isn't thinking about his long-term game. She says that he can't win the game if he keeps throwing things and doesn't win competitions. Britney says that Ian admitted to her that he threw the burglar competition. Dan says don't you think Ian will get 2 votes just for being Ian though? Britney agrees. Britney says that she thinks Ian will be threat in the final competitions because of his memory. Dan says we have to make Ian think he is number three in our group. Dan asks how concerned Britney is about tomorrow's meeting? Britney says not very. Britney heads up to the HOH room to find out what they're talking about.
Watch it ALL on FlashBack: FREE SuperPass Trial!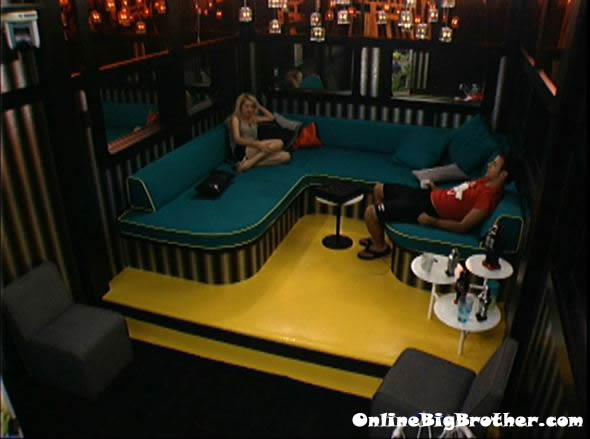 Britney comes back and tells Dan that she thinks they're talking game up there. Britney tells Dan that Wil already told her he and Ashley are together and that they are up in HoH now. Britney says that Frank told her before it wouldn't matter what Wil said. Meanwhile Frank and Ian are talking in the HOH room. Frank tells Ian that Wil and Ashley came up to do their talk. Ian says so they want to work with me, you, and Boogie. Frank asks Ian what he thinks. Ian tells Frank that they can't trust Wil or Joes word so one needs to go. Franks tells Ian, you say that you can't trust Wil or Joe but everyone else has lied to him in this game so they can't trust anybody. Ian agrees. Frank says that even Dan and Danielle tried to get him out. Frank says that the others have been trying to get me out. Ian asks like Joe and Wil. Frank says no, they weren't the ones going for me last week. Ian says it's going to be a blood bath. Frank says it will be anyways. Frank says that he probably won't because it's easier not to. Ian says that if he does it will open a big can of worms. Frank says that he has been under fire for 4 weeks. Ian agrees. Frank tells Ian that if they get rid of Dan, he thinks they can still work with Britney and Shane. Frank says that the only person who will be pissed is Danielle. Frank says that maybe they should go to Shane and Britney beforehand and tell them. Ian says that he doesn't think Dan is as big a threat. Frank says maybe not to you Ian, but to me he is a big threat. Frank adds that if Dan takes me out, you will be going up against Boogie.
Sign-up for the Big Brother Live Feeds and get the MOBILE Feeds for FREE!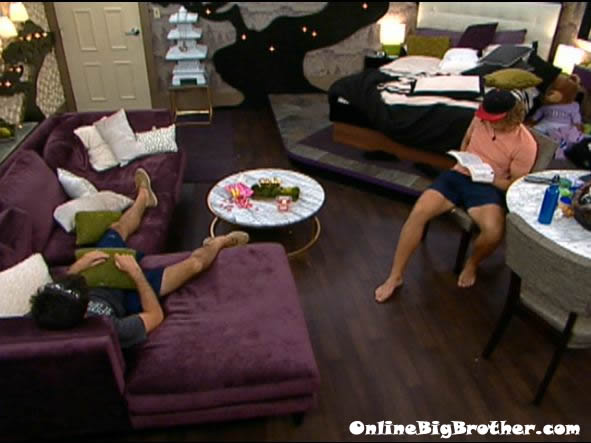 12:50am
Shane and Britney are in the backyard talking. Britney says that Danielle will go with Dan over Shane. Shane agrees. Shane says that Danielle has had Dan since day one. Shane says that he has had Britney since day one. Shane says that it's going to be a bumpy ride. Britney says that they just need to get to the point where they have numbers and they will be good. Shane agrees. Britney tells Shane that it would be hard to get the votes if Shane goes up. Shane says Ian told him nominations would not change. Britney says yeah but what if there's something going on they're not telling Ian?
1:10am Frank and Ian discuss whether or not to take out Dan. Ian thinks it is too early and that he thought Joe would be gone this week. Frank says that he thinks Dan won't win HOH, it's his plan to throw everyone till he needs to. Frank worries about Britney or Danielle winning, then Dan will get in their ear to take out Boogie and Frank. Frank says that he thinks those four trust Ian more than him. Ian says that Joe will taint the jury. Frank asks how? Frank says that Joe will only do it if we scumbag him. He says that no one will listen to Joe so how can he taint it? Frank says that Wil has more power to do it. Ian agrees. Ian asks Frank which way he is leaning? Frank says he is leaning towards not using it. Ian says a blood bath is coming, the line will be drawn. Frank says from who? Ian says everybody. Frank says that he will roll with Ian and Boogie to the end. Ian says that he trust Dan more than Wil and Joe. Frank says yeah but Dan lied to me for two weeks. Ian says but Wils word is dirt. Frank says Dan's word is dirt too. Ian tells Frank not rock the boat. Ian heads downstairs.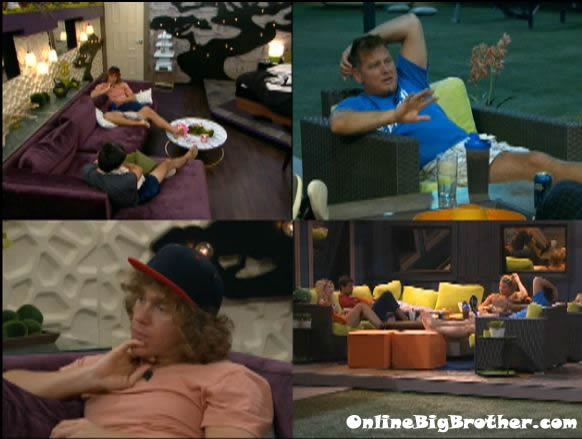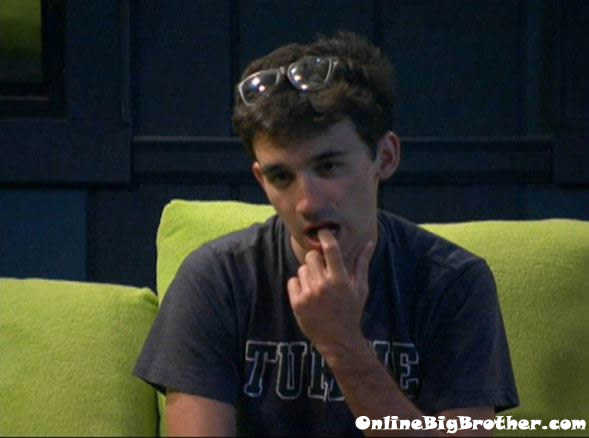 1:40am – 2am Out in the backyard Ian tells Britney and Danielle the conversation he had with Frank. Ian tells them that he is 95 percent sure the nominations are staying the same. Ian tells them Frank was thinking of taking Joe down and putting up Dan. Ian says that Frank is scared of Dan. Danielle asks why. Ian says because Dan tried to get him out before the reset. Danielle asks what Frank said about her. Ian says nothing just that its more likely he can beat her in competitions. Britney asks about her? Ian says that Frank isn't as afraid of her as Dan. Britney asks what the deal with Will and him are. Ian says just to keep Frank, Ian and Boogie safe. Ian says that he doesn't think Frank will use the Veto. Britney says if he doesn't backdoor Dan they don't have the votes. Ian says he thinks they do. Britney says that Jenn or Ashley won't vote against Wil. She says that the only vote they could try for is Joe and they can't count on his vote. Ian says that Joe is stupid and a stool pigeon and will buy whatever sh*t they tell him. They talk about keeping this conversation between the three of them. Danielle says she won't tell Dan anything. Ian says we need to calm down and says that Frank is insecure. Ian says that he told Frank not to rock the boat. Ian says that out of the Quack Pack, he is the safest, then Danielle, then Britney, then Shane and that Dan is the least safe. Ian says that Danielle isn't even on the radar. Frank, Joe and Wil join them.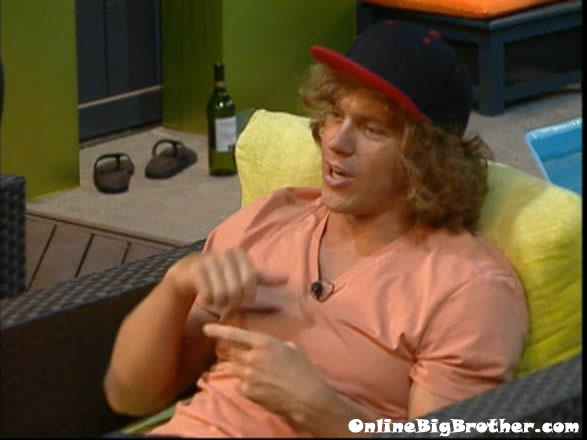 2am – 3:55am Frank, Joe, Britney, Danielle, Wil and Ian are out in the backyard talking about random stuff. At 3am they all head to bed. In the have not room Britney and Danielle are whispering about how awkward it is for Danielle to be around Shane now. Danielle says that she feels like she wants to cry and that she can't even talk to Shane any more. Britney tells Danielle not to worry about it and that once they get out of the house they can see if anything is there. Danielle and Britney go to sleep.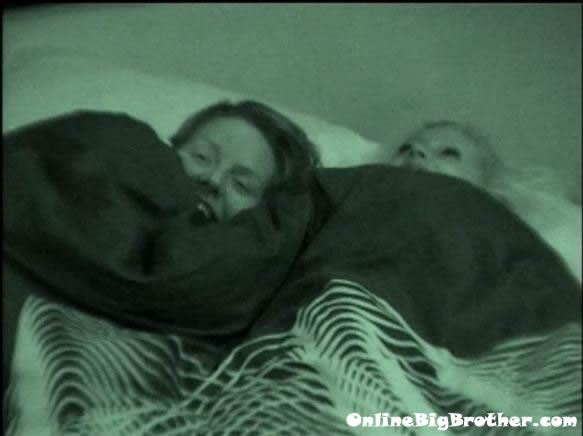 Watch what happens, AS it happens: Big Brother 14 Live Feeds!
FREE for 3 Days, then ONLY $14.99 per month!

6am All the house guests are still sleeping..
6:25am – 9:25am Ashley wakes up and slowly heads to the bathroom.(Her back is really bothering her.) She takes a shower and then goes to the diary room. When she comes out she heads back to bed. Joe and Dan use the washroom and go back to bed. Frank wakes up and comes out of the HOH room to see if anyone is awake and the goes back to bed. All the house guests are still sleeping.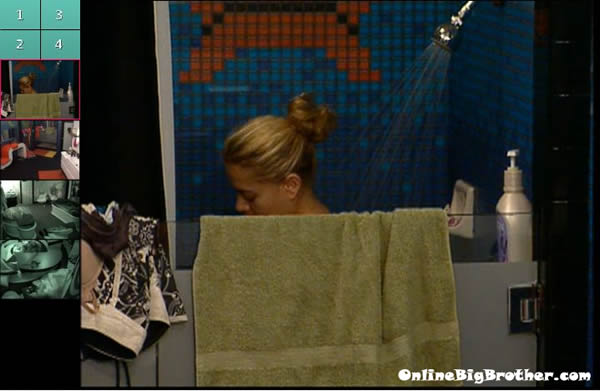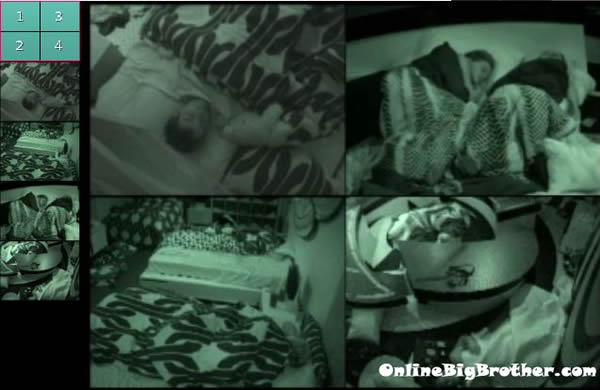 Share it YO!!
Tweet