POV Holder:
Frank
Next POV:
Aug 11 (Saturday)
POV Used
POV Ceremony
Aug 13 (Monday)
HOH Winner:
Frank
Next HOH:
Aug 16 (Thursday)
Original Nominations:
Wil / Joe
Current Nominations:
Have Nots Cod fish/Candy Canes
Joe, Shane, Danielle, Britney
Last Evicted Houseguest
Janelle
8:28pm HOH Cam 1-2 Watch with FlashBack FREE TRIAL!
Boogie telling them that the banana suit has been hidden in the room for 2 weeks. Dan laughs says that everyone was freaking out about it thinking he's America's Player. Boogie tells them that was his plan.
8:34pm cam 1-4 Jenn and Ashley
Ashley been trying to gather information from Frank she recently was up stairs in the HOH room talking to him while Dan was listening to music. Unfortunately for Ashley she wasn't able to get anything out of him.
Jenn saw Boogie and Frank talking to Shane, they have been friendly with him lately. It makes perfect sense for them to backdoor Shane he's a Huge threat. Jenn can understand that Frank doesn't want to make targets but he's got to make a move. Ashley thinks that Frank is going to do the right thing and put Shane up. She can see it in Frank's face that he has to do something he doesn't want to and she's noticed that Shane is worried.
Ashley: Shane is the biggest threat for Frank.. We need to get to the end without Boogie and Frank"
Ashley: "If me you and Wil make it to the end it'll be great"
They both laugh (At least they are realistic about T!TS)
Jenn: 'We better get to work on these streets"
8:46 Cam 3-4 T!ts meeting
Ashley tells Wil about her failed attempt to get information out of Frank. She is getting the feeling that Frank might be backdooring Shane.
Ashley points out that Frank is playing the game he's going to make the move that benefits his game the most. Wil chimes in about his conversation with Britney where he told her he would never waste a HOH on Joe he would make a big move.
Ashley warns them to be careful what you say to brit because she's fighting for shane.
TITS agree if Shane goes up he's going home and the general feeling of the group is Wil is safe this week.
8:56pm HOH Cam 3-4 Boogie, Britney and Frank
Boogie would feel better getting rid of Wil.
Frank jokes says that backdooring someone is the best option.
Britney: "You say that every time"
Frank laughs says he can tell on their faces they all don't trust him..
Frank: ".. I agree getting rid of Wil is the best plan"
Boogie: Joe isn't going to rally a crew whereas Wil can rustle up some stranglers"
Britney: 'you've talked to Jenn?"
Frank "I think she's on board to get out JOe"
Britney starts to bring up that Wil doesn't think that Frank will "Waste his HOH" on Joe
Boogie knows last week they were all thinking Joe was going to be poison in the jury house but now he's thinking that Wil is more dangerous.
Boogie: "joe will be a dick and polarize people but Wil is going to make people think the way he does"
Boogie says that Jenn is doing the classic 2nd 3rd place strategy flying low under the radar.
9:20pm Cam 3-4 Britney and Ian
Ian thinks they should get rid of the player that has a chance to win HOH and put them up. That person is Wil.
Britney: 'What if you get HOH"
Ian: "Whoever stay this week and umm….. we can talk.. Ashley probably "
Britney: "Would anything change after veto"
Ian: "Whichever one of these 2 stays will be my target" (Wil or Joe)
Ian: "We can talk later.. Chief concern is to get through the next 2 week" (Wants to get to jury for the $$)
Britney: "They are in a really good spot.. they have you.. they have a 6 deal with us" (Boogie and Frank)
Britney: 'Nobody is going to want to put them up.. nobody"
Ian: 'Thats what Scares me.. Why"
Britney: "They have their butts covered"
Ian thinks that Britney is in a better position than Frank and Boogie.
ian says the best thing for them would be for Dan to win the next HOH. Brintey agrees.
Ian: "Who the fuck will put you or me up beside Joe"
britney: 'I think it'll have a double eviction on thursday"
Ian thinks that they'll have a quick week and someone will go home by Sunday.. Britney: 'ohh ya but that means they will cut the feeds….. (Feeds Cut.. )
9:50pm cam 1-2 Wil and Ashley Backyard Wil's eating..
Wil says it would be a good idea for them to talk to frank tonight and tell them regardless of what happens tomorrow at the Power of Veto contest they are still not targeting Boogie and Wil.
Wil: "I get the feeling they are all working together " (Shane, Britney , Dan and Danielle)
Ashley: "I really hope they are not working together.."
Wil: "I definitely think they are"
Ashley: "No… Shane, Britney, Dan, Danielle and Boogie's team"
Wil: "Ohh" "
10:02pm Cam 1-2 Boogie joins them
Wil asks him if it would do him any good if he spoke to frank
Boogie says that it looks like everyone is taking the time off because they all think Frank isn't using the POV. Boogie tells him he seldom talks game to Frank since the POV but Frank is open and Wil can go up and talk to him any time. Boogie : "Obviously there are people thinking Frank has something bigger planned with the POV" Boogie tells him that after the ceremony tomorrow Wil should come talk to him and Frank they have 3 days to figure it out. Wil says all he can offer them is 2 votes but they are solid votes. He apologies for bringing up game.
Boogie asks AShley what contributed to her feeling so good today.
AShley: "I think I just got better"
Boogie suggests that she talk to Shane he might have some exercises that can help her.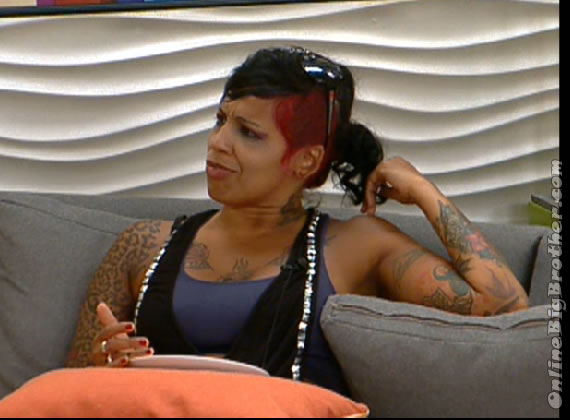 10:17pm Cam 3-4 Dan was reading the Bible Jenn comes up and they start chatting about Satanism . Jenn brings up Joe netherworld "america's Favorite Satanists"
Jenn talks about him having a safe haven for young gay men who have been thrown out on the street. Jenn talks about hanging out at his house, "Lots of weird sh!t lots of strange sh!t"
He's got his boy toys around.. But he does help a lot of people out"
Dan asks if Satanism and Wiccanism is the same thing. Jenn says they are different
Dan mentions that him being Catholic he believes in some things out there (He doesn't say But I think he's meaning demons). He Asks her if she's seen the exorcist.. he hasn't but he has the general idea. Jenn has seen it, She believes that stuff like that can happen.
Dan: "In church they have people that are dedicated to remove that kind of stuff.."
Jenn thinks a lot of people have a bad drug trip and they never come back.
10:47pm Pool Cam 1-2 Joe and Danielle
Danielle is worried that the live feeders will call her fat. Joe tells her if he was a women of her caliber and he was on a show like this he would be worried about stalkers.. "Dudes coming up to your door" (He did say "Women of your caliber" and do Stalkers stalk stalkers?)
11:15pm Living Room Boogie, dan and Frank
Boogie says that Wil asked him about the veto. boogie explained to Wil that as far as he knows the Veto isn't being used.
Picture Collection of Britney in the hot tub
11:34pm Cam 3-4 Jenn, Wil, Ashley and Britney Hot tub
They are talking about the Have Nots competition. Jenn thinks the competition was slanted against the small girls
They are all talking about how a lady (Plus Wil) need to win the HOH this week. Britney thought she had the last HOH won. Britney: "I'm getting ready for another endurance"
They start talking about Janelle and how everyone needs to go to her makeup website.
Wil: "When she has no makeup on.. oh my god model.. One of the most beautiful person"
Wil brings up something that Frank said about Janelle fans thinking twice about her now that she's out of the house.
Wil: "He is so jealous of her"
Jenn equates Janelle's performance this season to that of a bands. She says it's like when you have a favorite band and they come out with a shitty album you are still a fan.
11:53pm Britney leaves
TITS Meeting
They plan to keep working on Britney and pull her into their group. Ashley says if they get rid of Dan they get Danielle and if Shane goes they have Britney.
Jenn: "I'm not scared to make a big move… We got to start thinking about winning that HOH" Wil: "Getting rid of Dan is going to be hard.. we'll need to backdoor him"
Ashley: 'We had no idea they were going to vote out Janelle last week.. they could be planning to backdoor Dan this week"
Wil: "I cannot believe it they have an opportunity to take out one of their biggest threats.. if they don't do it"
Ashley is positive that Shane or Dan are going up she senses it when she talks to Frank. Jenn: "If they don't put them up it's either complete foolishness on their part or something is fucking going on"
T!TS agree that Britney, Dan, Shane and Danielle are not working with Boog's team. (LOL tits is in trouble they are pretty clueless.. TPH4L)
12:05AM Cam 1-2 Danielle and Britney arm wrestle.. Britney uses both arms and Danielle still beats her.
12:08am HOH Frank, Wil and Ashley
Wil campaigns to Frank stating 3 reason why he should be kept in the game.
A) Week one Wil and Ashley voted to keep Frank
B) Ashley and Wil voted out someone that wasn't targeting them to keep Frank in the game
C) If a big move was made tomorrow they have Wil and Ashley's vote Guaranteed the following week
12:09AM Arcade Room cam 1-2 Britney and Dan
Britney says she doesn't think Frank will use the POwer of Veto
Dan is 99.5% confident they are not getting backdoored.
Britney: "If he doesn't use it we could make a deal with Wil that keeps him safe the following week "
Dan points out if they vote to keep Wil and Boogie/Frank wants him gone they will be pissed.
Britney: "I know but really how long is this thing going to last for" (Silent 6 lifespan)
Dan: "Exactly"
Dan thinks they need to make Joe looks as annoying as possible they are not going to convince people based on strategy.
Britney brings up that Ian told her he wants to get rid of Boogie first.
Dan: "Ian, He's in the best spot in the game" He completely disagrees they want Frank gone first.
Share it YO!!
Tweet