POV Holder:
Frank
Next POV:
Aug 11 (Saturday)
POV Used
POV Ceremony
Aug 13 (Monday)
HOH Winner:
Frank
Next HOH:
Aug 16 (Thursday)
Original Nominations:
Wil / Joe
Current Nominations:
Have Nots Cod fish/Candy Canes
Joe, Shane, Danielle, Britney
Last Evicted Houseguest
Janelle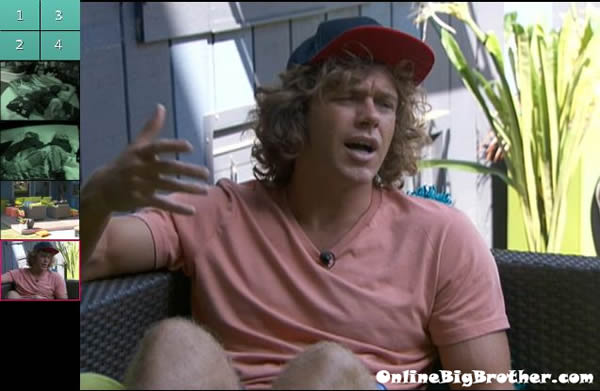 9:30am Frank wakes up and heads into the storage room to change his battery. Boogie wakes up and they both head out into the backyard. Boogie asks if everything is cool? Frank says that he wants to revisit the Dan situation. Boogie laughs. Frank says that we have the votes and we can get him out. Boogie says that it is just too early, and he isn't coming after us. Frank says but when he does he will come after me, not you. Boogie comments on how he spoke with Dan yesterday and that Dan is hinting at wanting to get out Shane and Britney. I like how he is so close to Danielle too. Boogie says that Dan wanted to take out Shane first. I am thinking we should take out Britney first.
Watch it ALL on FlashBack: Pick the Day, Time and Camera View!
9:40am – 10:20am
Frank thinks that if he goes up on the block, then Dan will make it look like he wanted to keep me but have me voted out. Boogie says that it is just such a boat rock, and if we did that we leave people in here that can band together. Boogie says that he really doesn't think Dan win nominate us. Frank says yeah he may not nominate us but if someone else does he will get them to nominate us. Boogie says again that Dan wonders if it is too early to go after Shane. Frank says see that seems like he is lying just to cement his chances to not be nominated today. Boogie says that Wils can come after us too and he has 3 votes in the bank, and all he needs is 4 to get us out. Frank says he had a talk with Ian and he said he would vote Dan out. Boogie says don't you think that was a little risky having that talk with the magic 8 ball? Frank says yeah a little but he said he will vote with us since we have been straight with him. Boogie says it's not a good idea to tell Ian stuff like that because if he goes and tells Britney, and fu*k everything up! Boogie says that if we did go after Dan and they flip two people its game over. And that would be too big of a hole to climb out of. Boogie says if today we just keep it the same then it will earn Britney's trust. Frank says I just hate that I have to earn their trust when they have done jack sh*t. Shane joins them and Boogie & Frank change the subject. Shane says that he had a dream about Kara last night where he was stuck in the playmate house with her room mates.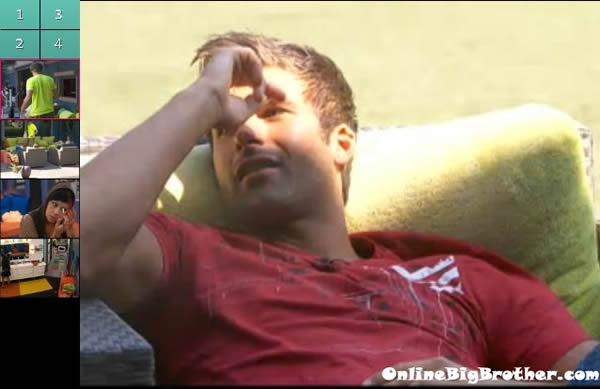 10:35am Frank and Shane are in the backyard talking alone. Frank comments on he is a little concerned about the people that have lied to him in the past. Shane says that he thinks for Danielle and him, their coaches influenced them on the decision they made earlier in the game. Shane says that he is on board with the alliance until the final 6 and then he says that he is going to target Dan before he comes after Frank or Boogie. Shane says that he is going to try and get Danielle as far as he can in the game. Frank tells Shane that he has nothing to worry about that he trusts him. Shane says that he will do 100% whatever Frank wants and he will vote how he wants. He says that Britney and Danielle will do the same too.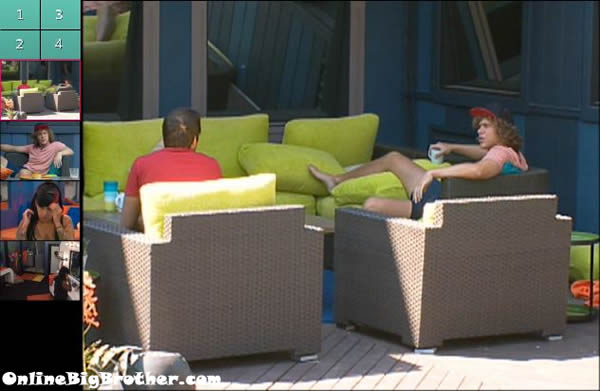 Big Brother Live Feeds FREE 3 Day TRIAL: Try them and see what's happening right now!
10:50am – 11:05am Frank and Dan are talking in the backyard. Frank tells Wil and Ashley went to talk to me last night. Frank tells Dan that Wil tossed Dan's name under the bus last night. Frank says that Wil wants me to backdoor you. Frank says that they told him it would be a big game move to backdoor someone. He tells Dan he isn't about big moves. Dan asks if they said who they wanted to back doored. Frank says yeah, you specifically. Frank says at first they would not say a name but they eventually did. Boogie joins them outside and says Wil hinted to him as well that he wanted Dan gone. Frank says that Wil has a pretty good suspicion that we are all involved. Frank says that Janelle told him that he can trust Wil. Boogie joins them. Boogie talks about how Wil and Ashley told him that they are together. Boogie says well cool, even bigger reason to break you up. Dan asks Frank so they mouthed my name? Frank says yeah, they said he has won competition in his past season, and well it wasn't hard to figure out they were talking about you. They talk about Shane and how he knows nothing about the game and is always saying oh yeah that's right. Dan brings up how Shane threw Willie under the bus too.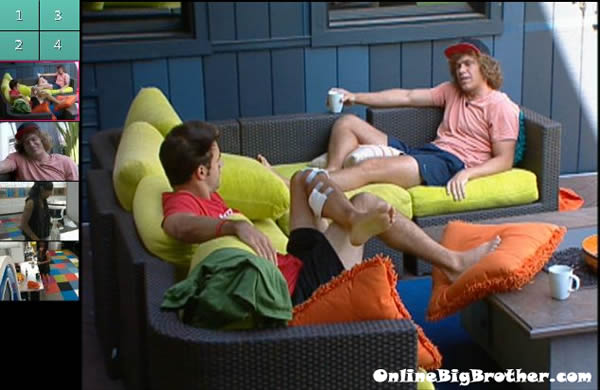 11:20am Big Brother switches the live feeds to TRIVIA.. Mostly likely the Power of Veto Ceremony is happening right now.
Share it YO!!
Tweet