POV Holder:
Next POV:
Sept 8 (Saturday)
POV Used
POV Ceremony
Sept 10 (Monday)
HOH Winner:
Ian
Next HOH:
Sept 13 (Thursday)
Original Nominations:
Current Nominations:
Last Evicted Houseguest
Frank And Joe
Superpass Big Brother 14 Live Feeds: 3 Day FREE Trial!

1:40pm When the feeds come back, we find out that Ian opened Pandora's Box and was locked in it to get a video message from Rachel Reilly, while the others got video messages from their families. Ian says f**k you Rachel. Ian says that Rachel was talking about Brendon. I think the video message was in Ian's families living room. The others talk about being able to see their families. Danielle says that someone said to her they are so glad to see she is doing well at this game. The tv in the living room says "Nominations Today".
Jenn and Ian are out in the backyard she is talking to him about nominations and asks if there is some type of agreement that they can come to. Jenn says you have already nominated me so I hope its not me. Ian says that the nominations with be arbitrary, and that it will really come down to the POV. The way I figure it the HOH is the only one with immunity. Ian says that he is so glad that they (Dan, Danielle, Jenn and Shane) all got video messages. Ian says that he was happy that they all got a message because he has gotten the letters and stuff. Ian and Jenn hug.
Big Brother Live Feeds FREE 3 Day TRIAL: Try them and see what's happening right now!
2pm Dan and Ian talk in the backyard. Dan talks about how he lost it and started crying. Ian says that he is glad they got video messages. He says that he got 3 letters so that is food for the soul as far as he is concerned. Dan says that they probably taped one with his family too. Ian says yeah they were in his living room. Dan says that he feels emotionally drained. He says that Chelsea started to choke up and he could tell that she was trying to hold it together. Dan says thank you for doing that, that has never been done before. Dan and Ian hug.
Dan leaves and Shane comes out. Shane tells Ian that he knows it is random and that all we need to do is win the veto. Shane says so Jenn is going up? Ian says yes. Shane says okay as long as she goes up, it doesn't matter who else goes up. Shane heads inside and says final four. Ian says quack, quack. Danielle comes out and Ian tells her that you know the one that is going up and that it is more likely that it will be one of the guys going up with her. Ian says that it is random and that we just have to win the veto and keep the noms the same. Ian says that putting up one of them is going to be hard and that he loves them all. Danielle tells him that it would be better if you put up the person that would be more forgiving (Shane) and I think you know who I am talking about. Ian says yeah I know who you are talking about. Danielle and Ian talk about how the Rachel Reilly video message was just a recording and not live just like their messages were recorded.
2:20pm Dan heads back out into the backyard and tells Ian again thank you for that. They talk about how that has never happened before, no video messages have ever been shown in the house. Ian talks about how Rachel was wearing a sequin dress and that it showed photos of Brendon. Dan asks where do you think the video was shot? Ian says that the video where Rachel was shot was fashioned to look like his families living room. He says that he isn't sure where it was shot though. Dan asks if Danielle is nervous about going up on the block. Ian says one of them are going up and no one needs to sweat until after that veto tomorrow.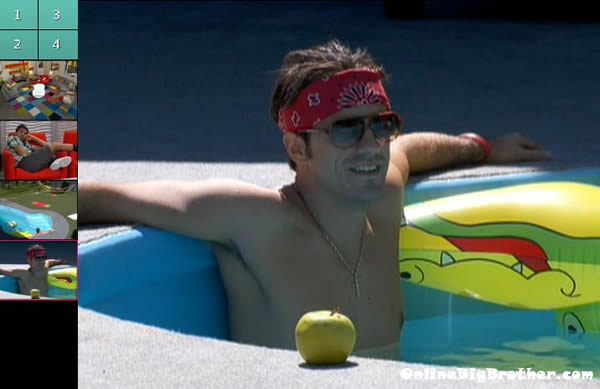 2:30pm Ian and Dan continue to talk in the backyard. Ian says that before the season started he heard about the coaches twist and says that he thought it was going to be Boogie, Dan, Janelle, and Danielle Reyes. Dan says that it would be too tough to have 3 players from the same Season. Ian says that he puts Dan, Dr. Will and Danielle Reyes in the same category for best BB players. Dan says well thank you. Ian says that he saw a tweet between Matt Hoffman and Ronnie … Big Brother cuts the feeds.
2:40pm The live feeds are still showing the we will be right back screen..
2:46pm The live feeds come back for a few seconds, Dan is talking to Jenn by the pool. Big Brother cuts the feeds again.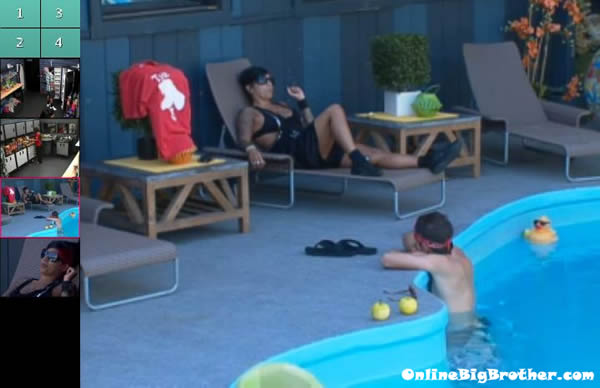 2:55pm – 3:10pm Jenn and Dan are talking about an ex-girlfriend that Jenn was in a relationship with. Jenn says that the relationship with the girl came down to the girl thinking that Jenn loved her more than she loved Jenn. Meanwhile inside Shane finds out that BB re-stocked their storage room with food. Danielle joins them and says that she is still in shock that even happened. Jenn says that when she heard her (Rachel Reilly's) voice it hurt her ears. Daneille comments that Chelsea is really supportive of him, like 110%. Danielle says that she was glad to hear from her mom. Danielle says that the girl in the video was the one that she talks about that she was in a sorority with. Ian, Dan, Danielle, Jenn talk about how this season must be really good for the viewers. Ian says this season is good s**t, romance, fights, everything.
Simon and I work 24/7 all season long to bring you all the live feed updates and spoilers, please consider donating. Any amount is greatly appreciated, your donations go directly to paying the server and bandwidth fees needed to run this site. Donation Link
Share it YO!!
Tweet