POV Holder:
Next POV:
Sept 8 (Saturday)
POV Used
POV Ceremony
Sept 10 (Monday)
HOH Winner:
Ian
Next HOH:
Sept 13 (Thursday)
Original Nominations:
Current Nominations:
Last Evicted Houseguest
Frank And Joe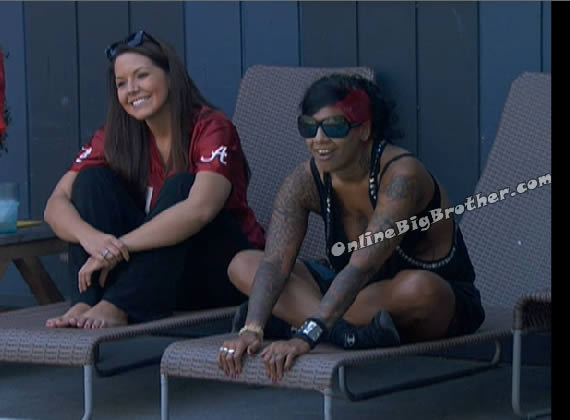 3:26pm Cam 1-4 Pool area everyone
Chatting about Britney's face when she see Frank walking into the Jury house. Ian laughs wants to see her face when they watch the DVD and Britney finds out Frank leaving was by Ian's hands.
Danielle says that now everyone in the jury house will now be eating well because Joe will cook for them. Dan says the second Joe found out he was evicted something snapped and he went back to normal Joe. Dan explains that some seasons have players like that who are completely different on the inside and outside. Jenn says Joe's exit was very classy. Jenn: "Frank's exit not too good.. not cool" everyone more or less agrees that Frank was a douche when he left. Danielle mentions that JoJo's exit was the second worst.
Ian says that Frank and him will be cool after the show but inside the show Frank hates Ian's Guts. Ian is worried about Boogie not liking him after the show. Shane doubts it Boogie has a lot more going on in his life than Big Brother.
3:34pm Cam 1-2 Kitchen Dab and Ian
(Lately Big Brother has been saying random trivia over the speakers, Like the largest weather vane is in spain.. etc) Dan tells Ian that during his season Big Brother did the same thing, everyone in his season thought it was a for a competition. Dan tells him to make sure the other players think it's for a competition.
Dan: "They are the exact same ones.. theres a turtle in the house theres a weather vane in the house… I'm going to plant that seed"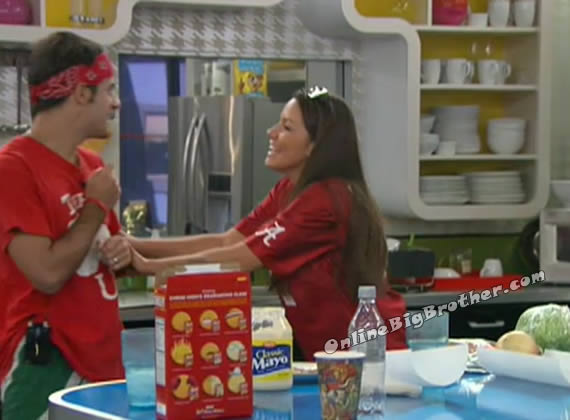 3:38pm Cam 1-2 Dan and Danielle
Danielle: "I think you are fine.."
Dane: "What did he say"
Danielle explains that Ian told her Shane and Jenn are going up because he thinks he has the votes to Evict Jenn. Dan asks her if the Nominations are Shane and Jenn and Danielle wins Veto what will she do. Danielle says keep them the same otherwise Dan goes up.
Danielle: "Why would I use the POV why would I want you on the block"
Dan: "No i'm saying after that.. What do you want to do"
Danielle: "Ohh I don't know.. "
Dan: "I'm just thinking.. you know one of us has to win this veto"
Danielle: "What would you do if you won Veto"
Dan: "If it was Shane and Jenn I would leave them.. and we would have a coming to jesus meeting .. Do we want to win this thing or do you want to fight for it"
Danielle says that Jenn has admitted that she has anger issues. Dan says he really noticed it today when Danielle was talking to her.
Dan wonders why Jenn is so mad. Danielle says that she thinks Danielle has a deal with Shane.
Danielle complains that she is taking all the heat right now and Dan is fine. Dan laughs tells her she needs to take some heat in this game she doesn't ever. Danielle gets pissed.. Dan tells her he's joking. They wrestle a bit.
4:08pm Cam 1-2 Shane cleaning out the fridge
4:13pm Cam 3-4 Danielle Ian in the backyard
Ian is rocking the Hammock Danielle is in the shade. They start to Quack.. Ian says he loves the quack pack it's so cute. Danielle likes the quacking she just does't like to say "Quack "Pack" she would rather was QP.
Danielle brings up that Frank tried to flirt with her for her vote he said that she* was his BB crush.
Ian says that Frank eviction was Total garbage on live TV. Danielle agrees says Frank left like a douche and Joe left with all class.
4:22pm Cam 3-4 Ian and Dan
Ian asks Dan if Jenn and Danielle have a deal. Dan says no he thinks Jenn is "Super skeptical" about Danielle. Ian just sees that they are buddy buddy and doesn't want Danielle to win the Power of Veto and pull Jenn off making him put Dan up. Dan is very confident that Danielle isn't going to do that.
4:29pm Cam 1-2 Dan and Shane Kitchen
(LOL HAHAHA) Dan wonders if the trivia production is playing could be for a the POV competition. They start going over all the trivia…
4:34pm Ian gets called into the Diary room.
Nominations will happen soon.
(I'm pretty sure it's going to be Shane and Jenn)
4:53pm Nominations haven't happened yet.. Chit chat around the house.
5:09pm Nominations have begun trivia on all the feeds.
5:54pm Trivia


Vote Dawg for a better tomorrow
Share it YO!!
Tweet