| | | | |
| --- | --- | --- | --- |
| POV: | Faysal | Next POV: | ? |
| POV Used | ? | POV Ceremony | July 2nd |
| HOH: | Tyler | Next HOH: | July 5th |
| Noms: | Sam, Steve | Have Nots | ??? |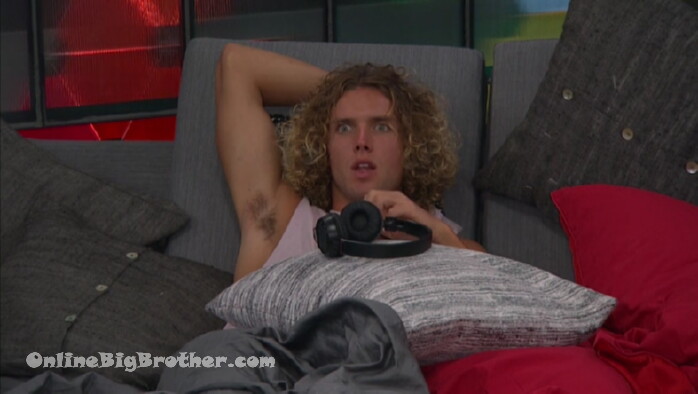 12:50am Tyler in the HOH
Tyler – these two side of the house separating themselves so blatantly.. the more they stay apart from each other the more they start hating each other for the stupidest reasons..
T – Kaycee is falling into it.
T – Rachel fell into it years ago
T – Angela fell into it years ago
T – Just need to keep them.. keep them centered, keep them from blowing up .. if ROCKSTAR keeps getting so personal with everyone..
T – she better not try that sh1t with me that's all i'm saying.. cause shit will hit the fan
T – I don't trust people who make personal attacks to each other.. persona vendettas.. personal reason.. if she can't separate game from personal; attacks.. it's a game
T – it was very telling today when Haliegh said if I was working with the other side she'll never talk to me again
T – Thanks for confirming you were only trying to talk to me because you wanted me on your side.. that is so nice of you..
T – I need to get outta this damn HOH.. I need these two side to keep attacking each other like piranhas
Tyler says Ika and Demetres the Greek told him don't lie unless he totally has to and today he had to.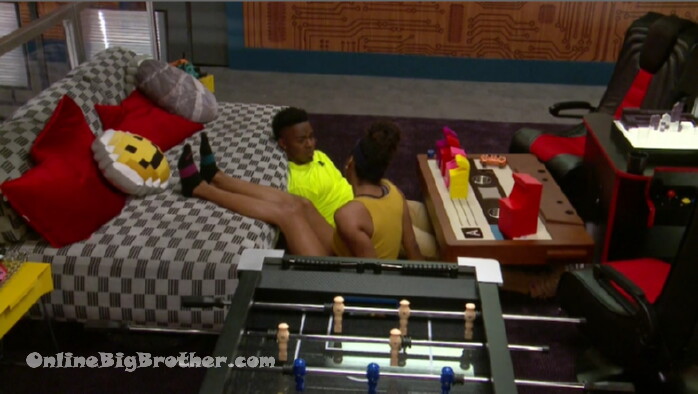 1:04am Swaggy and Bayleigh
Talking about doing The Amazing Race together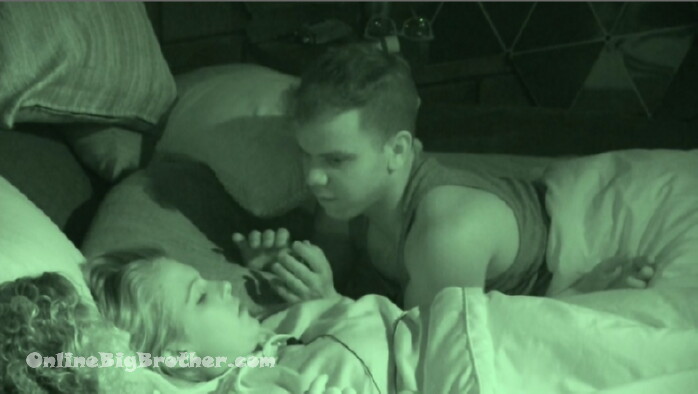 1:27am Haleigh, JC and Tyler
Haleigh says Faysal is going to keep the nominations the same.
JC says he talked to Faysal and someone told him that he was JC's target.
Haleigh – did you say that
JC – NO
Get your Feeds through this link
For all you folks that need a VPN I use this one
2:08am Swaggy-C and Bayleigh
Swaggy-C getting some lip wrestling time in..
Swaggy-c and Bayleigh night kiss #BB20 pic.twitter.com/GnFZbxvJrG

— OnlineBigBrother.com (@bigbspoilers) June 30, 2018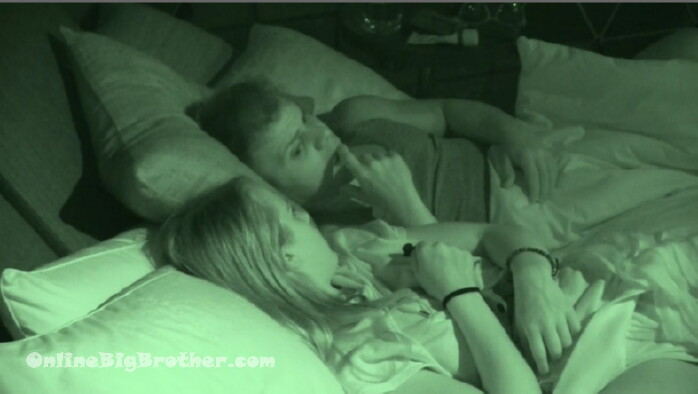 2:12am JC and Haleigh
JC says he can influence the people in his group if they win HOH not to put haleigh up.
Haleigh – I love that
Haleigh asks if he's suggested working with them with Kaitlyn
JC – no.. this is the most game I've talked..
Haleigh says that KAitlyn and Rockstar were apparently trying to pull JC into their 8 person alliance but he wasn't receptive.
Haleigh adds that RIOCKSTAR was saying that maybe JC doesn't know the game well enough
JC says "they" were bullying him and attacking him when he didn't jump for joy about their deal. (being the 10 person in a 9 person alliance)
JC – ROCKSTAR is a nice women but her game play is selfish..
Haleigh – and she's making enemies.. the way she freaked out on Winston ..
Haleigh explains they were throwing around the fake orange and it hit Rockstars cup over
Haleigh – she made a big deal out of it.
JC says Rockstar doesn't need to attack people like that, "they could win HOH it's not good for their game.. they could put you up"
Haleigh says Kaitlyn is more aligned with her than she is so people are associating KAitlyn and ROCKSTAR
Haleigh – do you want Sam or Steve to go home
JC – lets wait until after the veto and we'll have this conversation.. I actually like both
Haleigh – I do to, I feel better on a game level about Steve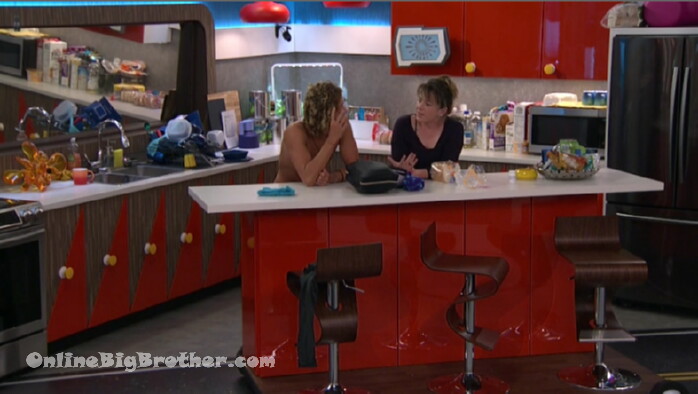 2:20am Sam and Tyler
Sam tells him she's not looking for a showmance. Tells him he's a beautiful man and all.
Sam asks hinm if he's told anyone else that "i've got the thing"
Tyler hasn't told anyone.
Sam – we could you is down the road.. I can use it on someone else too"
Sam – it could be a opportunity to show somebody because it's after eviction though.. everyone would vote
Sam – they would go your evicted than I say No you are not
Sam – then I can go see.. I told you they were all going to vote against you and you would be like Oh my god..
SAm – I don't want to waste it. I have that option it's for me or a friend..
Sam – as far as friends are concerned.. I have you .. that's all I'm banking on
Sam again makes clear that the power she has can be used right up to the last minute. (wow)
Sam really wants them to try and get the votes for her this week so they can keep the power and use it later in the game.
Tyler – nobody knows about it beside me..
Tyler tells her that Haleigh is up in the HOH right now with JC they are trying to get her on their side.
Sam says she already thought Haleigh was with them.
Tyler says she's not they sent her up to his HOH to help in them convincing him to put someone they want up.
Sam – there's more to Brett than Winston even realizes. there's more depth emotionally to Brett than Winston
Sam – Winston is a predator.. the bad kind, and Brett .. I feel like Brett is on the same level as me he's a sheep dog.. he's not a wolf at the door and he's not a sheep.
Sam – I love Swaggy's enthusiasm.. I feel like h'es going off a movie.. he's catching everyone at their most vulnerable
Sam says if you are going to work with Swaggy you are going to lose to Swaggy
Sam – that man is headed straight to the top
Tyler – I know that is why I am doing what I'm doing.. we need the numbers to dwindle down
Sam is amazed that Swaggy was able to assemble a group so quick.
Tyler – it's because he won that first competition and everyone flocked to him
Sam – blew my mind.. I think he really is a genuine caring dude. He's super focused to win.
Sam – he's playing it like a good sportsman.. I admire the guy but at the same time I can't be a part of that. (his swaggy group)
Tyler is giving her some social pointers.
Tyler tells Sam he's a super fan of the show. "I've seen every single season"
Sam says she knows basic terminology of the show but that's it, "everyone assumed that I'm a sleeper genius. like I have a photographic memory and I remember every single show that's been on"
they laugh.
Sam – in the Winston plan, where Scottie.
Sam says she likes Scottie she trusts him. Sam thinks Scottie is a big time loner and he's drawn to Steve because he doesn't want to get in a big group.
Sam says after Steve goes she'll try to get in with Scottie "he'll be a lost puppy my one guy is gone"
Tyler likes Scottie as well, "he knows the game I sense it"
Sam says her and Scottie have a friendship, outside any type of game.
Sam adds there was a moment today she thought she had Feysal when doing his hair "I touched his feels"
Sam is concerned about the Kaitlyn/Haliegh thing they haven't had one conversation with her.
Sam – there's something with Haleigh and ROCKSTAR that they wanted to talk to me about. Sam thinks that Haleigh and ROCKSTAR might want to keep her but they haven't told her yet.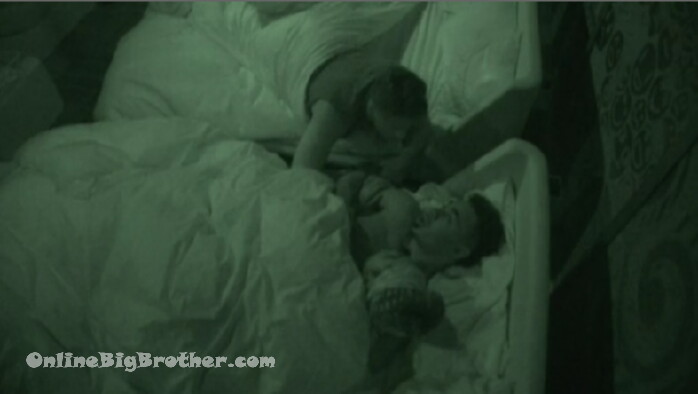 3:00am Swaggy Bayleigh and Fasysal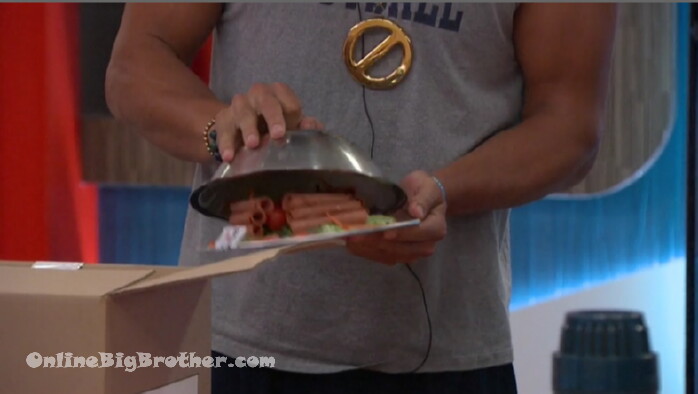 3:05am Faysal Ham time
Faysal brigns up talking to Winston where he said, " obviously we're keeping Noms the same"
Faysal adds that he told Winston he'll keep the noms the same in return Winston doesn't put them up next week if he gets the HOH. Faysal had pointed out to Winston if they keep taking shots at each other the people behind them will just take a step back and just watch us destroy each other.
Faysal – he's talking about Final 4 and sh1t
Faysal tells him to talk to Winston later and go over how they want to make it look like they are against each other.
Swagz points out won't people get suspicious if they are not putting up the most obvious targets.
Faysal says they'll play it off like they want to keep big targets in the house.
Faysal wonders if he should even bother talking to Angela
Swagz says he tries but she's so boring
Faysal – If I win HOH i'm putting up Rachel and Maybe Kaycee
Swagz says he swears on his life if he wins HOH he's flushing out Angela's power.
Faysal says Angela is boring as F*** but Rachel makes no effort to talk to anybody
Faysal wants Rachel gone, "that's a number"
Faysal – and Kaycee is obviously with them..
Faysal – I talked to JC he's definitely not putting us up.
Swagz – I got a good feeling about JC..
#BB20 Sleep time. pic.twitter.com/IN4bybCJqe

— OnlineBigBrother.com (@bigbspoilers) June 30, 2018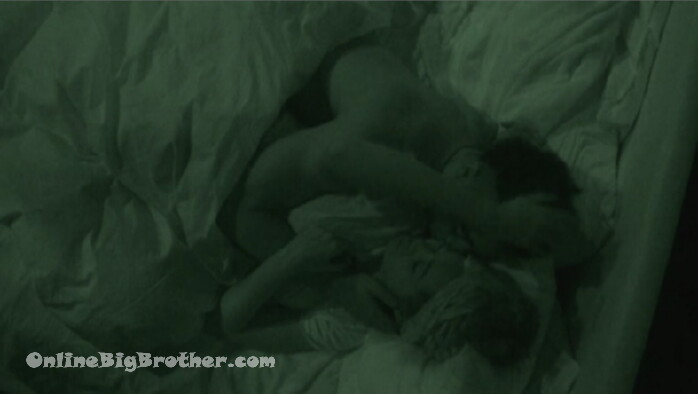 3:17am more swagging around with swaggy-P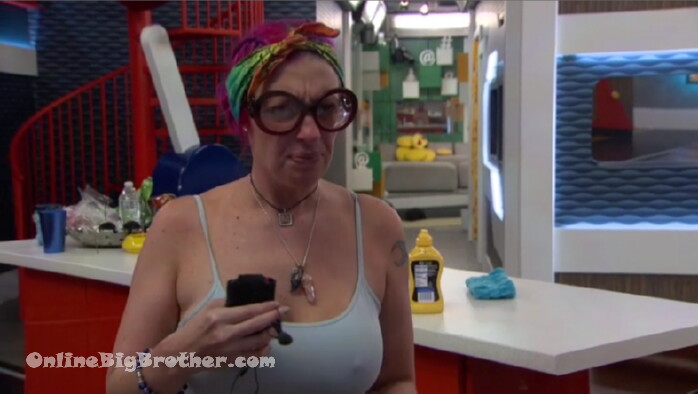 3:28am
ROCKSTAR – I think the universe is on our side..
Faysal says that next week two of the other side are going up on the block.
Rank the houseguests!
Easiest way to Rank the house guests use link below
Share it YO!!
Tweet