| | | | |
| --- | --- | --- | --- |
| POV: | ? | Next POV: | July 21st |
| POV Used | ? | POV Ceremony | July 23rd |
| HOH: | Sam | Next HOH: | July 26th |
| Noms: | | Have Nots | |
Big Brother Spoilers Doesn't look like Sam is telling anyone who she is nominating. She's now said Rockstar isn't going. Maybe this means Kaitlyn and Haleigh…
Last night was a lot of fun on the feeds thanks to Bro Brett dropping that Lie during his eviction Speech. Catch u on it here and here.
10:03am Big brother wakes them up
Rs says happy birthday to her daughter says she's trying to hold it together for her kids.. adds that she's not doing the best job but she's trying.. "I love you I miss you " Sniffle
RS is saying how her daughter will go out into the world and make it a better place, "You amaze me every single day"
RS crying… I miss you so bad.. I'm trying really hard I'm so very oproud of you I love you Happy Birthday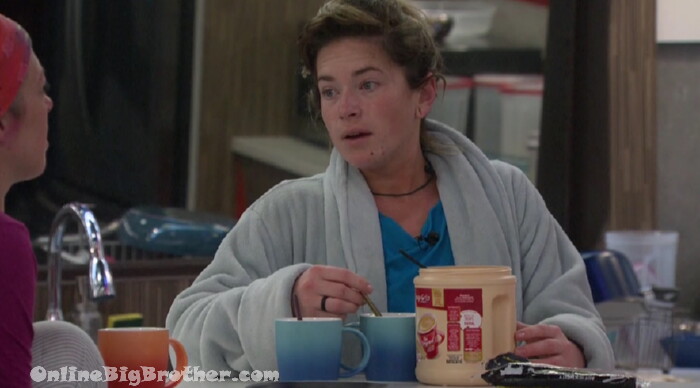 10:22am Sam and RS Kitchen (Kaitlyn and haleigh are also lurking around)
RS saying that Brett lied in front of the entire house, "How are you supposed to be comfortable,. I know America knows"
Sam – if it makes you feel any better, Like I said I'm not going to tell anybody who I'm going to choose to nominated until nomination ceremony
RS – it's part of the rules
Sam – it's part of the rules but also it's now my own personal decisions and because it doesn't matter if anybody talks to me.. it doesn't matter it's not going to change
Sam – It has nothing to do with anything really.. just a very practical decision..
Sam – if it makes you feel any better, I know you are having a hard time I'll just tell you it's not you. So you can just rest easy and Chill out. Don't bang pots just be normal
RS – it's hard to be normal
Sam – I want everyone to be Normal (boring)
Kaitlyn – that's the hardest part of being HOH
Sam – yeah that's why I'm not going to give it any energy it's over
Sam says she might not win another HOH, "just in case I'm doing it my way"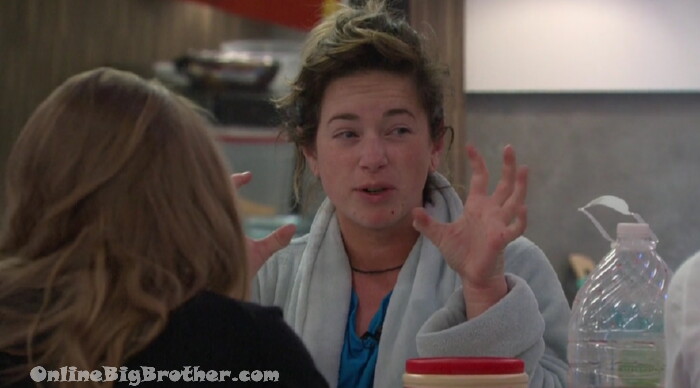 Sam says her Endurance victory was due to her Popeye forearms and grippers.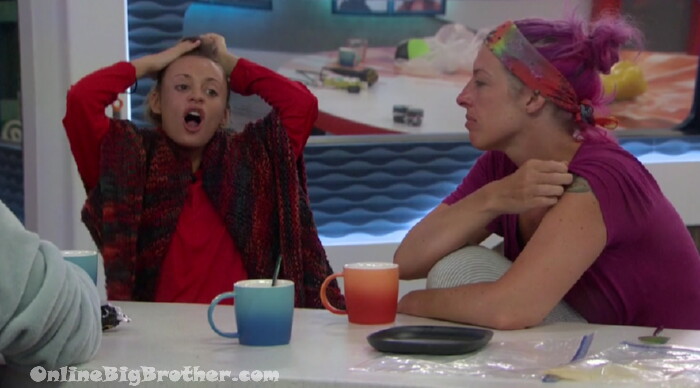 10:32am Houseguests up for the day running around making food having coffee and Chit chatting about the HOH competition
Rs – I think I'm going to cheer myself up by wearing crazy things in my hair..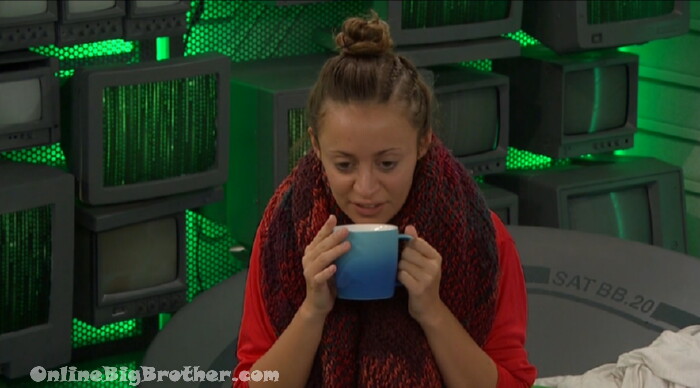 10:37am Kaitlyn tells the have nots that Sam isn't telling people who she's
Kaitlyhn – just to let you all know Sam said that She's not sharing who she's putting on the block but she just confirmed with ROCKSTAR that she can breathe better today it's absolutely not her
Kaitlyn – don't you think its strange the ONLY person that is making chaos she's confirming.. She's like I won't tell everyone but I will tell you.. in front of all of us..
Tyler – Yeah…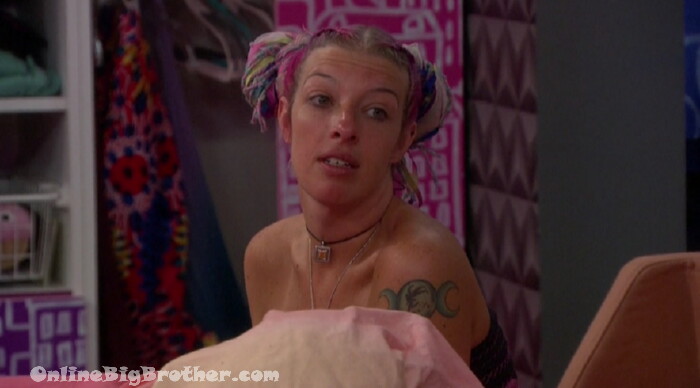 11:18am Kaitlyn, Fes and RS
Rs – I'm just glad they didn't give us alcohol last night that wouldn't have been good for me
RS – I never thought I would come on this show and bang a pot and pan..
RS – there's not very much you can do you can't just bang someone in their mouth
K – I just don't understand why.. I think what people are forgetting is the fact that everything that was said isn't about me and it like directly affects me and like who I'm supposed to trust and like i just don't understands why in this game it's all about like lets try and make someone not trust Kailtyn or lets make Kailtyn this or lets throw Kaitlyn under the bus
K – lets put it all on Kaitlyn.. like why
RS – I dunno why do you keep hanging out with him.. he called you out last week
K – ROCKCOD I'm very aware .. he gave a 2 minute speech you don't thin kI want to follow up and see what he has to say
RS – I haven't trusted the guy.. he's never had a conversation with me so I have no reason to trust him
RS goes on about how if he did what he did to her last week that is someone she wouldn't talk to.
K – I don't consider him a friend but you don't think I have the right to ask
RS – i didn't say what your rights are.. you keep hanging out with a guy that is clearly not here for the higher good
Kaitlyn says she was brought into all this because she's been included.
RS – when I called him on it out there he looked me in the eye and said "own it… just own it"
RS – he's a liar..
RS – I don't like to surround myself with people like that.. thats why I haven't.. that's not a insult to you. You ask why your name gets brought into it probably because you hang out with him
Kaitlyn says she hasn't hung out with Brett until yesterday when she thought he was going home so they could clear the air and be friends after this.
K – That's how I am I forgive and I like that quality about myself
RS – I'm not telling you to change that at all..
RS – who knows maybe if he treated me as a person and spoke to me when I walked into a room I would be keeping his company.. I dunno
RS – it's outright not true.. America knows.. I'm not really over it but I won't know what happens until we're out of here.. so there's really no point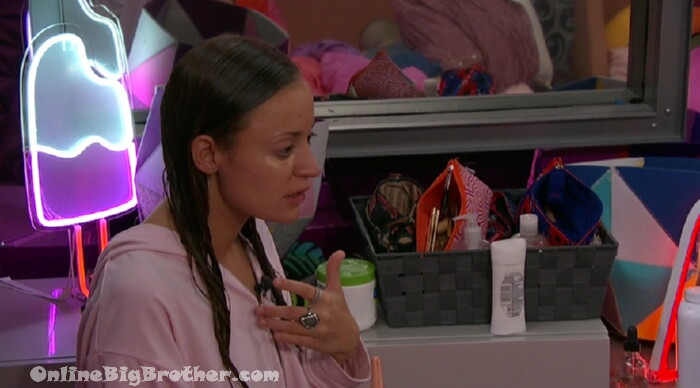 K – I get.. i get it trust me that America knows.. just try to be sensitive for a second like I'm really upset about it. Doesn't matter who is telling the truth I trust you like the fact that I'm being brought in is very hurtful. So, like just try to be sensitive to the fact that I'm like"
RS – you were brought in when he made fun of you ion front of the entire house
K – right exactly, so just try to be sensitive about this whole thing
RS – I am sensitive I think he's a d1ck ,, I wouldn't talk to him .. it's not a judgment.. it's not anything.. I wouldn't talk to the guy I think he's a pr1ck
RS – you know what they say about opinions and I've been saying the exact same thing about him
RS – my Clear strategy being loyal to 5 people hasn't worked
RS – maybe he's on the right track mr white privilege over there.. mr my dads a lawyer..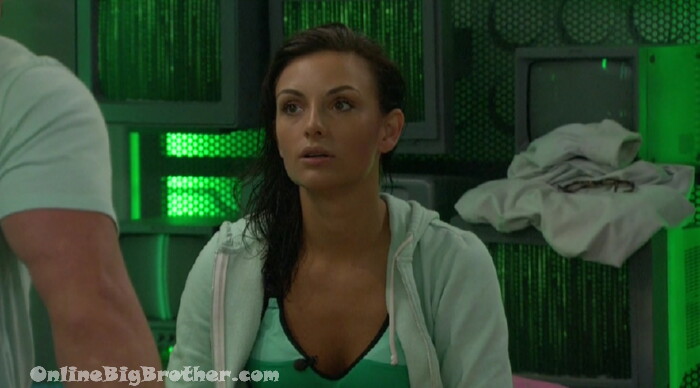 11:42am Rachel, Tyler and last Bro
Rachel telling them that Bayleigh snapped at her and Haleigh bad about the peanut butter and jelly
Rachel says she was talking to Fes and he was acting like he can't hand the game
Tyler – wants to back out
They think the nominations will be Kaitlyn and Haleigh.
Rachel really wants Scottie out. Tyler says Sam really loves Scottie even from the beginning.
Brett – even when she voted against her
"it's really weird"
Brett says if San is going to take someone out it'll be one of the three girls (RS, Haleigh and kaitlyn)
Tyler agrees Scottie has got to go.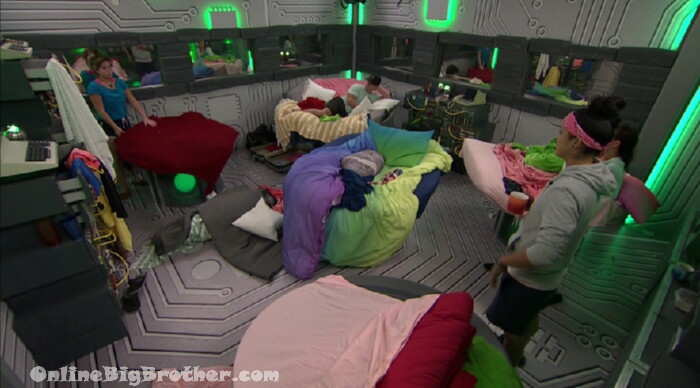 11:51am Rachel, Kaycee, Brett and Sam
Sam tells them Rockstar isn't going up, "Why waste a nomination on something that that will inevitably happen next week"
Sam says if they don't like her nominations and really want something else "win the veto then I'll have to figure something out"
Sam laughs..
They call her Sam the savage
Sam – I'm not doing 1 on 1 and not letting you all kiss my a$$ for a week.
2:00pm Feeds have been down for a good while.
For all you folks that need a VPN I use this one
Rank the houseguests!
Easiest way to Rank the house guests use link below