| | | | |
| --- | --- | --- | --- |
| POV: | ? | Next POV: | July 21st |
| POV Used | ? | POV Ceremony | July 23rd |
| HOH: | Sam | Next HOH: | July 26th |
| Noms: | Kaitlyn and Haleigh | Have Nots | |
Big Brother Spoilers Kaitlyn and Haleigh were nominated
2:15pm Feeds come back
RS – That smug bastard was Sitting their Smiling .. Rockstar is pissed that Brett didn't get nominated goes on abotu how he must jknow somebody to get away with all this.
RS = So much for Girl Power I guess…
Rs says she tried to give Brett and hug and he told her all out of hugs
RS – f***ing douche bag.. I went after the bros now I have to go after the sisters..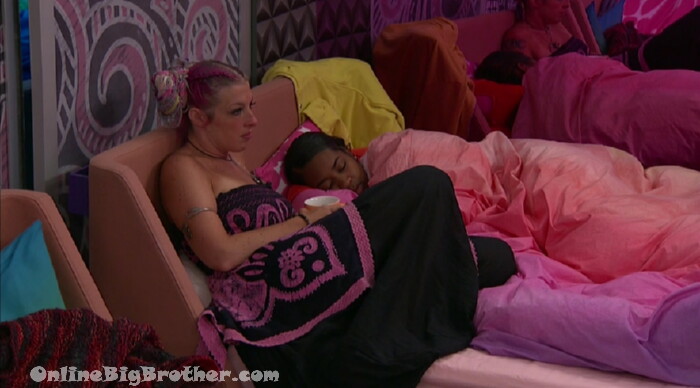 2:22pm RS and Bayleigh
Bayleigh plans to lay low let it all blow over and fight to win the HOH next week.
Bay – how are you going to play it..
RS is just going to pray for the HOH to put up Angela and Brett
RS about Brett – he's such a d1ck
RS – I'll put Sam next to Brett..
RS – he's such a jerk he needs to go
RS – I dunno girl.. look at the president..
RS – I believe in Fes and you.. I don't know about Scottie and I don't know who flipped the vote on Swaggy.. I want to think it's not Scottie..
Bayleigh thinks it was Haleigh that Flipped
RS – I don't know who I can trust around here.. I feel Fe and you are trustworthy.
RS – Sam is pretty trustworthy but she's a maverick she does her own thing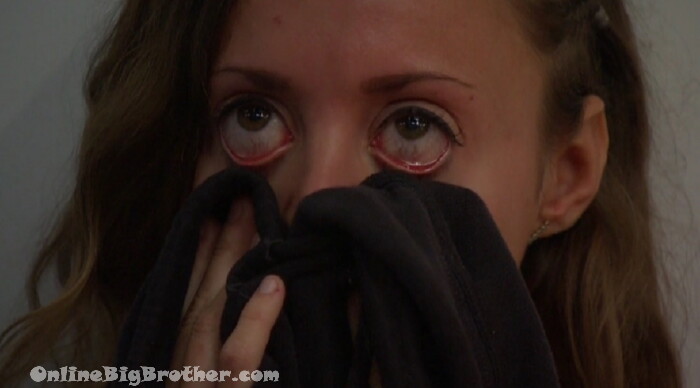 2:25pm Kailtyn and Fes
Crocodile tears… whimpers.. Kaitlyn cries that she was always going to pick Fess as her POV player if she gets houseguests choice but given the nominations … It might be though for fes to choose between the two of them .She whimpers that she'll have to pick Tyler.. She whimpers some more that she probably doesn't have the votes to stay. Tells Fes that he has to win Big Brother 20.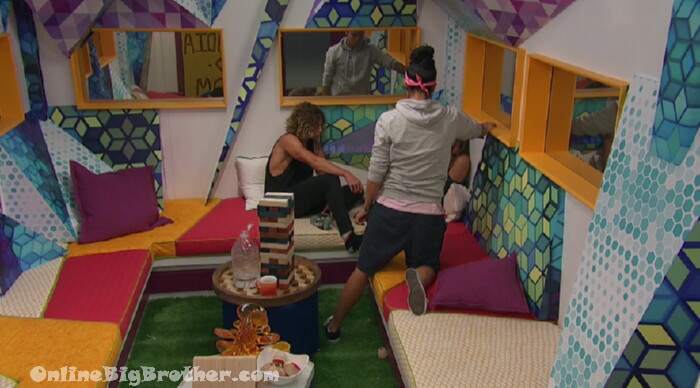 2:29pm Tyler Kaycee and Kaitlyn.
K – I know it's going ot be OK it always happens for the higher good.. I just didn't like what she said to me..
K – I don't care that i'm on the block.. i don't like what she said I don't like that she questioned my female empowerment and I don't like she said I disrespected men like… these are all things truly totally the opposite of my character and I'm allowed to be hurt by it
k I just feel like the way she just spoke to me and telling me that I can't apologize after as if that's a normal thing…
K – it was super.. .. That wasn't female empowerment..
K – I'm so glad I meditated for an hour and a half today I kept thinking in an event I do get out.. I certainty don't have teh votes of ot's her an I on the block Thursday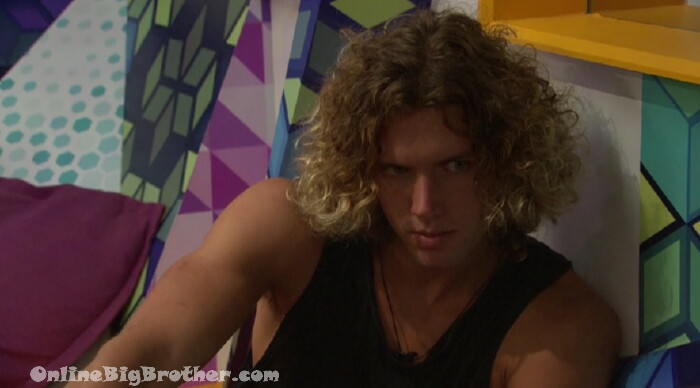 T – you don't know that
Kaycee – you dn'tk now that
K – all I know there is a reason for it and maybe someone really needs my help outside of here and like that's the only thing giving me purpose right now..
K – there's someone else.. me at my highest truth and me at purpose.. isn't needed here as it would be somewhere else.. That's the only ting that is getting through
(her super powers are needed elsewhere CBS take her away)
Kaycee – don't give up
K – Ohh HONEY I have already won the veto .. like that's not what I care about.. i am winning the veto..
T – everyone has their opinion whether it's false or true .. you know your truth
K – it's still hurtful to hear words like that in public .. she spoke for men she spoke for the men of the house
Tyler says she never talked to any of the guys
K – I don't believe in speaking on behalf of people
(I think Sam called the two girls out for flirting with all the guys)
K – Again I'm not playing the victim i'm going o win the veto
T – she said it best take that energy and channel it
K – she didn't have to say it for me to know it
Kaycee – you have every right to feel the way you do
K – of course..
Kaycee leaves..
T – I'm sorry I didn't know.. I didn't know she felt that way
Kailtyn asks him if she gets houseguests choice should she pick him. Tyler says if you pick him and he thinks he can win it he's going to go for it and he says fes would say the same thing.
kailtyn whimpers – he didn't .. he didn't say that… it's mean and her you know..
on the block #BB20 @DawgsBigBrother pic.twitter.com/2V1gV5s4mH

— OnlineBigBrother.com (@bigbspoilers) July 20, 2018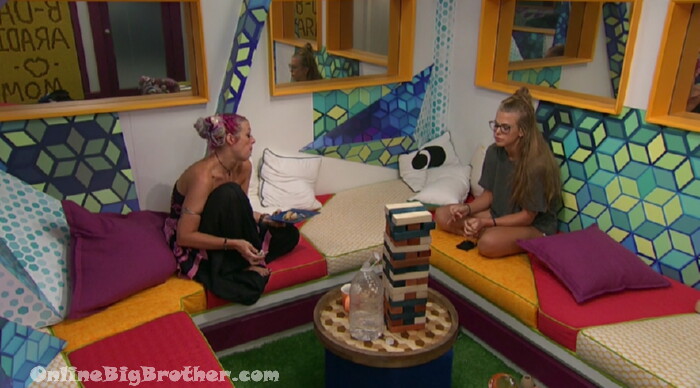 2:41pm Rockstar and Haleigh
Rocklobster is still going on about how Brett is a d1ck and she can't understand what Kaitlyn and Sam see in him.
Haleigh says she was upset because she heard RS was going around telling people she flipped. RS says she didn't say that she two people she's close to and one of them she trusts.. what if Brett and Haleigh were a couple.. I didn't say that to anybody I said it to myself.. but..
RS – why wold this guy target me.. unless someone telling him he's my number 1 dude to get out..
RS adds that the only person she talks to game at that level is Haleigh.
RS starts talking about loyalty being her number one thing and the D1ck head gets up in front of everyone and questions her loyalty the one thing she stands on in this house.
RS – I didn't say to anyone I thought that I never said you flipped..
RS – OI said here's these two people.. one of them put up a friend of mine.. she's the obvious choice to not trust.. what if there was another that I consider is a real friend.. we've talked about final 2 sh1t.
Haleigh – that is why I was so upset.. to hear it.. I knew I was going up but I was more upset because I thought you really thought I had flipped..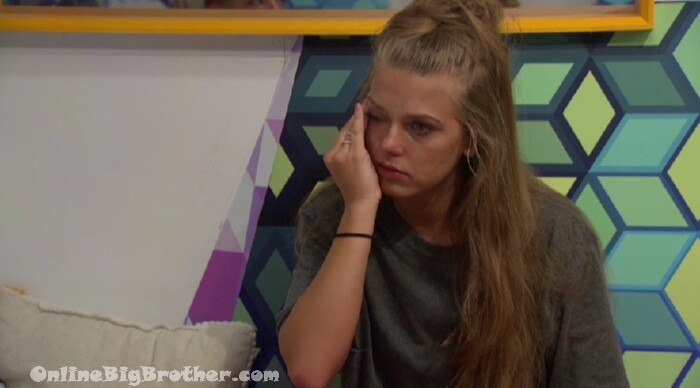 Haleigh starts to cry..
RS says it was weird that she was close to Brett this week..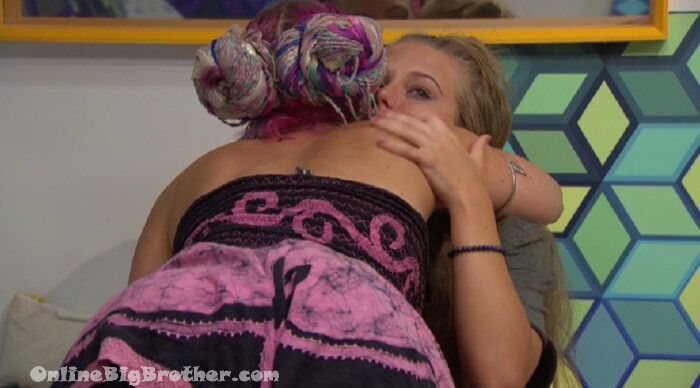 They hug it out..
Haleigh – I thin kit was Kaitlyn and Tyler.. it wasn't JC
Haleigh – it wasn't you it wasn't Baleigh.. JC was too upset he was frazzled
Fez joins them..
RS – I only trust you and Fes.. I haven't trust Kaitlyn since Swaggy
RS – how do we keep getting f**ed.. we keep getting f***ed.. like so…
RS – so what if you are playing a flirt game only one of you is single
RS – you are a single 21 year old..
haleigh starts to cry over what Sam said to them. RS clears it up for Fes tells him Sam said Haleigh flirts with all the guys in teh house
RS – You are a single 21 year old girl it's ok…
3:25pm just chit chat…
Just a Pack of Bros playing Foosball being bros #BB20 pic.twitter.com/GPfdeKWJx6

— OnlineBigBrother.com (@bigbspoilers) July 20, 2018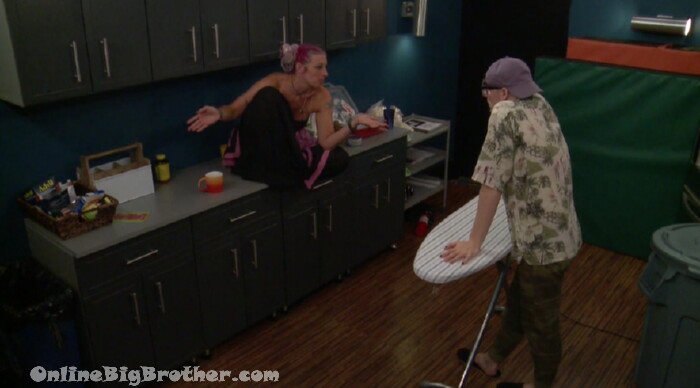 3:27pm RS and Scottie
RS calls Brett he biggest bully in the house doesn't understand why Sam is keeping him in teh house.
RS says even if it means she's backdoored she wants to know why Sam's nom were what tehy were.
RS goes on about how Brett ignores her.. calls him a d1ck.
RS says Rachel told her that Brett is a d1ck and she doesn't like him.. "I Think she's good I think she's on this side.. "
Scottie – she's just buying time. (Nope she's lvl6 and vixen)
RS going on about how Haleigh and brett maybe met in college and is a secret couple..
RS – All i really trusted in here is Haleigh and Fess….. and you that's grown to a trust.
Scottie says RS's theory that BRett and Haleigh are a couple is a thought.
(LOL RS has lost her mind)
Rockcod thinks this is a thing.. She's going one about how she saw BRett and Haleigh hug for an extended period of time.
Rockstar says the only think Brett said was "OWN IT OWN IT" that's a bold ass lieing a$$ dude..
Rockchiprepair says Kaitlyn is the obvious one to flip , "she's always hanging out with them"
(This is beyond wacky.. Rockyroad thinks the flips could be Kaitlyn/Haleigh over Tyler/JC .. ZOMG)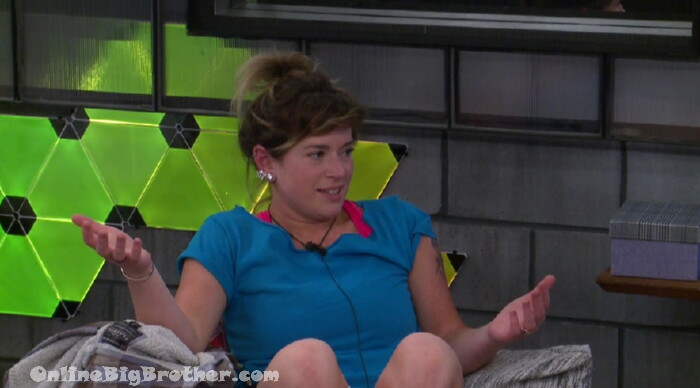 3:37pm Rachel and Sam
Rachel poitns out that HAleigh and kaitlyn voted for her to go week 1 so she could have said that
Sam says those two girls
Sam – she says comment in the hallway like GIT ER DONE .. I know she's picking on me I'm not dumb.. plainly they are the other alliance that's a duo.. they don't clean they are messy..
Sam – lately she's been going on and on with female empowerment.. and what they do is the total opposite of what I consider to be an empowered female.. Flipping your hair around and meowing like a cat isn't exactly a respectful lady like behavior
Sam – walking around with your clothes half on half off (some of use don't mind haleigh doing this.. Sam back off)
Sam – I mean yeah everybody here ha a beautiful body but at least you are hearing clothes that fit you.. they wear clothes that ha;f hang off
sam – they always just look like they rolled out of bed and into a blanket.. they just.. I feel like they don't respect people's things and space
Sam – thy are constantly like hey let me wear that
Sam – respect others and respect yourself.. I'm sure they have nasty things to say about me too that's fine
Sam – I smoke I drink I don't respect myself.. you can say whatever you want but I had to nominate two people.. my first instinct was them two
Rachel – what happens if one of them wins veto
Sam – that's what I'm saying .. we'll deal with it when it happens..
Rachel asks if a replacement nominee goes up who would she want to go.
Sam – I hadn't thought that far.. who would the replacement be
Sam doesn't care which one goes haleigh or Kailtyn they are interchangeable o her like the bros were
Rachel asks again who would she opt up if veto is played.
Sam whispers Rockstar
Rachel – or .. .that;s who I was thinking.. who else.. also you have to go off who you're close to
Sam – I'm close to Rockstar.. at the same time not being able to control herself so early on
Sam thinks Rockstar is going to get Evicted soon anyways so using her HOH on RS is a waste.
Sam – nobody is going to get mad if she's sent home.. that wold have been the easy road.. like me she made a public display last night I could have easily put her up.
Rachel – would you do a guy or no? from the other side
Sam – there's only one and he's so precious he hasn't got to win a competition I know that is so much for him.. he's harmless
Sam says if veto is played she'll probably put up Rockstar.,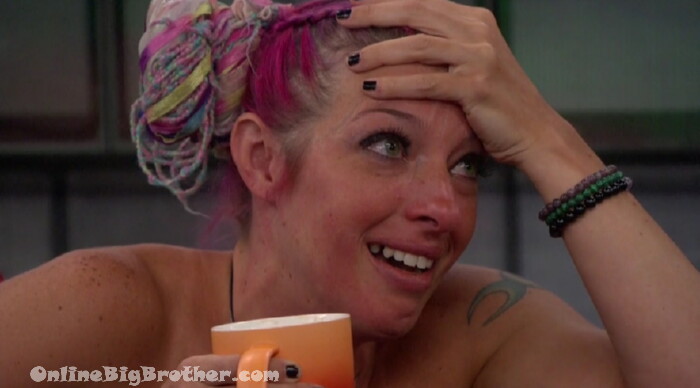 4:07pm – 4:31pm Rockstar and Sam
Rs is still going on about BRett.. says that 2 people said they were going to do something and didn't
Sam – Haleigh
RS – no not haleigh
Sam – I thought her and Brett were tight
RS – Kaitlyn and Brett are tight they both are tight
Sam – are you tight with Kaitlyn
RS – Kailtyn put up Swagy.. I've been friendly but not friendly..
rs cries calls Brett a bully, "he has not once acknowledge me "
RS – I don't know why he has so many friends he's an a$$hole
Sam – he just chose you as an easy target .. I was the easy target in the beginning everyone was like just put the robot up.. cause that's easiest choice..
RS – My skill is people the only people I haven't been able to identify with is a d1ck and he's got so many friend .. He's a d1ck.. he's a d1ck ..
RS – he's the kinda guy that comes into the club. I could buy the whole f*ing place.. treats the servers like sh1t..I know this guy.. I know this guy .. you have to suck up to him when you are at work ohh yeh you could do you want another bottle I don't know why in this diverse a$$ house he's winning.. I'm telling you I don't care at this point..
Sam starts talking about income inequity .. she's bring sup some person and the feeds flip..
RS – he's disgusting he's trash to me.. he needs to go
Sam – you're going to have to walk the walk and face him…
RS – he's bro'ed out so hard.. every time I said anything about goddess energy he would say "Yeah I left some goddesses in my day"
RS – like that's cute.
Sam – listen the two girls i put up today I don't like that..
Sam say the girls she put up are always flipping their hair "yelling like a cat"
Sam – I have a brother, I've seen him broken Hearted what happened to him.. I really can't say what the intentions are and what happens.. I see the two of them pandering to the male part of the brain that is very unfair that is what they drive off of. If that is part of their game strategy I am not part of them and I can't align with them.
Sam – Brett and Winston I think are the two men that are in the house.. Tyler is in between. Brett and Winston have had long term relationships they've had plenty of girls.
Sam – they've been to college they've partied Scottie's never even kissed a girl Fes god love his heart you know his story as much AS i do//. he's sweet to the core ./
RS – he is super sweet..
Sam – Tyler is also ..
RS says Tyler has had plenty of guys
Sam – he's a man he can't help himself and laughing all over his lap and crawling all over him is something that the two of them have been doing and I don't agree with it
Sam – it's not fair use your brain to me that is the opposite of an empowered women
Sam points out RS should talk to Brett one on one calls her an intelligent empowered women that has kids and is raising kids.
Sam calls her Angie.. brings up a moment during the HOH lockdown where they all really got to know brett.
Sam – He plays the piano loves dogs.. he wants to bred dogs.. he's someone's baby boy
RS brings up her in the backyard trying to talk about pianos with brett and he walked away
Sam – well that's true I don't like that
RS – he does not talk to me I tried..
Sam – he's letting him control your emotions.. don't let him do that don't let him get you all worked up.
Rs – guys like that always win
Sam – that's not true.. I'll prove it to you..
Sam – take all that fuel and fire put it in your pocket and next time we go into a competition pull it out.. you're wasting all this energyu and fuel on nothing.. He's on clop I'm on slop going into that veto and f***ing kill it then we'll talk
RS – it just really f**Ed with me
Sam – I see it I felt it
RS – he looked me dead in the eye and said "Just admit it just admit it"
Rs is cared at how good Brett is at lying.
RS says Brett is a clear bully in the house.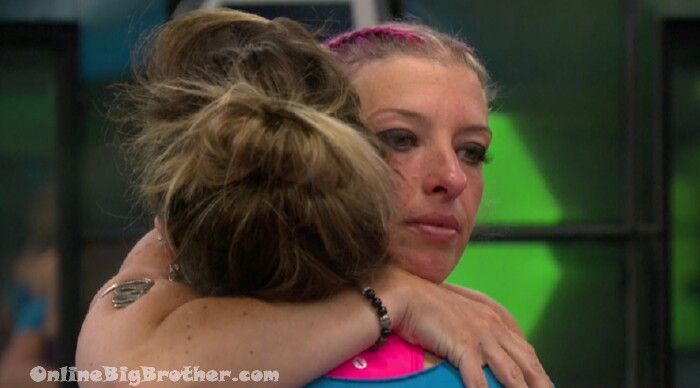 They hug it out..
He's a dick he's a dick .. I don't know why he has so many friends he's an asshole #BB20 @DawgsBigBrother pic.twitter.com/DpfYXZjb0S

— OnlineBigBrother.com (@bigbspoilers) July 20, 2018
For all you folks that need a VPN I use this one
Rank the houseguests!
Easiest way to Rank the house guests use link below