| | | | |
| --- | --- | --- | --- |
| POV: | ? | Next POV: | July 21st |
| POV Used | ? | POV Ceremony | July 23rd |
| HOH: | Sam | Next HOH: | July 26th |
| Noms: | Brett & Winston | Have Nots | ? |
Big Brother Spoilers Pre BB10 level fun that's all….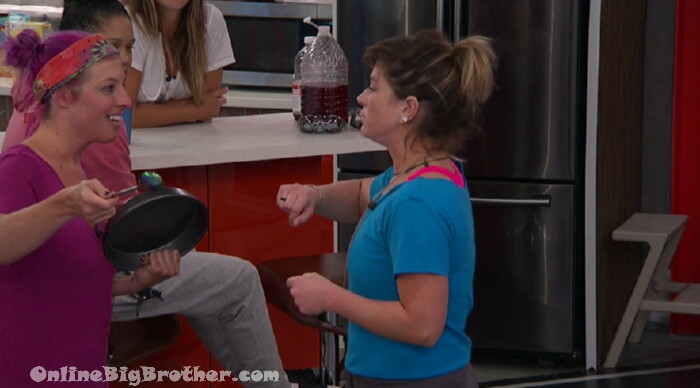 1:55am Sam is asking for her to end at 2am and she can start again at 10am Rockstar is going on how excited she is that Brett is here because she voted to keep him. Sam asks as a personal favour to the house please stop. Sam wants them to have a week where nobody has to worry about anything just a week of everyone just chill.
RS – that would have been great if Brett wouldn't have revealed our showmance in front of the whole house
Sam tells her there's people in the house that RS likes to be with ignore BRett and be with them. "Pretend he's not here and he will do the same"
RS is saying that Brett has ignored her the minute she walked into the door.. until today.
Sam says the only reason why she's asking her to stop is because it is affecting the entire house, "I want everything to be fair"
RS – we will celebrate Brett in the morning.. I Love him so much now everyone can know he's my best friend..
RS – to brett – remember all those stories we didn't share because you are a prick
Sam hugs her "Your body is shaking"
RS – I'm really not having a good day Sam
Sam – take a deep breath..
RS – I am controlling myself i'm just celebrating my best friend gets to stay
Sam – alright
RS – c'mon what a great guy he's clearly amazing in every way, he's so kind.. look at him he's so incredible so nice
RS – has so many reason to be here
Sam says she appreciates RS set aside the partying until everyone has a good night sleep.
RS – goodnight Sam..
RS looks at Brett – Good night friend so glad you are here .. so glad I flipped that vote for you. over joyed you are a peach.. just a great guy just a great f***ing guy
(go rockstar )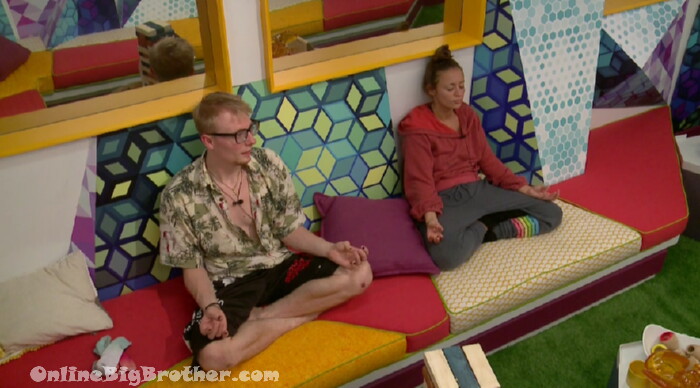 1:55am meditation while the pots and pans lam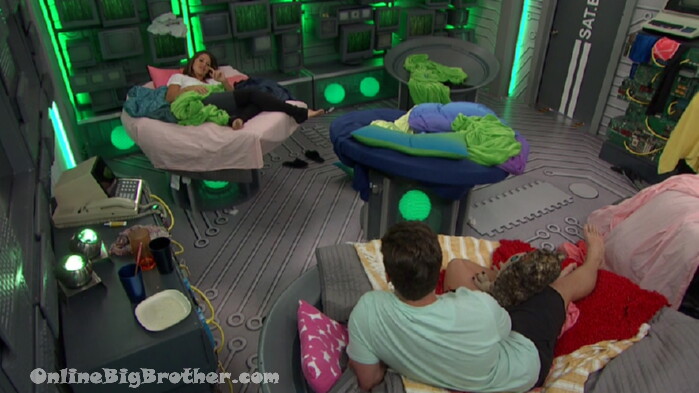 2:13am Brett and Angela
Brett – Hopefully goes as plans she burys herself
Angela – oh she's digging it
Angela says it's not good for JC's game but it's good for their game to get rid of ROCKSTAR. RS is coming for them. Angela points out there's nobody in the house that has direct known targets like Rs has.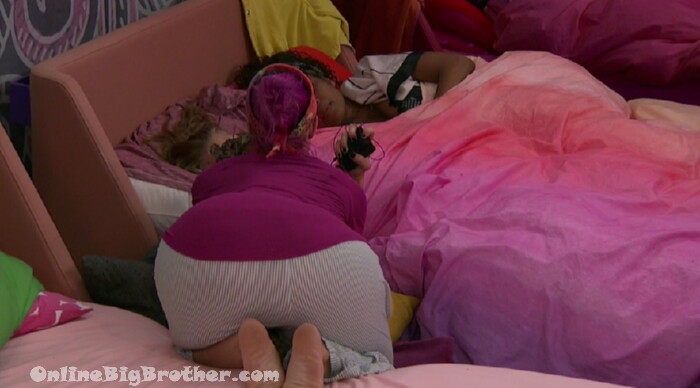 2:22am RS, Bayleigh and Haliegh
They are talking about Angela following Bret around. RS joins them. Bay asks them if Sam will nominate 2 girls. They're not sure.
RS – I got a spoon in one hand and orwell in the other if you got a urge to scream just let me know… (could I become a rs fan?)
They joke about BRett and Rockstar being best friends.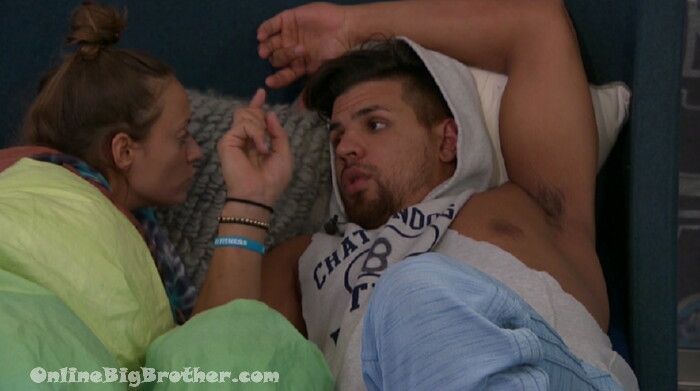 2:22am Fes and Kaitlyn
Fes – I know you have relationships with other people Fes – I will never campaign against you, I will never throw you on the bloc, I would never vote against you
Fes – same with you I know.. Even if you did flip the vote
K – I didn't
F – I know but even if you did I still trust you 100% that you would never put me on the block
F – you just spent 30 minutes alone with Brett.. that's a HUGE problem for me
Kaitlyn defends herself says she needed to get the details from Brett..
Fes – crying in his lap
K – I'm sorry I wanted to make amends
K – I thought he was f***oing going home
Kaitlyn tells him he's blaming him but when he goes back and watches the show he'll know and it'll be "embarrassing" for him.
K – everything I do is for you
Kaitlyn starts to cry saying she tried to win that Competition for Fessy
Fes wants to talk in the morning when she's not emotional
K – I'm not emotional I'm just f***ing annoyed like you don't even realize..
F – I don't understand this game we have to talk in the morning I'm all over the place right now
K – THe only one I trust in this house is you
Kaitlyn – Bayleigh just called me a f***ing bully
Kaitlyn says she was f***ed over today she tried to do the right thing. FEs says it's about him being real everybody knows where he stands but someone is always lying to him.
Fes – i'm not saying it's you but it's got to be one of Y'all .. I'll give you a free pass
K – I don't want your free pass .. I don't want it.
F – we have to play the game smarter
F – I will just never go against you Kaitlyn.
F – you didn't trust me enough to tell me you were putting up Swaggy and I'm still trusting you right now
K – it's not that I didn't trust you
Fes gets up "we'll talk in the morning"
K – are you mad
F – I'm not mad
K – I don't like going to be with an issue I want to let it go now so when we wake up tomorrow we're good
Fes says if she's still trying to figure out what happens
Kaitlyn – I don't have to because I trust you I'm a really trusting person
Kaitlyn – Tyler was coaching me telling me if you want to be known as someones that is too trusting outside of this game good that's a great thing you are trusting you have your heart into things.
K – I trust every single one of you … I trust that none of you are lying to me so I am going to assume a power was used because I don't want to assume that one of you is F**** lying to me
K – What I am pissed off about is the fact that ….
Fes – Kaitlyn , You send my bests friend home and i'm still rocking with you that doesn't mean anything you can't be mad at me for having certain doubts about things
Kaitlyn says she felt like if she was on the block he would send her home.
Fes – just don't f****ing lie to me no more
Kailtyn says she doesn't lie to him everything she knows she tells him
Fes – you htink I'm going on the block
K – no i'm going on the block
F – really>?
K – I don't know.. i'm definitely going on the block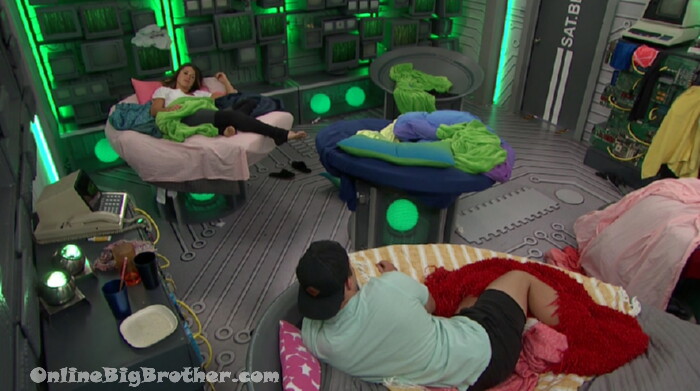 2:29am have nots aka level 6 clubhouse
Brett – I three days we'll be 1/3 of the way done
They are amazed at how few people have gone already
Brett – I really wonder if Winston is a Doctor
Angela thinks he's a lot older than he said
Brett isn't sure if he would have "Broed" out so hard with a guy that is older. (40 year olds can bro)
Brett – I do think he is an old soul .. southern guys are like.. they settle down earlier
they talk about how mad Winston was when he was evicted. Brett says he gave him a hug but it was so quick
Brett – I was like DUDE>..
A – did you see that coming
Brett – that reaction no…
A – what would you have don e
B – I would have hugged him, pretty much level 6 f** the rest of them
A – Same
Angela points out that Winston can't control his emotions and that got tied back to Brett.
Brett – trust.. very true
Brett com;ains that his forearms are sore from all the massages and rock climbing he's doing doesn't think it affected his HO performance but it might have. (live by the sword die by the sword bro)
They talk about the target this week. Angela thinks it' Haleigh more than Kaitlyn.

Brett smirks – the man eaters…
Brett says he was going to mention that in his speech so the other girl on that side would look at rockstar and be like that b1tch..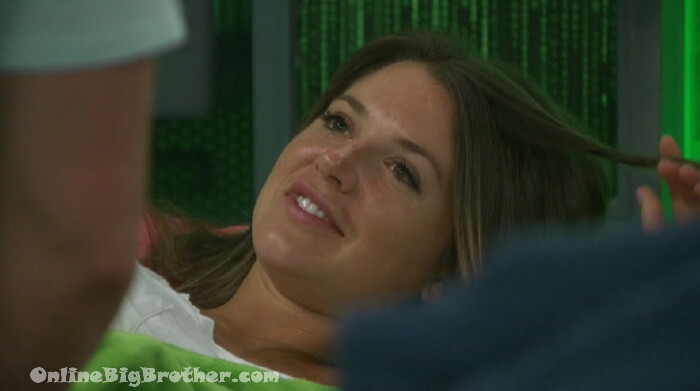 Angela – she would have been so pissed
Rachel and Tyler come in..
Angela – I think about food 100 time more than I think about sex in this house
Tyler – what a day… day 30 dude.. of course it happened on day 30
Tyler asks Rachel if he's good with Sam.
Rachel – she told me I'm not going up.. she walked in here and said none of you guys are going up .. I was like OK
Tyler Jokes he's going up because put her up. adds that Sam told him on the wall she wasn't putting him up
Rachel – I feel like you talk enough
Tyler – no no I'm good
Tyler mentions Kaitlyn and haleigh as targets
Rachel asks him who do you want out
Tyler – I don't care.. I really don't any of them… they are all threats in different ways.. ROCKSTAZR for sure… they all have reason to put us up .. that's the way I think about it
Tyler – I think Bayleigh will totally come with us.. she's over Kaitlyn
Rachel honestly I don't care.. she adds that Scottie would be the one she would like to get rid of
T – It's not going to happen
Rachel know shes just saying that's her target. Adds that Fes would be another she likes him but on a game level.
T – I guess we can't be too picky Sam can do whatever she wants to do
Brett has a green blanket near his face "this blanket smells like feet.. my feet"
Rachel Leaves..
Brett – dude we can't see the sun till Sunday (bro dude)
The have nots are excited that they get to feast at midnight..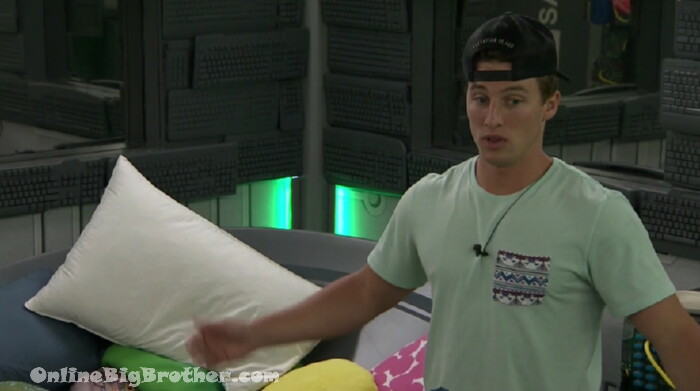 2:43am Have nots Level 6 bits
Brett says at some point hew's going to go up to Sam and ask her if he can hang out in her room becuase "Rockstar won't stop harassing me"
Tyler – she'll do that
Angela- she likes to do that she likes to think she protects people like a mother
Brett thinks this is why Sam likes him because he never asks her anything i just say "do what you gotta do"
Angela – let her be the mom she likes that
Tyler says he wanted so bad to stand up and say rockstar "FUC* OFF"
Brett – trust me I would have liked to do that as well..
Brett – you can say you are classy all you want but you are not classy acting like that … she should be embarrassed to act like that with Children
Brett goes on about Rockstar
Angela pipes in "Isn't that Slander"
Brett – no… we signed up to be here..
Tyler – she's the worst player in this house
Brett – trust me I would love to just rip her apart she would just cry.. I'm taking the high road and not doing that.. that's who I am..
They talk about Sam coming down from the HOH and telling her to shut the f* up in teh nicest way
Brett – at the end of the day if you want to pay me to be with someone as annoying as f* sure I can do it gotta keep thinking of the prize at the end. they talk about the He;; that would be spending jury with Rockstar. (i'll bet a bottle of kraken that rockstar is the coolest chick to hang out with I sh1t on rs a lot because she's the worst but c'mon she's also the best.. and with that said I should go to bed.. )
Tyler – her a$$ won't vote for any of us in jury
Brett – i know for sure
T – by that time she'll know everything
B – this week and next week are the last f*ing weeks to get someone out before jury, she has to go this week or next week…
T – she'll go this week or next week..
B – I don't think she'll win HOH .. she needs to be the one to go
Angela, Tyler and Brett talk about how they have the votes..
Brett is worried about the after party and with people drinking arguments will start breaking out…
Tyler asks if Rachel is ok. Brett think she gets hard core paranoid..
Tyler – Fes has got to go.. he's gunning for us.. he can win sh1t
Angela points out that fes is only here to be with girls flirt with them and get their attention. The problem for Fes is that Tyler and Brett are getting girls attention.
Tyler – the more he's here the more people get attached to him (because he's real as f***)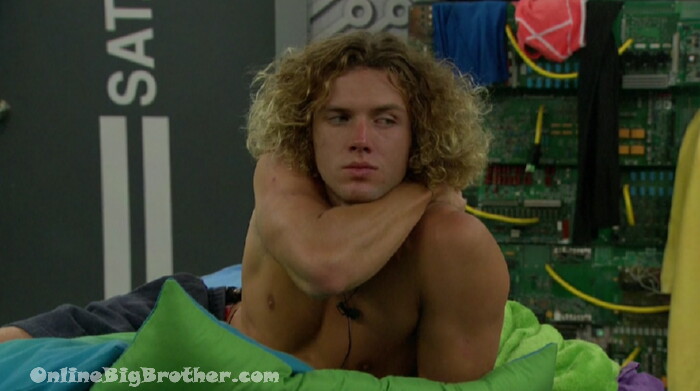 Tyler and Brett agree that Sam is close to Fes now.
Tyler – so what are we thinking Rockstar this week Feesy next week
Tyler – if we get Rockstar, Haleigh or Kaitlyn out this week..
They talk about Sam not liking people badgering her.
Brett says he really thought for a moment that Sam was going to use the power.. she looked at him and Winston and said "you boys will be ok"
Tyler says he crossed Sam in the hallway when they were voting and he was telling her Keep Brett
Brett – I'm really sorry if she wakes us up to pots and pans
They wish they could lock the have nots door.. Brett mentions that RS might lose her voice over all this yelling.
Tyler brings up bayleigh coming to him about KAiltyn and he was telling her "trust me this thing happens to me every day"
Tyler – I told bayleigh just come to me and we'll talk about whatever sh1t happens you don't want to get in a fight with her (Kaitlyn)
Tyler told Bayleigh she needs to play her own game and start worrying about other people
Brett – dude I'm in every single f*ing fight in this house..
Tyler says Scottie has been trying to lay low and chill like when Rockstar started yelling at Brett.. they agree Scottie is smart.
They agree that Fes wants them out BAD. Brett says Fes was in Rockstar's ear to come fight him.
Tyler – I feel like all he wants is a showmance
Brett – ohh for sure..
They agree they have to keep reassuring Rachel that they are good because she gets paranoid. the fact that they were all have nots made the paranoia worse for her.
Tyler says JC thinks he has fes wrapped around his finger. they are unsure if JC can really influence Fes.
Tyler mentions "there's powers"
They talk about pulling Bayleigh in Angela mentions that BAyleigh has opened up to Rachel. Brett claims to have tried with bayleigh but hasn't got anywhere.
Tyler says Bayleigh will vote Kaitlyn out.
Tyler says Bayeligh will vote out Rockstar over Haleigh and Kaitlyn over Rockstar.
Angela asks if Bayleigh wins HOH who would she put up .. one of them and Kaitlyn?
Tyler – maybe Kaitlyn.. JC.. we can protect JC
Tyler – so maybe we keep kaitlyn in case Bayleigh wins HOH.. .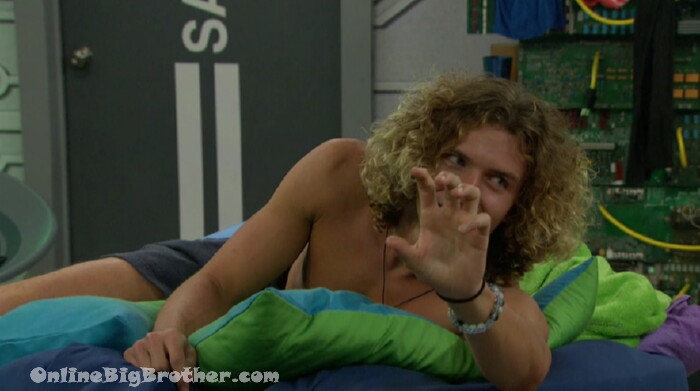 Tyler – it's definitely Haleigh and Kaitlyn on the block
Angela – Haleigh and Rockstar
Tyler asks what if Rockstar is on the block and pulls your name in veto. "could you imagine"
Angela gets called into the DR.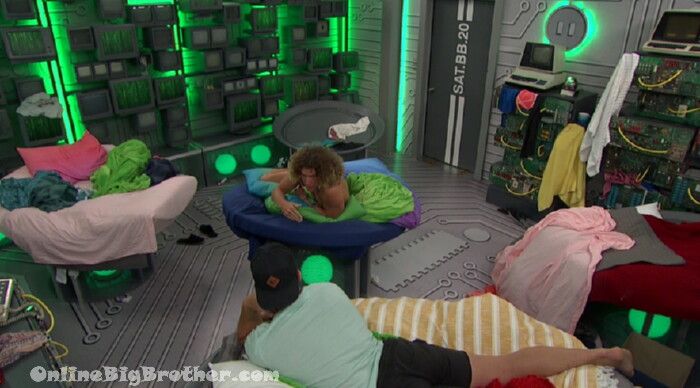 3:12pm Tyler an Brett one on one (new bros)
Brett – here is the new reality it's got to be me and you to the end.. FEs has got to go he wants both of us out HARDCORE
Tyler agrees says they need each other to block Fes's sh1t. Tyler says he's never really talked to Sam about Rockstar. Brett says Sam sees through Rockstar bullsh1t. Tyler agrees but adds that it's not hard because RS is the biggest bullshiter in the house.
Tyler – RS doesn't know how protected you are.
Brett – rs pulled some sob story out of her a$$ and started crying she was like that is why I feel for her.. I was like YOu gotta see through that sh1t sam. Everyone has a reason to be here.. everyone has something they can cry about if they wanted to She just trying to manipulated you
Tyler – exactly
They agree that the person that plays the best game should go far doesn't matter what they have going on at home. They talk about Rs bringing up her daughter birthday. Tyler said he went to RS and said "Dude.. it's only a game people are going to say whatever they want you don't have to take it so personally"
Brett says Rockstar tried to make it out to be a personal attack on her family but he has never once mentioned her family nobody has. They agree this is all working "So perfectly" They talk about the speech. Tyler says he had no idea it was going to work but it's worked flawless.
Tyler – they even believe it..
Tyler brings up that all they need was someone else to say they saw Brett and Rockcod to speak and Kaitlyn said she say them. it shows RS as a liar because she's been going around saying she's never talked to Brett.
Tyler says the other side now thinks Sam used the power.
Brett – It's literally unbelievable how stupid they are they think a power is used and they didn't announce it
They mention how people in the house are randomly making up stuff about the powers.
Tyler fills Brett in on how Kaitlyn spread the fake rules to Sam's power through out the house
Brett say hes sure that JC and Kailtyn have the other powers
T – I dunno about JC.. .I think he would have told us..
Brett says JC is good at keeping his mouth shut when he needs to, "that is one thing I'll give him"
They agree JC is smart in this game.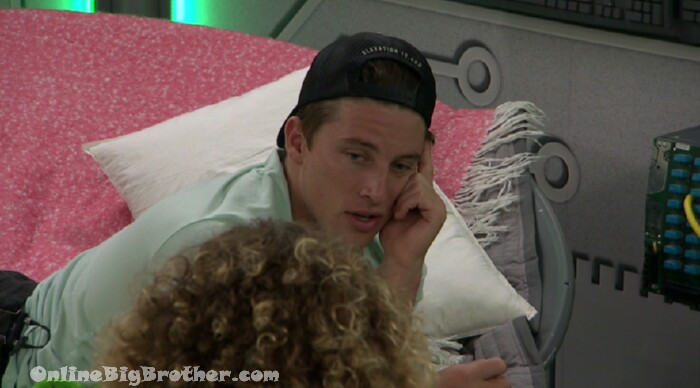 3:25am 
Tyler – the only thing that makes me nervous.. lets say it's Kaitlyn and Haleigh one of them goes home.. what do we do next week Fes or Rockstar ? I just know where not getting Rockstar's vote ever
They bro out on the fact with Fes gone they can win back to back physical competitions. (no.. cheese guys look at the girls you have this year..)
Tyler – I don't want to live with Rockstar here or in the jury house (dude I bet she'll be the coolest after the game)
They want to make sure their story are squared up.. "you saw Rockstar talking to me in the living room"
Tyler – the way I laid it out to Kaitlyn is stop bringing up details..
they think it might be best to say that Rockstar and Brett went into the storage room together.
Tyler – I don't even want the details in people heads.. I don't want them to question them I want them to just know the a conversation happened. (damn tyler is good the fact that this lie has any traction has me excited)
Brett says he knew he could go home tonight so he did it and made the big shot at RS. Tyler brings up how RS is freaking out is a telling sign..
Brett – oh.. I've been saying that all night.. Kaitlyn said it before I did.. she said haleigh did yo not see how she (RS) reacted
Brett says Rockstar is acting so over the top, "the reference I keep making is Kevin from last season he got cornered about the 20 g's and he freaked out and he never freaked out for the rest of the season"
Tyler – I saw that on YouTube (stop bringing up last season it was the worst)
Angela returns… asks them what they've been chatting about
Brett – how pretty you are
Angela – RS apologized to me.. she was like awww… sorry I was really excited ..
Angela – you're good.. first time talking to me in 20 days
Brett – should make for a interesting season.. .
They agree RS will burn out messing with Brett. Angela thinks eventually RS will realize how stupid she is and apologize to Brett. (NO NO Rocklobster need to turn it up to 11 on a dial that goes to only 11)
Brett – I don't think she will ever apologize.. I just find it funny.. her biggest selling point is why she hated Winston and I is because we were the cool guys that bullied people in high school.
Brett – She told JC..
Angela – are you serious… she just like so dumb..
Brett – I'm like You don't know that that's not true..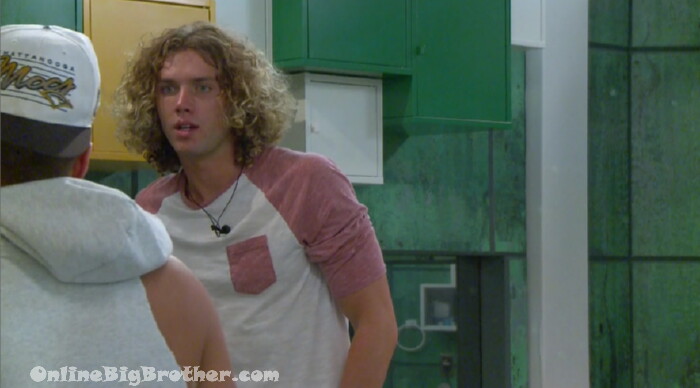 2:34am Tyler and Fes
Fes is saying he's been real to Sam since day one. Tyler confirms that Sam has never said a bad word about fes to him, "She's going to do her own thing"
2:54am Haleigh and Fes Storage room
Fes – we don't know how long we have with each other..
haleigh – I'm going up..
FEs – we're going oj the block together f** it
Haleigh – I'm not kissing you in the storage room..
Fes – that's not fair a deal's a deal…
Fes – c'mon kiss me on the cheek
Haleigh kisses him on the cheek
Fes – that's not fair a deal's a deal…
Fes – c'mon kiss me on the cheek #BB20 @DawgsBigBrother pic.twitter.com/BMjq0vNvgy

— OnlineBigBrother.com (@bigbspoilers) July 20, 2018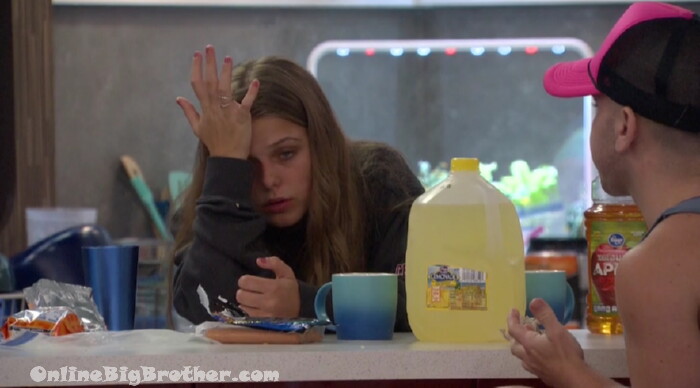 3:02am Jc and haleigh in the kitchen looking at the memory wall. haleigh says if they follow the patern the next person gone is JC
JC – b1tch
JC – the worst case scnerio is she puts you up and if she does
Haleigh asks about Fessy
JC says he thought it was going to be Haleigh but after RS did her show it might be RS and Kaitlyn.
JC tells her no matter what the scenario is she has the votes.
JC – I campaign for you
JC says that Sam will want to tak a big competitor out and Kaitlyn is such a big competitor
JC – ROCKSTAR is just annoying but Kaitlyn is a competitor
JC talk about how disappointed he is at the competition performance.
JC says Tyler looks so much better in his picture than in persons. "Le looks so handsome he looks like a confident young man"
Haleigh says if Tyler had more confidence he would be super hot.
Haleigh says if Fes had less confidence he would be…
Haleigh – I can't believe today happened..
JC tells her he suspect RS got talk to by production to tone it down. (nah she's been super tame)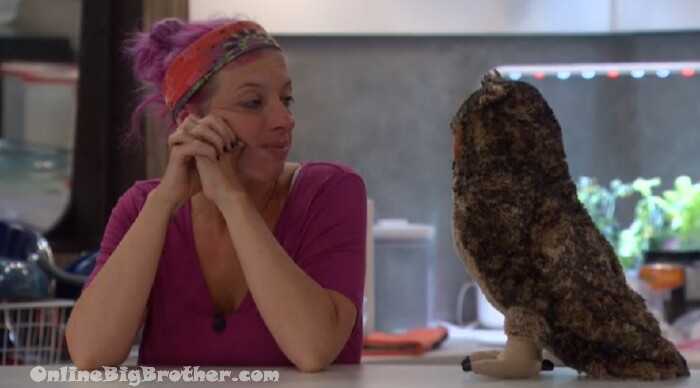 3:29am ROCKSTAR joins them from the DR
(I feel sorry for Rockwall)
Rs – i'm not a stress eater but I'm here for a 3am cookie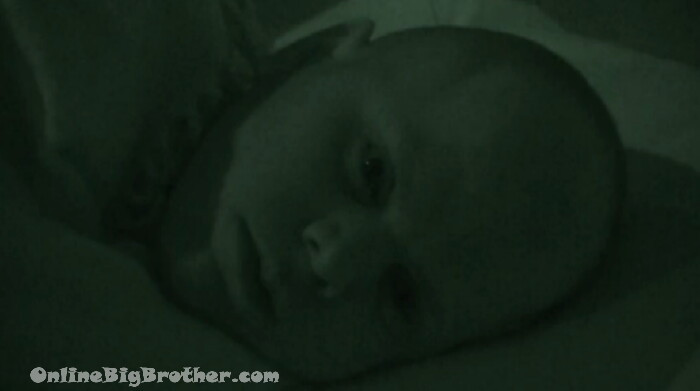 3:38pm JC is down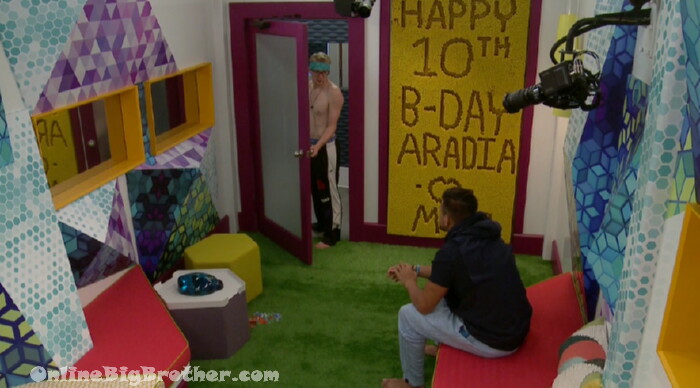 3:53am Scottie and FEs
Scottie is looking for blankets.. Fes says JC's got a bunch .
everyone sleeping on the feeds.. holy cow what a night…..
Toss a bro a bone consider donating
Rank the houseguests!
Easiest way to Rank the house guests use link below