POV Holder:
?
Next POV
May 1st
POV Used
?
POV Ceremony
May 3rd
HOH Winner
Kevin
Next HOH
May 6th
Nominations:
Bobby and Brittnee
Have Nots
Zach, Bobby
POV Players
Kevin, Bobby, Ashleigh, Brittnee, Sarah, Pili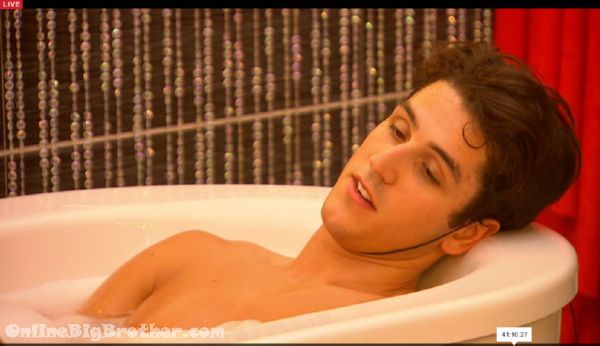 11:16am HOH Zach and Brittnee
Zach says if Brittnee comes down from the block Godfrey goes up and there will be a big debate on who goes home.
Zach says he doesn't care who comes down Godfrey is going to be the renomination.
Brittnee – I get it why I'm up but I don't
Kevin come sin
brittnee asks him if he wins POV will he take Bobby down
Kevin – YES then godfrey up probably..
Kevin asks them if Bobby would be OK if he used the veto on Brittnee. Zach and Brittnee are not sure. Kevin thinks they should run it by Bobby, "If you or Sarah win it's the best case ontario"
11:20am Have nots Bobby and Willow
Willow – I really hope that Kevin doesn't get bruno.. in with him
Bobby – Oh no way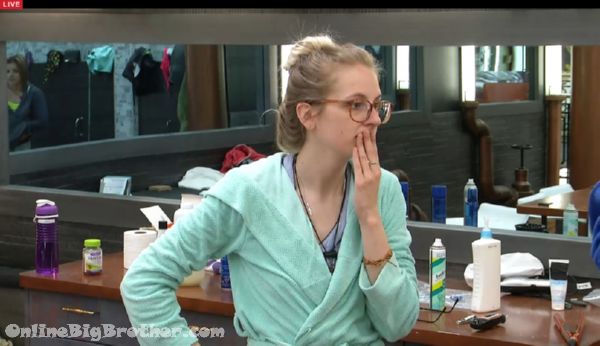 11:27am Bathroom Sarah, Willow and Bruno
Sarah working on the get Zach nominated angle. She says it has to be Bruno to go to Kevin. Bruno says that's a bit risky right now, "Big Risk.. could be a big reward"
Sarah says she can go to Kevin one on one and ask him what his ideal situation is.
Willow says if Kevin (AKA Dennis the menace) wins Big Brother she's done watching the show.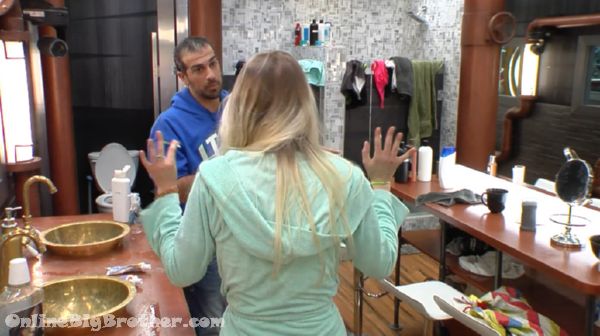 12:00pm Bruno and Sarah bathroom
Sarah says the best case scenario is Bobby wins. Bruno thinks that he's going up
Sarah – I don't like that Kevin is always on you
Bruno mentions that Kevin told him Godfrey is the plan but it's only words
Sarah says Godfrey is coming after the couples
Bruno – I'm telling you we can destroy these kids
Sarah mentions that Kevin doesn't trust Bruno very much they can't make a play until after the veto
Lobster dance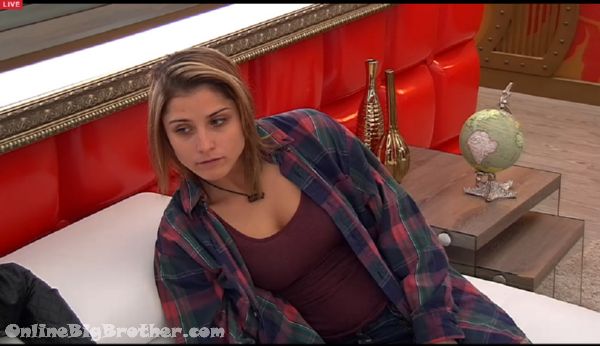 12:05pm HOH Brittnee and Sarah
Talking about Bruno freaking out. Brittnee brings up talking to Ashleigh where she said she might use the veto on Bobby. Sarah says Bobby is in an alliance with AShleigh.
Sarah – We figure that out weeks ago
Brittnee says there's no way Bruno is going up.

Willow joins them.. Sarah is freaking out asks if Bruno would be mad if she used the veto on Brittnee. Willow doesn't know.
Sarah and Brittnee now saying there's no way the couples are going to put Bruno up against Bobby, "They're too scared"
Sarah is pissed that Bruno didn't use the double veto.
Willow – I'm telling you now I can't beat Zach, Kevin, I can't beat Bruno I can't beat Bobby..
Sarah – Amen to that Sister
Sarah says Bruno is pressuring her to keep bobby she doesn't trust Bobby
Willow – I trust no one..
Sarah – these guys are so f***G paranoid.. all of them… we can't leave god alone with any of them.
Brittnee chimes in says it was mentioned to her that God was throwing her under the bus.
Sarah says they need to get "Those two" girls on their side but first they need to get rid of their boyfriends.
Sarah – Or we let those guys take out her boyfriend then she has no option
Willow – I'm next I'm the first girl to go..
Sarah – the line will get drawn it has to come
Brittnee – I feel Willow has put herself in a really bad spot and they can sense that
Sarah says Willow did it for them, She was committed to the couples but came to them becuase she can't stand Zach.
Sarah – I wonder what Kevin's final plan is
Sarah – I don't know if it's worth it for us to try and get Kevin to put up Zach
Brittnee says they need to get Bruno to do it, 'We don;t say sh1t it's time for him to say something"
Sarah is going to tell Bruno I don't think it's worth it right now I don't see that happening but if Bruno thinks it can he can try, "He's got more of a connection with Kevin"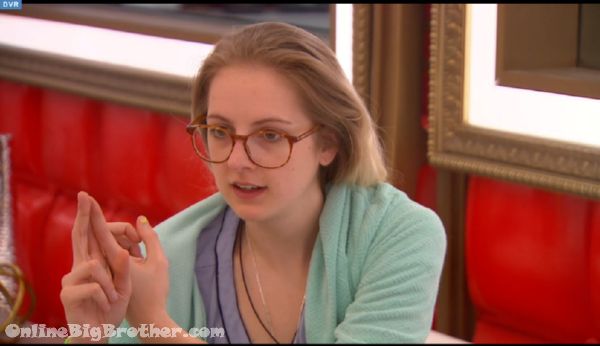 12:53pm Godfrey, Sarah and Brittnee
Sarah tells Godfrey that they should drop a subtle hint to Kevin that now's his time to make a move. Godfrey says that's a long shot.
Sarah – I htnk I should just talk to him and Feel him out
Godfrey – ya do that
2:40pm Nothing much happening .. Godfrey thinks the POV competition will happen tonight.
If you are outside Canada and want to watch the FREE Big Brother Canada Live feeds sign up for a VPN service here https://www.hidemyass.com/vpn/r16399/. It's safe to use, easy to set up, and cheap. Need to know more check out this post explaining how to set it up.
[polldaddy poll=8834825]