| | | | |
| --- | --- | --- | --- |
| POV: | FES | Next POV: | July 21st |
| POV Used | Yes | POV Ceremony | July 23rd |
| HOH: | Sam | Next HOH: | July 26th |
| Noms: | Kaitlyn and Haleigh Rockstar | Have Nots | Scottie, Rachel, Bayeligh, Kaycee |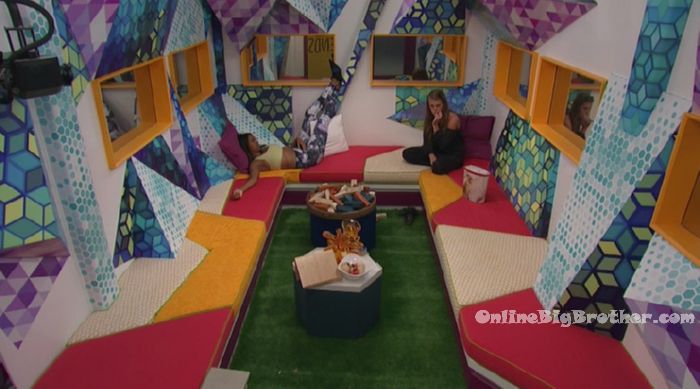 11:22pm Lounge room Haleigh and Bay. Haleigh – you and I need to stop worrying about everyone else. Bay – okay. Haleigh – everyone else is getting pretty settled and our side is taking hit after hit where we're going to be the only ones left. Bay – so going into this we aren't going to have any numbers and they're going to have five. How smart does that look? After what happened last week I said I am voting how I want. Angela joins them. They talk about the havenot saucers. Haleigh comments on how JC and Fes share a saucer. Bay – I think its so funny how obsessed JC is with Fes's body heat. Haleigh – they're obsessed with each other. Bay – they're gay, they're gay. Haliegh – yeah.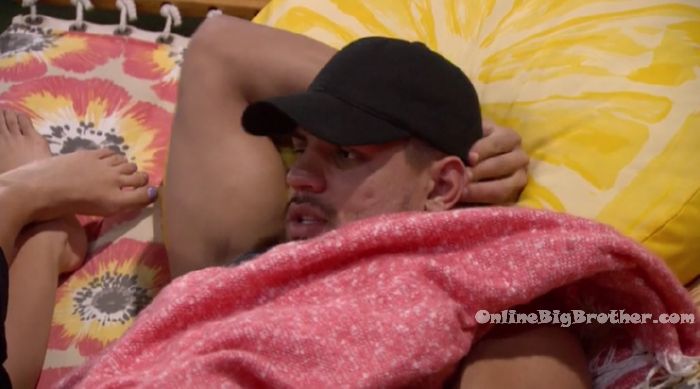 11:36pm Hammock. Kaitlyn and Fes. Kaitlyn – I am not upset that I am on the block. You have the ability to save me. You still can. Maybe it wasn't in the way that I wanted but … we just have so much to talk about after the show and I just really misinterpreted this. You're not very vocal and after yesterday when you so eloquently verbalized how you felt, I know you're capable of doing it. If you were ever in this situation, I would be by your side every second reminding you that I have you. That was my biggest mistake in this game is assuming everyone would do what I would do. Fes – you're going around telling Brett, Tyler and I that you trust us .. who am I to believe when you are going around saying it to multiple guys.

Kailtyn – I'm allowed to trust people in the house. I trust everyone until you give me a reason not to .. like with malicious intent. Fes – where does it make me feel like I am supposed to stand if you're running around the house saying you trust Brett. Kaitlyn – I don't but I did. You trust Haleigh, Bayleigh and Rockstar so I don't understand your point. Fes – because they're in my alliance. Kaitlyn – I don't understand your point. Fes – you openly say you trust a lot of people that are outside our alliance and how is that supposed to make me feel? Kailtyn – the only person I openly trust outside our alliance is Tyler. I didn't trust Brett but he did give me his word and he broke it. Fes – you're saying it to everyone. Kaitlyn – you're going to be so embarrassed when you see this. IS this the way you want this conversation to end? Are you with me or not? Fes – I know that there is something you've been keeping from me. Kaitlyn – I'm not. Fes – I know there is something you're keeping from me and until you tell me. Kaitlyn – I'm not hiding anything from you. The way you're acting like this is not good.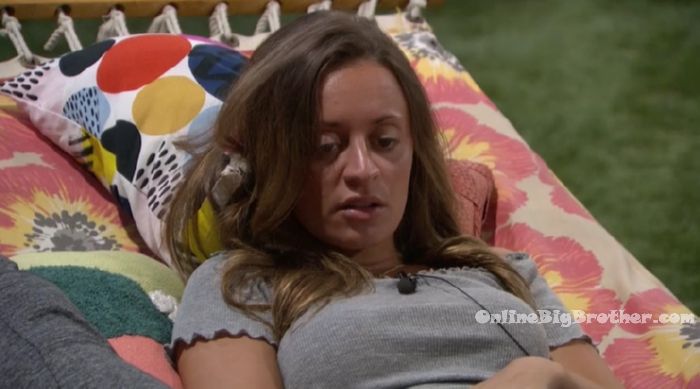 12:08pm Hammock. JC, Haleigh and Fes. JC – last week I completely trusted you with vote and whatever and I told you I would do whatever you want. I will vote with the group. It didn't work, it actually back lashed really bad. If you're expecting this week to do the same.. Fes – I am not telling you what to do this week. JC – I am telling YOU what to do this week. Fes – okay deal! I'm with y'all two. JC – if what I want happens this week. I want you to be kissing my feet till the end of the season. Haleigh – what are you saying the plan is? JC – we're sticking to the same but just don't open your mouth about it. I don't want you to make Rockstar feel better. I don't care how Rockstar feels. Fes – it doesn't matter how she feels she will feel fine when she stays. JC – I don't care, I just don't want to see you campaign and talking game. Like literally! Fes – okay, cool! JC leaves.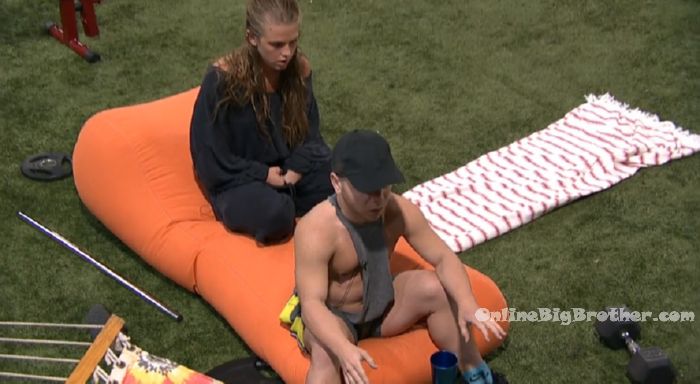 Haleigh and Fes. Fes – say we do vote out Kaitlyn and keep Rockstar. What's up with this power thing, what if she comes back? I think today I've come to the conclusion and I think you have too that yeah she is great but she is just acting really crazy going off the deep end. And does all this stuff and is so wrapped up in everything. Does stuff with emotion without thinking. Yeah even if I think she is going to ride with me, is that someone I want to go far in this game with? She is a liability. She is going crazy! Everytime I bring up a point.. she.. Haleigh – she is never wrong. The whole thing comes down to Tyler though… Swaggy told Tyler and Tyler went and told Kaitlyn. He needs to go. I don't want him here. Fes – If Tyler wins who does he put up? He has to pick a side. Haleigh – I think we're in a good spot I think you just need work on making sure you have Kaitlyn's trust. Fes – in case she stays. I'm not going to have her trust if we vote her out. Haleigh – I need you to get in there and get that fixed because there is a rumor circulating that she has made the statement if she wins HOH she is putting you up. Fes – me up? Haleigh – she said that you and her were laying in bed and you said I got you.. and then kissed her on her forehead. Fes – she puts me on the spot. What the f**k am I supposed to say. If that is the rumor the she is going. Haleigh – I don't know if we have the votes. Bay wants to go with the house. Scottie joins them.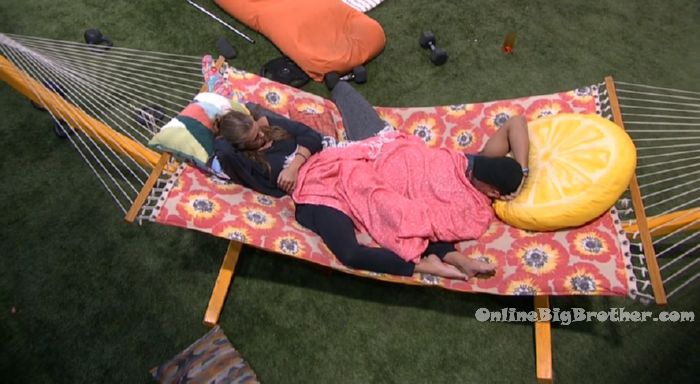 12:40am Hammock. Fes, Bay, Haleigh, Scottie. Fes – its going to be a tough two days. Haleigh – what are your thoughts Scottie? Scottie – I think she has to do a better job at not isolating herself. haleigh – are you pulling one way or another. Scottie – I would much rather Rockstar stays. Fes – but the only scary thing is the power thing. If we vote to evict her and she comes back. Haleigh – so!? Fes – I always saw her as a friend but now I see her as an enemy. Scottie – on a personal level you're he best friend .. on a game level Tyler is her best friend. Rockstar joins them. Fes – you know how Kaitlyn uses her words .. she corners you. What do you do in a situation when she corners you like that. If I tell her off to her face she will go blow up.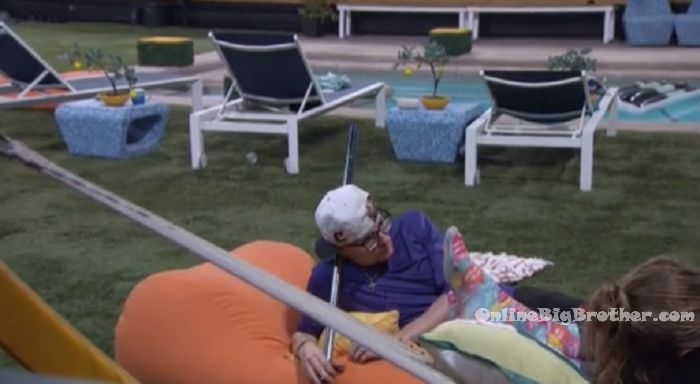 12:50am Hammock. Fes, Bay, Rockstar, Haleigh. Rockstar – JC could have beat her. I am not even over that. In a vote and I don't think I will. Bay – I need you to change your attitude. You've had literally five people come to you and guarantee your vote .. all you need to do is get one more and you're giving up? Come on! Haleigh – you have four right here. Bay – And you know JC is 100% for you to stay. Come on! We need you to do this for us because if we're going to throw our a$$es on the line for you .. we riding for you, you need to ride for us. Fes – it is going to look bad if you're giving up and we vote for you. Pull it together, we got it. Bay – if anything work on Sam so that she will break the tie in your favor. Haleigh – we need to be a unit on this. Rockstar – everyone is just laughing and having fun. Its just really lonely. She said she is not going to campaign and that she's just at peace that I have more votes than her.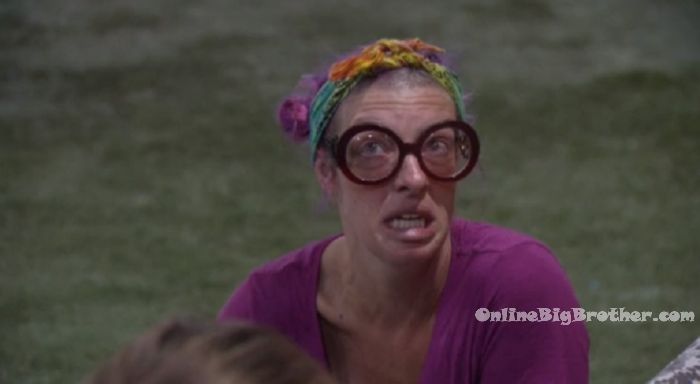 FLASHBACK and watch everything you missed: Live Feed 7 day FREE Trial!

1:37pm Backyard couches. JC, Rockstar and Sam. Rockstar – I wanted to ask you or pretty much beg you that if you want me to stay here. If there is a tie that you would break it in my favor. Sam – I haven't really thought about it. I didn't consider there could be a tie. Though Rockstar what if you're here and on the block next week and you're up again and you're gone forever? Rockstar – then that is part of the game. My intention is to win the HOH. I hope that you would want to keep me since I was not one of your original choice. I am begging you to break the tie in my favor. Sam – Like I said I haven't even thought about it. Rockstar – may I ask what the apprehension is and why not just you're my girl, I've got you? Sam – I really don't know because I had plans. I had an idea and then that didn't work. This is just a time when everyone needs time to process. Don't be hitting people too hard. The best thing for you to do is to just chill.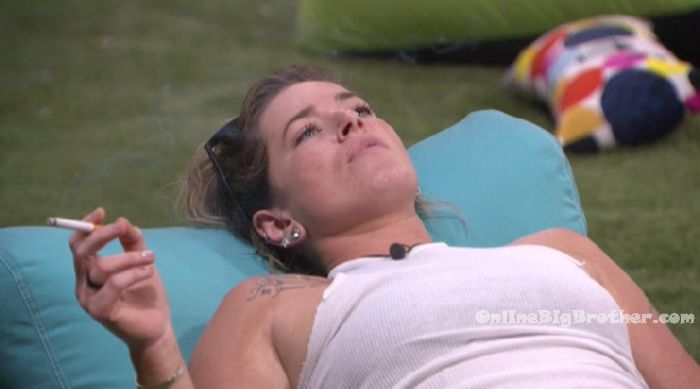 2:20am Bathroom. Fes and Rockstar. Fes – I just can't have you getting paranoid this week. And honestly I am going to go along with her (Kaitlyn) and you have to trust me. Don't let what the house says or someone say that I am voting for her. I've done everything I've said I've done. Rockstar – I trust you. Fes – what she did with Swaggy that was a red flag and a half. Just trust me and I've done nothing to where you cant trust me. Don't get paranoid. Don't go openly saying oh Fes is going to vote for Kaitlyn. That is going to cause a bunch of drama. Rockstar – I'm not just also tell her whatever you want. We need people to think that its safe to vote for me. People like to vote with the house. Maybe say I don't feel comfortable discussing my vote. We need the weird floater people to think this is okay. Rockstar – my conversation with Sam did not go well. She said she didn't even consider it and has already put up 4 people. I bet that if I stay, I will not go on the block. There are bigger fish to fry. After next week we're in jury and I don't care what you guys do. I need you to do a little foot work. I am not paranoid, I trust you.
2:32am Bathroom. Rockstar and Haleigh. Rockstar – she can't win this one. Haleigh – she won't. Rockstar – I have been nothing but loyal and true. There are enough f**king scheming people in this game and we don't need to keep one more. You know? Haleigh – Rockstar you can't go. You can't.
2:33am – 2:55am Kitchen. Rockstar and Brett. Rockstar – I am a f**king fan of this show and game recognize game. I don't know how the f**k you pulled off what you pulled off on Thursday but somebody that appreciates that is someone you want in jury. Someone that is not going to vote emotionally or be bitter but go that motherf**ker pulled off some strategic a$$ sh*t and I'm here for it. I want you to consider that because I am not a competition threat, I am not really threatening at all. I am somebodies mom. I want to get through this and I want my daughter to know like cool my mom is up there voting for someone that is going to win the show. I am not going to vote with f**k that dude, I'm going to vote with that motherf**ker pulled off a lot of sh*t and I'm here for it. I want to vote for the best player and I want the opportunity to do that. I am a huge fan of the show. F**k kick me out week 6, I don't care. And I am not a bitter person, that is why I came up to you the other day. It wasn't because I needed to. A bigger part of me was like how the f**k did he pull that off .. that is kind of amazing! We don't work together but game recognize game. And I liked it on an evil level! I am not someone that is going to bitter vote. They head out into the backyard. Rockstar – I am loyal and true and that's someone you want around. Brett – you make some valid points that I appreciate you coming up to me. I like that you're not throwing in the towel. Rockstar – you're a smart guy and I think you will do whats best for your game.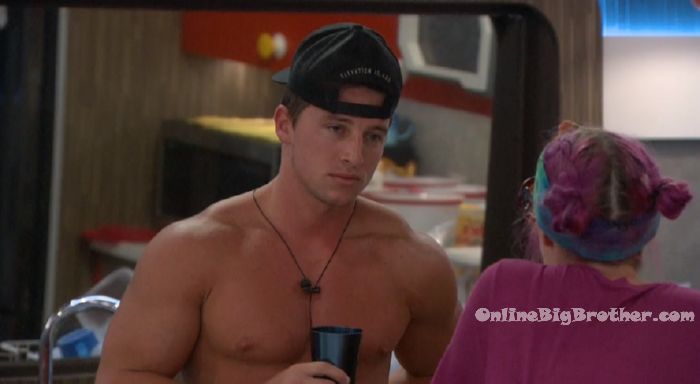 3:40am Backyard. Sam and Fes. Fes asks Sam questions about her power app. Sam explains her power to him. Sam – I was only going to use it on myself and I almost used it on Winston. It only says the evicted has a CHANCE to come back.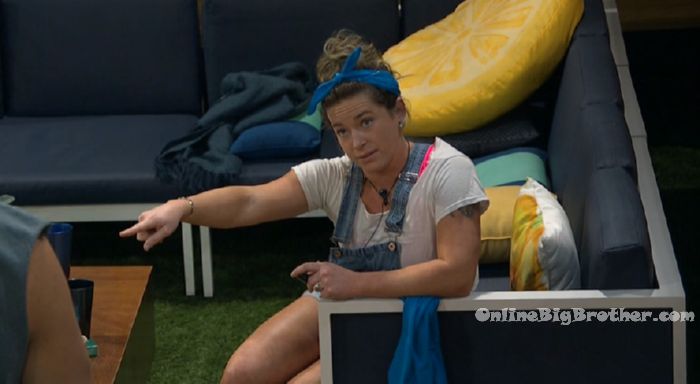 4:15am All the house guests are sleeping..
HELP keep the spoilers coming! Show your support by making a donation. ANY amount is greatly appreciated! Your donations go directly to paying the fees required to run this site.
For all you folks that need a VPN I use this one
Rank the houseguests!
Easiest way to Rank the house guests use link below