POV Holder:
Jessie
Next POV
Aug 10th
POV Used
?
POV Ceremony
Aug 5th
HOH Winner:
GM
Next HOH:
Aug 8th
MVP:
AMERICA
Original Nominations:
Candice and Jessie Amanda (MVP Nom)
Current Nominations:
Last Evicted Houseguest
David, Nick, Jeremy, Kaitlin, Howard
Have Nots
no have nots this week
3:06pm HOH room Spencer, JUDD, Andy  and Gm (AKA the dream team) 
GM shares with them how much she dislikes Candice. GM says Candice is rude and rat she wants to know where Candice was raised thinks it was in the woods because she has no manners. 
Talks moves to Howard's game and how poor it was. They all agree Howard was a great guy but he just sucked at the game. JUDD points out how every week after the POV Ceremony they saw Howard whispering in corners with people. He didn't have to do that and it made a lot of people nervous. 
GM is pissed that Howard threw competitions. 
They wonder if Howard was a NFL hopeful why was he so bad at some of the more athletic competitions. 
Spencer brings up Howards injury and how traumatic it is. He says the injury was a big deal and may have had something to do with his poor performance in competitions. 
GM saying she loses the cone of shame at 4:45 tomorrow. It's really been hurting her lately. 
McCrae and Amanda join them. McCrae tries the spare cone. Says it's weird that production lets him wear the cone but doesn't let him wear the spare clownie outfit. (GM has two cones one for showering. The showering cone doesn't have a microphone attached) 
3:14pm Backyard BBQ girls are talking about Dan and some of the things he did in BB10 and BB14
I Flipped to the BBQ conversation hearing Helen says she was like Carrie in Sex and the City.. Helen talks about how different it is making friends with people when you have family. Elissa agrees says all her friends are either her Husbands employee's wife's or wife's of the people he does business with.
Helen goes around the table telling each of the BBQ girls a reason why they mean so much to her. (superfriends x10000 )
You can re-watch ever second on the feeds using their flashback feature.. It's just like a DVR and is super easy to use. click this link for a Free Trial —> Subscribe to the Big Brother Live Feeds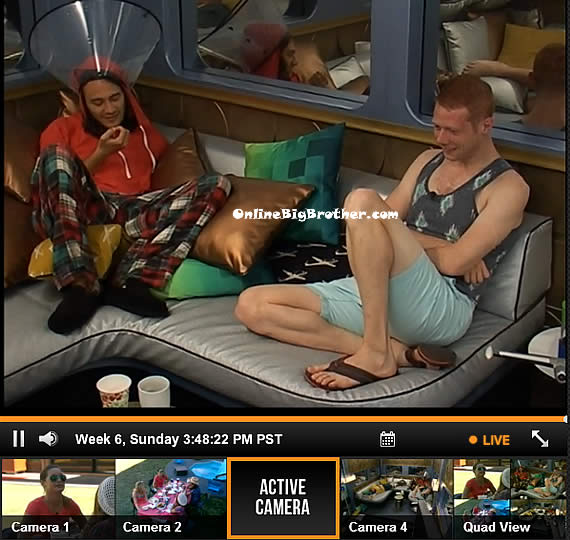 3:40pm Cockpit JUDD, Spencer, Andy and McCrae
Joking around.. Andy tells them the BBQ girls only got 2 beers each. Spencer wishes they would have at least given them enough alcohol to mess up their game.
Andy calls them the BBQ sl*ts.
JUDD says they should try to figure out what they BBQ girls are talking about.
Andy: "They're All talking about there's periods"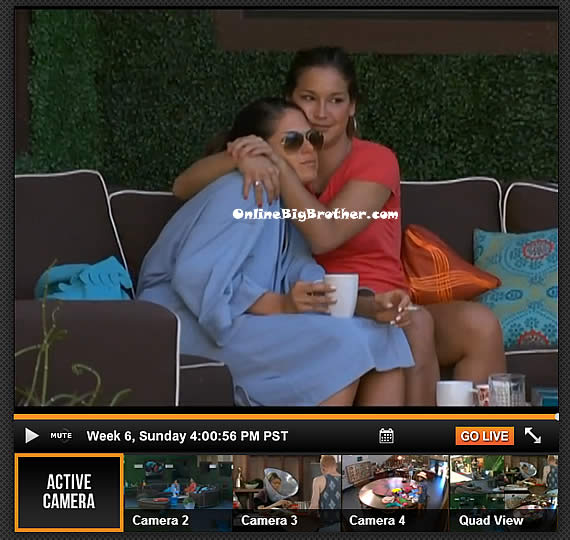 4:00pm Backyard Amanda, McCrae, Jessie, JUDD, Andy and Spencer
They are trying to convince Amanda she should do the wedding soon because she doesn't look bad at all she just looks really tanned. Amanda Doesn't want to she wants to wait until next week. She mentions that Production wants her to give them a heads up before they do it.
The guys head inside leaving Jessie and AManda to finish their smokes.
Amanda says she swears to good that she will not put Jessie up next week as long as Jessie is "good" with her. Jessie was worried but isn't anymore.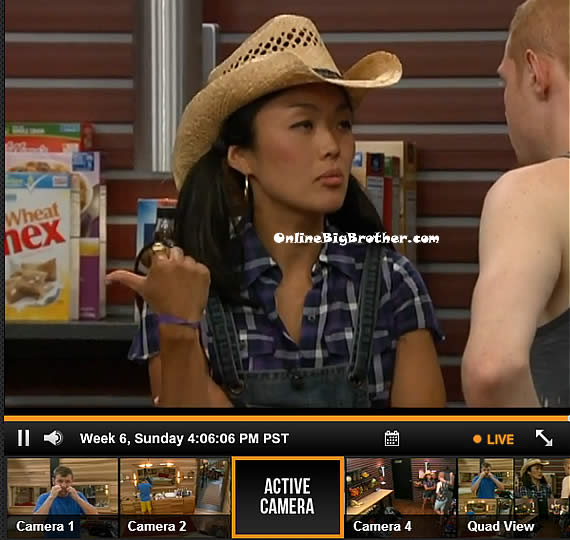 4:05pm Storage room Helen and Andy
Helen saying Jessie told here Aaryn and Amanda are talking about Backdooring her next week.
Andy: 'WHAT. NO NO.. who said that"
Helen: 'YES.. a couple people"
Andy: "This is news to me.. who said it"
Helen says JEssie told her and GM said she needs to speak with her so she's expecting GM will bring it up.
Helen: "My guess it was Aaryn, GM and Jessie talking"
Andy: 'I'm telling you I have heard nothing"
Helen: "Of course you haven't"
Helen is getting paranoid thinking that Aaryn wanted her to go up as the replacement nominee.
Helen doesn't want Andy to go anywhere with it she just wants him to be aware of it, "It frightens me"
Andy: 'What did Jessie say"
Helen: 'Jessie was probably in the room with GM and Aaryn they are trying to get the votes to do it next week"
Andy: 'Jessie told you.. what did she say.. "
Helen: "Jessie told me.. she never gave me details yet .. she said there are people working on getting the votes to backdoor her next week" (LOL it's so easy to get Helen to go on a paranoid rampage)
Andy is confused says it might be them scrambling thinking they are low on the totem poll trying to get them all to turn on each other.
Andy: 'I will put my feelers out there and tell you if I hear anything"
Helen: "I have a lot of friends telling me that Amanda is not on my side"
Andy says he hasn't heard Amanda say a word about this to him. Helen smiles "Of course she hasn't"
4:35pm Bedroom Helen and Elissa
Helen asks what she thinks about Jessie's idea to get Amanda out this week. Elissa is shocked by the fight Amanda had with Candice. Elissa says Amanda said a lot of very hateful things to Candice that weren't needed.
Elissa and Helen are getting paranoid because McCrae and Jessie are talking in the bedroom. Elissa doesn't think that someone in the house put up Amanda. She thinks it was America. Elissa thinks that people would be able to related to her because she's a mom.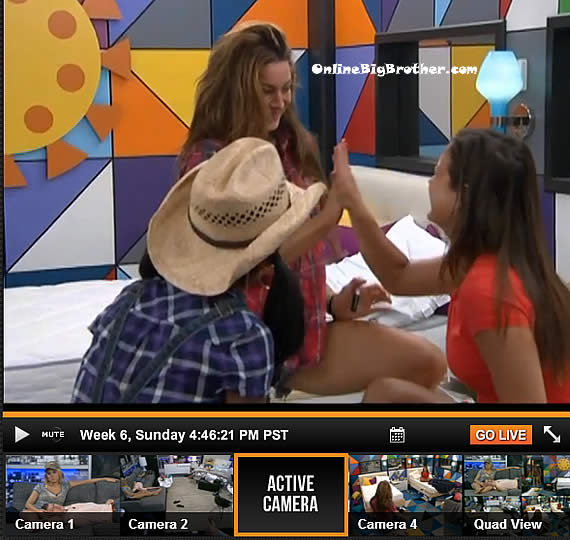 4:35pm Bedroom Helen and Elissa
Elissa and Helen are getting paranoid because McCrae and Jessie are talking in the bedroom. Elissa doesn't think that someone in the house put up Amanda. She thinks it was America. Elissa thinks that people would be able to related to her because she's a mom.
Candice and Jessie join them.
JEssie: "Why do you all look so down in the dumps"
Helen: "The beer got to me"
Helen asks Candice to leave and let the 3 of them talk game.
Helen says she talked to Elissa and she is on board. Jessie: "They are working me so hard right now.. McCrea and AManda" Helen says she talked to Andy and she'll talk to GM later today, 'Gm and me have a good relationship"
Helen is certain there is a plan to backdoor her. Elissa isn't sure why would they backdoor Helen.. maybe they want to ensure Candice goes home.
Helen: "We have to get Amanda out she's trying to backdoor me"
Jessie says the other side wants to strike first because there are down in the numbers.
They star to run the numbers they figure they will need JUDD and Andy. Helen tells them before they start getting votes they need to find out who GM will put up
Jessie: 'She won't put you on the block she promised you" Helen tells them to head to the pool and chill she'll talk to Gm later today.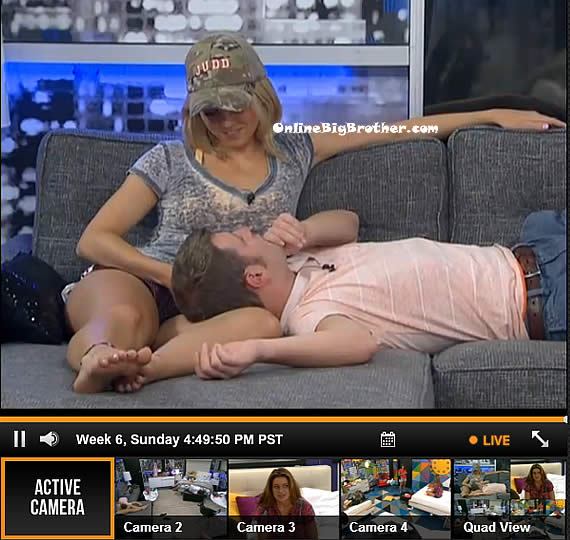 Upstairs in the HOH a minimance is forming..
4:47pm Backyard Amanda and McCrae
Amanda is saying once she can get rid of JUDD she will stop going up as MVP. She feels if she can prove to GM and Jessier her loyalty she will have their trust for the duration.
MC isn't certain that getting rid of JUDD means she is free and clear of the MVP nominations.
Amanda: "Helen, Jessie, spencer and JUDD are scarey to me"
MC: 'ya.. I think we might get jury this week.. if that's the case sh!t is going to happen sh!t is going to go down.. We're both going up"
Amanda doesn't think they will both go up because that will make the person too big of a target. She feels it will be her and Elssia.
JUDD joins them.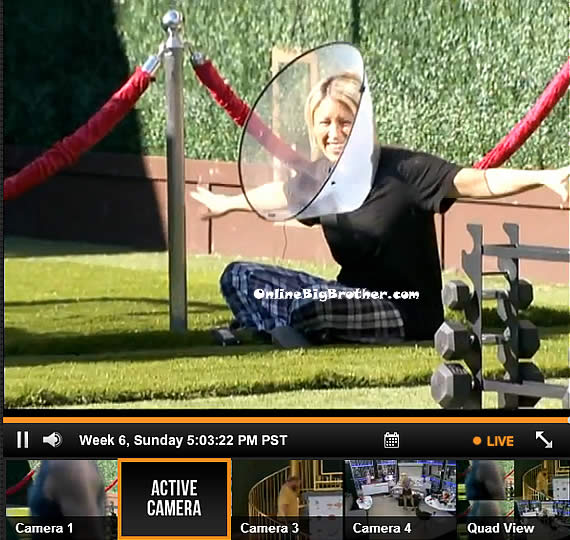 5:03pm The music plays meaning Amanda needs to get a spray tan.
GM runs to the spray tanning Machine says she's hoping some of the over-spray will get on her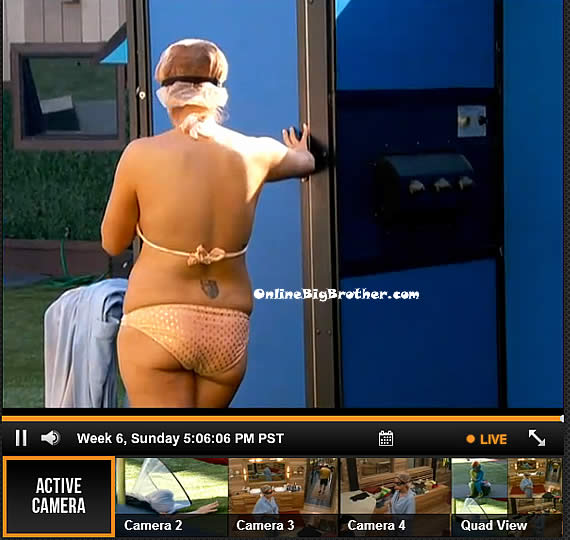 The machine isn't working, Amanda: 'This happens everytime.. I'm going to read the instructions"