POV Holder:
?
Next POV
Aug 3rd
POV Used
?
POV Ceremony
Aug 5th
HOH Winner:
GM
Next HOH:
Aug 8th
MVP:
AMERICA
Original Nominations:
Current Nominations:
Last Evicted Houseguest
David, Nick, Jeremy, Kaitlin, Howard
Have Nots
no have nots this week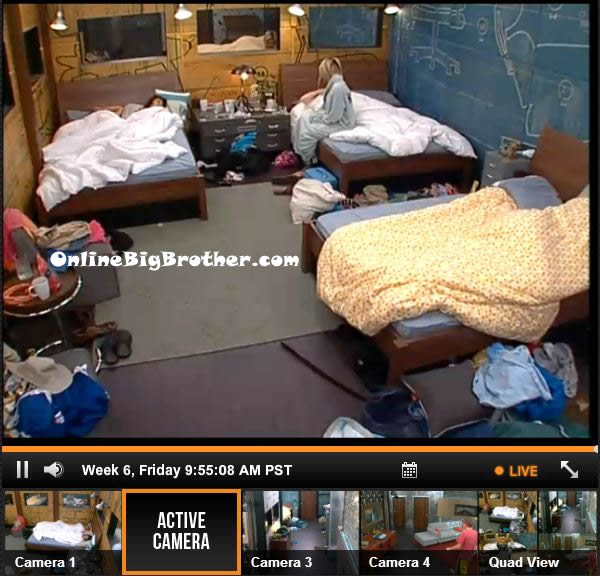 9:35am – 9:55am Big Brother wakes up the house guests. When the live feeds return – Judd is brushing his teeth in the bathroom. Gina walks through with him back to the bedroom. Gina then jumps on Andy and pretends to fart on him. They go back to sleep. Candice heads into the bathroom to get ready for the day. She then walks to the kitchen and notices the backyard is open and screams THE BACKYARD IS OPEN! Helen gets up and starts getting ready for her run. Helen apologizes for Howard being gone. Candice talks about how this was out of Howard's comfort zone. Helen says I know that the money doesn't replace anything but maybe you winning that money ($5,000) is like telling you to remember why you are here and to get your head back in the game. Helen comments that Jessie tried to talk to her last night after the fight but I told her I needed to sleep first. Helen explains that there is a time to go for all of us. Helen talks about how Jessie was stirring things up. She says that Jessie was going around dragging my name through the mud. Helen says that Jessie is a little devil. I don't think I can forgive her. Candice says that she and Howard realized that a week ago how she was starting a lot of the sh*t. Helen says in 24 hours I don't know how she turned like that. Helen says the way she was talking to Amanda was so mean. Candice says well Amanda wasn't that nice either. Helen says that she doesn't want to get into an argument with her if that's what she is like. Helen comments that you, Elissa and I can have a conversation with her. Candice says okay because I need a witness in there to talk to her. Aaryn joins them and they break up their conversation.
Big Brother 15 Live Feeds: FREE 2 DAY TRIAL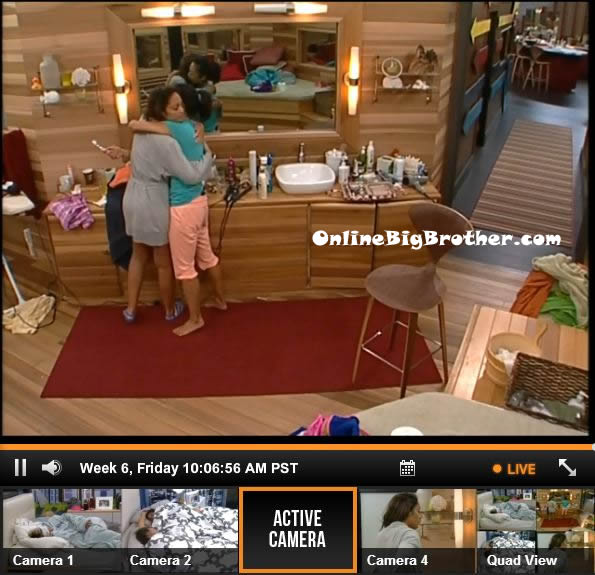 10:30am – 11:10am Gina is up and carries her bag, makeup, the photo of Nick and her and a blanket through the house up to the HOH room. In the kitchen she ask McCrae how his sleep was in the HOH room. He says not good Amanda and I fought like all night. McCrae comes up to the HOH and helps Gina make the bed. She tells him if there is any other night that he would like to have the HOH, just let her know. McCrae says its all right. They talk about being in pain from the competition last night. McCrae then heads back downstairs. Amanda come up and hugs Gina. She says it smells like farts in here. Amanda asks if she can still sleep up here. Gina says yeah. Amanda say that McCrae is a little pissed off at me. I am not the type of person that you can attack me on a personal level and not do anything about it. It's like if someone said something like that about Nick! Gina says Jessie is a womanizer! Amanda says I warned her to stay way. Gina keep burping. Gina talks about how Jessie used to go through the drawers slamming them in her bed while she was sleeping. It's just like what Candice does with the doors. It's rude, it's disgusting and I don't like it. Aaryn joins her and says it smells perfect in here, just like farts. Gina heads down to get more of her stuff. Aaryn and Amanda talk about last night. Aaryn says that she wants Judd gone but wants Jessie out first. Amanda says that McCrae is worried that you have formed a strong bond with Judd. Aaryn promises you three will always come before Judd. Amanda is sure that Judd was MVP last week and is responsible for putting her up because he was giving shout outs thank you's. Aaryn says that she is excited about the BBQ and says it is going to be great for her game. It's the best thing that could happen for her right now because Helen wants it to be like its in her backyard and have no game talk. Aaryn gets called to the dairy room. McCrae joins them. Gina then heads into the HOH bathroom to he her makeup feed the fish.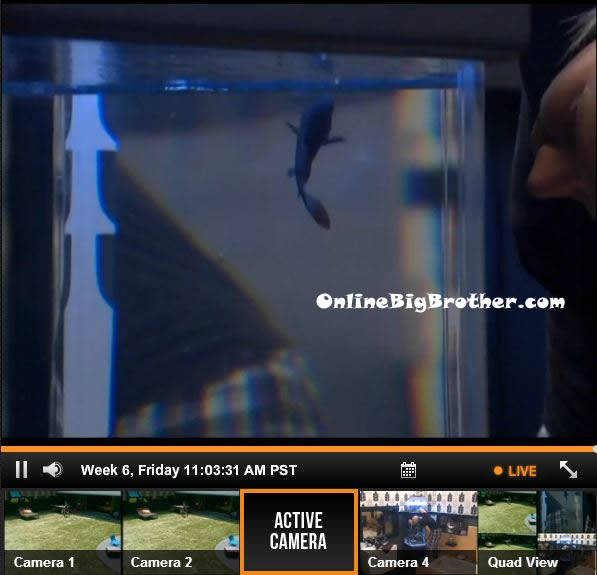 11:15am – 11:35am Out in the backyard – Judd and Helen talk about the HOH competition last night. Judd and Helen comment how they are glad Gina won. Helen says that its good that Gina won because she promised she wouldn't put us up and this way McCrae can play for HOH again next week. Judd says that he is pushing for Jessie to go up. Helen says that she thinks Jessie should go. Judd says Ah, I am so happy you are on the same page with me. They talk about how Spencer just needs to keep doing what he is doing to not be targeted. Helen is worried that if Jessie stays you two would be put up together. Judd says that she let me sleep in her bed last night too so that I didn't have to sleep with Jessie. Judd says that Jessie is game suicide for me. Helen talks about how Jessie was throwing her name under the bus. I have never done anything to hurt her. Andy joins them. Andy says he doesn't understand what Jessie is thinking. Judd says all Jessie needed to do was be like Porsche (Floater). Judd says I feel like I brought her in and she sh*t on us. You mess with one of us you mess with all of us. Helen heads inside. Judd says to Andy that Jessie is like having a drunk scary person around. Judd thinks that Jessie could go this week and Candice the week after. Spencer joins them. Andy tells Spencer that Jessie and Candice are your biggest allies the last 24 hours they are keeping the target off your back. Big Brother switches all four cams to the bathroom where Gina, Helen and Elissa talk about nominations today and the HOH competition.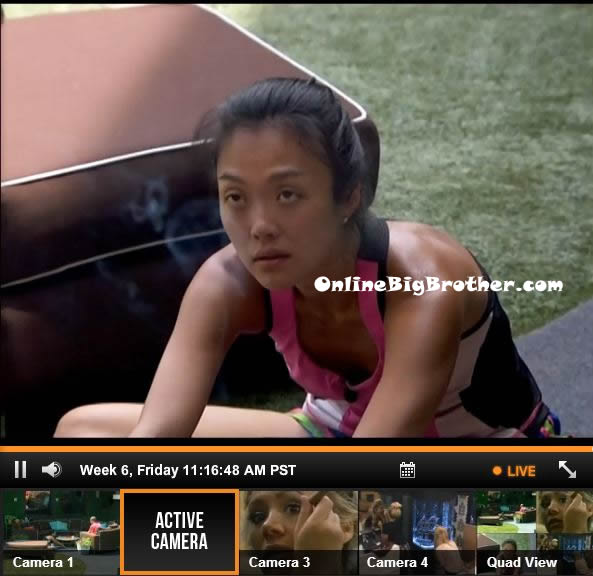 Use the Big Brother Live Feeds to FLASHBACK to SEE what they can't show you on TV: BB15 N!p Sl!ps / N*des
[polldaddy poll=7293412]