POV Holder:
?
Next POV
Aug 3rd
POV Used
?
POV Ceremony
Aug 5th
HOH Winner:
GM
Next HOH:
Aug 8th
MVP:
AMERICA
Original Nominations:
Current Nominations:
Last Evicted Houseguest
David, Nick, Jeremy, Kaitlin, Howard
Have Nots
no have nots this week
12:10pm In the bathroom – Jessie tells Gina that she doesn't think she has given her any reason not to trust her. Gina says oh yeah we're good. She tells her that we will definitely get a chance to talk later before nominations. Gina says the way I see it, it won't happen until I get a chance to talk to everyone or at least that's how I see it. I can even tell everyone that you asked to talk to me first. Jessie says thanks. Gina winks at her and says no problem. Jessie leaves the room.
In the storage room – Aaryn tells Andy that yes she has a bond with Judd but that if it came down to it she would vote him out or put him up if she had to. She says that her loyalty is to Andy, Amanda & McCrae. Andy says that he feels the same way about her that he trusts her. Andy tells Aaryn that he would vote to keep her if it was between Aaryn and Helen. Andy comments that he is starting to trust Judd more now the last few days and sees that Judd is more concerned with getting out Jessie. They leave the storage room and Andy notices that the nomination screen is up on the living room tv. Andy then goes and tells everyone. Gina heads up to the HOH room to ask Amanda/McCrae to go to their regular bed because she wants to talk to people since the nomination sign is up on the living room tv.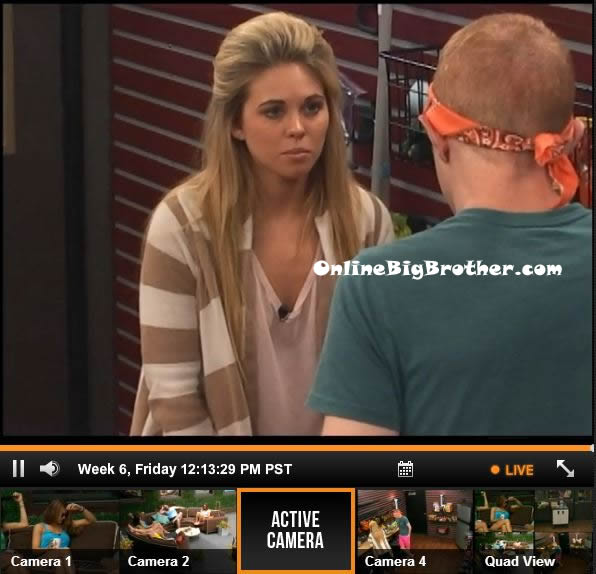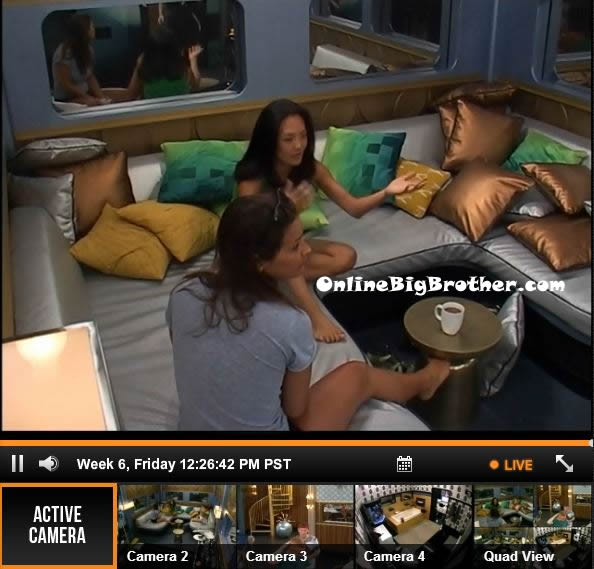 12:25pm Helen and Jessie head into the lounge room to talk about last night. They start to talk and Amanda comes in and apologizes. I am sincerely sorry for the things I said and for what happened last night. Amanda says that she was just really vulnerable and is scared about being on the block. Jessie says that she is sorry about the things she said too. Amanda says that she is sorry about the derogatory comments she made about Jessie. They talk about how it was really a compliment that Jessie thinks McCrae is a good looking guy. Amanda hugs her and says that she is sincerely sorry. Amanda leaves and tells Jessie that she is going to kick her a$$ in the making fun of Ginamarie contest. Helen then starts talking to Jessie about how she really felt like she was a sister to her and she is one of the only people she could see being friends with outside the house. Helen starts crying about the things Jessie has done to hurt her in the game. Helen brings up how Helen and Elissa don't need the money. Helen keeps crying saying everyone needs the money, I left my children for this. I don't know why you hate me so much! Jessie says that she said that in a weak moment and regrets saying it the most out of anything she has said in the game. Helen talks about why she gave the BBQ to Aaryn and Elissa. Helen says Elissa is my closest friend, Aaryn did so much for us and stuck with the plan when she didn't have to, and I gave it to Gina because she deserves it for winning HOH and I saw it as a way to be closer to her. Helen says I love you but I don't know why you try and kill me in this game! I haven't even told them about everything you've done to me. Jessie says that it has been a trust issue for her seeing how close Helen is getting to Aaryn. Jessie says that she distrust Amanda. Helen says that is why I am here for you because I can make sure she never guns for you. Jessie says that I need to hear things like that, I don't know you are protecting me. Jessie says that this game is like a carpet – I am looking at the back of it and seeing how messy it is and trying to figure it out.

12:40pm Meanwhile in the storage room – Judd talks to Elissa about how he slept in Candice's bed last night to separate himself from Jessie. Judd says all Jessie had to do was play a Porsche game and lay low and she could have gotten far in the game. Up in the HOH – Gina asks Andy who he would put up if he was in her position. Andy says Jessie and Candice. They are the two that are lying the most about you and me. Their loyalty has been questionable. Gina says I like that I will probably use that in my speech. Gina says I like you and I will probably not put you up so if you do become HOH, I hope that you consider that I did not put you up. Andy says you have my word and not many people in the game have that. Gina says that she doesn't like scrubs – I consider floaters and flip floppers to be scrubs. I want to compete with people who deserve and fight to be here! I consider you to be great in this game. People who don't compete suck. Gina says hopefully you work with me and vote Candice out. Andy says he will vote however she wants him to vote.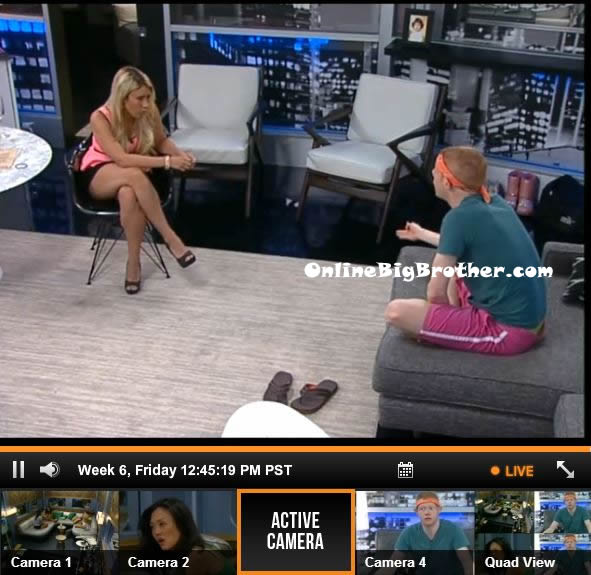 12:50pm Judd talks to Gina next. She tells him that she is thinking of putting up Jessie and Candice. She says that she will be probably tells Jessie that she is the pawn because she has a good chance of winning the veto. Judd says he is great we are on the same page. Jessie has hurt my game but I think people see that we are separated now. Gina says she thinks people see that too. Gina says I think you are a great guy and if I met you outside the house I would date you. You aren't second best like how Jessie was jumping around from guy to guy. They discuss who could get MVP. Judd says if he does get he will work with her on who to put up. Gina asks Judd to work with her this week and to vote out Candice. Judd says yeah.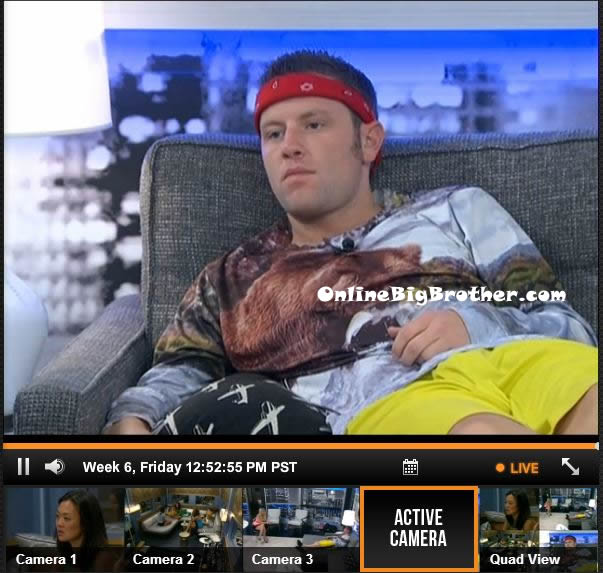 1pm – 1:12pmGina talks to Spencer next and tells him that she isn't putting him up. She tells him that she likes him. I am not mad at you for voting out Nick. I understand that it's a game and you are playing it for yourself. Gina says since I am not putting you up I would hope that you would not put Aaryn and I up on the block if you get HOH. Gina says the only reason I am adding Aaryn to this is because I heard that you would put her up. Its not like I need her but I would just appreciate it if you don't put her or I up. Gina says she would be very appreciative if he votes out Candice. Spencer asks if she knows who the replacement nominee would be? Gina says she hasn't thought about that yet but doesn't want to put him up. Spencer says that he is picked to play in the veto I will compete and keep the nominations the same if he wins it. Gina appreciates that. Spencer heads downstairs and tells Helen that Gina would like to talk to her next.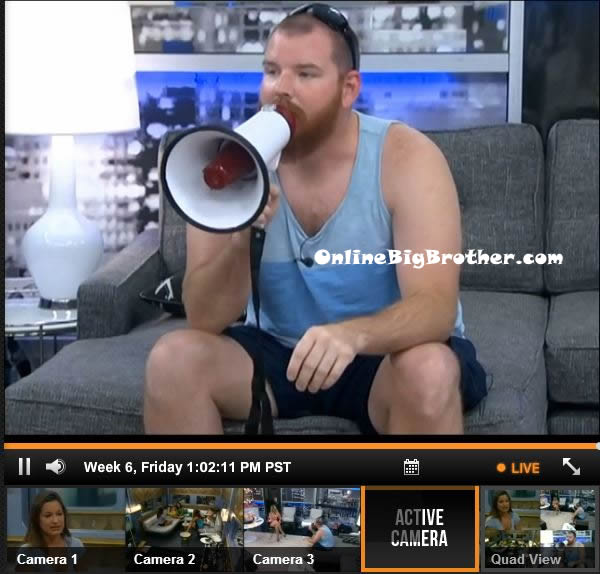 1:15pm – 1:25pm Gina then talks to Helen about how obviously she will not be going up on the block. Helen says thank you. Gina talks about how she and Helen are similar and give things all of their heart. She talks about Nick and how she would give him her heart if they dated outside the game. Gina says that she will talk to Elissa too and she will not put her up. Gina talks about how she will be putting up Candice 100%! Gina asks if she wins HOH she will not put me up. Helen says of course not. Gina gets called to the diary room.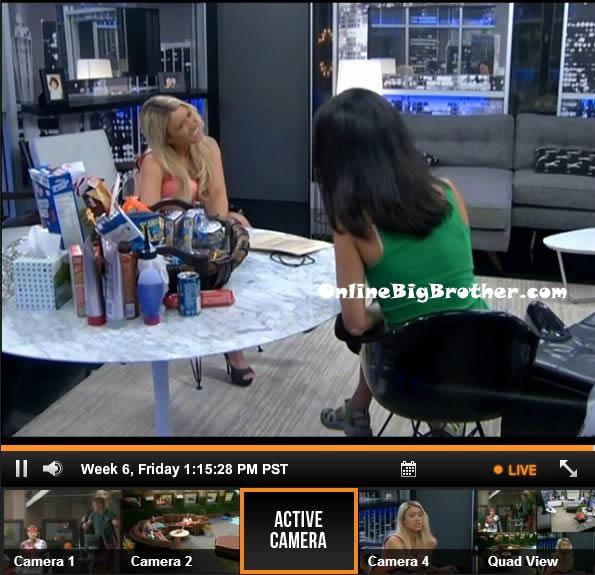 1:25pm In the rainbow bedroom – Spencer and Aaryn talk about how Ginamarie calls this the "coloured room". Aaryn says that she told Gina she needs to stop calling it that, because it sounds so bad. Spencer agrees. Aaryn says yes there are a lot of colours in here but you can't call it that. She says it cracks me up every time she says that but its so fu*ked up. Spencer says that it cracks him up too.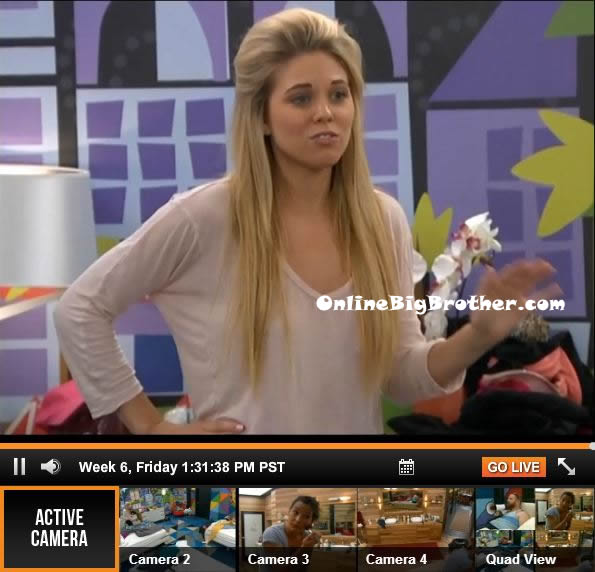 1:35pm – 1:50pm Gina is up in the HOH room with Elissa. She says I truly got to grown and love you this last week. You are amazing, your body, your family, everything about you is amazing. Gina says I know you are going to get an HOH soon and I would hope you would consider not putting me up since I am not putting you up. Gina says I am putting up Candice. Gina gives the same speech to Elissa that she has given to all the others. Aaryn joins them. Elissa motions to talk to Gina outside the HOH alone. They go outside and talk in private. Elissa says that she is proud of Gina and says that she is a great person. Gina apologizes for not telling Aaryn to leave. Elissa says I will come talk to you after she leaves. Gina tells Candice that she can talk to her if she wants.
1:55pm – 2:10pm Helen talks to Andy in the lounge room about her conversation with Jessie. She says the whole goal of the conversation was to scare Jessie. Helen says I made her feel this big by talking about all the ways she hurt my game and all the things I did to help her game. She will never flip again. Andy says we can talk more later but I think it would be get Jessie out over Candice because Candice is more readable. They discuss how they think Judd was MVP last week and will be again this week. Helen and Andy head out to the backyard couch to join Judd and Jessie. Jessie asks them if she is able to reconcile with Amanda – Will you all forgive me and be able to move on? Helen says of course I will forgive you. Jessie says okay good I will talk to Amanda later tonight. (Judd and Andy didn't say a word.)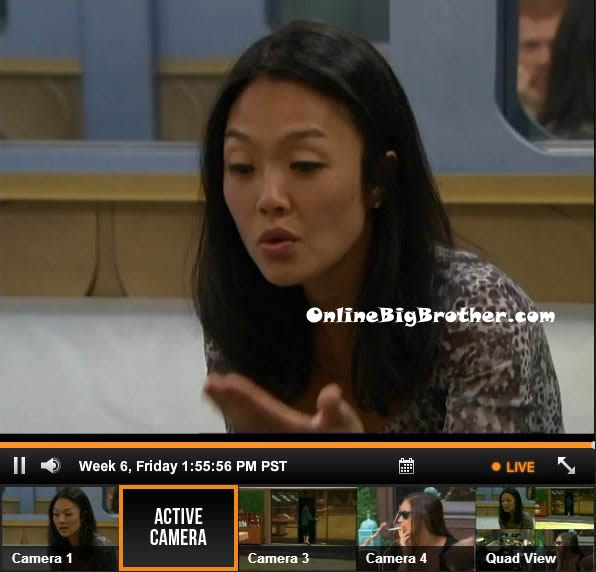 2:25pm Out in the backyard Helen and Jessie are talking about Scientology. Meanwhile, up in the HOH room – Judd and Gina are laying on the HOH bed talking about Nick and his photo or her and him together. Aaryn is in the HOH bathroom doing her makeup. Andy comes up and tells them that Helen and Jessie are talking on the backyard couch. Gina says that Jessie needs to seek out some help, no one is that crazy. They talk about how embarrassing it was how Jessie acted about the BBQ. They talk about the best impersonation of Ginamarie contest that they will have later for the other spot in the BBQ. Gina comments that Jessie moans in her sleep and can't stand it. They laugh about how Julie Chen asked Jessie and Judd about what they missed from home but not people like Helen or Elissa who have kids. Gina says I can't believe these bit*hes have not come up to talk to me yet. (Candice and Jessie) Judd says they are more concerned about putting on their makeup right now. If I was a possibility of going up I would be the first person to talk to you. Judd tells her she should say they are going up because they are more concerned about their makeup. Aaryn says shut up Judd, Gina do not say that. Candice comes up and the others leave.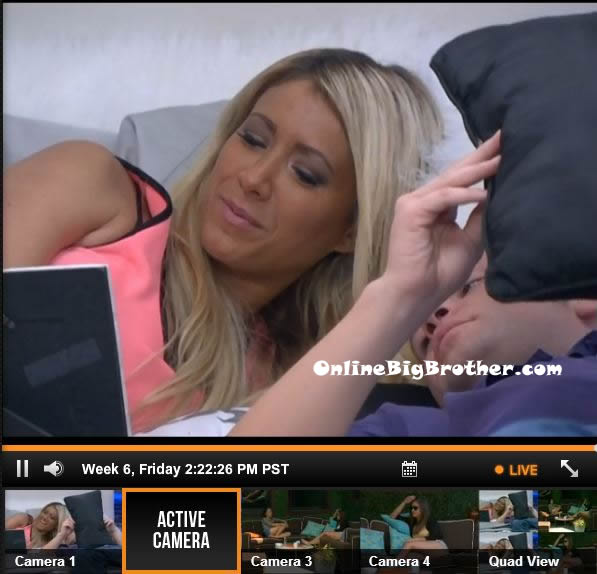 2:40pm Candice comes up to the HOH room. Candice starts crying saying that she was never coming after Gina. I spent the last couple weeks trying to protect Howard. Gina says that this is sucks and is also a privilege to win HOH. I told everyone that I haven't decided yet but I have asked everyone to vote for who they want. Aaryn and Helen aren't going up. Gina says I never had a problem with Howard, I liked him. Gina says that she will be happy for whoever wins this. Gina starts talking about her and Nick – What we shared was between he and I. Gina says I just know where you are coming from with Howard. Also congratulations on the $5000, at least you know you got something out of it. Gina says Nick said he would kiss me in 90 days and that we could go on dates so I know he feels the same way about me. Gina says I haven't made my decision yet but when I do my door is always open.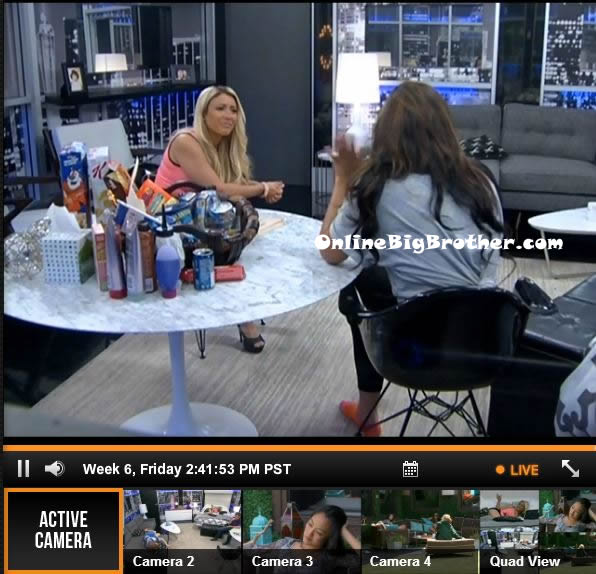 2:50pm Down in the rainbow bedroom – Judd and Andy make it look like Judd is sleeping in Candice's bed. Judd says we have to hid me from her.
2:55pm – 3:20pm Jessie comes up to the HOH next to talk to Gina. Gina says no names were brought up. Jessie says that's surprising. Gina says I talk about Nick and a few other things. Gina says I didn't say anyone was safe other than Helen and McCrae who I said I wouldn't put him up because he didn't put me up. Gina says my target is Candice. Jessie says okay. Jessie starts talking about reasons why Candice should go up. Gina says you know what you don't need to tell me because I see if with my own fu*king eyes. I told everyone that has their own choice of who they want to go home but I said who I wanted out. Jessie says I know I put a target on my back after last night and today I see how that was a mistake. If you want Candice out and she is your target I would ask that you not put me up with her because that may decrease the chances of her going home. I think the house would be on board with that person going up as well. Gina says gotcha. Gina starts talking about Nick and how she doesn't believe things unless she sees it with her own eyes just like people didn't see how Nick and I were together. Gina says basically if Candice goes on the block she will go home. Jessie says it maybe harder to get her out if I am on the block with her because Amanda is very persuasive. I would hate for you to be the one to send me home this week and vice versa. Gina says whatever is discussed between us is confidential. Jessie says ya your right and I am not up here saying we need to get Amanda out. Gina says yeah you're not up here saying Amanda is a c**t! You don't need to say things that make people look bad because I already see it. Gina says I talked to Amanda last night and she didn't throw out your name. The end their conversation and Jessie heads downstairs.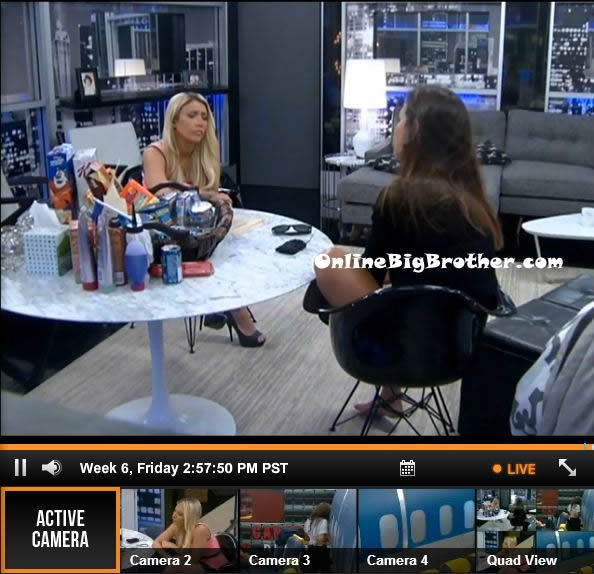 3:20pm – 3:50pm Aaryn heads up to the HOH. Gina talks to Aaryn about her conversations with everyone. She says that no one said anything negative about anyone. Aayrn says good. Gina tells Aaryn how she asked Spencer if he doesn't go up for him to not put up me or Aaryn and he agreed to it. Aaryn says wow. Gina and Aaryn discuss what to say in her nomination speech. Gina brings up how Andy said something good that she will say that their loyalty has been questionable ..because they have both been little rats. Gina comments that McCrae is always good with me. McCrae comes up. Gina asks are your ears ringing? McCrae asks why are you talking about me. Gina says yes just about how you're always good with me. Amanda comes up and Aaryn heads down stairs. Amanda asks do you know what you are doing. Gina says yes. I have had good conversations with everyone and no one talked bad about anyone because I don't want to hear it. Gina says I didn't tell Spencer he was going up, I left him hanging. I didn't tell Candice anything either. I gave the same speech to Jessie as well. Gina says I told Jessie the target is Candice. If everyone respects my decision I would like for everyone to vote Candice out and I would appreciate that. Amanda asks worst case scenario – Candice wins veto and uses it, who goes up? Gina says Spencer. Amanda asks so who goes home then? Gina says Jessie. Amanda says so who ever would win veto and use it on Candice we don't want to play. Although I don't think there is anyone that would do that. Gina says eventually when it gets down to it we can all rock out with our co*ks out. Amanda says I can see you handled this very diplomatically. Amanda says well at least with the $5,000 and stipend Candice is leaving with 11 grand. Aaryn talks about Helen/Jessie's conversation this morning and how unsympathetic Jessie was to the things she'd done to Helen. Gina gets called to the diary room. Aaryn tells Amanda and McCrae that she is solid and loyal to them and Andy over Judd and expects that same in return. Andy and Judd join them. Jessie then joins them and they talk about random things.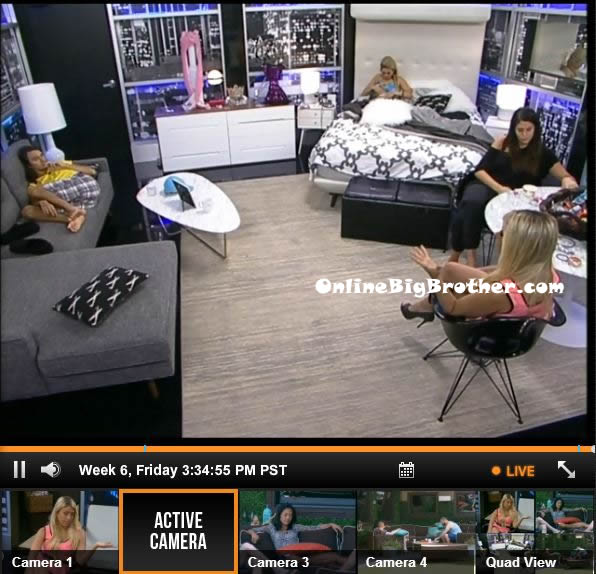 3:50pm – 4:10pm Up in the HOH room Jessie comment that she hopes she makes it to jury. Aaryn laughs and tells Jessie that she is at least making it to jury. From Gina's conversations everyone's target is Candice. Not to mention Spencer and Candice are going before jury. Jessie says okay good because I have to make it to jury. The conversation turns to talking about random things. Gina comes back from the diary room and says that the nomination ceremony will probably be happening soon. Elissa comes up and talks to Gina alone. Elissa says that we can use this as away to build our relationship and if I win HOH I won't put you up. Gina says the truth will be behold and if you get your key that will prove to you. Elissa hears noises in the walls and says I wonder if they are setting up Pandora's BOX! Gina tells ELissa I think you are truly and honestly amazing and I am sorry I didn't see if from the start. Elissa talks about Aaryn and how she didn't want to be associated with her behaviour in the past. Gina get called to the diary room. Gina tells Elissa that she is welcome to anything in her HOH except for her Nick picture. Gina heads into the Diary Room and says it might be time for the Nomination Ceremony.
4:15pm Big Brother put the house guests on a outdoor lock down and then switches the live feeds to TRIVIA for the Nomination Ceremony…
5:25pm Trivia The next post will have the nominations .. not going to be a big surprise
Use the Big Brother Live Feeds to FLASHBACK to SEE what they can't show you on TV: BB15 N!p Sl!ps / N*des
[polldaddy poll=7293412]