POV Holder:
Kenny
Next POV
?
POV Used
?
POV Ceremony
April 7
HOH Winner:
Heather
Next HOH:
Apr 10
Original Nominations:
Kenny & Allison
Current Nominations:
Sarah & Allison
Have Nots
Sarah, Kenny, Rachelle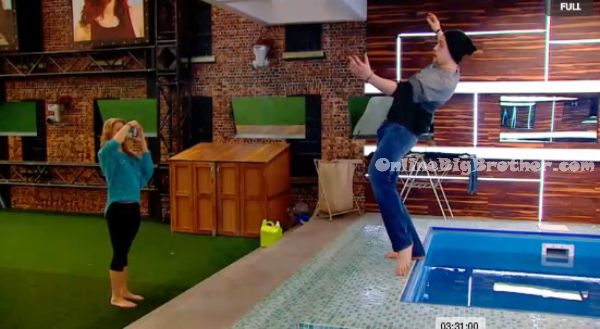 11am – 11:35am
Heather comes out of the diary room with a camera and tells them that she has to take their photos individually. She says that they have to be nice photos. She says you can look how you wanna look but they'll be used later on. Heather heads out to the backyard with Rachelle to take her photos first. She takes a head shot first and then gets Rachelle to pose. Adel is next and he sits on the laundry box holding the pucks. Sabrina is next. She asks if Heather knows what the photos are for? Heather says yes. Sabrina asks if its fun? Heather says yeah. Jon compliments Sabrina and tells her that she does have a nice body. Big Brother tells the house guests that they'll be on a backyard lock down, the house will be off limits. In the bedroom – Sabrina tells Adel that he has a way of making people feel good. Sabrina asks Jon if she heard him right downstairs that she has a nice body. Jon says yeah. Sabrina says aw.. that was nice!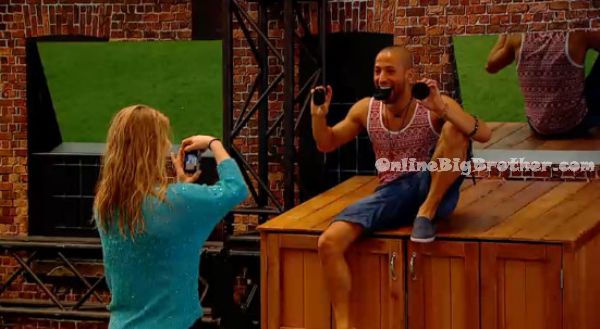 Up in the HOH room – Jon walks into the HOH bathroom and Arlie tells him about how he just took the biggest poo in his life. Jon leaves and says okay good talk!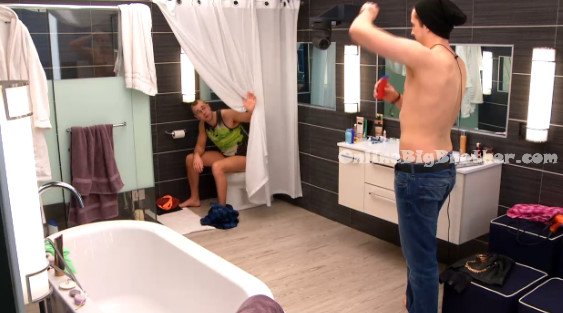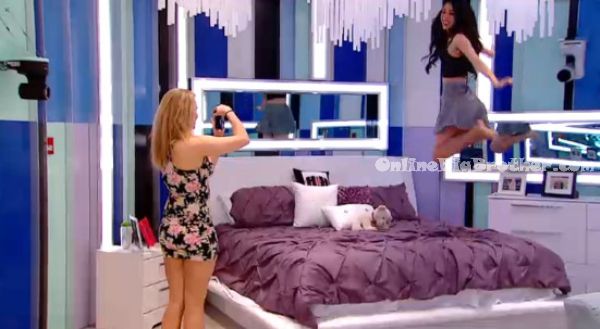 11:30am Kenny comes out of the diary room and says that big brother doesn't know where the maple syrup went. Heather then starts taking Kenny's photos. Big Brother tells them they have 15 minutes before they will be locked outside. Sabrina says they built something in the backyard. I just heard it.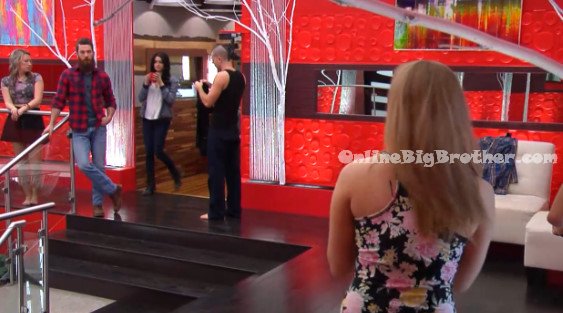 11:40am – 11:55am Sabrina starts taking Jon's photos. She says that's a good one, I used to model I know! Allison tells Neda that she does have boobs. Neda says no, its a triple push up bra. In the bathroom the house guests talk about how bad it is being on slop. Kenny says its like muddy butt! I go more than I take in. Neda says when she was on slop she went twice the whole week. Kenny says that he goes like 5 times a day.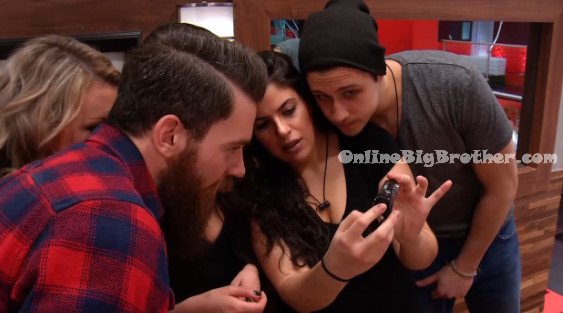 12pm In the bathroom – Rachelle, Allison, Sarah and Sabrina are in the bathroom are talking about the syrup missing. Allison says that she thinks its possible someone took it or hid it. Sarah says that's messed up especially after yesterday. Its not bad enough that slop is bad as it is. Rachelle goes downstairs and asks Jon and Neda if the know what happened to the syrup. Neda and Jon both say they have no idea what happened to it. Rachelle says I was lead to believe something happened to it.. Sabrina comes down and tells her that she thinks maybe the havenot aren't allowed to eat it and that maybe big brother took it back. The conversation turn to talking about the Arlie's missing smokes from weeks ago. Kenny comes out of the diary room and comments how he thinks someone hid the slop to mess with him because they don't want him to win HOH. He says that it just makes me want to win it even more.
12:10pm -12:35pm Big Brother puts the house guests on a backyard lock down. Sarah, Kenny, Sabrina and Rachelle hang out by the hammock. They talk about the missing syrup and then compare each other to past BB house guests.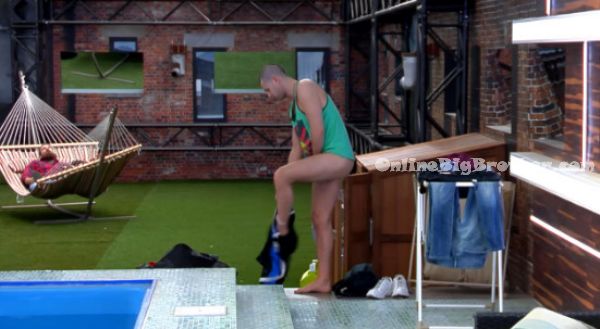 1pm Out in the hot tub room – The Sloppy Seconds alliance minus Arlie and Allion are talking about Adel's veto ticket power and about who to target if there's a double eviction. They all agree that it's better to get out Rachelle before Sabrina because she is better at endurance competitions. Neda says even if she made it to the end I would never vote for her because she got out Paul and Ika. Adel says it wasn't even her idea! Meanwhile inside Arlie talks to Allison about how his is 100% with the sloppy seconds and he will never stray. He talks about past events of the house with her. Arlie tells Allison it would absolutely bad for my game and your game if you sewered me. Allison asks what? Arlie says I am just saying that I know you wouldn't.
Stay connected and interact with other Big Brother Fans on our Facebook page.
And Follow: @BigBspoilers and @Dawgsbigbrother on Twitter for the most up to date spoilers.